Mai Chau Valley – All you need to know
Although Mai Chau valley does not possess a lot of tourist attractions in comparison to the neighbouring province of Moc Chau, it still attracts a great deal number of tourists thanks to its poetic beautiful landscape, temperate climate, cultural diversity, and unique cuisine.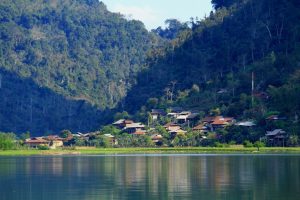 1.When is the best time to visit Mai Chau valley?
As being a valley, Mai Chau owns a relatively pleasant and temperate climate. Particularly, it is not too warm during the summer, and the winter does not feel as cold. For that very characteristic feature, it is possible to visit Mai Chau Valley at any time in the calendar year. However, according to experiences gained from previous tourists, the best times to visit Mai Chau valley are:
a. The period between October and December
During this time, the valley is at the start of its winter period. Therefore, the weather will be cool and pleasant due to the very characteristic nature mentioned above. Especially, you will be able to view a spectacular scene of a valley packed and covered with blossoming white flowers (e.g., peach blossom, plum flowers). This distinctive landscape is expected to strongly impress anyone who has an opportunity to visit Mai Chau at this time of the year.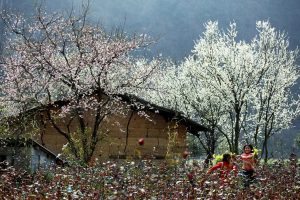 b. The period between March and April
This is the time when the renowned Ban flowers. On top of that, the climate is also nice and pleasant. Noticeably, this is the time when there are many special festivals of the ethnic minority communities in the area. Therefore, this is also an ideal time to visit Mai Chau valley according to many tourists.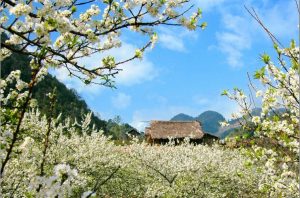 2. How to get to Mai Chau?
You can visit Mai Chau by motorbike or by car. The majority of tourists visit Mai Chau by motorbike since this valley is only 140km from Ha Noi capital and 60km from Hoa Binh province.
a. If you travel by motorbike: From Ha Noi, the shortest and fastest possible route is to follow high way 6 to Xuan Mai, then Luong Son, then Hoa Binh, then Muong Khen, and finally Mai Chau. There is also another possible route which is high way 12B, but this route is longer and there are not many sites to visit along the road.
b. If you travel by coach: Catching a coach from My Dinh station or Giap Bat to Mai Chau (Hoa Binh). Getting off the coach when it arrives at Tong Dau cross-road. From this point, catching a motorbike taxi to Mai Chau centre, which is 5km away. Coach ticket price is anywhere between 90.000 to 110.000 VND depending on the companies.
c. How to get around once you are in Mai Chau?
Mai Chau valley is relatively small, which means the tourist attractions and the mountain villages are close to each other. Therefore, the best means of transportations to experience Mai Chau valley are bikes. For that reason, almost all guest houses and homestay in Mai Chau have bike rental services with a price of about 50.000 VND/one bike. For those tourists who would like to explore Mai Chau by motorbikes, it is recommended that you should bring extra petrol as a reserve.
3. Where should you stay in Mai Chau/ best cheap motels?
Like everywhere else, the motel and homestay sector in Mai Chau valley is pretty much established, especially at Lac Village and Poom Coong Village. Therefore, there is no need to worry about a place to rest. All of the motels and homestay here are designed and constructed with stilt house style, which brings a lot of joys for tourists, especially foreign tourists.
You will not need to book a room before visiting Mai Chau. This is because the majority of tourists only stay for one night. Therefore, you can ask for a room directly when you arrive in Mai Chau valley, which is quite handy given the fact that the price for booking in advance could be higher at times. However, if you travel in a large group (e.g., 20 people), you should book in advance to guarantee a place for all.
All of the rooms here are will equipped with modern conveniences at reasonable prices. On average, the price for an average motel is about 50.000 VND/per person/per night. If meals are included, then the price is about 100.000 VND/per person/ per night.
A list of motels with quality, full of conveniences and reasonable prices is as below:
Anh Dao Hotel
Address: area 4, Mai Chau town, Mai Chau, Hoa Binh
Phone: 0218 3867231
Mai Chau guest house
Address: Mai Chau Town, Mai Chau, Hoa Binh
Phone: 0128 3867262
4. Foods to experience while in Mai Chau?
As mentioned above, you can have an option of dining at your hotels. However, you can also have a chance of experience a whole range of different cuisines by visiting a village fair in Mai Chau Valley. However, we highly recommend you to have meals prepared by your hosts at your hotels, especially if you stay in a homestay. This is because the local hosts are more than capable of preparing and cooking local specialities, which not only taste distinctively delicious, but also cheap. In addition, the village fair is not open on every day.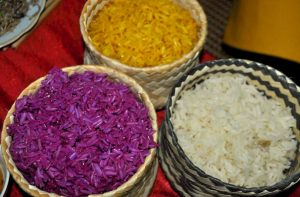 Famous dishes of Mai Chau: Lam rice, steamed glutinous rice, Muong pork, bitter bamboo shoot, silkworm stir-fried with bamboo shoot, jungle chicken, grilled stream fish, Mai Ha wine, fermented meat, etc..
5. Where to visit in Mai Chau?
a. Thung Khe mountain pass: on the way to Mai Chau, you will pass this site. Not only is this a favourite site of many backpacking tourists, this is also a place where you can have an entire view of Mai Chau Valley from height. Remarkably, the weather at this mountain pass changes and mimics the four seasons as the day goes by.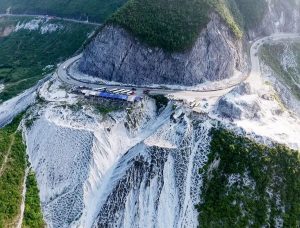 b. Lac village and Pom Coong village:these are the two largest and most populated villages in Mai Chau. These are places for you to stay in, to experience the local specialities, to buy souvenirs, and to explore the culture, lifestyles, and festivals of the local people here in Mai Chau.
c. Mo Luong Cave and Chieu Cave:There are the two largest and most special caves in Mai Chau Valley. The distinguishing features about these caves are thousand year old stalactites, which have unique statues and colours. These stalactites are comparable to those in the well-known Phong Nha cave.
Other places to visit: Van village, Nhot village, paddy field, green leave field, etc.. are also attractive places to visit if you have more time and would like to take a few memorable photos.
6. Overall assessment of Mai Chau
You can pay a visit to Mai Chau Valley at any time in the calendar year. Visiting villages of the minority communities, putting on a local dress to pose pictures, etc… You will be certainly treated with delicious and unique local foods at reasonable prices. Mai Chau also provides a variety of hotels and homestays at prices which suits all tourists.
You can also explore more famous places in Vienam such as Minh Mang tomb and Tu Duc tomb in Hue or see some our exciting Tours of Sapa such as Sapa Package Tour and Sapa Tour Trekking
Contact Us
Address: 272 Khuong Dinh Street, Thanh Xuan District, Hanoi, Vietnam
Phone: (+84)24 6293 4678
Email:info@asiamastertours.com
Hotline: (+84)962 313 698
Website: http://www.asiamastertours.com