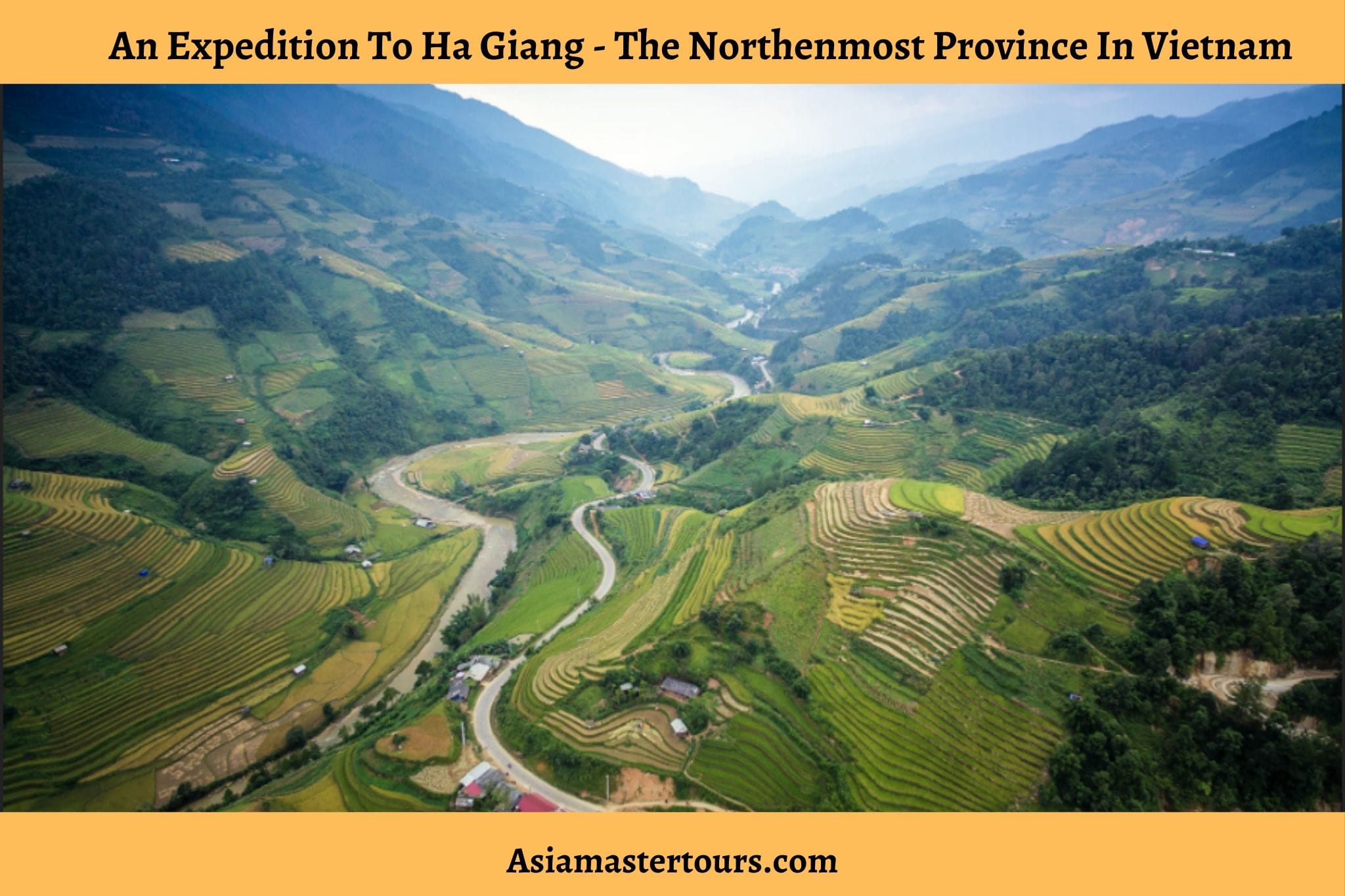 Ha Giang – The Destination Of Majestic Landscapes
All You Need To Know About Ha Giang
Geography
Ha Giang is a Nothern Province of Vietnam, located in the high, steep mountain range. The East of Ha Giang borders Cao Bang Province, the West borders Yen Bai and Lao Cai Province. The North shares 277 kilometers border with China. 
Ha Giang consists of 11 Districts, 1 City and 195 Communes, Ward, cover an area of 7.945 square meters and its population is 830.000 people. The terrain of Ha Giang is mainly the rock mountains, limestone. This Province becomes popular also because of the springs, prominent outcrops with various shapes.
Climate
The climate of Ha Giang is temperate but complex with highly variable that depends on regions. Technically, there are two distinct seasons in Ha Giang, dry and monsoon. The difference between regions based on altitude which mostly affects the area's climate.
Population
The population in Ha Giang is around 800.000 people. It is one of the least populated areas in Northern Vietnam with more than 85% of the population is rural. Most of the citizens living in Ha Giang belong to minor ethnic groups. Apart from Kinh group which makes up for 10% of the population in Ha Giang, other groups are predominant such as Hmong, Tay, Dao and so forth.
The variety of ethnic groups comes with the various spoken languages by the locals. Specifically, Hmong – Mien language consists of Hmong, Kim Mun, Pa Hng people. Besides, Nung Tay, and Giay groups also share the language named Tai.
If you are interested in learning local culture, then Ha Giang is a suitable spot as you will have an opportunity to immerse in the daily lives of the natives in the plateau.
Top Attractions In Ha Giang
Dong Van Plateau – The Prestige of Karst Formation
It is a prerequisite to visit Dong Van Plateau once you come to Ha Giang. It covers 4 districts of the Province. The rock formation of Dong Van is spectacular as it boasts majestic shapes and landscapes, as well as the serenity that this place offers. In 2010, UNESCO recognized Dong Van Karst Plateau as Global Geopark.
Quang Ba Heaven Gate 
Quang Ba is considered as the boundary between the sky and the Northernmost spot in Ha Giang. This is also the first route and most important of Dong Van Town. The way to Quang Ba is relatively dangerous, this is why you should take your companion with you, especially a local guide with expertise in traveling in Ha Giang.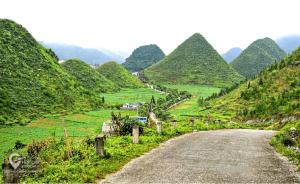 Tham Ma Slope
Tham Ma Slope is a route located on 4C highway from Ha Giang to Meo Vac Commune. This is the favorite spot for any avid travelers who like to explore the Northernmost Province. According to a myth, Tham Ma ( "Ma" is "Horse") used to be utilized to test the speed of horses. Besides, they also said that if any couple could accomplish Tham Ma would be together till the end of their lives.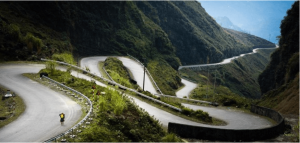 Pao's House – A Corner Of Northern Culture
Pao's House is situated in Lung Cam Cultural Village. This place used to be the movie set for the film " Story of Pao". It is about the Hmong husband and wife living in the North of Vietnam which afterward received lots of noble awards by the Vietnam Cinematic Association. Pao's house plays a role as an ethnic museum, but it is not full of boredom or elusive exhibits. On the contrary, Pao's house is a lively spot for anyone seeking the intimate experience and the understanding of ethnic groups in Vietnam.
Vuong's Residence
Vuong's Residence is located in the valley of Sa Phin District, Dong Van Commune. This is the house of Meo King, chief of an ethnic group in Ha Giang. In 1993, Vietnamese Government recognized Vuong's Residence as the National Relic. It is understandable because Vuong's Residence remarkably possesses architectural fusion between China, Vietnam, France and the incredible stories behind the construction of the building. To prepare for the early stage of the Residence, Meo King came to China to consult the Chinese experts and other French architects.
Lung Cu Flag Tower – The Northernmost Point
Lung Cu Flag Tower is located in Lung Cu District, Dong Van Commune, on the altitude of 1.4070 meters. This Tower plays a significant role as it the first remarkably marks the first point of Northern Vietnam.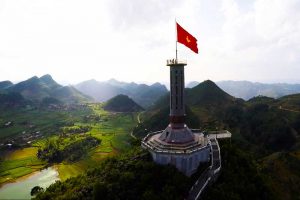 Ma Pi Leng Pass
Ma Pi Leng Pass is the route that lies between the territory of Dong Van and Meo Vac Commune. This is the most famous curve in, it features stunning landscapes and Nho Que River flowing underneath. Ma Pi Leng is the most treacherous, but also exciting as it is the perfect niche for any adventurous mindset. If you are curious about Ma Pi Leng exploring tour-related, do not hesitate to visit our website for further information.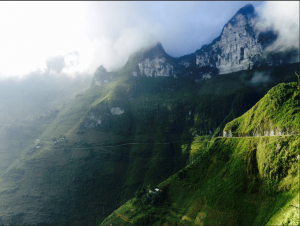 Dong Van Ancient Town
Dong Van Ancient Town is situated in Dong Van Town, on the rock formations of 1000 – 1600 meters above the sea levels. Once entering Ancient Town, you will be astonished by the animated Market, lively traditional music of the locals and the glamorous scenery of the plateau.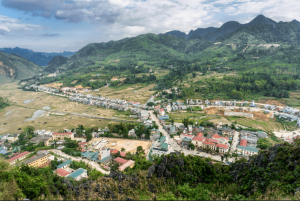 Tu San Chasm
Tu San Chasm is the deepest chasm in South East Asia. The edge is 800 meters high, 1.7 kilometers long and nearly 1 kilometer in depth. This is one of the most prominent attractions in Dong Van Plateau. Tu San Chasm ensued as the formation dates back millions of years ago. It is perfectly suitable for any photographers due to the harmonious combination between rock formations of Dong Van Plateau and Nho Que River.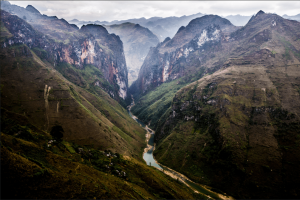 Ha Giang Loop
There is a plethora of routes in Ha Giang and each of them features distinct beauty. However, the most remarkable route is Ha Giang Loop, it goes through Dong Van, Meo Vac,  Mau Due. The natives formally call it a loop due to its throughout-cover around Dong Van. There are two major routes: Ha Giang – Dong Van, Ha Giang – Hoang Su Phi, and other routes closed to Central City.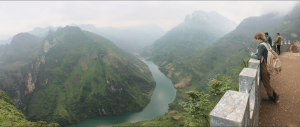 When arriving at these loops, you will be astonished by the magnificence that mother nature has offered. The curve might be a bit treacherous, in turn, everything on the way is worth visiting. All you need to do is asking for the help of a professional tour guide as your companion. 
Ha Giang Tour
Speaking of Ha Giang-related tours and competent tour guides, we kindly offer you the Northern Expedition tours by Asia Master Tour. With almost ten years in the tourism industry, Asia Master Tours promise to bring you the most intimate experience to the Northern Local Culture and unforgettable moment during the expedition in Vietnam.
If you still hesitate about traveling, contact us immediately to get advice from enthusiastic travel consultants.
To update the latest information about Ha Giang or any consultation needed, please contact us via email, or Facebook. Asiamastertours is proud to assist you to every corner in Vietnam.