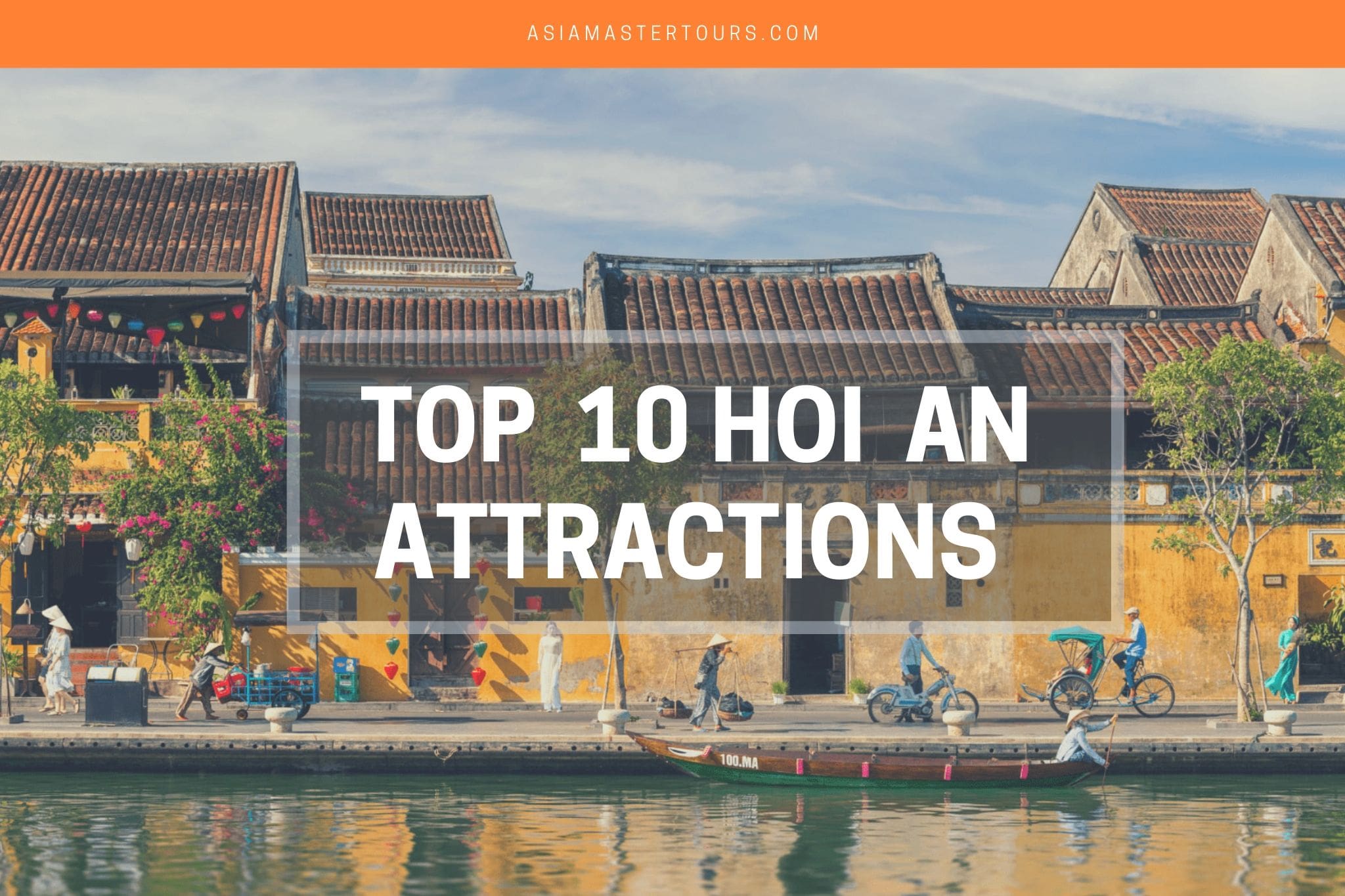 Top 10 famous tourist attractions in Hoi An
Hoi An is a beautiful ancient city located next to the peaceful, poetic Thu Bon river, which is always the most interesting and attractive destination for Quang Nam tourism. What to do, where to go when traveling to Hoi An? Are there any famous tourist destinations in Hoi An? We have summarized the beautiful Hoi An attractions for you below.
Japanese Bridge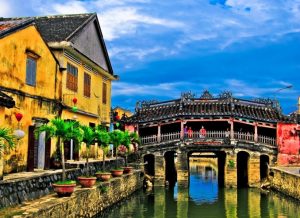 Japanese Bridge was built in the late XVI century. In the middle of the bridge is a small temple to worship Huyen Thien Dai De, called Cau Pagoda. The highlight of this bridge is the dome with unique designs and decorative motifs showing the harmony between many distinctive architectural styles of Vietnamese, Japanese, Chinese and even Western ones. Japanese Bridge is the most famous and attractive destination in Hoi An visited by almost all visitors to Hoi An in order to take a few photos to mark their journeys. In the fall when the lantern festival are held, the temple was lit up by the shimmering lights from lanterns. Therefore, Cau Pagoda, which is a symbol of the ancient town, is one of the most popular attractions to tourists.
Old house of Tan Ky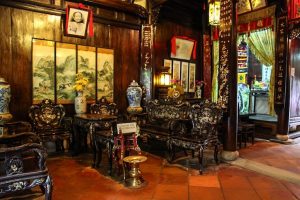 Tan Ky house, which is nearly 200 years old, is one of the most famous Hoi An attractions. It is its unique architectural style that fascinates its visitors. To build this sustainable ancient house, extremely skilful artisans used the design and diligent selection of materials for the construction. Therefore, Old house of Tan Ky is considered to be immortal over time. Throughout the years, this old house remains a beauty that symbolises the ancient town of Hoi An. This beautiful Hoi An tourist destination is always the perfect choice for you to visit. Tan Ky Old House is waiting for you to discover.
An Bang Beach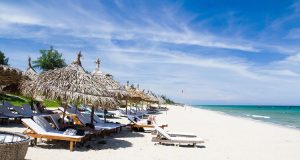 From our experiences of Hoi An tourism, if you come to Hoi An without visiting An Bang beach, it is a pity. An Bang Beach, which is not as busy and bustling as Cua Dai Beach, is invariably an ideal place for those who love a peaceful and quiet space. An Bang beach, which locates about 2 km from the center of Hoi An city, is both splendid and clean. The space here is fresh and airy, which is suitable for all interesting activities such as flying a kite on the beach, catching the dawn, and greeting the sunset.
Cu Lao Cham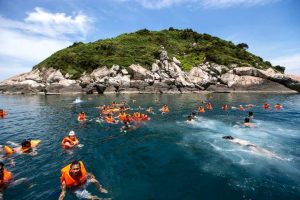 Cu Lao Cham is not a strange name for the most famous Hoi An attractions. Cu Lao Cham is pleasing to the people because of its inherent beauty, tranquillity and freshness. It takes you less than 20 minutes to set foot on Cu Lao Island and admire the panoramic view of this wonderful green space. At present, Cu Lao has a very interesting coral watching service, in which you can take a deep dive into the bottom of the sea to watch the sparkling and colorful coral reefs as well as a variety of fishes swimming under the water.
Hoi An handicraft workshop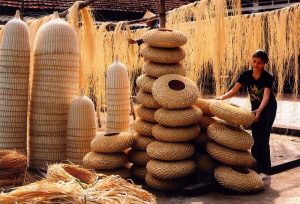 Not only do you want to discover the beauty of Hoi An through unique architectural works, but you also want to learn about the culture of making lanterns, paper fans and other crafts. Come to Hoi An handicraft workshop, which locates in traditional handicraft villages, where many quality and sophisticated products are made. Visitors can also participate in making crafts with basic crafts. People remember the old town by the famous Hoi An attractions and the beautiful handicraft products, which are the outstanding and distinctive points of the culture here. Do not forget to choose some souvenirs when traveling to Hoi An as a gift for relatives and friends.
Hoi An Museum of Cultural History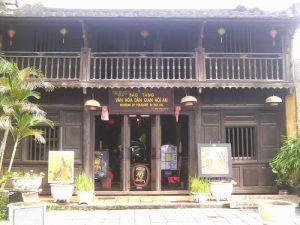 Hoi An Museum of Cultural History contributes to the hundreds-year-old beauty of Hoi An city, which is considered as one of the most interesting and ideal Hoi An attractions, The museum, which was established in the late 20th century, now displays more than 200 artifacts, which are both original and valuable documents marking the development and maturity of Hoi An city. The Museum of cultural history is the pride of people here because it marks the long-standing beauty of this charming and friendly land. This beautiful tourist destination in Hoi An will not disappoint you with many interesting surprises from ancient artifacts, on which you cannot afford to miss out.
Chaozhou Assembly Hall
Chaozhou Assembly Hall, also known as Ong Bon Pagoda, was once a gathering place for Chaozhou merchants who lived and traded in Hoi An centuries ago. With its unique and ancient architecture, Chaozhou Assembly Hall is sure to impress you by its exquisite sculptures and patterns. Located right in the heart of Hoi An old town, Chaozhou Assembly Hall is probably an attractive Hoi An attractions, that you should consider to visit.
Assembly Hall of Guangdong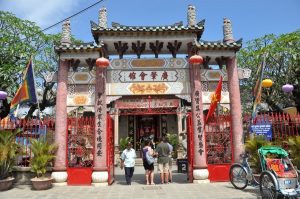 The next tourist attraction in the ancient town of Hoi An is similar to the Chaozhou Assembly Hall, which is the Cantonese Assembly Hall. Listening to the manager there, this hall was built in 1885, where Cantonese traders often gathered when they came to do business or trade in Hoi An. Also with architecture bearing bold Chinese, Cantonese Assembly Hall is a place for a lot of young people come to take pictures.
Cua Dai Beach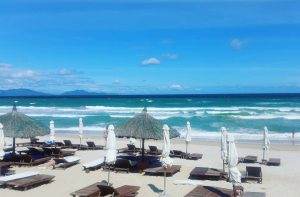 Cua Dai Beach is considered a beautiful landscape in Hoi An, which is only about 5km from the old town so you can visit Cua Dai Beach in just 15 minutes. Cua Dai Beach has smooth sandy beach and clear blue sea similar to Da Nang's beaches. At Cua Dai beach, suggested activities including taking pictures, swimming and eating extremely attractive fresh seafood.
Seven acres of coconut forest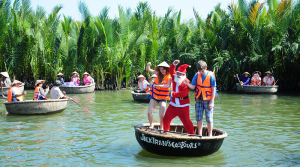 The last famous tourist destination in Hoi An that you can visit and have fun is the seven-acre coconut forest in Cam Thanh, about 5km from the ancient town of Hoi An. When visiting this forest, you will be floating on the water with a very unique basket boat. In addition to visiting the cool coconut forest on the basket boat, you can also enjoy the folk dishes from coconut or river fish.
So what do you expect more for a great trip? Please contact us – Asia Master Tours for guidance, advice and get the most preferential price when you, your family and friends are going to enjoy Hoi An city.
You can also explore more information about Hue such as Hue Vietnam resorts, Hue Vietnam beaches and Hue Vietnam weather or see our best Sapa tours such as Sapa Motorbike Tours, Sapa Package Tours and Sapa Trekking Tours.
Contact Us
Address: 272 Khuong Dinh Street, Thanh Xuan District, Hanoi, Vietnam
Phone: (+84)24 6293 4678
Email: info@asiamastertours.com
Hotline: (+84)962 313 698
Website: http://www.asiamastertours.com