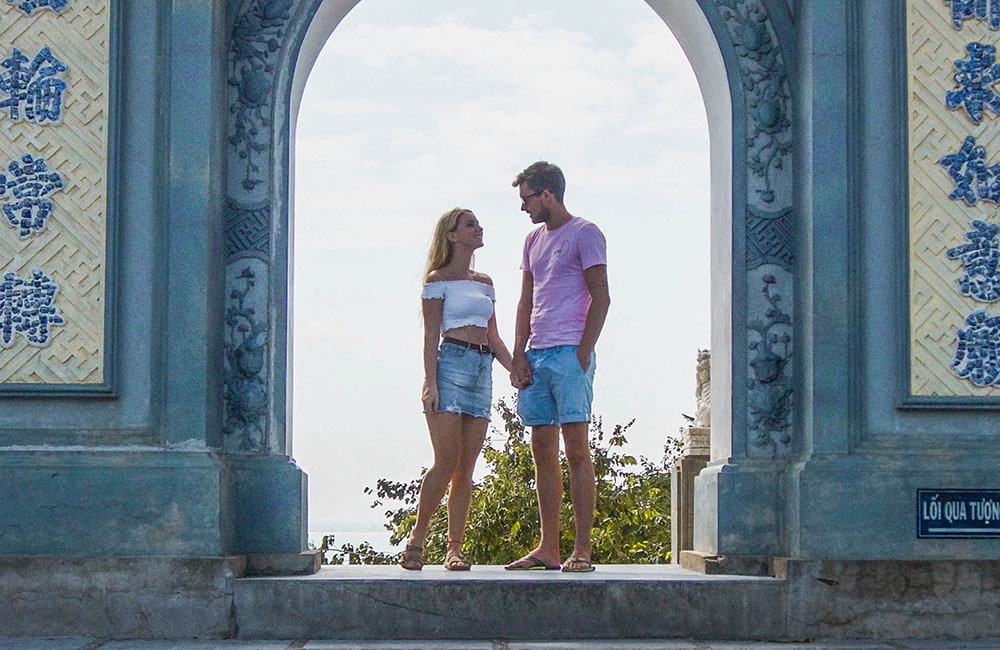 Top 3 homestays that you should stay when visiting Da Nang
Homestay is currently a very popular business form in Danang, one of the most worth-living cities in Vietnam. Those are the houses of the local people, which are ready to welcome tourists. Homestay has brought a warm and friendly feeling as you stay in your own home, showing the characteristics of the indigenous culture. Therefore, before going to Danang, young people have to hunt for the best quality homestays to stop. An ideal trip is indispensable for a great stay even if you travel anywhere.
Then, to help you save your time, we would like to introduce you to some best places to stay in Da Nang below.
1. Packo Hostel
"Just knock on the door, we're here to support. Just knock on the door, then we make friends … ", the Packo Hostel slogan is really lovely and close to young people.
You will be surprised by Packo Hostel with a very unique design with the shape of colorful containers. Each small room is furnished with comfortable facilities. All rooms are soundproof, insulated and very airy. In every room, you have a small window to look out for Packo Hostel's green spaces like trees, lawns and flower pots. Packo Hostel is a beautiful homestay in Danang, which is friendly with the environment because it's equipped with equipment using solar energy, both economical and safe. Then, as you can see this hostel is not only one of the best places to stay in Da Nang but also the most eco-friendly place in Da Nang.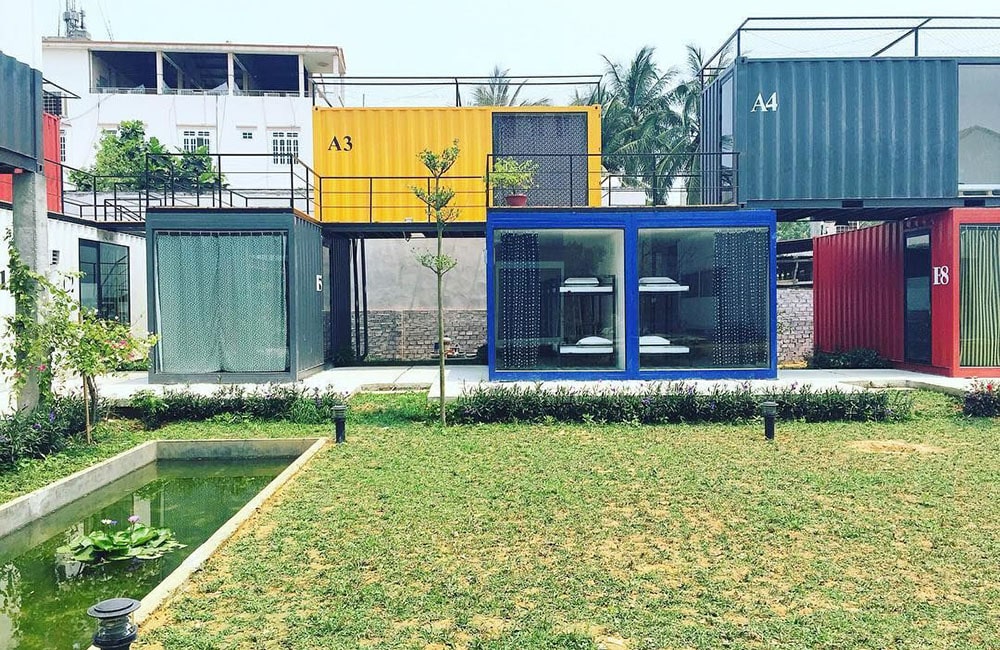 Packo Hostel is very convenient even when you go alone, travel with your partner and even when you go in a large group. There are all rooms that are spoiled for everyone.
This homestay is very student-friendly, convenient, neat, youthful and fresh. It can help you save a lot of money for your stay. In particular, you will receive a discount on accommodation if you bring a divine card, which is a student card. The best place to stay in Da Nang also offers you economic accommodation.
Packo Hostel also prepares some relaxing corners for you such as a reading desk, small garden furniture set to watch the moon, drink tea, a coffee shop, a basketball court, a green vegetable garden and a snooker table for those who love board games.
From Packo Hostel, you only need to walk about 10 minutes to My Khe beach. The Dragon Bridge and the Cham sculpture art museum are also just 2 km from the hostel. Very convenient, right?
Room rates at Packo Hostel range from VND 70,000 – 200,000 per night.
2. Denim House
This hostel is painted with blue and sea colors, the name Denim House has brought a green space to your life in this very cute homestay. Denim House is located close to Son Tra peninsula, so it can be said that this place is surrounded by the landscape that will make you satisfied. "A place where the eyes are opened is Son Tra Mountain, reaching out of the bed is touching the sea." All year round Denim House has sea and mountains. That is also the advantage of Denim House and makes this hostel become the best place to stay in Da Nang.
Denim House is a fairly new name on the homestay map of Da Thanh land but was quickly hunted by young people. The owner of the house is an architect and painter so don't wonder why the indoor space is so beautiful. The blue color of the sea is in harmony with the deep brown tones and the arrangement of the "specialties" of the sea has become a highlight for the house. We must say the living space of Denim House I as an art picture. You not only stay here with comfort but also enjoy the sweetest feeling of life.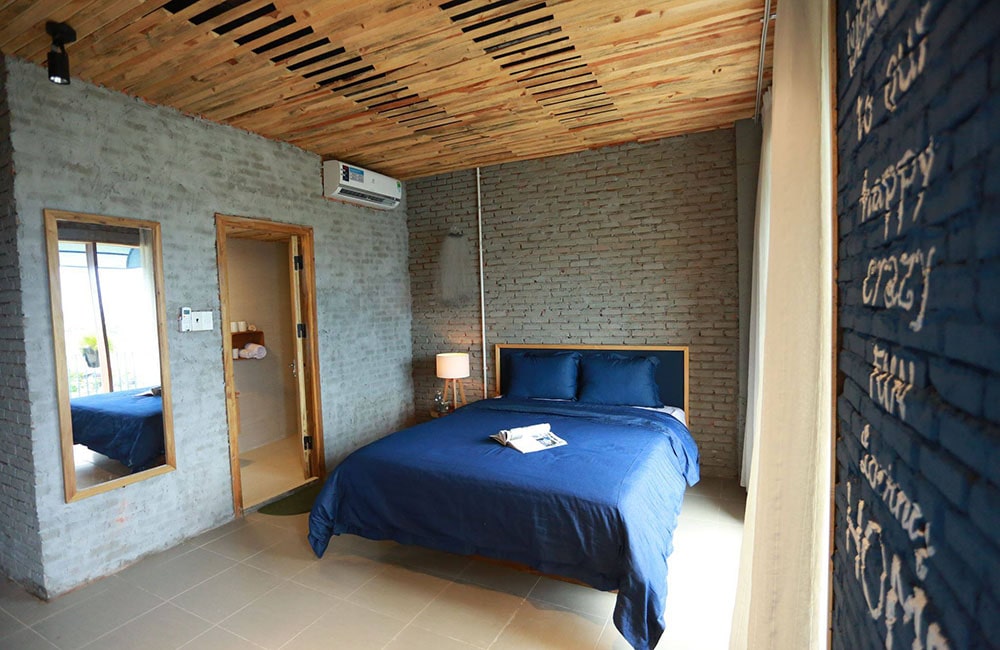 This best place to stay in Da Nang has 5 floors with 9 rooms for rent. Most of the rooms have balconies facing the sea so the wind is called cool, the sunshine seeps to the head of the bed and the scent of the sea is everywhere.
Denim House is equipped in every room with enough amenities such as beds, televisions, reading lights, shelves, and even small and beautiful decorative items, you will feel like living in your own home. And even local meals will be served the most deliciously in this beautiful house. So, you will have a chance to enjoy good food in this best place to stay in Da Nang. Room rates at Denim House are around 1,000,000 VND / night.
3. Minh House
When it comes to beauty, quality, elegance, and privacy, Minh House is a nice choice. It can be said that from the architecture to the service, Minh House proved that the quality is not inferior to any luxury hotel in Da Nang and it's also the best place to stay in Da Nang.
Minh House consists of 5 adjacent apartments but ensuring privacy for each traveler. The green of the garden, the gray of wall tiles and walkways, the bamboo and rattan tables and chairs blend together to create a natural, simple and peaceful living space. The owner of the house is also very skillful when arranging small aquariums on the campus to air-condition, creating a cool, relaxing feeling that also adds a lot of beautiful views to the house.
This best place to stay in Da Nang is very attentive, every house has enough bedrooms, kitchen, dining table, sofa, decorative cottage, auxiliary works, and many household items, ensuring sufficient and comfortable and cozy like a happy home.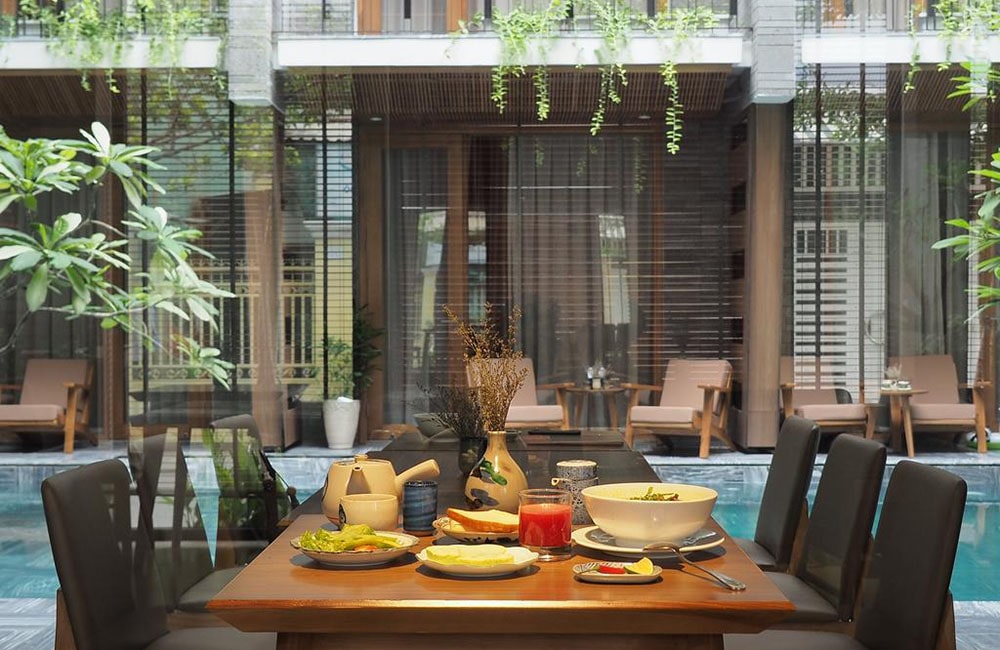 Minh House also serves standard breakfast dishes in Danang, so you don't need to get up early to prepare meals. If you are a lover of cooking, don't worry, Minh House will work with you to cook family barbecue parties with the best fresh seafood dishes.
This homestay is also linked to many local tours, ready to guide you to all the sights of the city and experience the culinary special.
The price of Minh House is slightly higher due to the larger space you own and absolute privacy, starting from VND 1.2 million / night. Each corner in the house is a beautiful picture for you to freely live virtual all day. In short, Minh House is the best place to stay in Da Nang, the price is reasonable but the service is excellent. If you have the opportunity to come to this city, try to stay at Minh House.
Those are three homestays – the best places to stay in Da Nang. These places will help you to fulfill your vacation by offering you anything you need from the accommodation.