Top Delicious Restaurants in Halong Bay
Halong Bay attracts lots of tourists due to not only beautiful landscapes but also its diverse cuisine. There are two areas where tourists often choose to eat and drink in Ha Long. Those are Tuan Chau and Bai Chay because of their convenient location and transportation. Besides, Hon Gai area is often a gathering place for local people because the price here is cheaper than those two areas but still delicious and diverse. Therefore, Asia Master Tours has compiled a number of good quality restaurants in Halong Bay that has been recognized by many visitors and the local. You can note for your travel guide to Ha Long.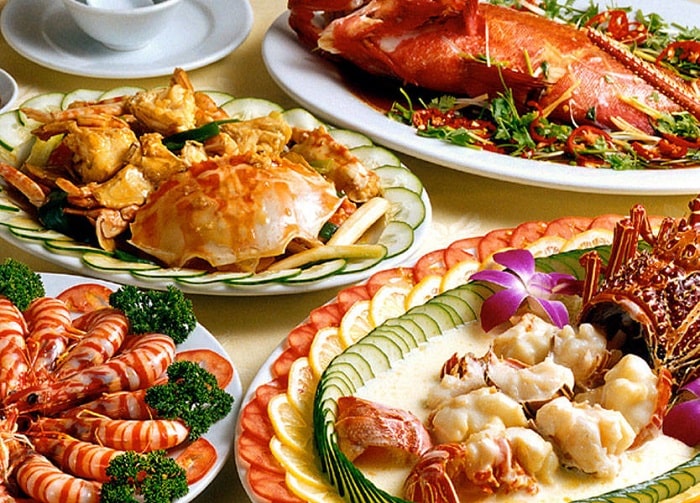 Bai Chay Area
Bai Chay is considered one of the most tourist attractive areas in Halong. So the service price is often higher than other areas, especially catering services. If you go on holidays, you will have to wait a long time to be served because of the large number of guests. However, it is undeniable that there are many good and quality restaurants to choose in there. Some best restaurants in Halong Bay will be listed below.
1. Cua Vang Restaurant
Address: Group 9, Area 9, Urban Area Hung Thang, Bai Chay, Ha Long, Quang Ninh
Opening hours: 10:00 – 22:00
Price: $5-$15/dish
If talking about a delicious seafood restaurant in Bai Chay, a reputable Ha Long restaurant address recommended by many local people is the Cua Vang restaurant. With an area of ​​over 350m2, with luxurious design with 3 cool floors, this restaurant has been appreciated by customers for many years in Ha Long's most luxurious form. Additionally, another special feature of the restaurant is that all dishes are cooked in a clay pot or with a modern kitchen.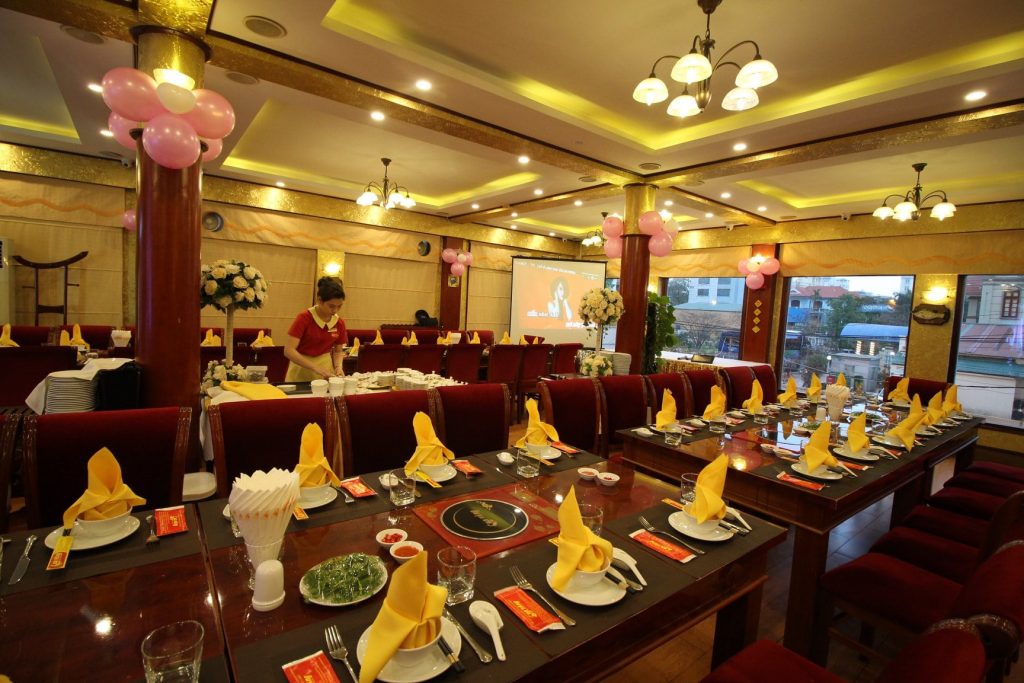 Cua Vang is one of the best restaurants in Halong Bay specializing in seafood, especially crab, lobster, scallop, clam, fish, … The luxurious space and quality food made Cua Vang known as the most famous restaurant in Ha Long. When visit this restaurant, you definitely have to try two dishes that made the name of Cua Vang. These are the golden crab hotpot and braised crab with bamboo, which are combined from many fresh seafood sources from Ha Long Bay. They were cooked in a clay pot to keep the whole flavor from the sea. That creates a strong flavor which cannot be forgotten.
2. Phuong Nam Ha Long Restaurant
Address: Do Si Hoa Street – Cai Dam Urban Area – Bai Chay – Ha Long City (opposite Vinpearl Hotel), about 5 minutes from Ha Long Park Park (nearly 3km)
Reference price: $5-$15/ dish
Opening hours: 9:00 – 22:00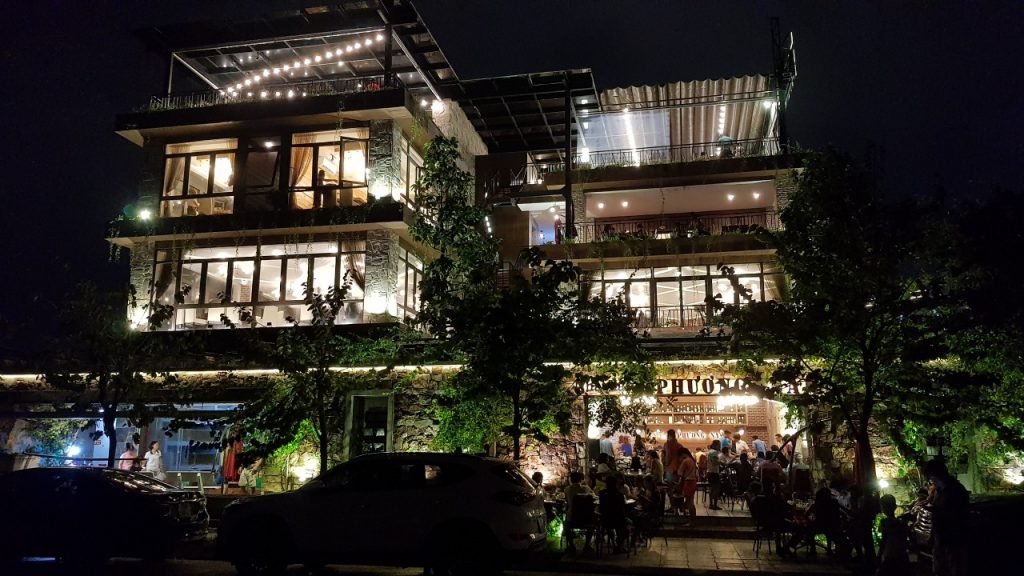 Phuong Nam Restaurant is the address with the most beautiful view of Ha Long. The restaurant is located on Do Si Hoa Street. This is the road running along the coast offers 3-sea view. From here, visitors can admire Ha Long Bay and Ro Island right at their eyes. Besides, the spacious and luxurious restaurant is not inferior to 4 – 5 star restaurants. But the prices are very affordable (from $10/person).
Coming to Phuong Nam Restaurant, you will have a wonderful culinary experience in a large space, designed in harmony with nature, on the banks of beautiful Ha Long Bay. Airy restaurant space with a large area, fully equipped with sound system, lighting, screen, … Phuong Nam Ha Long Restaurant is convenient for organizing parties, conferences, class meetings, personal and organizational tours with reasonable prices depending on the needs of customers.
Phuong Nam Ha Long Restaurant is known for its bold Asian cuisine, with diverse specialties of 3 regions and processed by the most experienced chef. You should book a table before coming.
3. Hong Hanh 3
Address: 50 Ha Long, Bai Chay Ward, Ha Long City, Quang Ninh
Opening hours: 10:00 – 21:00
Reference price: $7-$20/ dish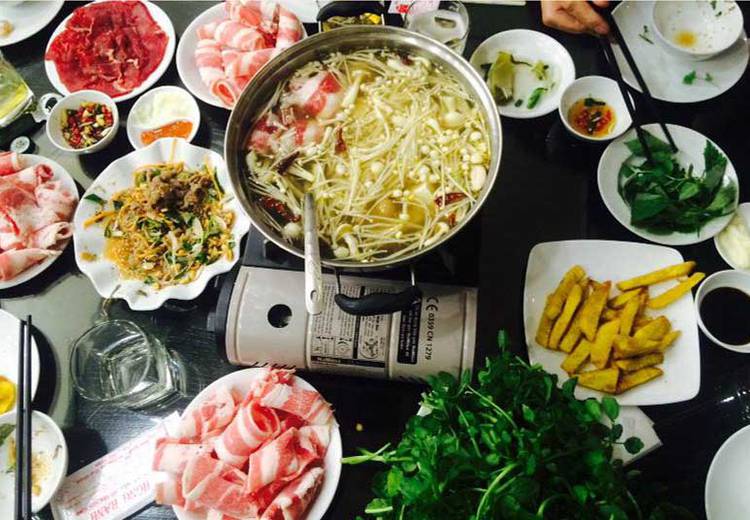 Hong Hanh is the name that locals and tourists all know. Being famous for the restaurant brand specializing in beef hotpot, fresh seafood and daily dishes, Hong Hanh restaurant has 3 branches located on the crowded Ha Long dining street. This is an indispensable destination for those who love food.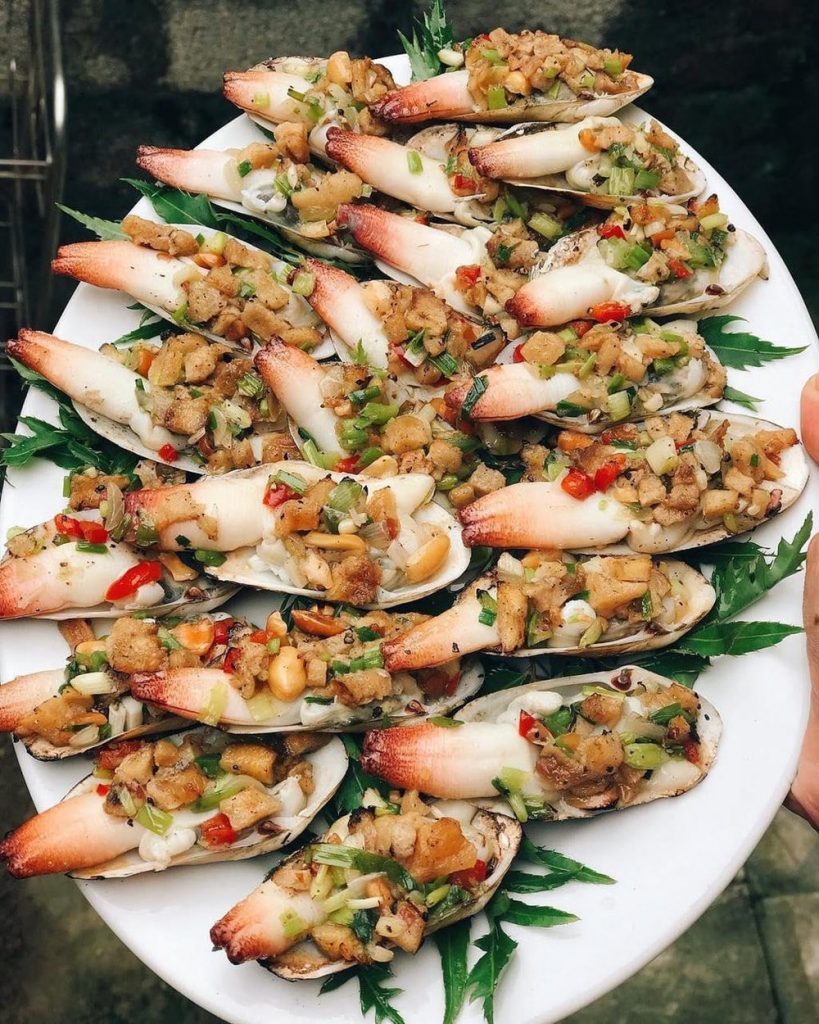 Located in the bustling Ha Long street, Hong Hanh restaurant is the ideal stop to enjoy fresh seafood to regain energy to continue exploring Ha Long. Keeping a special feature, the restaurant has conquered customers with dishes such as fried crab tamarind, sour cooking clam soup, grilled chops, grilled fat clams with three roasted meat on the side … The overall price of this restaurant is generally quite high. But the quality of food is good, safe and hygienic. Therefore, it worths the amount of money customers have spent.
Hon Gai Area
Hon Gai is a place which has many best restaurants in Halong Bay. You can refer to some famous eating places in this area such as: Huong Duyen, Huong 2, Hon Gai Restaurant, .. Find out in details of delicious dishes, outstanding features of each restaurant right below.
4. Huong Duyen Hon Gai Restaurant
Address: 66 Tran Hung Dao, Cao Thang, Ha Long
Opening hours: 8:00 – 22:00
Reference price: $7-$15/dish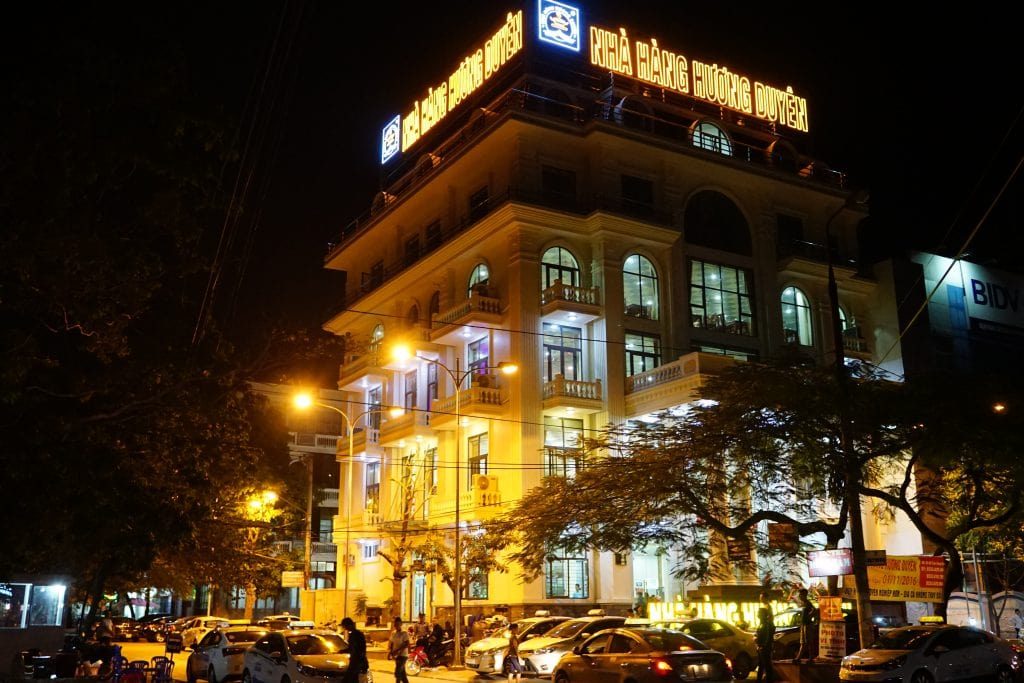 Huong Duyen is a Ha Long restaurant that is transmitted by a local restaurant as well as a tourist. The dish marked of this restaurant is the traditional squid,. That is made from fresh squid pounded by hand, cleverly combined with white sticky rice or roll cake. That is very well-organized.
Huong Duyen is a genuine Quang Ninh seafood restaurant specializing in lobster, crab, crab … with diverse dishes. In addition to seafood, you can try steamed chicken, fried chicken, braised chicken, boneless chicken leg mannequin, etc.
5. Hon Gai Quang Ninh Restaurant
Address: No 2A, Road 25/4, Ha Long
Opening hours: 6:30 – 23:00
Reference price: $4-$15/ dish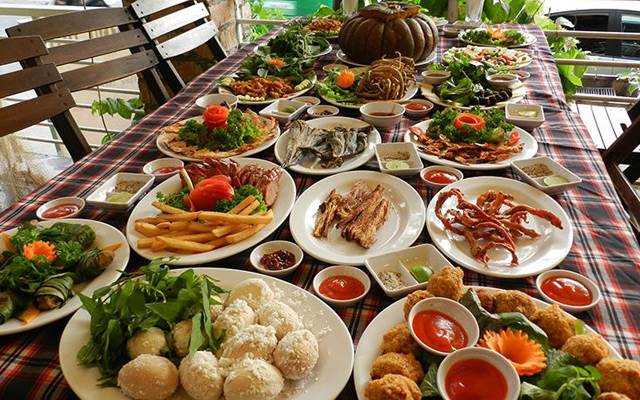 If not satisfied with the seafood dishes in Quang Ninh, Hon Gai restaurant is an address you should go to enjoy all the food of the port land. In particular, the restaurant is also quite famous for its extremely wide space, many areas with beautiful architecture.
Besides the poetic space, this restaurant also conquers the most fastidious customers because of its delicious taste and diverse menu of dishes from Asian dishes to European dishes. With seafood, Hon Gai restaurant serves a variety of dishes from snail hot pot, vermicelli, filtered flour cake … But the most famous is beef cooked with cheese at an extremely reasonable price.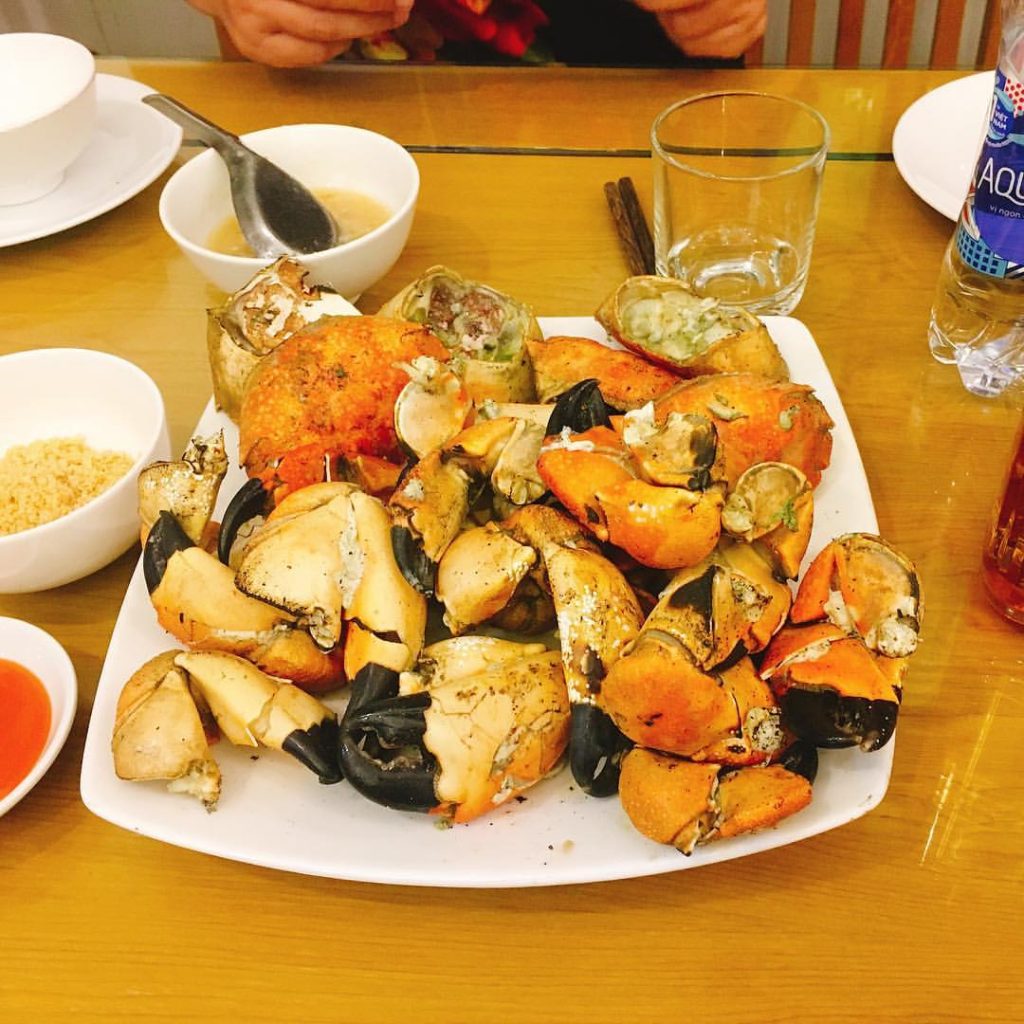 If you come here you will be really impressed with the team of chefs here. They not only bring traditional flavors but also understand the taste of Vietnamese people when combining dishes with each kind of drink to match unify. Come here, do not forget to try the Hon Gai Charcoal Wine that you also want to taste. In addition, the buffet is also one of the options that many visitors choose because the price is quite cheap.
With a comfortable space and nice layout, you just enjoy the cuisine and learn about the people and culture of Hon Gai. This is definitely one of the places to eat that you can't miss when you come to Ha Long.
6. Huong 2
Address: Group 6, Zone 8, Hồng Hà, Hạ Long City, Quảng Ninh
Opening hours: 8:00 – 22:30
Reference price: $5-$20/dish
This is one of the restaurants in Halong Bay with the most beautiful view of the sea at the 6th floor. You can enjoy panoramic view of Ha Long Bay and grilled parties with a very convenient smoke-free hotpot system. One more point is that although the restaurant is built according to the model of luxury restaurant, it still keeps affordable price.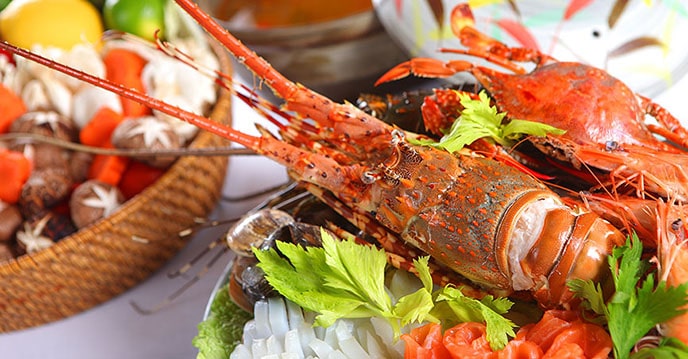 The menu of the restaurant includes a lot of specialties such as sea crab, lobster,… prepared in a completely different style, bringing a new and unique flavor to the dishes from the sea. One of the dishes always recommended by the staff for visitors is hydrangea shrimp. They are carefully selected shrimps, covered with a layer of fried shredded potatoes and served with a special sauce.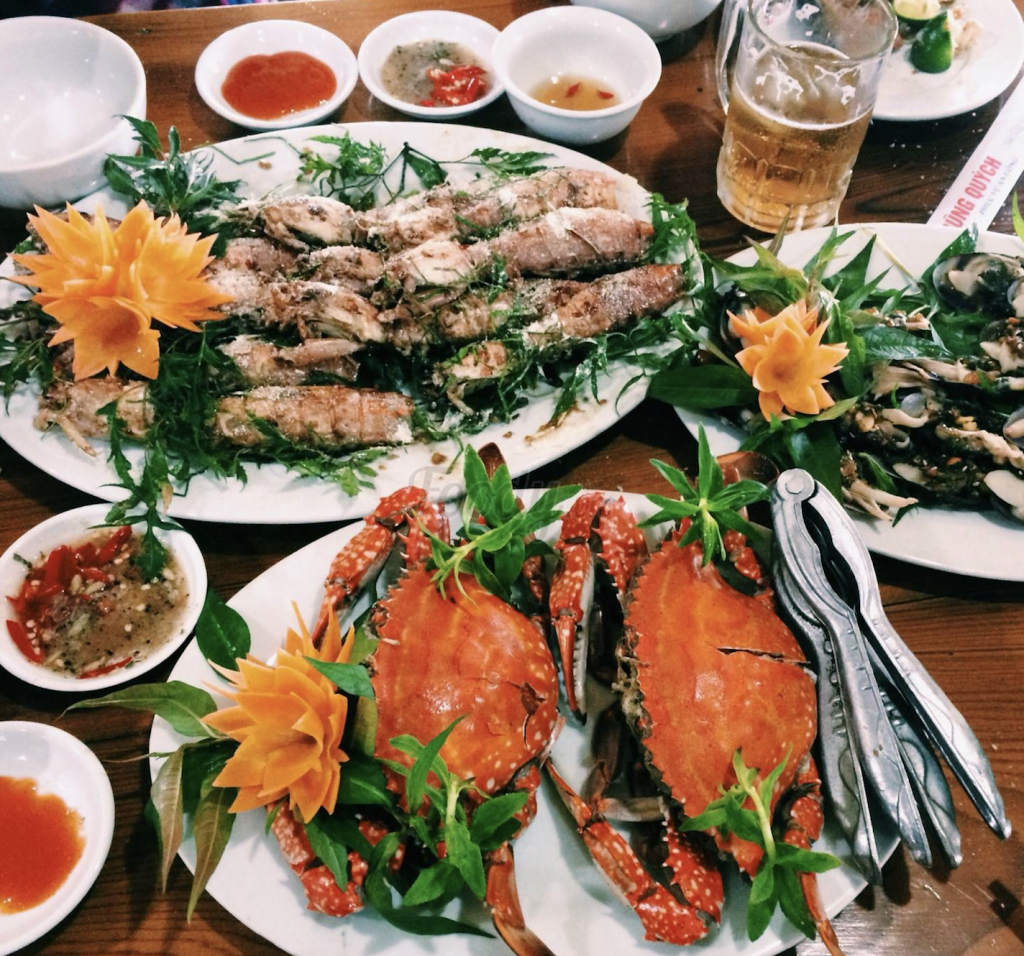 Huong 2 Restaurant is the address to help you release your seafood thirst. Come here, you will enjoy the valuable seafood that is not always available like bamboo shrimp, quail, sea bass … At the weekend, what is more interesting than gathering with friends at the rooftop terrace with a bit of warm smoke, enjoying seafood and watching beautiful Ha Long Bay at night.
Tuan Chau Area
Tuan Chau is also considered as one of the areas with many tourists in Ha Long. Because it is relatively convenient for travel but the price in this area is relatively high. If you stop in this area, you can find some reputable restaurants below to enjoy the specialties and delicious food in Ha Long.
7. Hong Minh Tuan Chau Restaurant
Address: Group 92, Don Dien, Ha Khau, Ha Long City, Quang Ninh
Opening hours: 9:00 – 22:00
Reference price: $5-$15/dish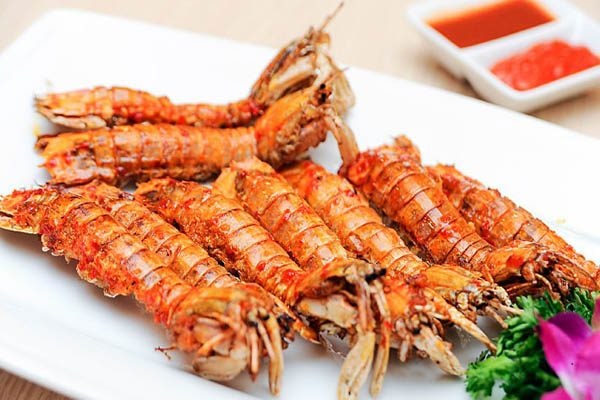 Hong Minh Restaurant is located 800m from Tuan Chau Gate. It is located on the national highway and very convenient for guests to stop to enjoy Ha Long specialties. This is a large restaurant with indoor and outdoor area decorated with beautiful, attractive and glittery lights.
Hong Minh restaurant is luxuriously designed with separate VIP rooms. Not only investing in space, the dishes at the restaurant are also served quite diverse such as Boat Surface, Grilled Squid, Steamed Squid, Steamed Crab, Chicken Hill, River Fish, Underarm Pork, Seafood fresh … That will surely satisfy the most fastidious guests.
8. 1958 Tuan Chau – Vietnamese and French cuisine restaurant
Address: E19-E20, Urban Area Nam, Tuan Chau, Ha Long City, Quang Ninh
Opening hours: 9:00 – 23:00
Reference price: $5-$20/dish
1958 restaurant can be considered as one of the luxurious restaurants. It bears the impression of architecture as well as Vietnamese cuisine during the Vietnam – France. This restaurant mainly focused on Vietnamese dishes prepared in the style of Northern cuisine. It is very diverse in options for appetizers, main dishes and desserts.
Each corner in the restaurant is meticulously decorated, romantic for couple and the young. On the menu, the restaurant has attractive appetizers such as: Ha Long seafood spring rolls, oysters, beef salad …. In addition, there are specialty dishes to taste of Ha Long Bay such as squid or clam. As for the main dish, the majority of dishes is from a market specializing in fresh seafood with different types of fish and shellfish depending on the season. In addition to favorite Vietnamese dishes, they also serve other dishes like meat stock and beef stew.
Desserts will be a mixture of Western quiche and Vietnamese specialties. Your family can enjoy homemade ice creams with all kinds of flavors . If you book a hotel in Tuan Chau area, the 1958 restaurant is one of delicious restaurants in Halong Bay that you should choose to enjoy.
So what do you expect more for a great trip? Please contact us – Asia Master Tours for guidance, advice and get the most preferential price when you, your family and friends are going to enjoy Halong Bay.
You can view more articles about traveling to Vietnam.
Contact Us
Address: 272 Khuong Dinh Street, Thanh Xuan District, Hanoi, Vietnam
Phone: (+84)24 6293 4678
Email: info@asiamastertours.com
Hotline: (+84)962 313 698
Website: http://www.asiamastertours.com