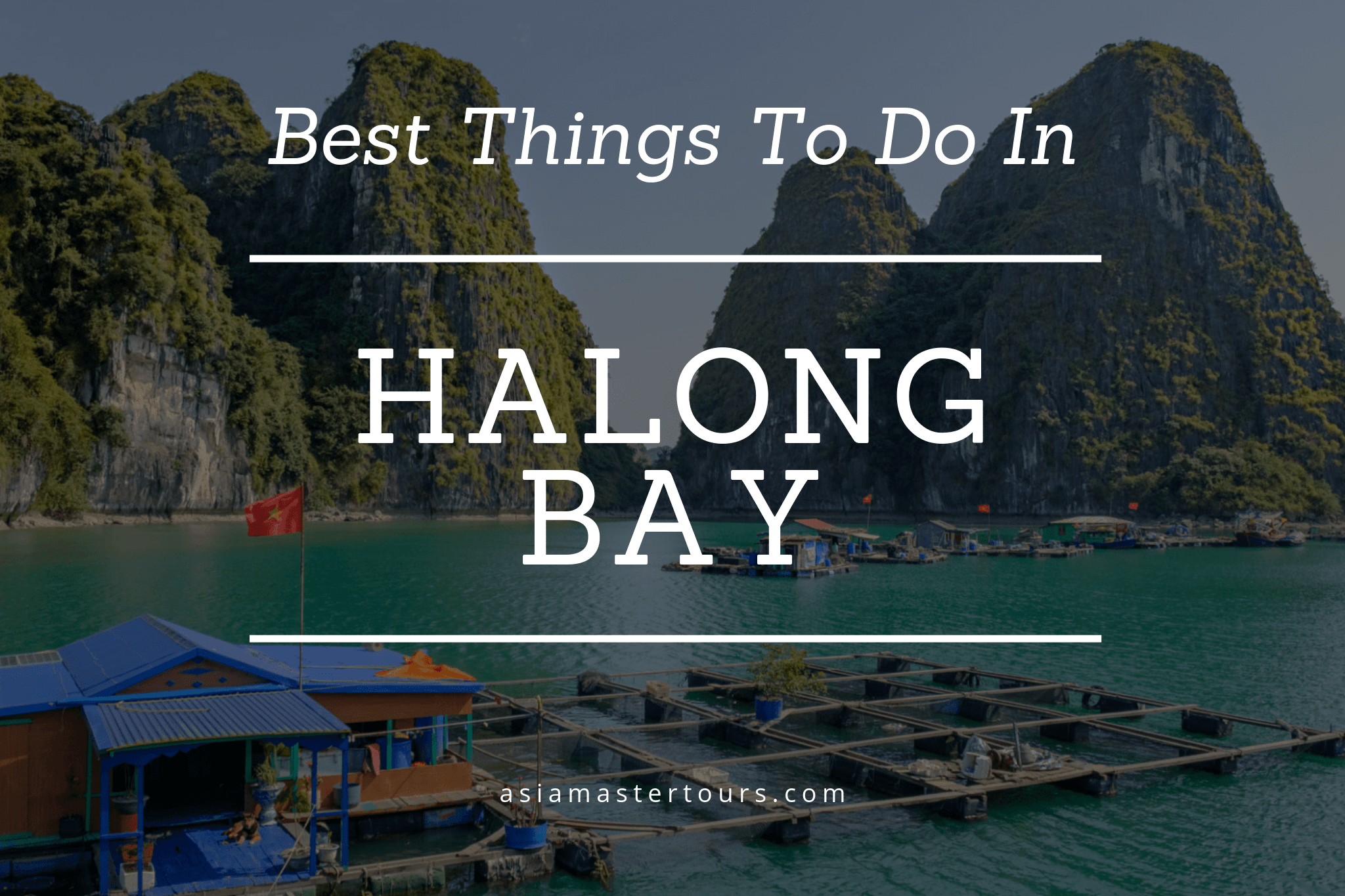 Best Things To Do In Halong Bay
Halong Bay is a famous tourist destination of Vietnam. With thousands of magnificent islands, miraculous fruits of creation, Halong Bay has been recognized by UNESCO many times as a Natural Heritage of the World. Halong tourism has the advantage of beautiful sceneries which are attractive to domestic and international tourists. Are you excited for your upcoming Halong trip? Asia Master Tours would like to send you some notes about things to do in Halong Bay, as well as the latest updated Halong tourism experience.
1. When is the best time to visit Halong Bay?
Halong has 4 distinct seasons. Coming here to experience the cool sea, visitors also enjoy the time to admire the magic beauty from the bay on the yacht. Therefore, you can go to Ha Long at any time of the year.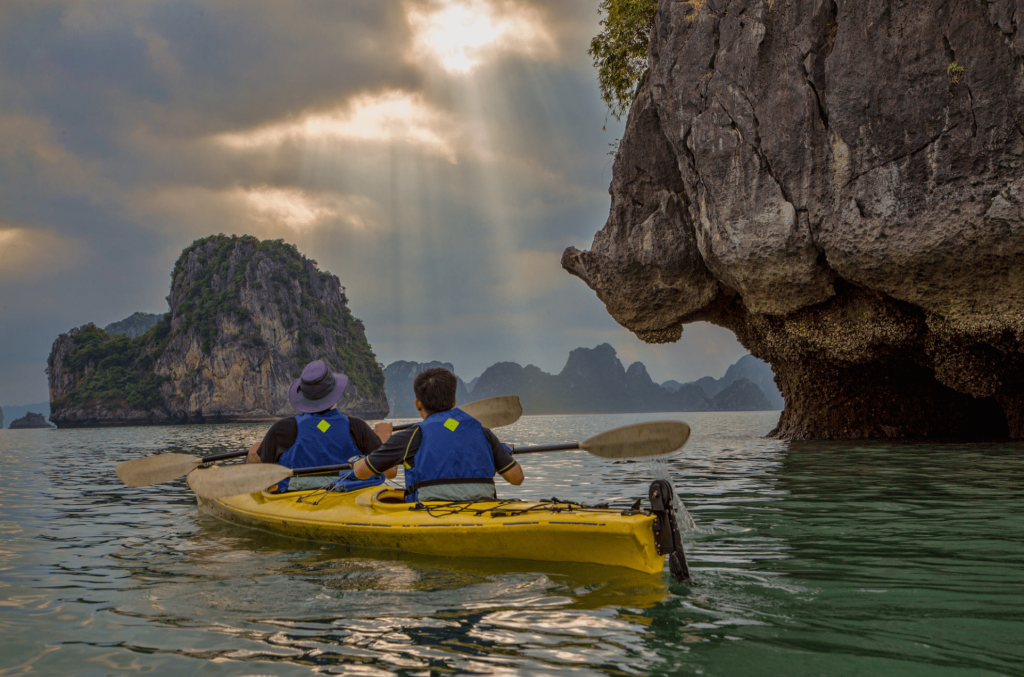 This is an useful advice. if you do not like crowded, you should go to Halong from March to April or at the end of August and October. The time from May to July, visitors going to Ha Long are extremely crowded. As a result, all prices will be more expensive. Moreover, the quality of service is sometimes not guaranteed.
2. How to get Halong Bay?
a. Transportation to Ha Long
Currently, there are many ways to move to Ha Long to make your choice easier than ever. Visitors going to Ha Long often come from Hanoi. You can choose to get there by motorbike, car, bus, train, depending on your interests as well as your finances.
Ride motobike
Motorcycles are quite interesting choices, especially for those who are passionate about conquering new roads and new landscapes. You can move according to 2 routes from Hanoi to Ha Long as follows:
From Hanoi, moving along Road 5, going to Sai Dong T-junction to Bac Ninh. From Bac Ninh, you continue to follow road 18. Road 18 will last through the locations: Pha Lai, Chi Linh, Dong Trieu, Uong Bi and finally Ha Long. The total route is about 155 km. It takes about 4 hours.
The second route for you to choose will be longer, about 160 km. From Noi Bai Airport, you go to Bac Ninh. From Bac Ninh, you run along National Highway 18A and cross the locations: Pha Lai, Sao Do, Dong Trieu, Uong Bi and Ha Long.
Bus ride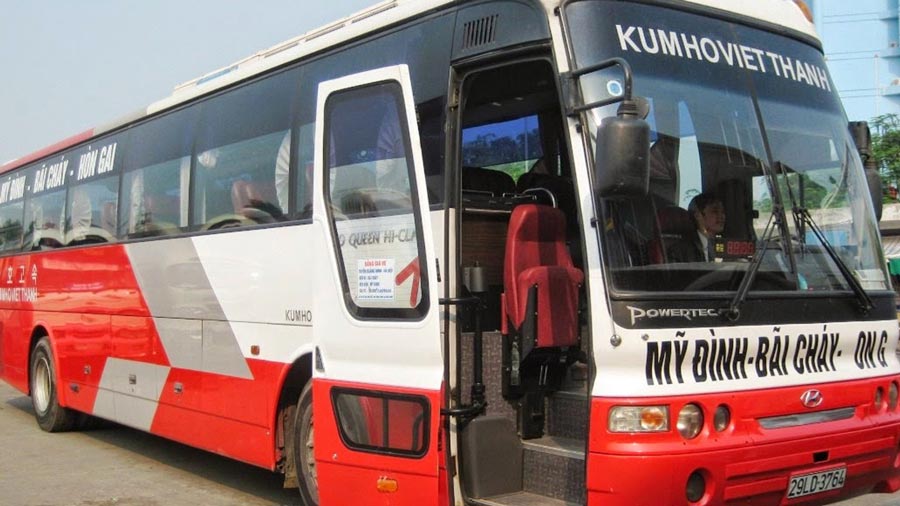 From Hanoi you can go to Luong Yen bus station or My Dinh bus station. Buses will be 5-15 minutes apart from Hanoi to Bai Chay Bus Station (Ha Long). The bus will take about 4 hours. However, if any cars follow the new route, it will only take about 2 hours to arrive.
Go by train
For those travelers who want to experience the fun, traveling by HALONG EXPRESS will meet all those needs. This train to Ha Long will depart from Gia Lam station. Duration of the journey is 5 hours. You can enjoy the convenience of the train such as food, drinks, watching the scenery that the train passes.
b. Transportation in Halong
Going in the city
You should hire a taxi to move to facilitate travel. In addition, hiring a car or a motorbike is also an option. Some reputable taxi firms in Halong such as Mai Linh taxi, Hon Gai taxi, Ha Long taxi.
Visiting the Bay
Want to visit the bays here, certainly tourists need to hire ships at the port of ship. Some ports for rent in Ha Long can refer to: Bai Chay Tourist Port, Ha Long Bay Service Center, Ha Long Tourist Wharf, Duong Hai Company,
Seaplanes are also a great experience if travelers can afford it. Seaplane has 2 seats for pilots, 12 seats for passengers with an altitude of 150 – 3000 m above sea level.
3. Where to stay in Halong Bay?
If you want to stay in a hotel, here are some best Halong Bay hotels we suggest for you.
Besides, one of the best ways to see Halong's nature and feel the local culture is to stay overnight with Halong Bay luxury cruises.
4. Where to visit in Halong Bay?
a. Beautiful bays, islands, beaches
Bai Tu Long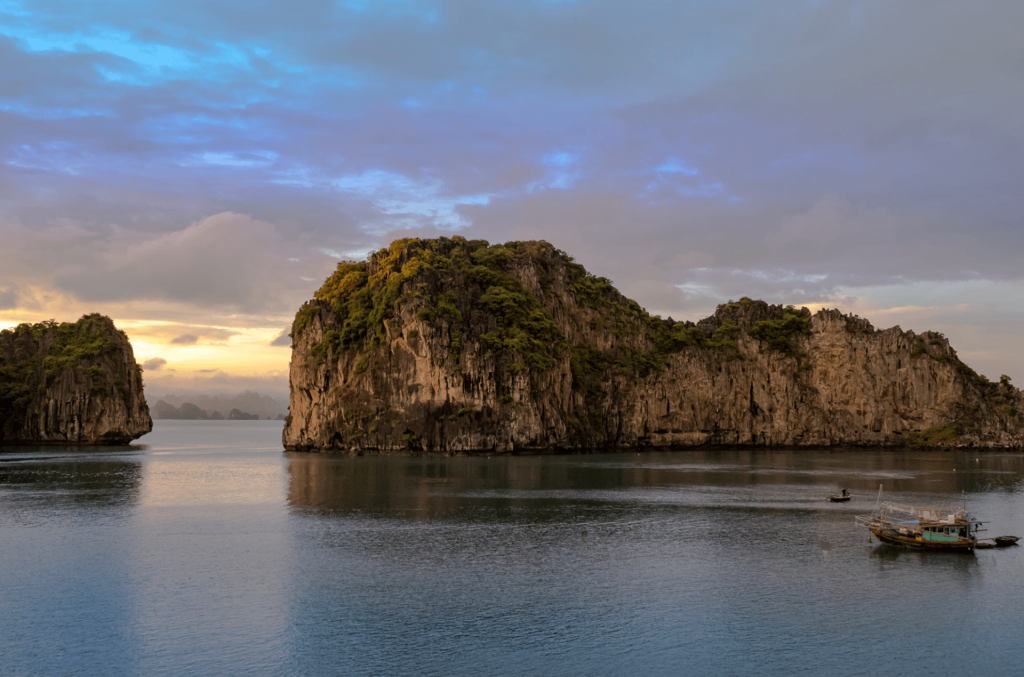 Bai Tu Long includes hundreds of large and small islands. This is one of the attractive destinations that is not inferior to Ha Long Bay. The emphasis in there is on diverse and attractive marine eco-tourism including beaches, caves … There is also Bai Tu Long National Park with Biological environment contains diverse flora and fauna. This is one of things to do in Halong Bay.
Lan Ha Bay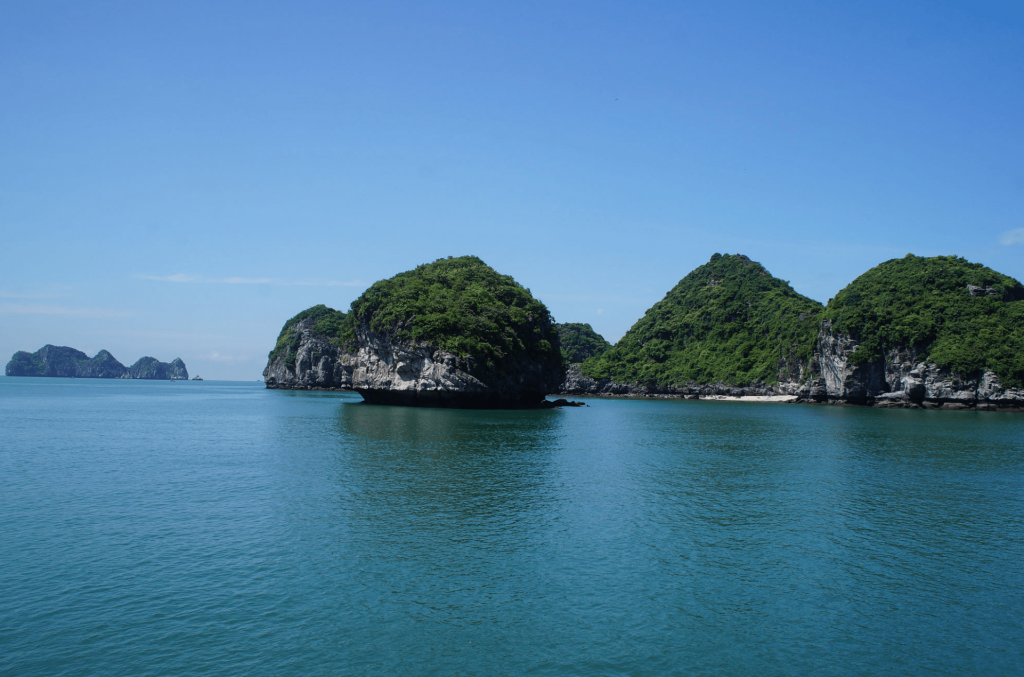 Located in the south of Halong Bay with more than 400 islands, Lan Ha Bay has lots of large and small with interesting shapes. The islands in this place are also covered by green trees. With a cool climate in the whole year, this place has been dubbed the "paradise of oversleeping". Because of that, the beauty of the bay is judged not to be inferior to Ha Long Bay. It seems that tourism has only been paid attention to Lan Ha Bay recently.
Tuan Chau Island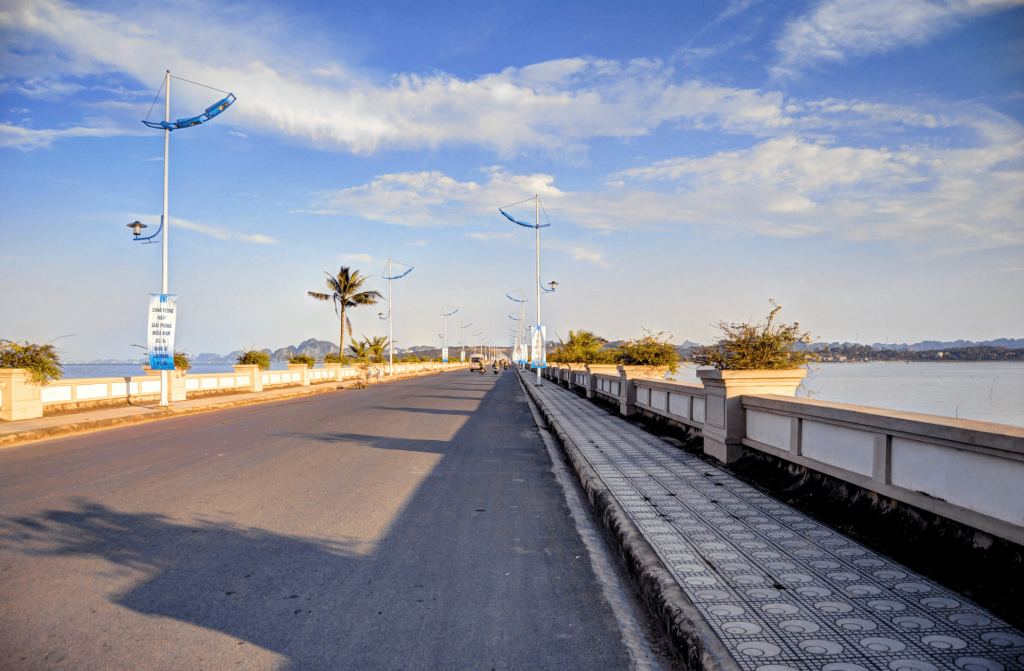 The island has nearly 2,000 islands in Ha Long Bay. It is also the only island to live in. Therefore, Tuan Chau Island is one of the most tourist attraction places in Ha Long.
Bai Chay Beach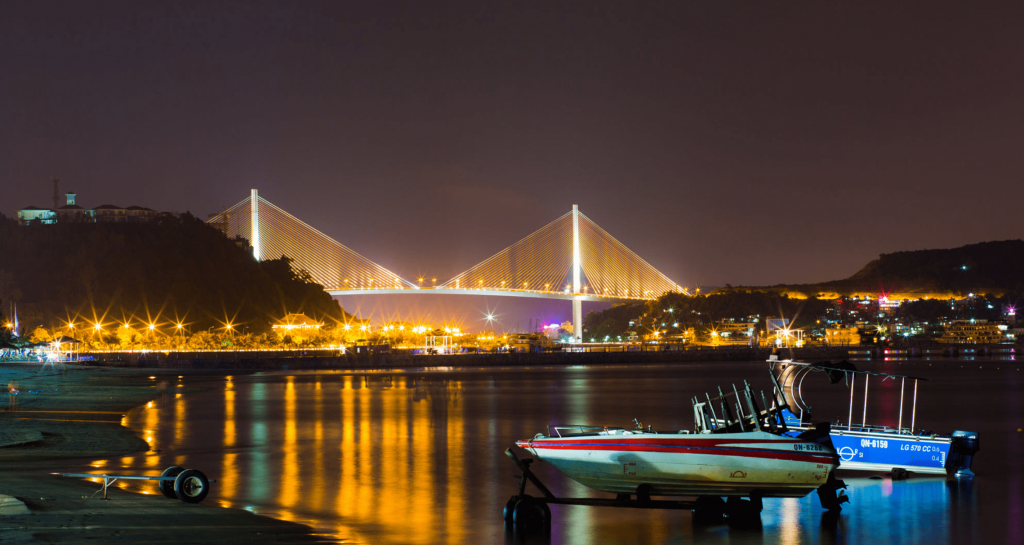 With a long beach, white sand and clear water, Bai Chay is considered a summer destination for tourists. Coming here in the hot summer and letting the cool sea with the breath of salty air blowing into your face is extremely relaxing.
Co To Island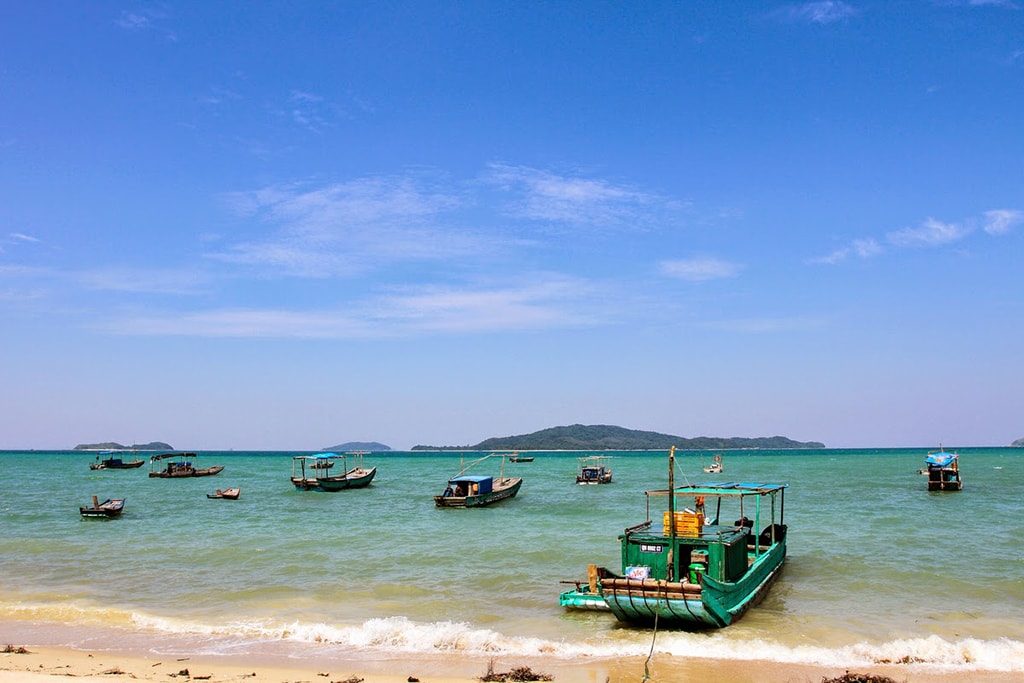 Co To Island captures visitors by its poetic nature. It is a place for people to find their way to life. It used to build up literary inspiration for many poets and musicians. Along with that, the beautiful coral reefs in the sea will make you happier. Therefore, you should go to there as one things to do in Halong Bay.
Cat Ba Island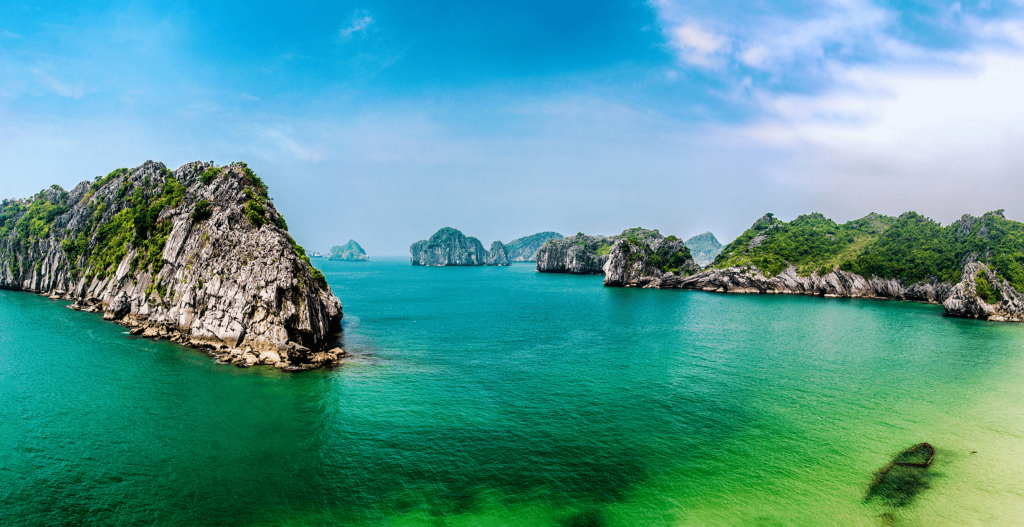 The view of the beautiful white sand beach and the limestone cliffs rising above the water will really make you flutter. It is also famous for adventurous activities such as climbing in Hon Chong, National garden trekking.
b. Beautiful caves in Halong Bay
Sung Sot Cave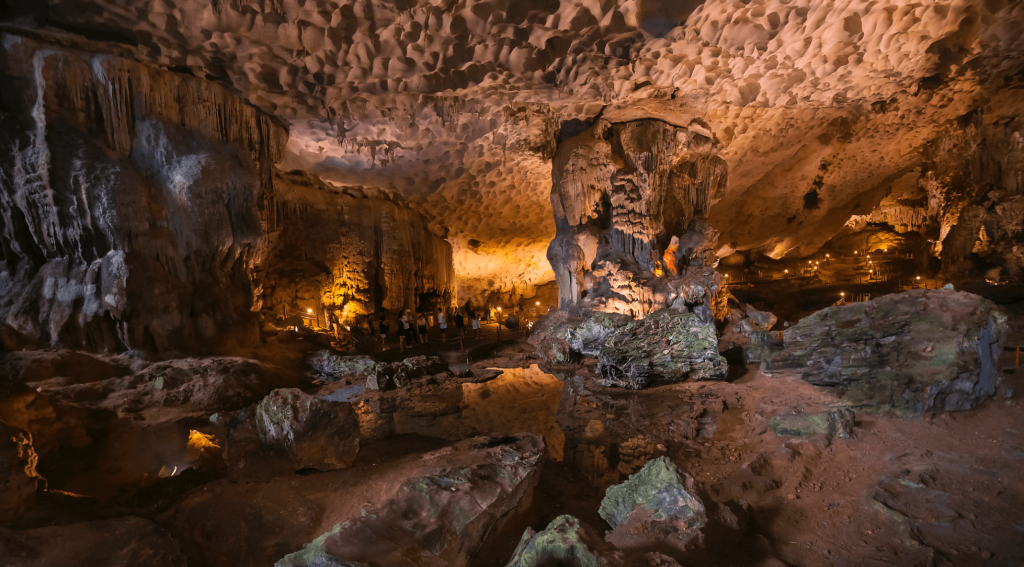 Considered one of the "legendary" tourist destinations, this place is the most famous cave in Halong Bay. Not to reach Phong Nha-Ke Bang to admire a splendid cave, 100 stone steps open to the entrance to different spaces with the splendid color light of the geological wonder. That makes visitors overwhelmed. The deepest part of the cave is called the "royal garden", where you can find a clear lake with extremely rich flora and fauna.
Dau Go cave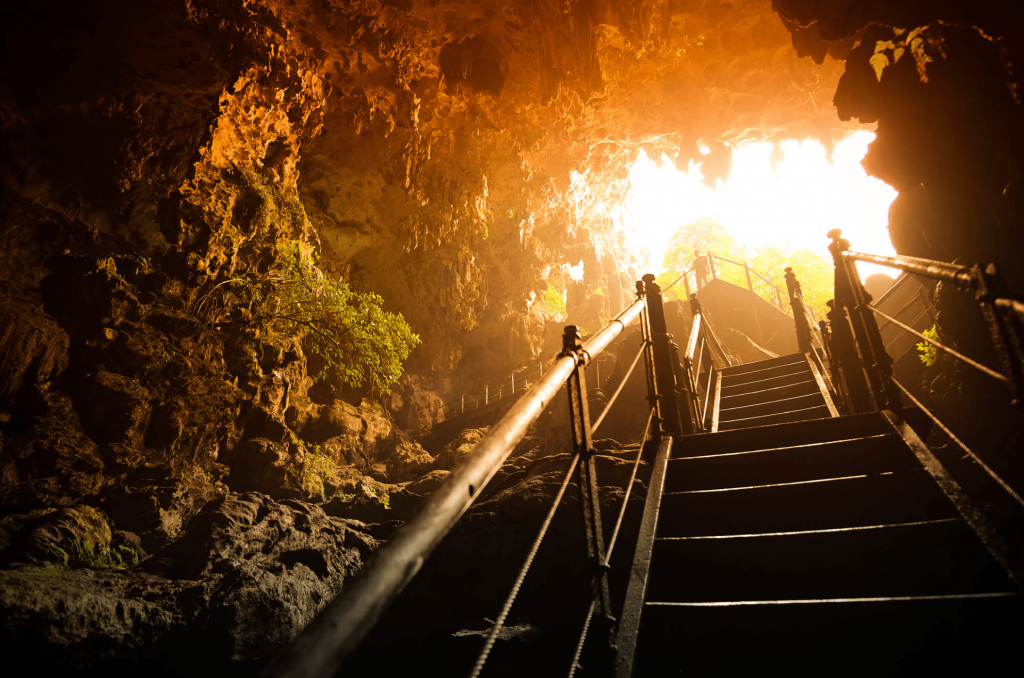 This cave is said to be the largest limestone cave in Ha Long. As soon as you set foot in the cave, you will see the wonderful details. So many tourists are surprised by the light with brilliant colors reflected from the stalactites.
Thien Canh Son Cave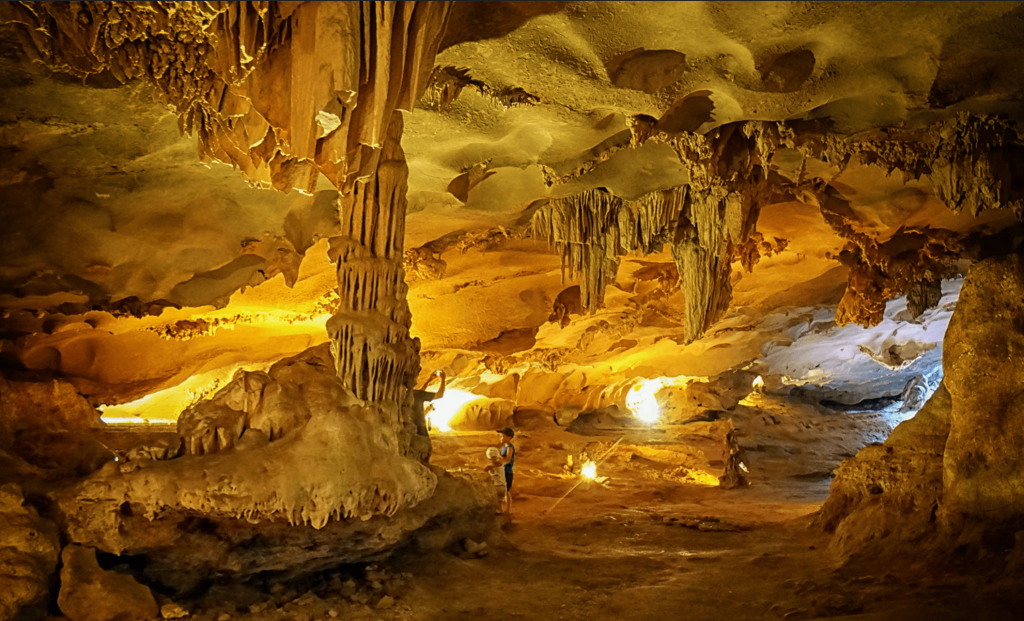 Thien Canh Son, a rather unspoiled cave, is located on Bai Tu Long Bay and Ha Long Bay. This is also an interesting destination for Vietnamese and international tourists thanks to the natural beauty, pristine limestone stalactites and surrounding landscapes.
c. The beautiful coastal villages
Cua Van fishing village
As one of the most famous fishing villages, Cua Van is located in a calm sea area and is one of the largest fishing villages with a population of up to 733 people.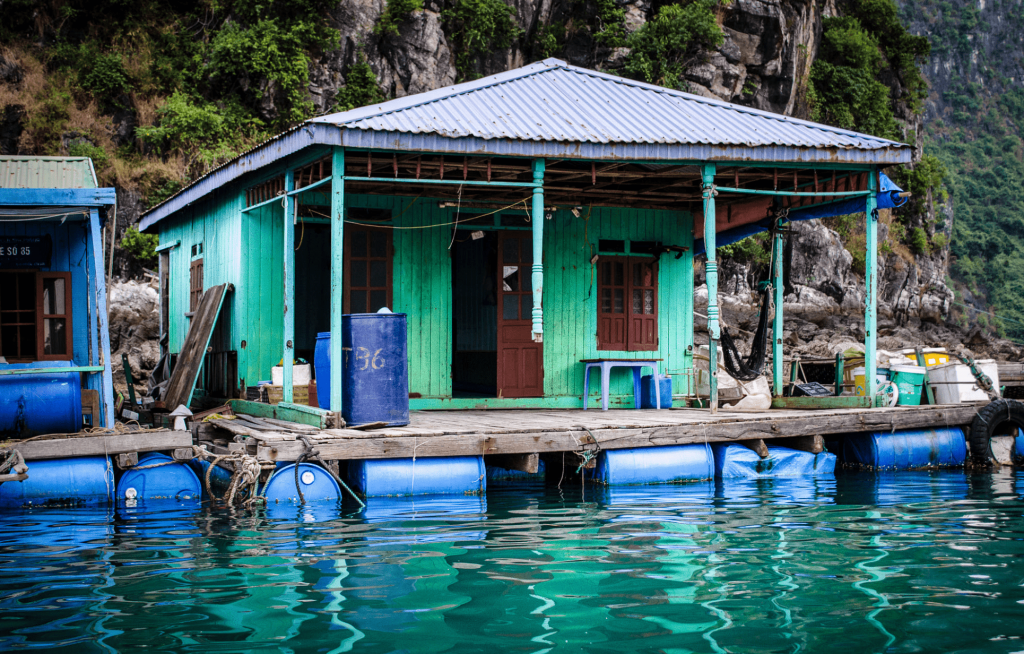 Beauty in here is accreted from small houses that tie together against storms. Not only discovering the life of a fisherman, visitors also directly observe the beauty of the ocean right below the boat. This is a quite precious and unforgettable travel experience. Therefore, visiting this place is considered as one of best things to do in Halong Bay.
Ba Hang fishing village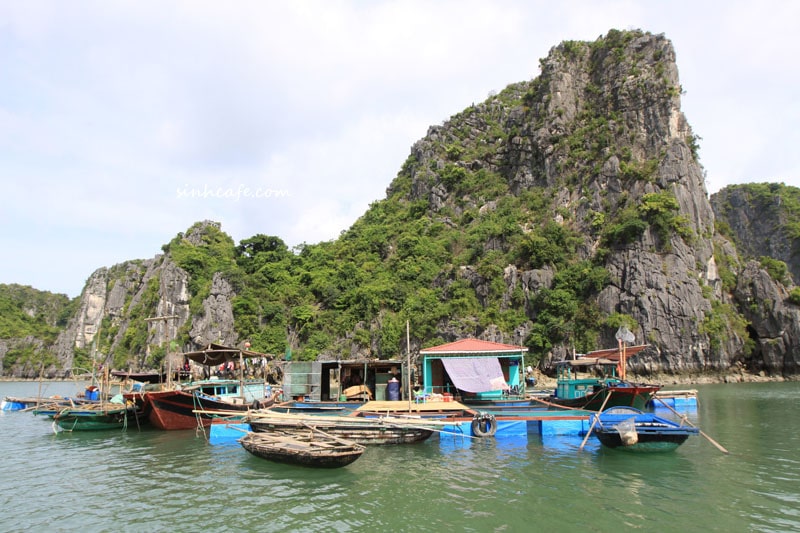 Ba Hang fishing village is one of the famous fishing villages with domestic and foreign tourists coming to Ha Long. Coming to Ba Hang fishing village, visitors will enjoy the beauty of the idyllic mountains and experience the life of the fishermen.
d. Spiritual tourist sites
Ba Vang Pagoda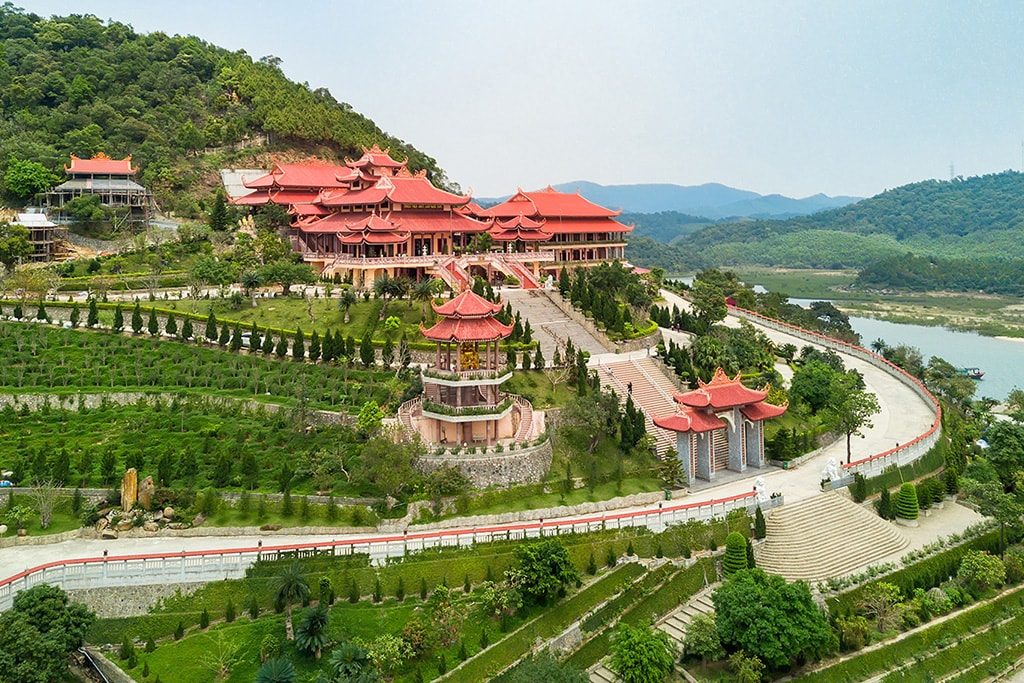 Located on the middle of Thanh Dang mountain, the pagoda is also called Bao Quang Tu. This is a great place to calm down, enjoy the fresh air and look at nature from a high way in the most extensive way. .
Yen Tu relic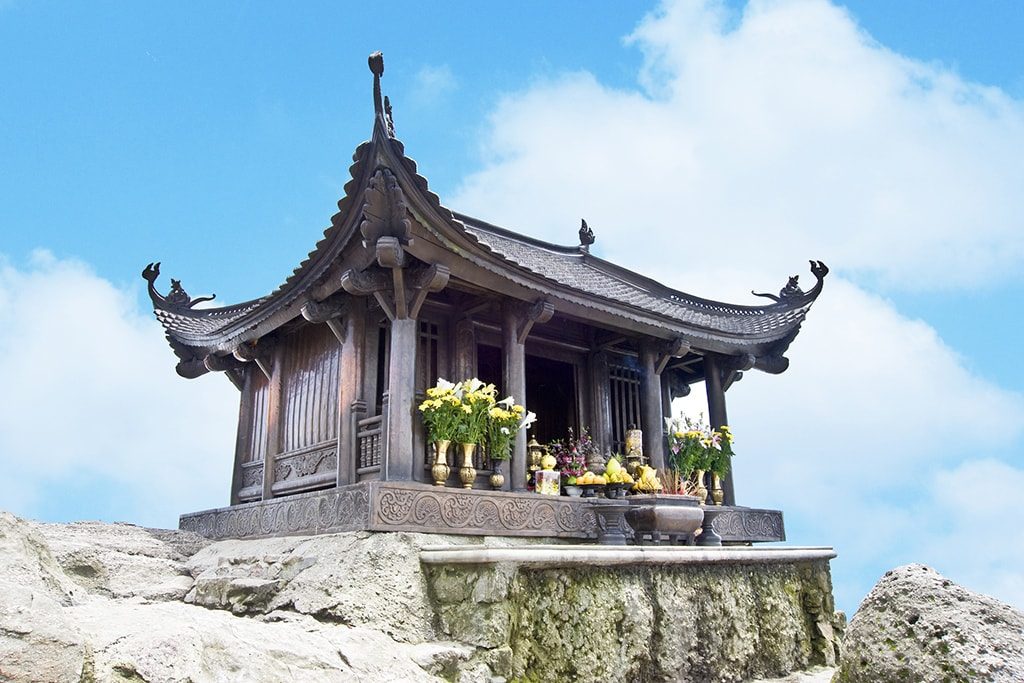 Yen Tu is one of the most famous pagodas in the North with ancient temples, pagodas, towers and forests blending with natural landscapes. All scattered from the Red slope to Yen Tu mountain gradually.
Cai Bau Pagoda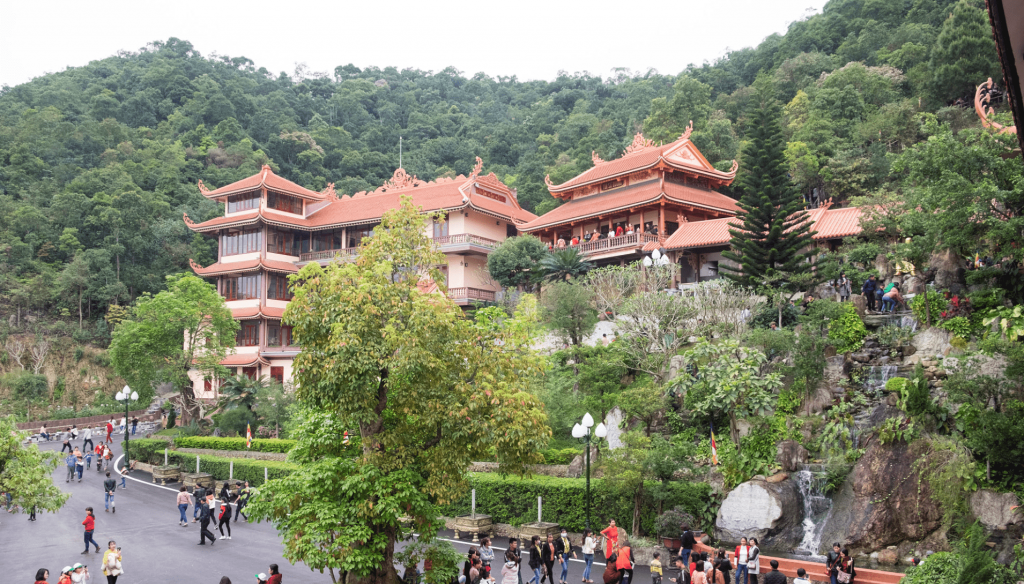 Cai Bau Pagoda (also known as Truc Lam Giac Tam Meditation Center) inaugurated in 2009 is located near Bai Dai Tourist Area – Van Don. It possesses absolutely quiet scenery, peaceful temple bell with distant waves. That creates a real and sacred atmosphere.
5. Activities you should try when traveling in Ha Long
What to do in Halong Bay? Besides visitings attractive places, please see some extremely amazing activities in Halong Bay that tourists should not miss if they come to this place.
6. What to eat in Halong Bay?
Xoi with white squid
Xoi is made from new sticky plastic glutinous rice. Eating it with fried squid and fish sauce is so yummy. Each portion of white sticky rice in the popular price ranges from 15,000 to 20,000 VND. In addition, you can buy squid rolls for about 250,000 VND/kg.
Seafood bun
Seafood bun in Ha Long are suitable for your breakfast when traveling here. A full bowl of vermicelli costs about VND 40,000 with shrimps, crabs (or tickles), surface fish, fish rolls and vegetables. Multi-seafood vermicelli served with raw vegetables will harmonize the sweetness of the broth with the cool taste of raw vegetables. Trying this dish is also one of the best things to do in Halong Bay.
Sam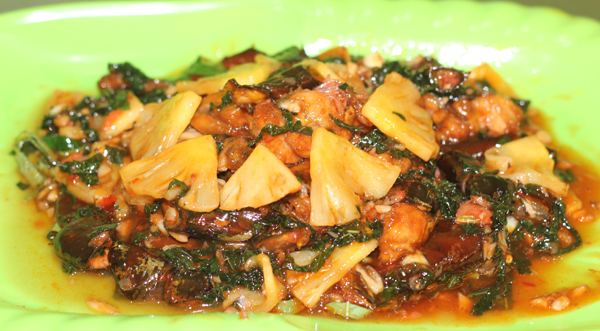 Sam is made into a variety of delicious dishes such as stir-fry, fried pork, fried eggs … However, sam is a kind of weldable seafood. So if you have ever had seafood allergies in general, you should not eat. Sam at 6 Cao Thang Street is one of the most famous places in here.
Fried snail
Stiring fry snail with soy sauce, lemongrass, tamarind sauce, coconut is very delicious and addictive for everyone. In Halong, there are many types of snails for you to choose. The famous snail restaurant is Van Lang. It is very delicious but the price is quite high when compared to the common ground.
So what do you expect more for a great trip? Please contact us – Asia Master Tours for guidance, advice and get the most preferential price when you, your family and friends are going to enjoy Halong Bay.
You can view more articles about traveling to Vietnam.
Contact Us
Address: 272 Khuong Dinh Street, Thanh Xuan District, Hanoi, Vietnam
Phone: (+84)24 6293 4678
Email: info@asiamastertours.com
Hotline: (+84)962 313 698
Website: http://www.asiamastertours.com