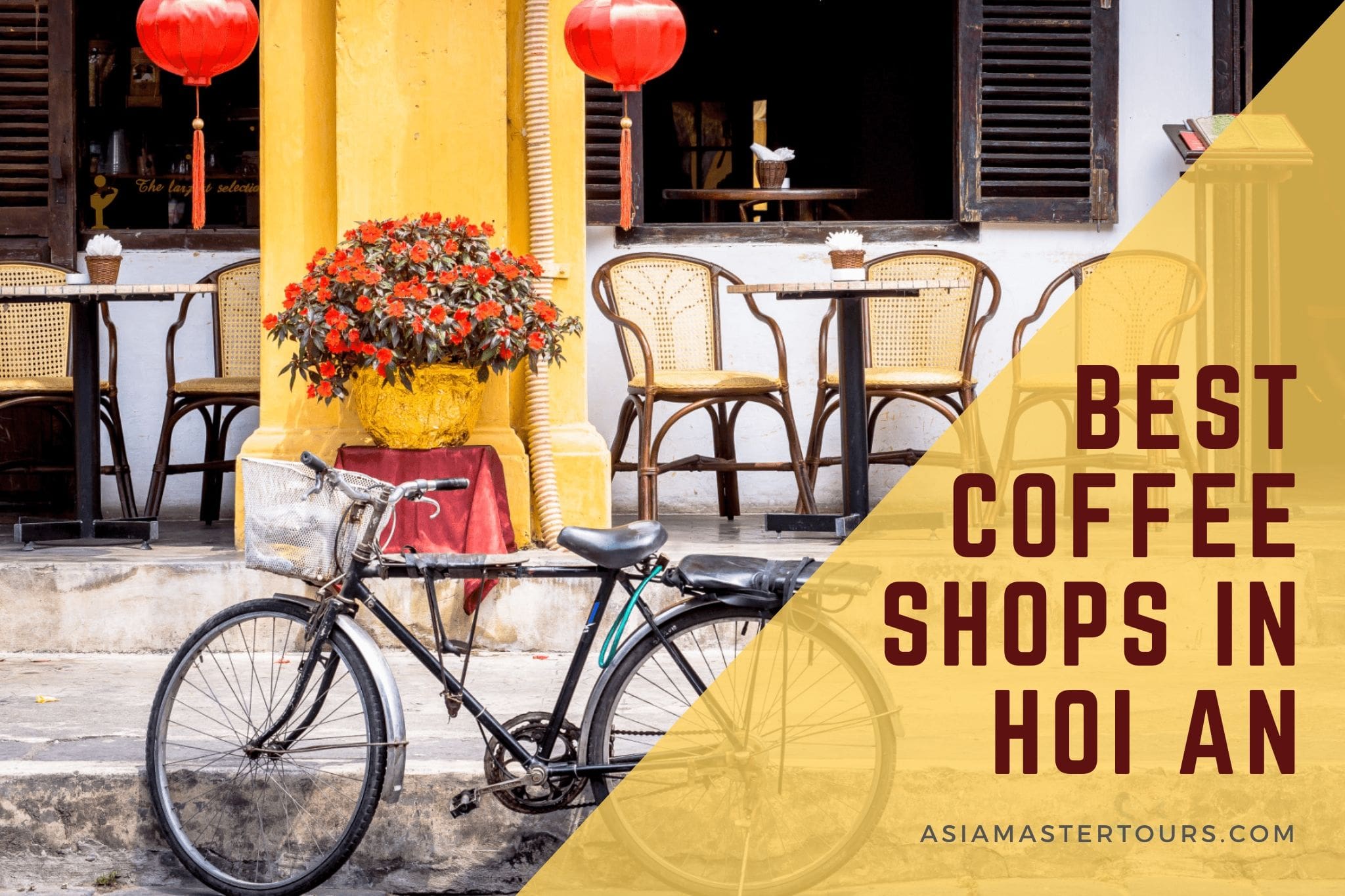 The best coffee shops in Hoi An
Hoi An is not a massive place but it is still very good at attracting visitors with its unique works, interesting small corners and its own nature. Besides the famous landmarks, the old town also owns extremely valuable treasures, which are the beautiful coffee shops that Asia Master Tours will introduce to you today.
Mot Hoi An
The first name to appear on the list is Mót – a name that sounds very cute and rustic. The space is exactly the same as the name. This little coffee shop locates on a sidewalk with idyllic style. Sometimes there is only just a bar stool to sit, but that is also the point fascinating visitors.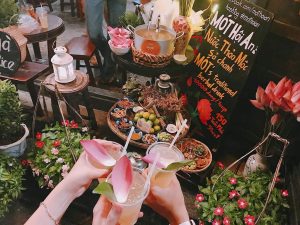 Although Mot is called a coffee shop, it is famous for its herbal teas and lemongrass, with an extremely reasonable price. A simple glass of drink, which is made from herbs, lemon citronella flavor, accompanied by jujube seeds and specially decorated with a lotus flower. This lovely little drink evokes a very unique feeling about Hoi An.
Address: 150 Tran Phu
Price from: 10,000 VND/person
Cocobox
This beautiful cafe in Hoi An is built on the concept of a cafe combined with selling organic produce – a form of business that is quite popular in European countries.
It is the sophistication in the arrangement combined with a variety of delicious drinks that is the main attraction of Cocobox. In addition, the beverage on the menu are given names that sound strange, but also full of Hoi An such as: An Bang Colada, Good Morning Hoi An, Relax Thu Bon, which is also a characteristic style for this shop.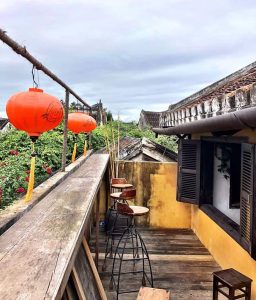 Located among the colorful streets of ancient Hoi An, Cocobox is not only a favorite cafe for Vietnamese tourists, but also a frequent destination for foreign tourists. Coming here, you can find yourself a delicious glass of beverage, a light Western breakfast, and you can buy quality products to bring home as gifts such as coffee, coconut oil, tea, honey, spices.
Address: 94 Le Loi – 03 Chau Thuong Van – 42 Bach Dang – 95 Nguyen Thai Hoc
Price from: 20,000 – 50,000 VND / person.
The Chef
Do not misunderstand this for an expensive Western restaurant, it is a beautiful cafe in Hoi An that have an equally rich drink menu. And you should not miss out on it. The most attractive point of The Chef comes from the terrace of the restaurant, which has a very artistically arranged. This corner of The Chef's terrace is decorated with lanterns and sparkling trees; not to mention, from here you will see the whole of Hoi An with flat, yellow tiles in the bright sun or dyed red in the sunset.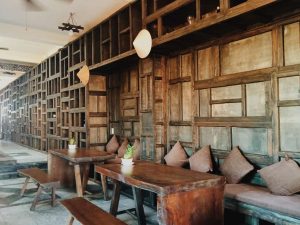 The Chef's name may be quite new to visitors, despite its somewhat ancient and mossy style. The second floor, where coffee is served, is beautifully decorated with dark wooden walls. Here, you can drink coffee while chatting with friends, or even sitting and reading your favorite book pages.
Address: 166 Tran Phu
Price from: 30,000 VND/person.
Faifo Coffee
Faifo is a beautiful cafe in Hoi An that you cannot ignore when visiting this old town. Located at 130 Tran Phu, Faifo Coffee attracts visitors mainly because it chooses a "rooftop coffee" style. In the ancient town of Hoi An, there are no tall buildings that cover the eyes, only mossy tile roofs covered with time colors, which creates layers of an extremely artistic and romantic golden-brown scenery.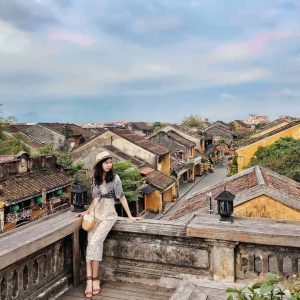 Faifo Coffee is located in a quiet, 2-storey old house, which is lightly decorated with the dominant golden brown color. It is its design that is both warm and representative for tea and coffee colors, which are the top drinks of the shop. This beautiful cafe in Hoi An is also an ideal destination for "coffee addicts" and those who love hunting beautiful pictures.
Address: 130 Tran Phu
Price from: 20,000 VND – 70,000 VND / person.
The Deck House
A little distance away from the main ancient town, we will come to a beach cafe, which is known as The Deck House. With open sea view, designed with cool blue-white tones, entering the space of The Deck House will make you instantly feel cool, and as if you were in Santorini!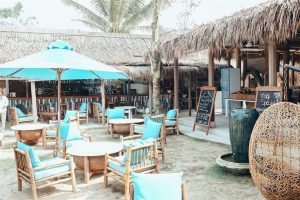 Located at An Bang beach near Hoi An, The Deck House possesses green space between the vast space of the sea. You can visit this beautiful cafe in Hoi An on your way to the famous beach of Quang Nam or take a picture in Tam Thanh mural village – what a convenience to do multi-activities in one go.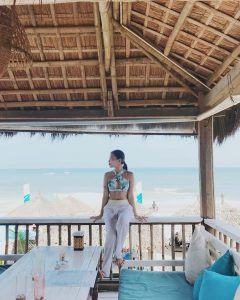 Address: An Bang Beach
Price from: 50,000 VND – 150,000 VND/person.
Hoi An Roastery
Hoi An Roastery is a Hoi An's roasting coffee shop with 7 different cafes in the heart of the old town. You can refer to the full 7 addresses in the box below this article.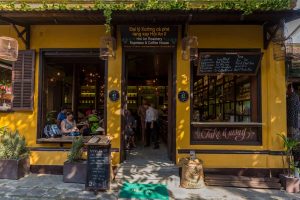 Although it is a common name of Hoi An Roastery, many people think that the Roastery Center at 47 Le Loi has the most beautiful decoration with spacious space and a traditional feeling. The highlight of this supposedly beautiful cafe in Hoi An is the wooden beam, combined with a unique ceiling lamp made from bamboo birdcages. For this, you can come to experience and see which branch is best for you!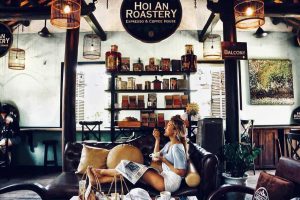 Because it is a roasted coffee factory, the coffee here does not taste controversial. It is rich and passionate. You can also enjoy some Italian ice cream – the combination of coffee and ice cream is really great.
Address:
Roastery Center – 47 Le Loi.
Roastery Japanese Brigde – 135 Tran Phu.
Roastery Temple – 685 Hai Ba Trung.
Roastery Lantern Street – 117 Nguyen Thai Hoc.
Price from: 35,000 VND / person.
Cocobana
If you like items or decoration using the main bamboo ladder, Cocoban at 16 Nguyen Thai Hoc is the place for you. This beautiful cafe in Hoi An devotes a corner to display and also creates a highlight with lots of conical hats, familiar items made from bamboo ladders, rattan and neohouzeaua.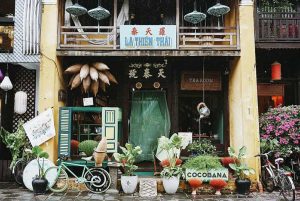 These items are combined and set arbitrarily but full of creativity and purposes, which creates a brilliant and harmonious picture that you cannot take your eyes off.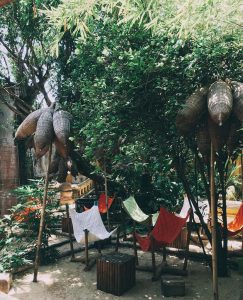 In particular, in Cocobana there is a papermaking area, which is a small garden with an aquarium; The space is enough for you to explore and dream a bit. For those of you who like to play with the art of installation photography, or want to have a strange, and an artist-filled check-in corner, don't hesitate to visit Cocobana right away!
Address: 16 Nguyen Thai Hoc
Price from: 30,000 VND / person.
So what do you expect more for a great trip? Please contact us – Asia Master Tours for guidance, advice and get the most preferential price when you, your family and friends are going to enjoy Hoi An city.
You can also explore more information about Hue such as Hue Vietnam resorts, Hue Vietnam beaches and Hue Vietnam weather or see our best Sapa tours such as Sapa Motorbike Tours, Sapa Package Tours and Sapa Trekking Tours.
Contact Us
Address: 272 Khuong Dinh Street, Thanh Xuan District, Hanoi, Vietnam
Phone: (+84)24 6293 4678
Email: info@asiamastertours.com
Hotline: (+84)962 313 698
Website: http://www.asiamastertours.com