Want to know more about Nha Trang? Read this Nha Trang travel review now
Nha Trang – one of the most famous destinations when it comes to Vietnam. This city is also called the city of beaches because you can find the most beautiful and pristine beaches here. Moreover, there are lots of interesting activities that you might want to enjoy here such as scuba diving, kayaking, etc.
Thanks to its reputation, you might hear about its name several times from your friends or on some newspapers. You might know its beauty through thousands of pictures on the internet and various articles. So, you want to come here at least once to see whether these pictures are real or not. Or you have a long vacation which keeps you stay away from busy life and crazy work.
Before you trip, you want to investigate everything about this destination from its weather, the hotel, the transportation, etc. You want to make sure that your vacation will go well and become perfect. This work will take you hours because you have to look for various websites shown up on google search result. So, if you want to save your time and make everything easier, you shouldn't miss our review Nha Trang travel below.
1. How to get to Nha Trang?
Plane: There are many airlines opening flights departing from Hanoi and Ho Chi Minh City to Cam Ranh Airport (Nha Trang). Traveling to Nha Trang by plane is also the fastest way for you because this mean of transport only takes you more than one and a half hour. Moreover, the price for flights from Hanoi to Cam Ranh is affordable. If you want to save your money, we recommend you to travel with some low-cost airlines such as Vietjet Air or Jetstar. If you are lucky enough, you can get promotion from these airlines which reduce the cost for tickets.
Cam Ranh Airport is far from Nha Trang city center (35km) so to save costs, you can take the airport bus to the center or choose to take a taxi if you go on a large group. So, if you want to have a fast and convenient travel, review Nha Trang travel advice you to choose plane.
Passenger cars: This is also a saving vehicle to move to Nha Trang.
_ From Hanoi: You can choose a car from Hoang Long with the ticket price of VND 620,000 / way / bed and travel time of more than 26 hours.
_ From Saigon: There are more options for car manufacturers, ticket prices range from 180,000 – 230,000 VND / way / bed with travel time from 7-8h. You can choose a late-night departure, sleeping in your car and getting there.
Train:
_ From Hanoi: If you like sightseeing on the way, you can choose to take a train from Hanoi to Nha Trang with prices ranging from 500,000 – 1,400,000 VND / person / one way depending on the type of cabin with the travel time from about 24-28 hours.
_ From Saigon: Train tickets range from 200,000 – 600,000 VND / person / one way depending on the type of cabin with travel time. And the travel time is shorter.
So, if you depart from Saigon, you can get a train. But from Hanoi, based on review Nha Trang from lots of tourists, plane is the best choice.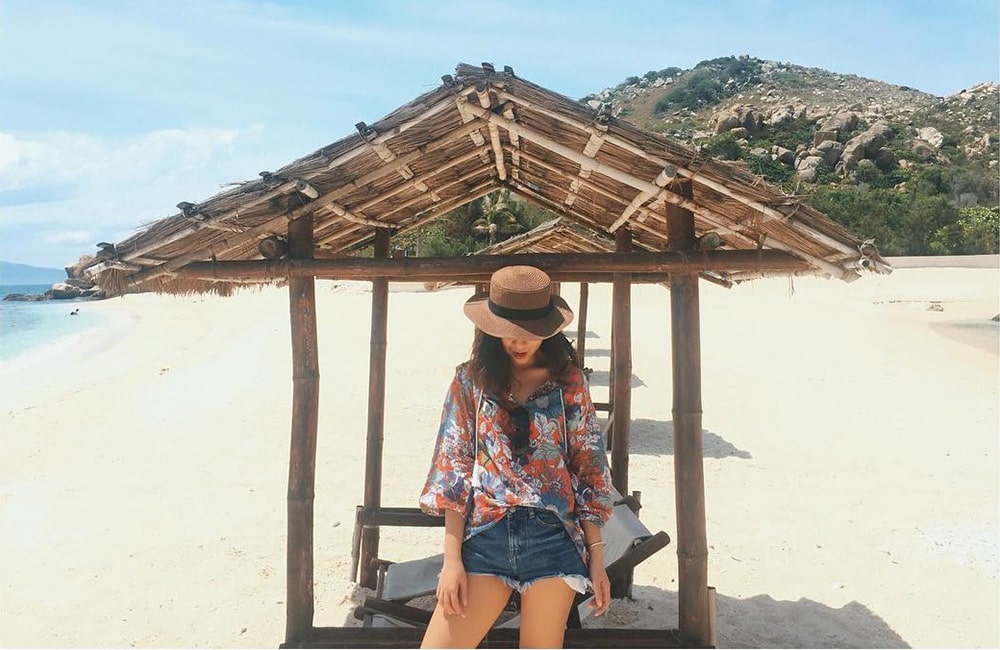 2. Recommended itinerary to discover Nha Trang
On the first day in the beautiful city of Nha Trang, you should visit a variety of tourist destinations right in the center of Nha Trang city. Visit immediately to Nha Trang beach right along the center of Tran Phu street to enjoy the blue sea space, white sand, extremely brilliant golden sunshine. Nha Trang beach is quite tight so there are not many big waves, bringing gentle beauty between the cool blue sea.
Next, get a motorbike to ride around the city and visit Ponagar Tower just a few kilometers away. This site is located on a small hill and on the banks of the poetic Cai River. Ponagar Tower is an ancient complex of Cham Pa cultural architecture that remains intact to this day. Coming here, you will have a chance to explore the ancient architectural works and listen to the legend of Ponagar goddess associated with the Cham culture. With such interesting characteristics Ponagar tower is one of the most prominent destinations in review Nha Trang. The ticket price is VND 22,000 / person.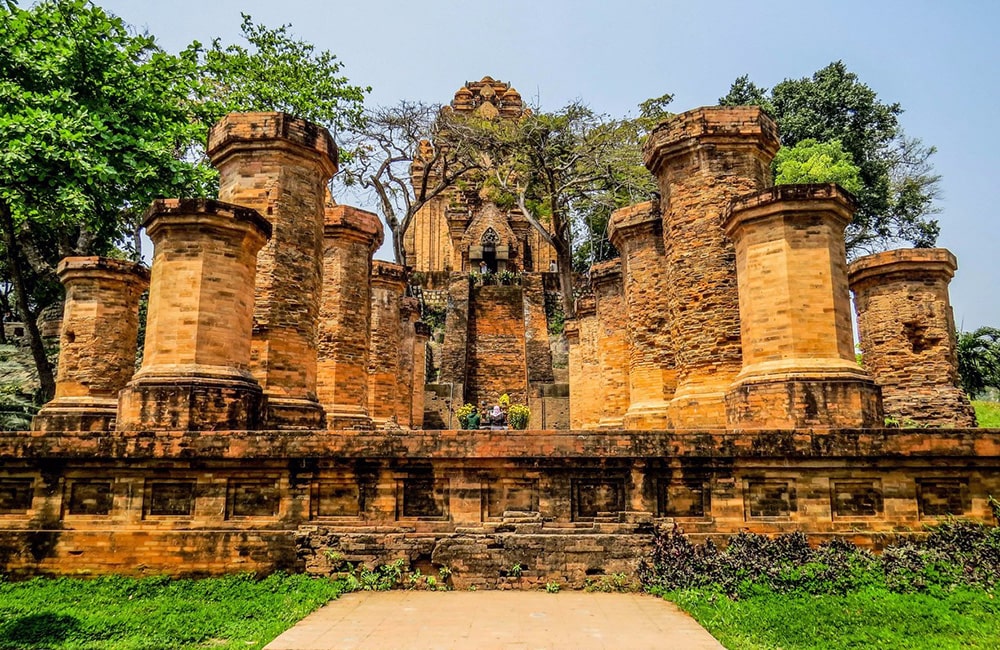 From Ponagar Tower, walking along the 2/4 road is just over 1km to the Hon Chong. This place receives huge favorite from many tourists because the natural beauty is formed from many interesting stone layers. The ticket price here is also VND 22,000 / person and is free of charge for parking. Come here to explore pristine rocks and enjoy a peaceful sea space are the best things you should do in Nha Trang.
On the way back to your hotel, you can visit the next destinations in review Nha Trang travel – Cho Dam Shopping Center to shop as well as enjoy delicious Nha Trang specialties.
When night comes, you might want to immerse in the bustling and vibrant atmosphere of Walking Street – Nha Trang Night Market and stroll along the coast, enjoying the cool sea breeze.
On the next day, you should come to the beautiful islands in Nha Trang Bay. Not far from Nha Trang city center, Hon Tam Island is an ideal vacation destination for tourists with pure and pristine beauty in a sea of four clear green seasons. To get here, you can rent a train ticket to the island with a travel time of only 20 minutes. Here, you will be relaxed in the space of Hon Tam Island with romantic calm sea, bringing a very peaceful and peaceful feeling.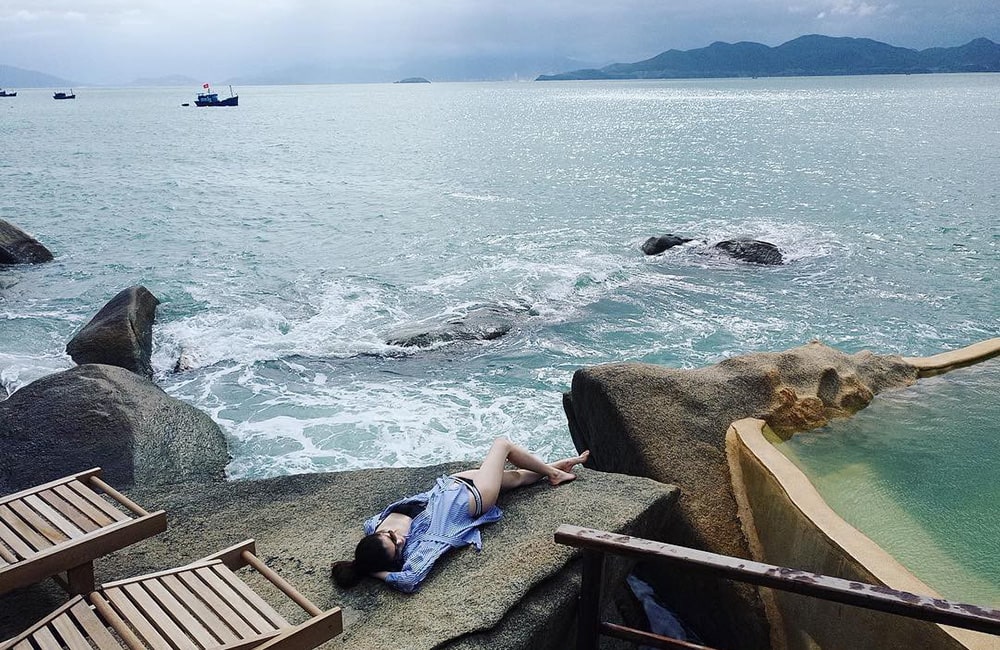 Keep moving by canoes to explore Hon Mun Island not far away. Mun Island is the most beautiful and poetic island in the island system in Nha Trang Bay according to various review Nha Trang travel of tourists. Here, you not only get immersed in the clear blue sea but also scuba dive to see the beautiful coral reefs in the ocean.
In addition to the beautiful islands in Nha Trang Bay, the remaining days you can move to the pier and hire canoes to visit further islands. You can discover Diep Son Island with a unique "path to the sea in Vietnam" or move to Cam Ranh and admire the famous" four islands "of Cam Ranh Bay: Binh Ba – Binh Hung – Binh Lap – Binh Tien.