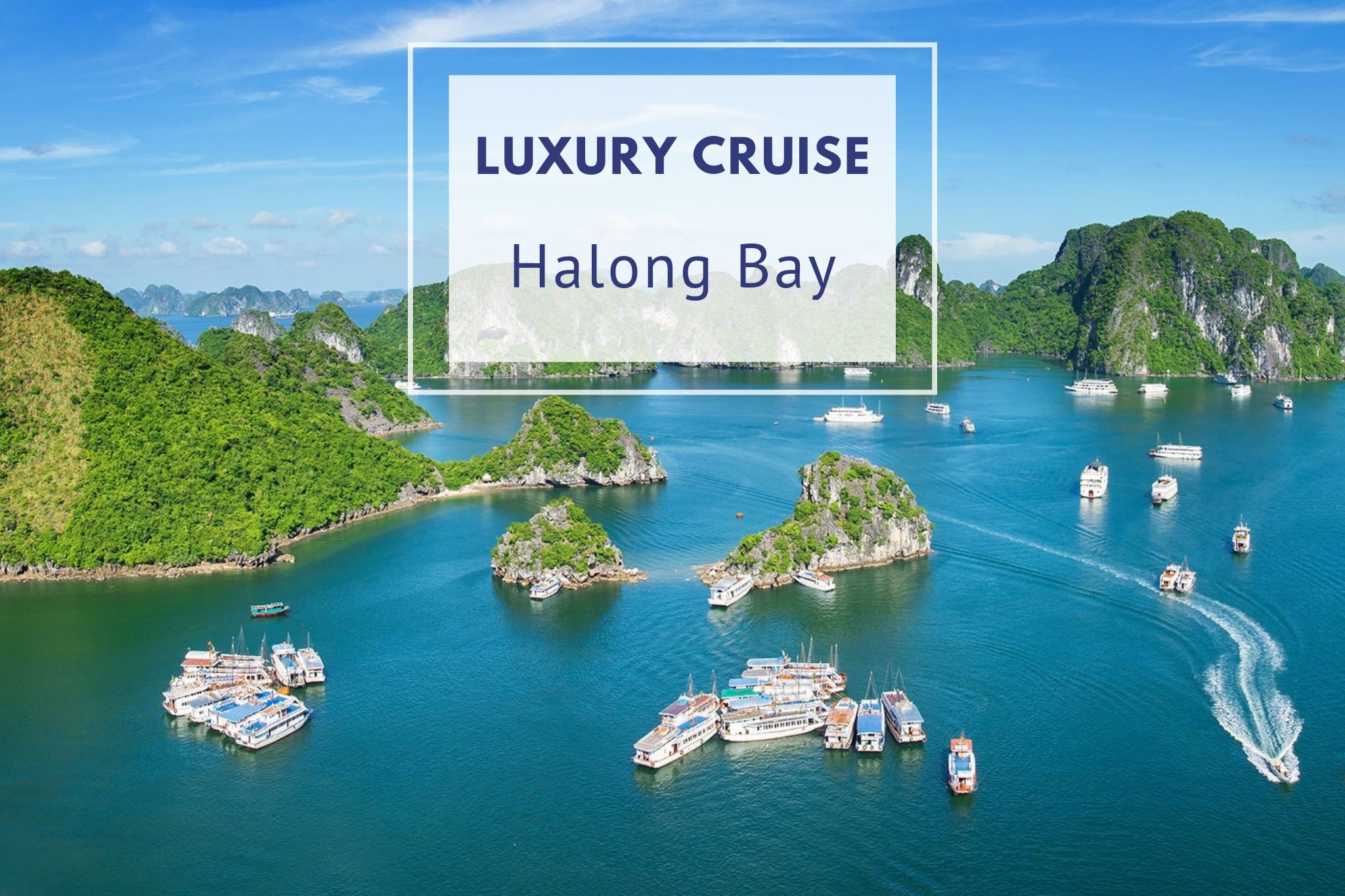 7 Best Halong Bay Luxury Cruises
Each year, Halong Bay attracts hundreds of thousands of visitors coming from all over the world. Halong is one of seven world natural wonders, which was recognized by UNESCO in 1994. Therefore, this is the destination that you should not miss in the tour of Southeast Asia. Besides, one of the best ways to see Halong's nature and feel the local culture is to join with Halong bay luxury cruise. Guests will admire the huge limestone mountains and thousands of large and small islands rising from the emerald green water.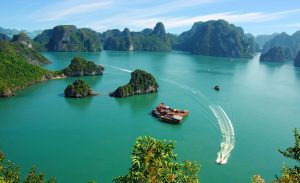 Cruise companies often provide schedules with many attractive destinations around Halong. These include limestone caves, local fishing villages or some famous islands. As a result, visitors can explore as well as learn about the daily life of Halong people. During the journey, the tour guide will introduce visitors to Vietnamese culture. Guests can join cooking classes, Tai Chi classes or night squid fishing.
Below is a list of the best luxury cruise lines in Halong Bay based on the evaluation of the most popular & reliable travel sites.
1. DRAGON LEGEND CRUISE
It has long been known as the most luxurious 5-star yacht in Ha Long. With over 2000 excellent reviews on Tripadvisor, surely Dragon Legend Junk is one of the best choices in the journey to discover the beauty of Halong. Dragon Legend Junk has 24 luxurious cabins and 4 spacious decks. Guests can choose to have an indoor or outdoor meal overlooking Halong. They designed each cabin with luxurious furniture, full of modern and comfortable equipment.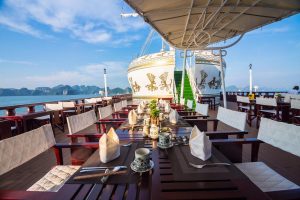 One of the highlights of Dragon Legend Junk is the unique schedule. It takes visitors to the most unspoiled places in Vietnam from Halong Bay to Bai Tu Long Bay. Some attractions that you should not miss in the journey with Dragon Legend Junk Cruise are:
Thien Canh Son cave is spectacular
White sand beach of Hon Co island
Vung Vieng floating fishing village is far away
2. APHRODITE CRUISE
The 5-star journey with Aphrodite Cruise is currently the most appreciated on Booking.com. This 2-day-1-night vacation with this yacht is the ideal choice for travelers seeking comfort and elegance.
Aphrodite Cruise is famous for its convenient service and modern, high-class equipment on board. With modern furniture and facilities, the yacht is the perfect choice for travelers to relax and relax during the trip. One of the highlights of the journey is a comfortable spa service and on-board health care area, including: special treatment spa, steam, relaxing massage room, hot tub.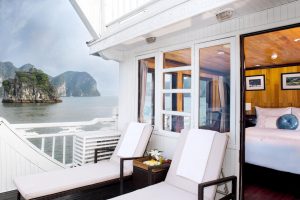 The cabin on Aphrodite is appreciated by tourists – with more than 175 positive reviews. They designed each room with large windows or a small balcony. Thus visitors can see the sea view in the room. There is also a Bridal Suite on the yacht. It is suitable for couples who want to spend the best of their honeymoon or a romantic vacation.
Guests can participate in water activities such as: diving, kayaking, night squid fishing, swimming.
3. SIGNATURE HALONG CRUISE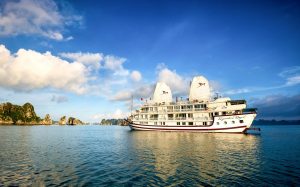 Signature Halong is one of the best Halong Bay luxury cruises. In addition, the yacht is also ranked No. 2 on Booking.com. It is also in the top-rated yacht in 2015 in Ha Long. This will be a great choice for visitors to see and visit Halong beauty. Signature Halong Cruise will bring visitors a schedule with excellent destinations, escape from crowded and truly relaxing and comfortable.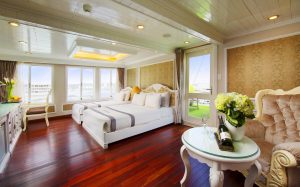 The most outstanding feature of Signature Halong is the cabin on the yacht. They designed cabins with sophisticated and luxurious furniture and modern equipment on board:
Satellite cable TV
Jacuzzi
Bar
Comfortable bathroom
Private balcony
Free fruit
Another highlight of Signature Halong is the restaurant and bar. Guests will enjoy a meal of the day with drinks prepared from fresh ingredients and quality assurance. Boat activities such as Tai Chi class, cooking class, night fishing or kayaking will keep you busy all day.
4. PARADISE LUXURY CRUISE
Paradise Cruise received 9.2 points on the Booking.com website. With under $400/person, the yacht will provide guests with the most luxurious and comfortable services. Therefore, most reviews of Paradise Luxury Cruise are positive.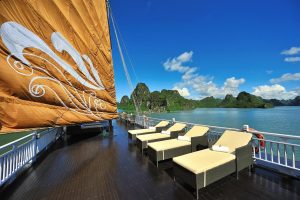 Paradise Luxury Cruise has 17 elegant cabins. In addition, the yacht also has a 3 sundecks area and a health spa service. Guests also cannot ignore the delicious gourmet dishes prepared by the chef. There will be a tour guide accompanying visitors in many interesting activities such as kayaking, Tai Chi class and swimming watching the sea.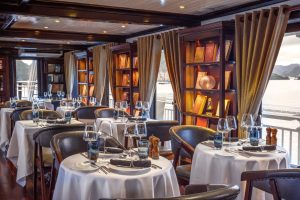 Journey will begin around Halong Bay. Then you will go through Soi Sim beach and beautiful Cay Dua island. Visitors will visit Cua Van floating village with bamboo boat and local people. More interesting, visitors can kayak themselves. The journey will also stop at some of the famous limestone caves of Halong Bay such as Sung Sot Cave or Trong Dong Cave.
5. PARADISE PEAK CRUISE
As another yacht provided by Paradise Cruise, Paradise Peak is ranked the second-best cruise on Tripadvisor website. Paradise Peak has a higher price than Paradise Luxury by a significant upgrade in comfort service (the price above $400/person).
High-class yachts have many outstanding features, including:
8 bedrooms are luxuriously designed
Restaurant eating class
Outdoor bar on the deck
Spa services
There is a reception on the yacht to ensure that all the individual requirements of each traveler are recorded. Another difference between the Paradise Peak Cruise and most other 5-star cruises is the world's top chef will prepare meals with typical ingredients in Ha Long.
6. STARLIGHT HALONG CRUISE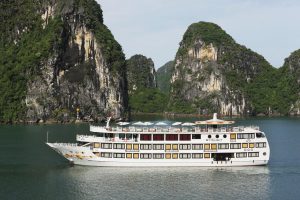 This is a Halong Bay luxury cruise with an area of ​​600 m2 each floor (57.5mx 10.5m, 4m floor) and a spacious bedroom system with 32 luxurious cabins. In particular, there are 12 Deluxe cabins, 18 Executive cabins, 02 cabin suites to make visitors feel like being in 5-star hotel on land rather than on the sea. Moreover, there is a large wine cellar on the ship, which contains all kinds of different high-quality wines to satisfy all guests' enjoyment.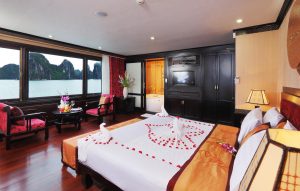 They design all rooms synchronously and luxuriously, of which the most outstanding is all. The rooms have double Jacuzzi tubs where visitors can be spoiled, massaged the skin gently, and enjoy the view of the bay if you lift the bathroom blinds from the jacuzzi … In addition to the life buoy system, the cruise also has a double casing design. The hull of the ship is bordered with two layers – this is the only yacht in Ha Long designed in this way.
7. ALISA CRUISE
Alisa Cruise is proud to be one of the latest Halong Bay 5-star cruise. It is famous for its scenic spots such as Sung Sot Cave, Titop Island and kayaking in Luon Cave … The yacht is launched in January 2017. With its own strengths, the yacht has partly captured the market share of high-class guests and gradually asserted its name in the market.
Alisa (the princess in European fairy tale) is a name that has a gentle and elegant meaning. Therefore, they designed the equipment and architectural lines in a slightly elegant, elegant direction, simple but equally modern. Indeed, there are 21 luxurious rooms. So when you come to Alisa, you will be served and enjoy the living space like a high-class 5-star hotel on the mainland.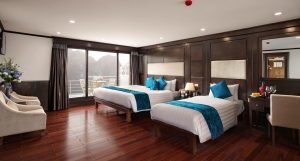 With excellent quality, the cruise is going to all the famous spots such as: Sung Sot Cave with beauty. That makes visitors surprised every time they visit. Then the group will visit Titop Island – the name of a Russian cosmic hero where you can conquer the summit and see Halong panoramic from above or immerse yourself in the magical blue water of Halong Bay. Besides, you can participate in kayaking – one of the activities most tourists use when they come to Ha Long to discover their natural heritage in their own way.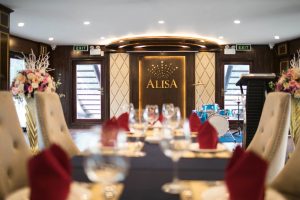 So what do you expect more for a great trip. Please contact us – Asia Master Tours for guidance, advice and get the most preferential price when you, your family and friends enjoying Halong Bay with Halong Bay luxury cruise.
You can view more articles about traveling to Vietnam.
Contact Us
Address: 272 Khuong Dinh Street, Thanh Xuan District, Hanoi, Vietnam
Phone: (+84)24 6293 4678
Email:info@asiamastertours.com
Hotline: (+84)962 313 698
Website: http://www.asiamastertours.com