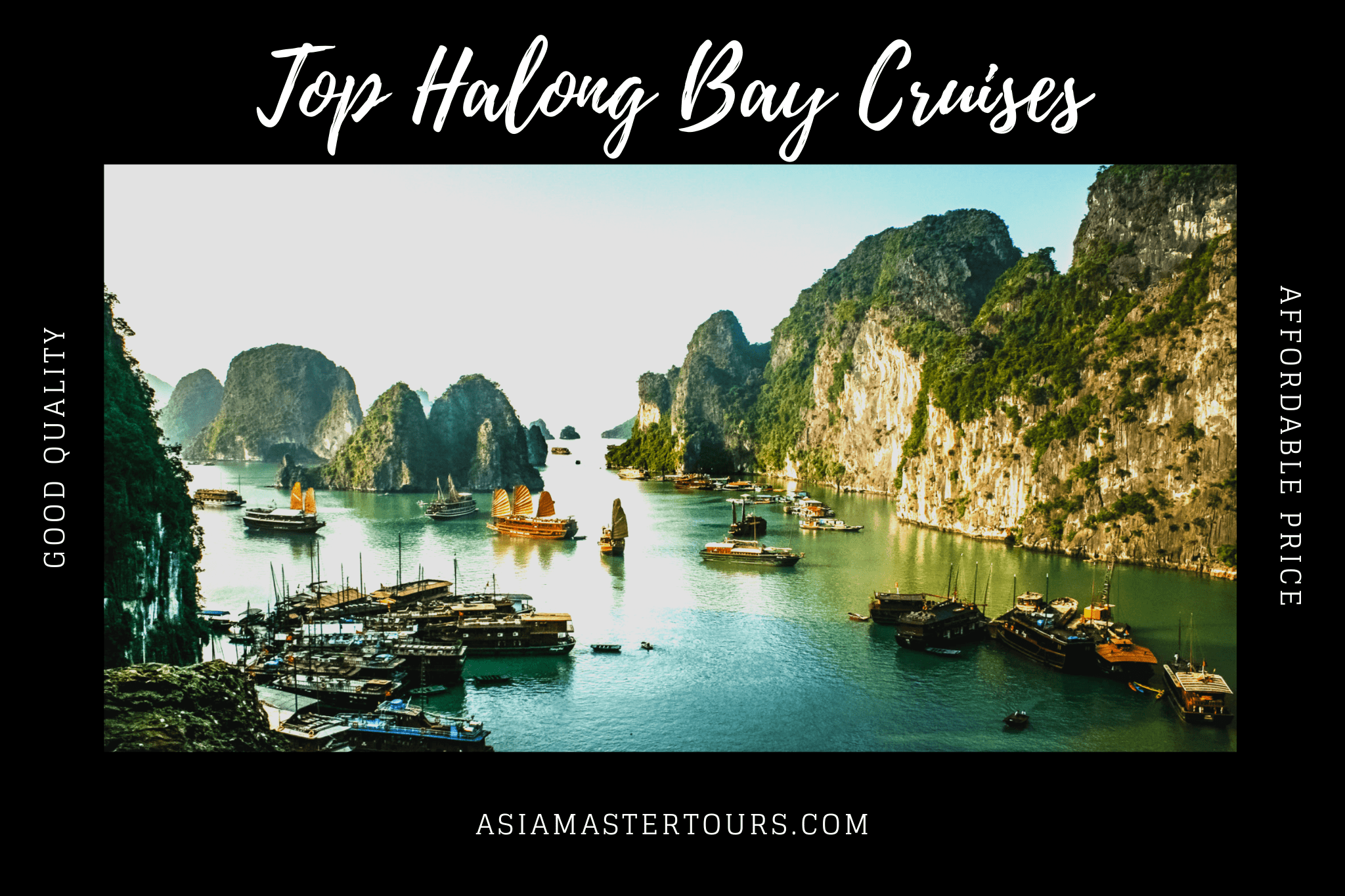 Top Halong Bay Cruises with good quality and an affordable price
When choosing a cruise tour in Ha Long, the expectation of customers is luxurious, modern 5-star tours but their prices are too high. An average of 5-star cruise is up to $ 350 per person per tour. This makes travelers wanting to save money have a trouble. But with Asia Master Torus, finding a Halong Bay cruise with good quality and an affordable price is not difficult.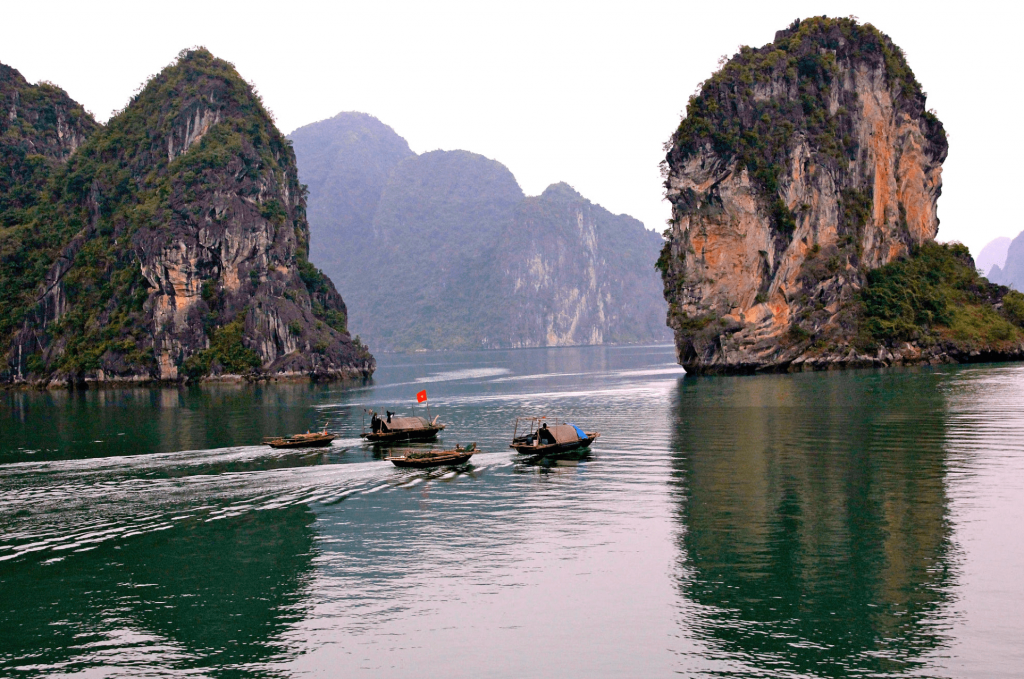 Have you ever experienced an eye-catching view of the sunset over the sea from a yacht? If not, try once with the best price Halong yacht. The natural landscape brings the romance of Halong beach combined with the new space from a yacht will surely be an unforgettable experience for your loved ones. If you still hesitate because of the high ticket price of Halong tours on the yacht, please refer to Halong Bay cruise reviews below.
1. Elizabeth Sails
Address: Bai Chay Port, Halong, Ha Long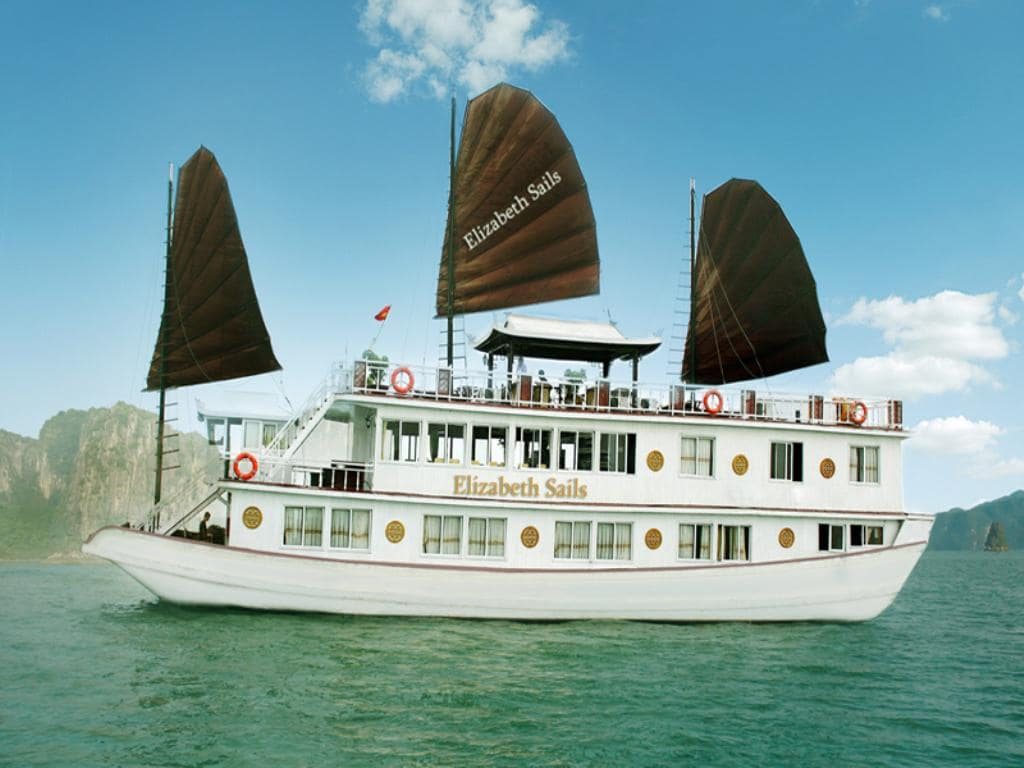 Elizabeth Sails Cruise is located in the area of ​​Bai Chay Port. That is a good location. Therefore, guests choosing Halong tour with Elizabeth Sails will conveniently go to other popular tourist resorts of Halong.
The Yacht is less than 2 km from Bai Chay tourist area, only 5km from Tuan Chau Island. Especially, the yacht offers free shuttle service from Hanoi to Halong if visitors have booked in advance.
Elizabeth Sails always strives to bring the best quality service to visitors. Each tour brings entertainment activities such as snorkeling, kayaking, sea activities… In particular, the yacht offers karaoke room services for visitors. The food at this yacht is highly appreciated and unique to international travelers. Because most of the food here is authentic Vietnamese.
2. Halong Fantasea Cruise
Address: Ha Long Wharf, Halong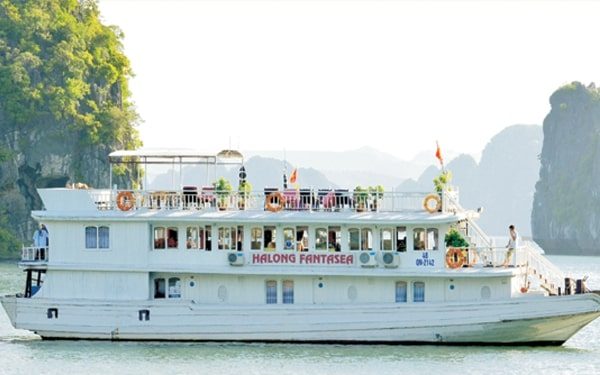 Halong Fantasea Cruise is a Halong Bay cruise with beautiful location and cheap price. It is suitable for visitors to explore Ha Long Bay. With a beautiful location, visitors can visit and explore easily and conveniently the famous tourist destinations of the city.
Referring to the traditional yachts of Vietnam, it is impossible not to mention Halong Fantasea Cruise. The yacht includes a range of rooms on the 2 decks below and an outdoor courtyard as a relaxation area for visitors. Journey of the yacht starts from Bai Chay dock. Visitors will enjoy the scenery of Halong Bay. Every room in the yacht has a beautiful view of the sea. As a result, this yacht is one of the best affordable cruises in Halong Bay. In addition, each room is full of useful amenities for guests.
The outdoor area of ​​this yacht is lined with chairs so visitors can relax and enjoy the view of Halong beach. This is the most favorite area on Ha Long yacht.
3. Annam Junks
Address: Ha Long Port or No. 2 Road Ha Long, Halong.
This yacht is located at No. 2 Ha Long Road which is extremely convenient for visitors to visit. Annam Junks is located near famous tourist spots such as Bai Chay Bridge, Bai Chay Tourist Wharf, … When participating in a Halong tour with this yacht, you will visit some famous places such as Ha Long Bay. Long, Bai Tu Long Bay, …
Annam Junks yacht has always proved its attraction to tourists by providing a variety of fun activities such as kayaking, exploring caves… Another plus point of Annam Junks comes from professional yacht cooks. Their delicious and charming seafood dishes always satisfy customers.
Like the current trend of quality yachts today, Annam Junks has full equipment with wooden furniture. The entire cabin is air conditioned and has a separate area for customers. Especially, the minibar and tea or coffee making area are all equipped in the rooms at this yacht. Some areas are equipped with non-smoking rooms, snack stalls to bring the best quality service to visitors.
4. Halong Phoenix Cruiser
Address: Tuan Chau Port, Tuan Chau Island, Halong
Halong Phoenix Cruiser has an ideal location. It is also convenient for tourists to visit other famous places in Halong. Halong Phoenix Cruiser is located in the center of Tuan Chau Island, only about 6 km from Bai Chay, about 9 km from Hang Dinh Island. Therefore, it is a Halong Bay cruise that many tourists chose.
This yacht has a clear view covering a wide view that helps visitors see the poetic beach easily. Above all, this is considered a cheap and best quality yacht in Ha Long.
One of the highlights of the Phoenix Cruiser is that it is designed with the idea of ​​being close to nature. The wooden material used for all boat designs brings cool feeling in summer and warm in winter. In each room on the boat, the equipment is designed with elegance and courtesy.
Phoenix Cruiser is always in the top quality yacht with the most perfect service in Halong. Especially, to bring the most relaxing moments for visitors, Phoenix Cruiser also provides more attractive services such as water sports, private beach, mineral bath, … A plus point of this yacht, which is always highly appreciated by tourists, is professional and enthusiastic staff.
5. Legend White Dolphin
Address: Hon Gai Wharf, Ha Long City, Quang Ninh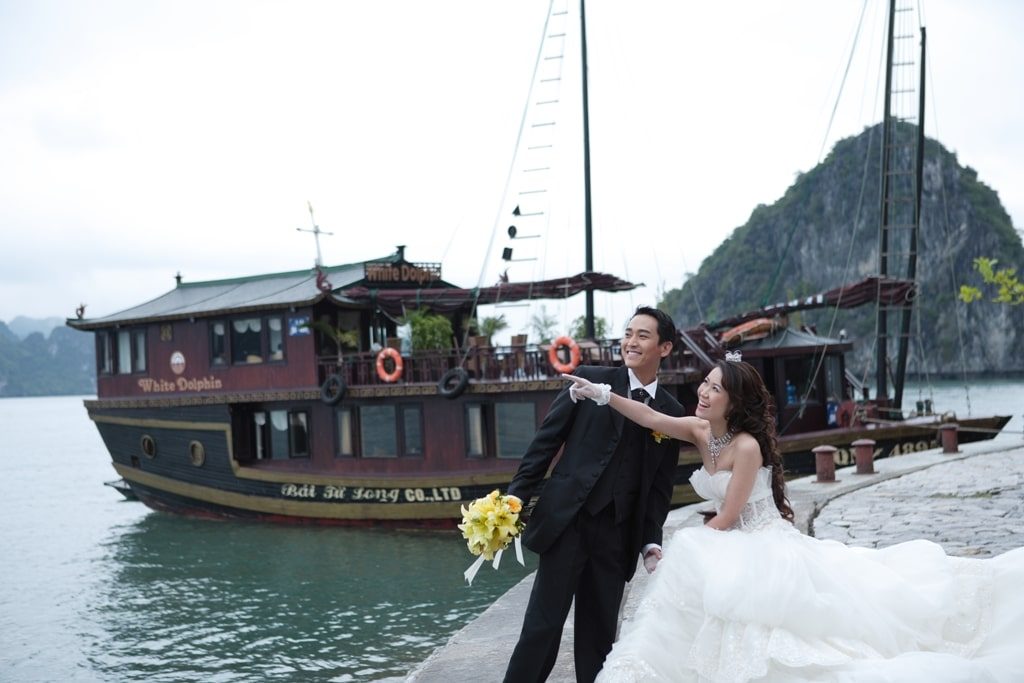 Legend White Dolphin possesses an extremely ideal location right at Hon Gai Pier, Halong City center. Visitors can easily visit and participate in the journey to explore Halong Bay. Besides, it is so convenient to move and connect with a series of utility areas and top city landmarks such as the Queen Cable Car, Bai Chay bridge, Bai Tho mountain, Ha Long flower park,…
Visitors coming to Legend White Dolphin always feel satisfied because of luxury design, high-end furniture and good services. There are many types of rooms for you to choose such as Deluxe Double Room, Deluxe Twin Room, Deluxe Single Room. Thus, whether you travel alone or with family or friends, Legend White Dolphin always meets all your needs.
There are some outstanding characteristics including discovering Ha Long cuisine culture at the on-site restaurant, relaxing on the terrace or relaxing in the jacuzzi. Moreover, the journey to explore Ha Long Bay also integrates many impressive activities such as kayaking, swimming, visiting caves, fishing villages, trying to be fishermen, …
6. Margaret Cruise
Address: 43F, Ngoc Chau Land, Tuan Chau Marina, Ha Long City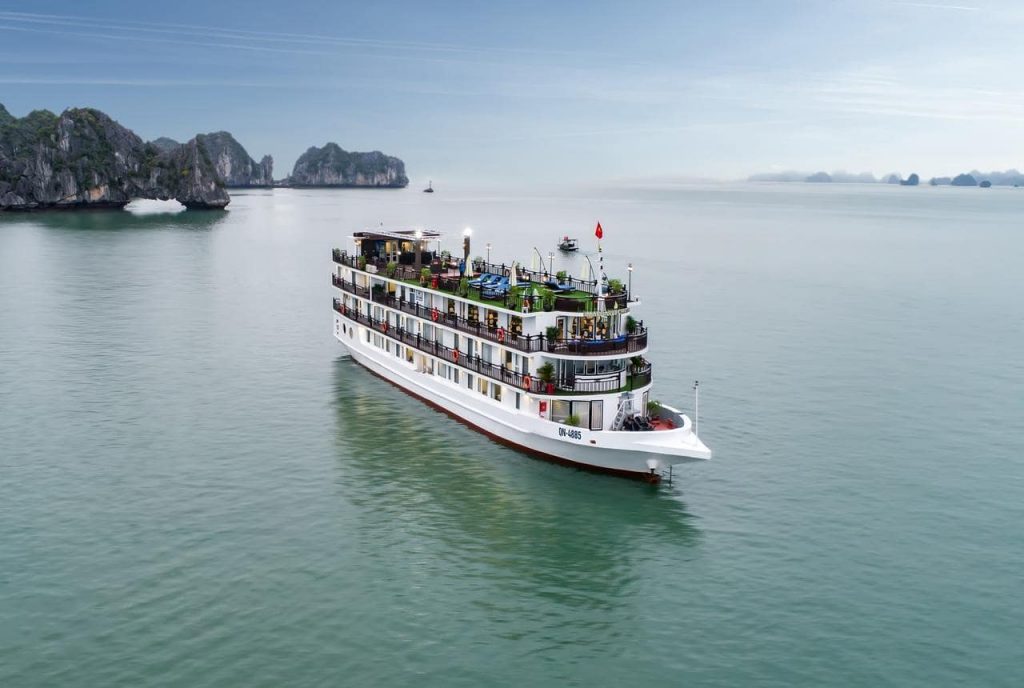 Margaret is considered as a Halong Bay cruise with a very convenient location. This is a key tourist area of ​​Ha Long city, where a series of interesting entertainment activities are concentrated. Cruise Margaret will take you to visit the most impressive tourist destinations on Ha Long Bay such as Titop Island, Sung Sot Cave, Ngoc Trai Village, Hang Trong, Dong Me Cung, Luon Cave, …
Margaret Cruise always knows how to please visitors because of its outstanding advantages. It has a luxurious European design, a spacious sun terrace and an on-site restaurant serving traditional Vietnamese dishes.
The room system at Margaret is diverse. Each room has seating area, comfortable bed, spacious and private bathroom with bathrobe, slippers and towels. 18 – 25 m² cabins can be connected together on request.
7. Serenity
Address: Tuan Chau Pier, Halong City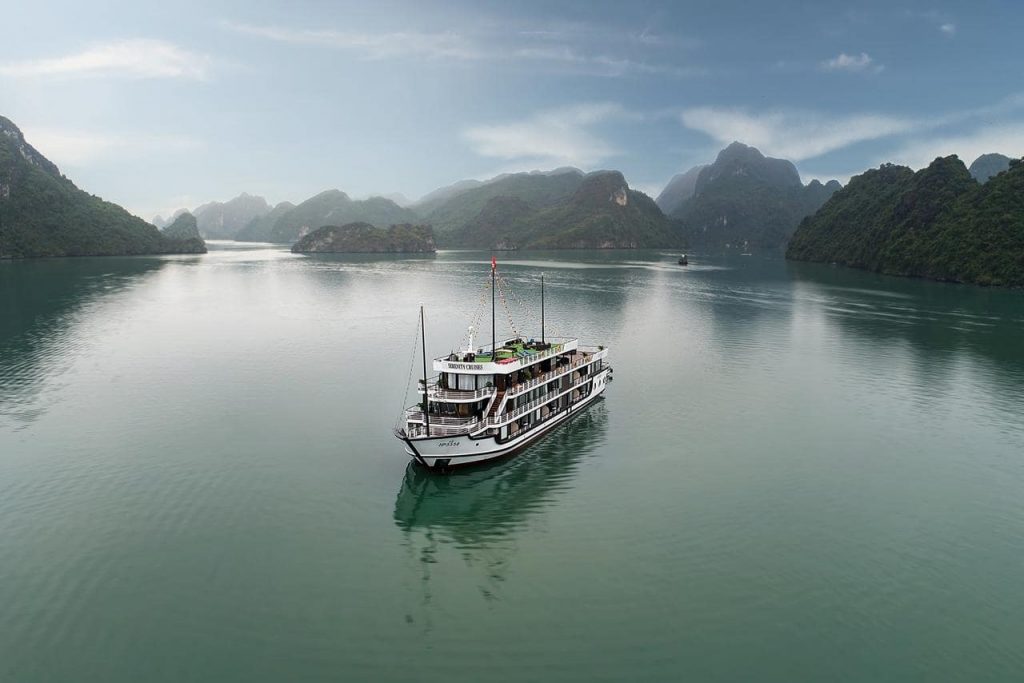 Located in Tuan Chau Pier, Serenity Cruise Location is extremely convenient for travelers. It is 3.9km from Tuan Chau Port, 22km from Vincom Plaza Ha Long trade center and 23km from the Queen cable car station.
Journey to Halong Bay by Serenity Cruise will take you to Finger Island, Frog Island, Lan Ha Bay, Viet Hai Village, Cat Ba National Park, …
With the desire to bring the best experience for visitors, Serenity is always invested carefully with details from architecture to utilities. Depending on your needs and financial range, you can choose the following types of rooms: moon suite, moon suite, senior suite, junior suite, family suite, …
You can enjoy the unique culinary culture space right at the high-end restaurant located on the premises. Or you can relax at the sun terrace, massage room to recreate energy, dispel all tiredness of daily life.
Special highlight in the main journey is the bathing, kayaking, learning indigenous cultural identity, participating in cooking classes, trekking caves, … If you are a lover of exploring, try once to explore Halong Bay by Serenity yacht!
So what do you expect more for a great trip? Please contact us – Asia Master Tours for guidance, advice and get the most preferential price when you, your family and friends are going to enjoy Halong Bay.
You can view more articles about traveling to Vietnam.
Contact Us
Address: 272 Khuong Dinh Street, Thanh Xuan District, Hanoi, Vietnam
Phone: (+84)24 6293 4678
Email: info@asiamastertours.com
Hotline: (+84)962 313 698
Website: http://www.asiamastertours.com