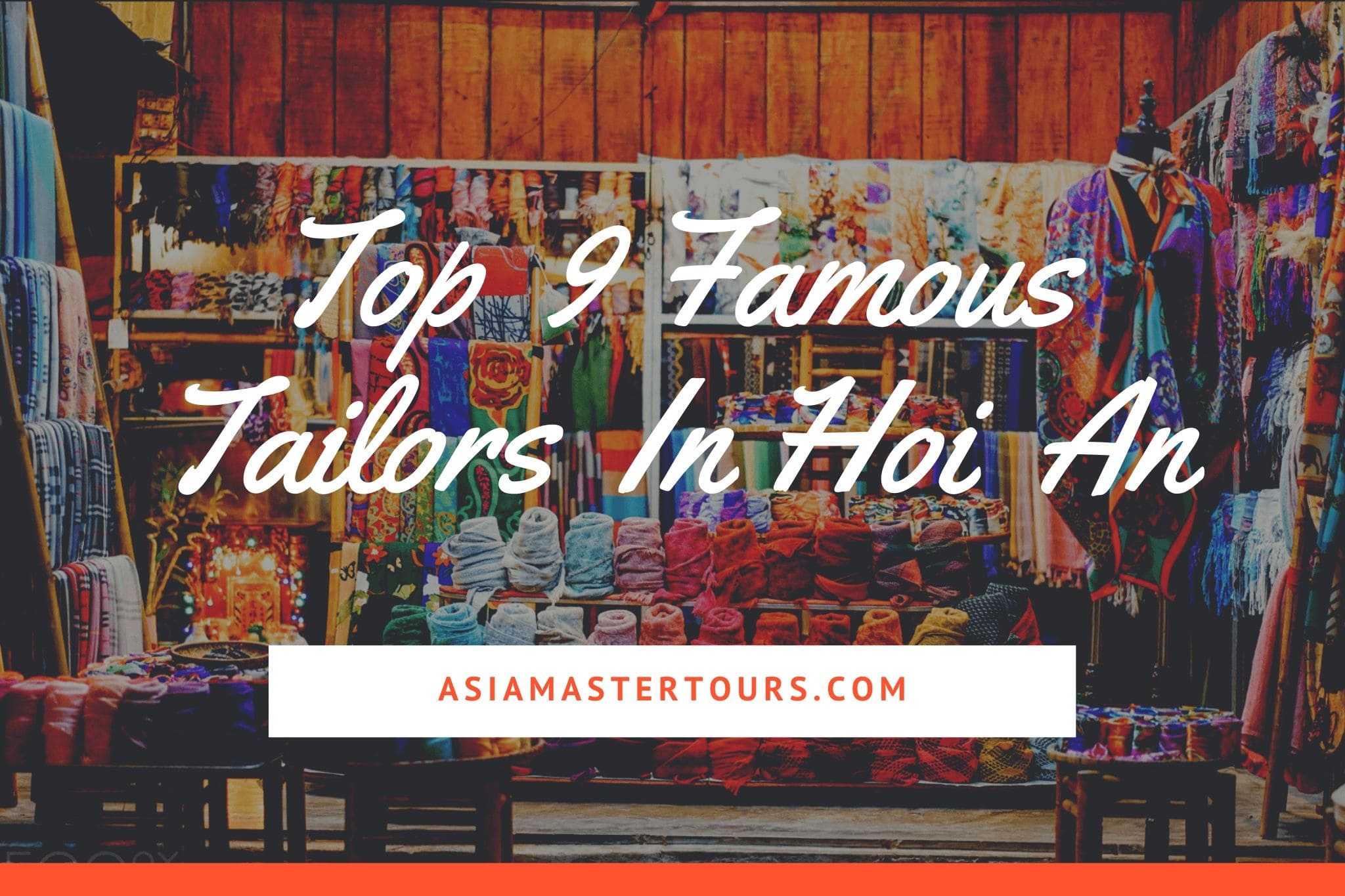 Top 9 most famous and quality Hoi An tailor shops
Going to Hoi An this time visitors must experience the culture of speedy tailor-made within 3 hours. Hoi An tourism still has a lot of interesting things waiting for you to explore, one of those is the brand of the tailor shops right here. Taking advantage of shopping interests of mostly foreign visitors, Hoi An tailors have developed a speedy sewing model. This is a form of tailoring business. This fast sewing service meets the needs of travelers quickly while still ensuring quality. After walking around to choose the style, visitors can visit a store and tailor. Normally, Ao Dai may take up to a week to receive, but in Hoi An, within a few hours you can have it.
Besides making Ao Dai, you can also order dresses or alibaba pants. These stores also sell a lot of ready-to-wear items, you can choose for yourself a satisfied item. If they do not fit, staff will edit it on the spot. Other accessories that come with you can also be placed in Hoi An such as towels, hats, bags, shoes…
In addition, customers who do not have time to go to Hoi An but want to make garments here only need to provide measurements, fabrics, styles and addresses, after finishing sewing, they will be delivered to the place as required.
Huong Ly Clothes Shop
The secret of the success of Huong Ly Clothes Shop probably originated from the understanding of the customers' wishes, as well as the extensive knowledge of the staff to advise customers on the types of fabrics and sewing styles. In addition, rich fabric pattern is also the advantage of this tailor shop. This is one of Hoi An tailors shop with the most popular with the quality and kindness of the staff. This is the first choice of all tourists coming to Hoi An who want to buy for themselves beautiful and quality clothes, highly appreciated by domestic and foreign tourists. The price of this place is very affordable, not tight, so it has left a deep impression in the eyes of tourists.
Address: 229 Nguyen Duy Hieu, Cam Chau, Hoi An, Quang Nam
Phone: 0788 444 744
Yaly tailor shop
Yaly Tailor Shop is one of the top Hoi An tailors brands. By high product and service quality, it often provides visitors the feeling of satisfaction when they first come to the store. The workmanship of the tailor here is amazing. Besides, there are many types of fabrics for visitors to choose, and the quality of the output is very beautiful.
Address: 358 Nguyen Duy Hieu, Hoi An City
Phone: 0356065864
Bao Khanh silk tailor shop
Rated as a trendy Hoi An tailors, because of its ability to update the fashion trend of everyday clothes and very beautiful party outfits, Bao Khanh tailor shop has a variety of silk fabrics, highly skilled workers, and the price is suitable for everyone. This is a tailor shop that has been voted as the No. 1 tailor shop in Vietnam by Sunday Times Travel Magazine and ranked 2nd in the list of the top 25 tailors in the world.
Address: 101 Tran Hung Dao, Hoi An city
Phone: 0905 237 523
Lana tailor shop
This shop is mostly for women, with many impressive designs for you to choose from. As soon as you come to the store, you will receive enthusiastic advice and professional service from the staff here, which satisfies most of its customers. There are many fabrics suitable for all ages. If you want to find a quality and reasonable price Hoi An tailors, Lana will be a not bad choice.
Address: 130 Tran Phu, Hoi An City
Phone: 05102 212 240
Tony tailor shop
This is a tailor shop that has existed for many years (1996). Although not located in the central area, but the store still attracts customers by the thoughtfulness from the consulting team to the tailors. Especially the price here will suit everyone's pocket. Here the suits for men are dazzling, and the shop owner will give you useful tips for you to choose the one for you.
Address: 294 Nguyen Duy Hieu, Hoi An City
Phone: 05103 861 923
B'lan Silk
It is one of the cheapest Hoi An tailors with ancient style, because it is located in an old house built 200 years ago. Coming to this tailor shop, visitors will experience extremely interesting sewing, will be supported to choose fabric, choose designs, and will be exposed to many delicate, funny tailors. Within just 3-4 hours, you can immediately receive a suit of your desire. While you wait for your product, you can tour around the house. Come to B'lan Silk to feel!
Address: 23 Tran Phu, Hoi An city
Phone: 0510 861 866
Nam Ngai Silk
This is a tailor shop located in the city center which is very convenient for people to hang out and shop for themselves great clothes. With a variety of designs, from fabric stacks to designs. Coming to Nam Ngai, you will receive enthusiastic advice, and extremely fast measurement time thanks to a team of skilled workers. For an interesting experience, come to Nam Ngai tailor shop.
Address: 93 Tran Phu, Hoi An city
Phone: 02353 861 166
Ke Thua silk
Ke Thua silk belongs to the top of the prestigious Hoi An tailor shop, owning a skilled sewing team. It has all the beautiful designs and materials to make a great outfit. Always putting quality on top to satisfy customers, tailors always update new designs in accordance with the trend of customers. Inheritance silk is a reputable address, quality and seniority. You will receive the outfit immediately within 4-5 hours with assured quality.
Address: 03 Hoang Van Thu, Hoi An City
Phone: 0235 3911 777
Phuoc An Silk
With long-term experience and enthusiasm for the profession, Phuoc An silk is a prestigious garment brand. Diverse designs, many colors, suitable for all customers. Each of the store's products show the sophistication in every detail. In particular, the tailor service has fast sewing services for visitors and also delivery service. Come to the store to get the best service quality!
Address: 06 Le Loi, Hoi An city
Phone: 0253862215
With the list of Top 9 famous tailor shops in Hoi An, hope you will find yourself a suitable address to have the best clothes.
So what do you expect more for a great trip? Please contact us – Asia Master Tours for guidance, advice and get the most preferential price when you, your family and friends are going to enjoy Hoi An city.
You can also explore more information about Hue such as Hue Vietnam resorts, Hue Vietnam beaches and Hue Vietnam weather or see our best Sapa tours such as Sapa Motorbike Tours, Sapa Package Tours and Sapa Trekking Tours.
Contact Us
Address: 272 Khuong Dinh Street, Thanh Xuan District, Hanoi, Vietnam
Phone: (+84)24 6293 4678
Email: sm@asiamastertours.com
Hotline: (+84)962 313 698
Website: http://www.asiamastertours.com