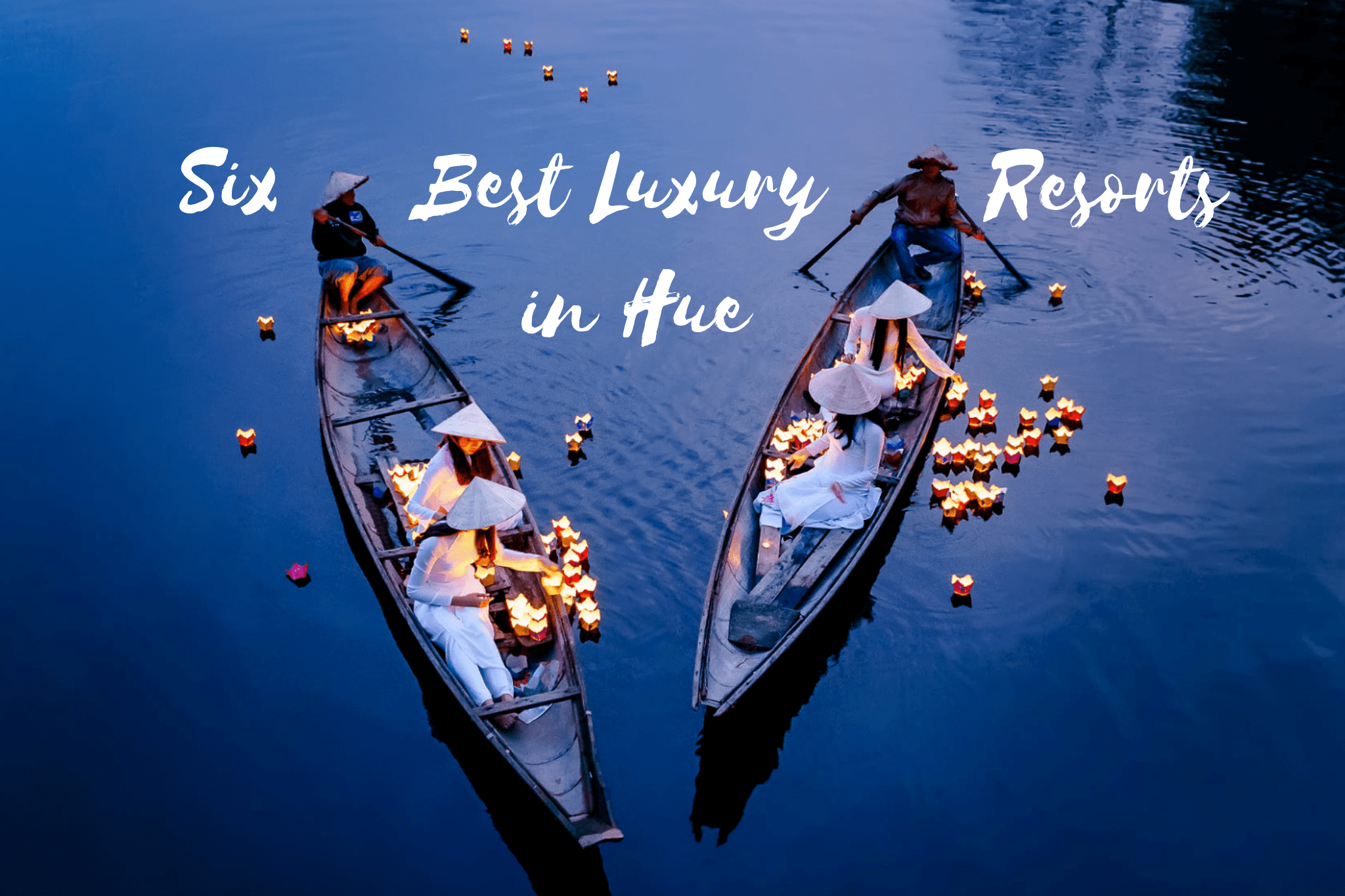 6 Best Luxury Resorts In Hue, Vietnam
For those who always want to have a perfect trip, you will definitely not regret staying at these 6 resorts in Hue Vietnam. More than a reclining place, they are also a tropical paradise of Hue. Because you deserve the best, Asia Master Tours will give you the list resorts in Hue Vietnam that belong to the highest level with the most favorable prices.
1. Laguna Lang Co
Languna Lang Co is the first and largest beachfront resort complex in Vietnam with three high-end resorts in Hue. It includes Angsana Lang Co, Banyan Tree Lang Co and Laguna Park Homes Lang Co apartments. Located between the mountains of Lang Co Hill, Laguna Lang Co fully absorbs what the essence of nature bestows on this land. It recreates them not only through architecture, but also on spa and lifestyle treatments which mingle with the nature here.
Address: Cu Du Village, Loc Vinh Commune, Phu Loc District, Hue.
a. Angsana Lang Co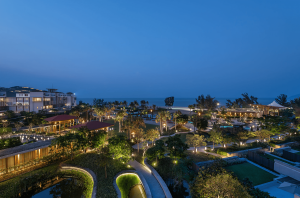 As one of the most luxurious resorts in Hue, Angsana not only has its own pool for guests but also a "river". It surrounds the buildings and is dubbed the longest swimming pool in Southeast Asia. This river has small flows like lazy rivers and gathers in a large swimming pool facing the sea. Therefore, that is a place suitable for families to have fun and enjoy the panoramic view of the resort.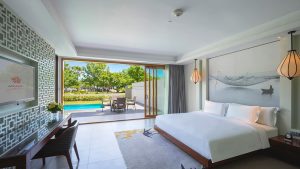 Each apartment here faces the sea. This will give you a very comfortable feeling and enjoy the sea breeze every time you open the balcony door. For the Pool Suite room, you also own yourself and your family a large luxury outdoor pool in the nursery garden. In addition, there is a smaller pool in the upstairs balcony.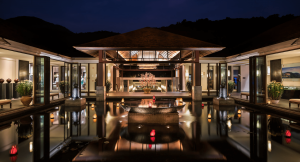 Spa treatments here promote the use of natural ingredients such as native fruits and flowers. By using natural resources such as aromatherapy, herbs and spices, you will be restored physically and mentally. This brings to you to a fragrant garden from rosemary, lavender, jasmine and porcelain flowers.
b. Banyan Tree Lang Co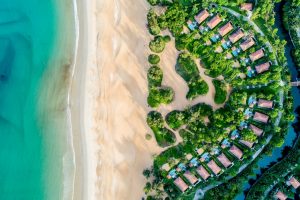 Built on the crescent-shaped bay, Banyan Tree Lang Co is the most luxurious resort brand in Hue, Vietnam resorts. It is a land intersection between ancient and modern culture. Therefore, this place is a representative of the rhythm of life between the untapped tropical paradise named Lang Co.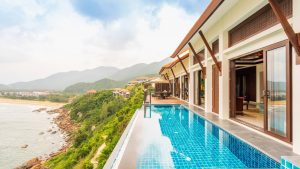 Banyan Tree Lang Co Resort includes 32 canal-oriented villas with 131m2 area and 17 sea-view villas with an area of ​​124m2. The main design concept of this resort is aimed at discerning customers who are knowledgeable about tourism. Furthermore, they also expect to stay at the resort in Hue with 5-star class and high standards and overview.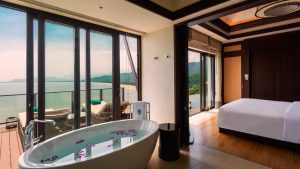 The main buildings and villas reflect bold cultural and historical heritage of Vietnam. Designed in the traditional Hue style, Vietnamese history and culture are vividly reproduced through interior decorations. For example, there are Champa sandstone sculpture, Dong Son bronze drum, Vietnamese calligraphy art. Additionally, there are also Dong Ho painting, water puppet, silk embroidery, pottery and fabrics with royal purple colors.
c. Laguna Park Homes Lang Co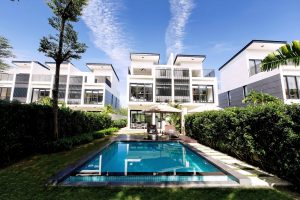 Not aiming for a style of continuous travel like other resorts in Hue, Vietnam, Laguna Park Homes focuses on family life, a place to enjoy a long-term holiday after busy working days. Located in the resort complex of Laguna Lang Co, this resort is a suitable accommodation for small families and couples.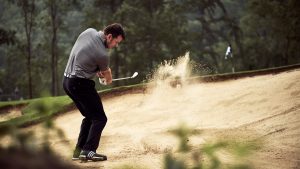 Each apartment at Laguna Park Homes faces an 18-hole golf course, with a large courtyard behind it. That creates an ideal private space for family holidays and activities. In particular, the apartment is also equipped by kitchen equipment. Moreover, they have the service providing fresh food delivered to the home. You can prepare simple dishes for the whole family during the stay.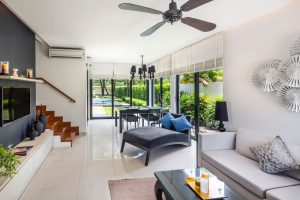 Immersing yourself in nature, experiencing golfing in Lang Co Beach and ending the day with a barbecue in the garden are the ideal lifestyle that Laguna Park Homes wants to bring.
2. Hue Riverside Boutique Resort & Spa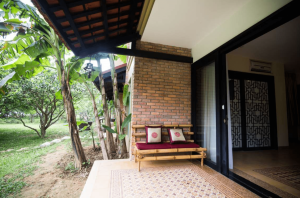 Hue Riverside Boutique Resort & Spa is one of a few Hue Vietnam resorts towards eco-tourism. This is a way of being both responsible for the environment and preserving the natural beauty where we go. As a result, that is a good way to see and experience the world. The resort uses natural energy such as solar energy, wind energy to provide energy for daily activities and minimize waste production.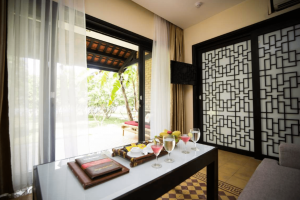 Accommodation at Hue Riverside Boutique Resort & Spa has traditional and modern features to create a new feel for visitors while staying here. Especially, with the view of the romantic to Huong River and a garden of cool green tea, visitors should enjoy this moment.
If you've come here, you'll definitely like the Deluxe Riverview room with views of the Perfume River. Just sit and relax at the balcony under the shade of cool tea and watch the flowing Huong river. You will feel your love for Hue land is growing. Superior Riverview Room is located on the second floor of the building with a spacious view. This type of room is also on the list of favorite choices of visitors when coming here.
In particular, kayaking along the Huong River will be provided free of charge when you stay at Hue Riverside Boutique Resort & Spa. You can also visit famous monuments here such as Thien Mu Pagoda, Van Thanh Temple, Luong Quan Village.
3. Vedanā Lagoon Resort & Spa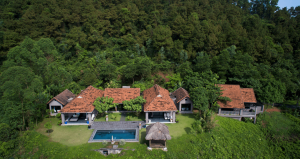 Vedanā Lagoon Resort & Spa is one of the Hue Vietnam beach resorts with the most unique location. It is located in one of the largest lagoons of Southeast Asia – Tam Giang lagoon. Therefore, Vedana Lagoon brings a peaceful beauty of nature but also embodies the advanced lifestyle along with modern art style.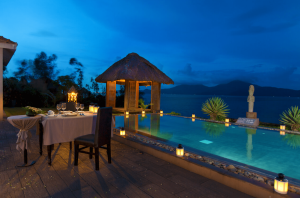 With 55 luxurious rooms and villas built in a magnificent natural setting, the resort is a warm place to stay for the noisy city. Each room and villa has a private balcony for sunbathing, overlooking the large lagoon area. A special feature of this place is that Vedana Lagoon Resort is the first place in Vietnam with the appearance of a bungalow and villa built on water.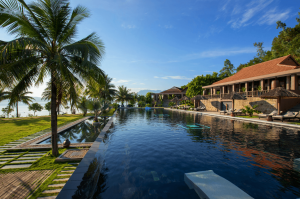 Not only in architecture, Vedana Lagoon also expresses love for Hue nature through restaurant layout and body care procedures here. You will have the opportunity to enjoy delicious food while watching the sky at sunset. In addition, you can attend yoga, meditation, tai chi sessions in groups or separate classes. That helps you find the balance of life and relaxation in your soul.
Address: 41/23 Doan Trong Tuyen, Phu Loc, Hue City.
4. Hue Ecolodge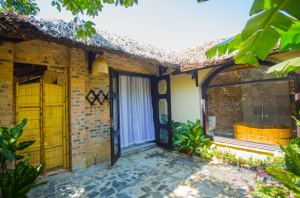 Unlike other resorts in Hue, Hue Ecolodge looks like an old red brick house that you often see in villages rather than a high-class residence. Therefore, for those who want to experience a Vietnamese village culture, live in a beautiful charming village garden and inside a traditional house, Hue Ecolodge will be the ideal choice.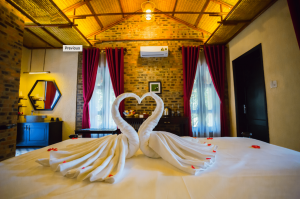 Each room and traditional garden villa in Hue Ecolodge is made of natural materials such as bamboo, wood, straw and rattan. All architectural designs here are built from love to nature, love for a fertile and beautiful land. During your stay here, you will be relaxed in a gentle and comfortable living space from walking on Thuy Bieu village road. Moreover, you can swim in the winding river, enjoy and cook the specialties.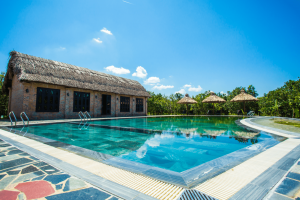 In Hue, cuisine is an art and each dish has its own vitality. Hue Ecolodge also wants to convey the quintessence of Hue cuisine. Therefore, they always organize small cooking classes for tourists. In particular, the restaurant here uses green vegetables grown by themselves to ensure the freshest and best quality for visitors to enjoy.
Address: 2 Luong Quan, Thuy Bieu village, Hue.
5. Pilgrimage Village Boutique Resort & Spa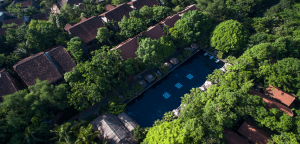 If you are looking for a resort in Hue that shows a unique and sophisticated connection between a traditional style and a contemporary dynamic, Pilgrimage Village is one of Hue Vietnam resorts you need. This resort is located in a quiet suburb in a rustic rural setting and surrounded by lush gardens. Inspired by traditional Hue garden house architecture, Traditional Vietnamese Pool House room is an ideal refuge when you need "alone" space with aisle, pool, private dining room and beautiful view of the lake.
In addition, Pilgrimage Village also has a variety of rooms for groups of friends, family room and "honeymoon" room in a very romantic space. In private space, far away from the hurried pace of life in the center, this resort provides guests with extremely diverse health care services. For example, there is Tai Chi, yoga and spa.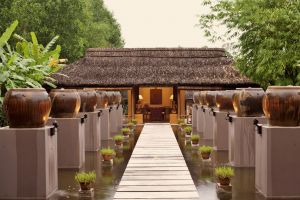 The combination of delicious meals, sweet sleep and a peaceful life in the countryside will bring you full of joy and energy. After the holidays at Pilgrimage Village Boutique Resort & Spa., you will gain more unforgettable experiences.
Address: 130 Minh Mang, Thuy Xuan, Hue.
6. La Residence Hue Hotel & Spa
La Résidence – the former Governor's residence in the 1920s, was restored and developed into an Art Deco art hotel in 2005. That resort is truly one of the most significant Hue Vietnam resorts. Because it has 122 rooms housed in an atmosphere of classic colonial villas. Each room is a small world where all modern facilities interfere with the atmosphere of past days in a harmonious way. All the small details in La Résidence are typical examples of the artistic style of the world in the 1930s.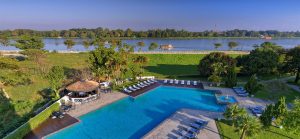 When visiting Hue Imperial City, it is unbelievable that there is a resort preserving the Art Deco golden years. Moreover, they also serve with top-class wines and high-end Cuban cigars. You can fully enjoy a luxurious and meaningful night in the Bar Le Gouverneur without going anywhere.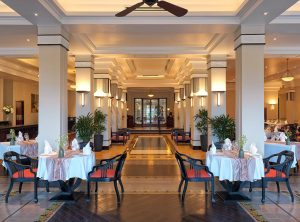 In addition, for those who are not familiar with how to enjoy a meal served in a themed manner, then enjoying the cuisine at La Parfum's La Résidence restaurant. That will be an extremely new experience.
Address: 5 Le Loi, Vinh Ninh, Hue.
Although not located near the city center such as hotels and homestays, Hue, Vietnam resorts conquer tourists. Because they have a luxurious and sophisticated style with the top services and utilities that you can hardly find anywhere. Let make every moment pass by in your Hue marked and meaningful by choosing the resorts in Hue suggested by Asia Master Tour as a place to stay.
You can view more articles about traveling to Vietnam.
Contact Us
Address: 272 Khuong Dinh Street, Thanh Xuan District, Hanoi, Vietnam
Phone: (+84)24 6293 4678
Email: info@asiamastertours.com
Hotline: (+84)962 313 698
Website: http://www.asiamastertours.com