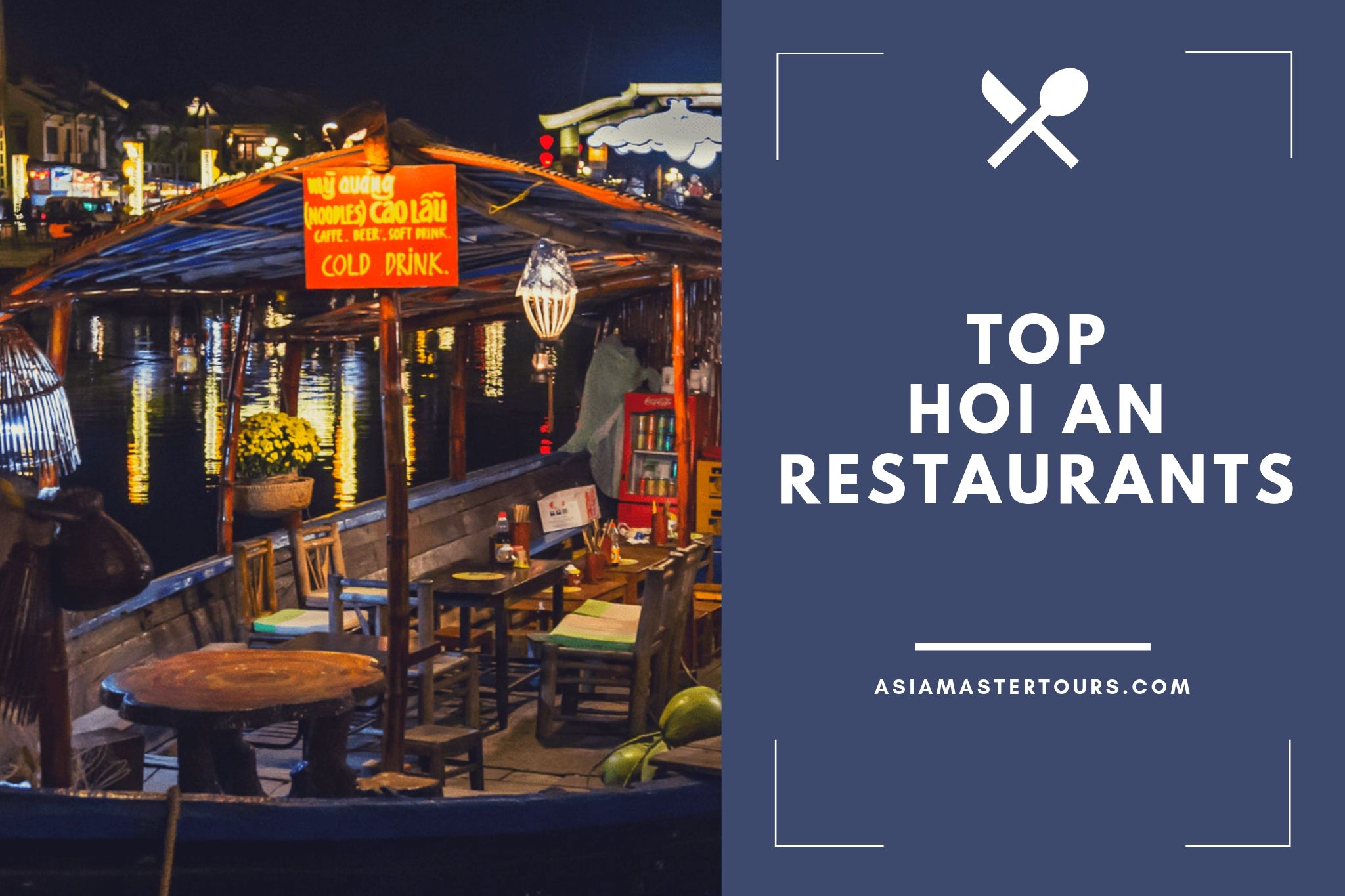 Top 9 best restaurants in Hoi An
Hoi An Ancient Town is not only one of Vietnam's famous cultural heritages with its poetic scenery, unique architecture and warm, hospitable people, but also with extremely interesting cuisine. Therefore, here are the best Hoi An restaurants that many tourists come to enjoy every time they set foot in the beautiful old town.
1. The restaurant at the Nam Hai resort

Address: Block Ha My Dong, Dien Ban, Quang Nam
Cuisine Asian, Vietnamese, Seafood, International, European
Modern and sophisticated, charming but passing time, the luxury restaurant of the Nam Hai Resort combines traditional Asian design and modern cuisine. Diners can choose from traditional Indian cuisine or a combination of many different culinary styles.
The restaurant has a buffet breakfast – 7am ​​to 10.30am. Dinner is from 6pm to 10:30 pm. The restaurant specializes in high-class cuisine for gourmets. In addition, it has a garden with vegetables and herbs selected by chef Richard Wilson as the material for creative dishes.
2. Song Thu Restaurant

Address: 55 Tran Quang Khai, Hoi An
Located on the banks of the peaceful Thu Bon River, Song Thu Restaurant has been in operation since 2004. After years of operation and development, Song Thu Restaurant has gradually built up the brand and reputation to domestic and foreign customers. Song Thu Restaurant always gives visitors a fresh air with a cool view. Besides, the romance of the Thu Bon River is an ideal place for guests on weekends, as well as special occasions.
The dishes are tailored to the tastes of the South and the North but do not lose the richness of the Central tastes. The menu at Song Thu is very diverse and varied from appetizers to the main dishes. Each dish is carefully processed and decorated carefully. Additionally, on the occasion of festivals or Tet, owners of Song Thu often organize cooking classes and flower workshops for women and share their experiences.
With the desire to bring relaxing moments for customers after stressful working hours, Song Thu restaurant is constantly expanding, recreating a new space, improving service quality and processing many new and delicious dishes. Therefore, it is one of the best Hoi An restaurants.
3. Ngoc Tuyet restaurant

Address: 43 Tran Hung Dao
The restaurant is a place where you can find different traditional Vietnamese flavors of localities and European flavors of regions around the world. Besides, there are many types of drinks to make you more interesting. The restaurant prides itself on its richness and diversity along with extensive experience. That created a reputation in the ancient town of Hoi An.
Vietnamese-French style, located right in the heart of the old urban center with spacious, airy and impressively arranged, Ngoc Tuyet is where you enjoy a combination of tradition and style.
4. Vinh Hung restaurant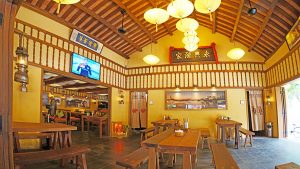 Address: 147 Tran Phu, Hoi An, Quang Nam
The restaurant is built according to the typical architecture of Pho Hoi housing area, with tables, chairs, utensils, ancient mossy tile roofs. Vinh Hung Restaurant serves Hoi An specialties such as cao lau, banh vac, banh it, Quang noodles and specialties of central coastal region. Besides, Vinh Hung Restaurant accommodates 60 people with enthusiastic and professional service staff who always serve the needs of each traveler. Therefore, it is one of the best Hoi An restaurants that you should try.
5. Aubergine 49 Restaurant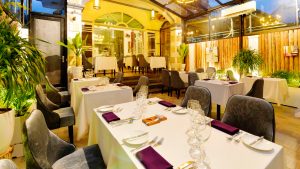 Address: 49A Ly Thai To, Hoi An
The restaurant serves cuisine: French, European, Asian, Contemporary, Vegetarian Friendly, Gluten Free Options. The restaurant has airy space so you can book and sit outdoors. Staff members are also professional. Besides, there is a car park and wheelchair accessible. This restaurant serves alcoholic beverages and free wifi.
6. Mango Rooms Restaurant

Address: 111 Nguyen Thai Hoc, Hoi An
Opening hours: 9am – 12pm
The Mango Room restaurant represents the philosophy of the owner and the main chef of the restaurant, Mr. Tran Duc. Born in Saigon, he had a long journey through many different countries such as USA, Latin America, Japan, Europe and returned to Vietnam in 2004. With his culinary knowledge and experience, he opened the Mango Restaurant with the desire to cook each meal for each customer to help them truly experience. Additionally, Mango Room impresses customers not only by the fresh taste of the dishes and the delicacy in the presentation but also by the relaxed atmosphere of relaxation and the extremely professional service style. Besides, Mango Room Restaurant guarantees to provide the freshest dishes with high quality to you.
7. Heaven Garden Restaurant

Address: 236 Cua Dai Street, City. Hoi An
Located on the windy and poetic river bank, coming to Heaven Garden, you will be immersed in a romantic and peaceful space, admire the view of the river. Only 2 km from the center of the old town and 1 km from Cua Dai beach, the restaurant hopes to be an ideal destination for your visit. Heaven Garden Restaurant is spacious and airy with an area of ​​900m2, harmonious in an architectural style – beautiful and luxurious campus.
The restaurant specializes in European – Asian cuisine for tours. With a capacity of 200 – 250 guests, professional staff and a bar, Heaven Garden will satisfy every tourist's needs when coming to Hoi An. Besides, Heaven Garden is also a great place to organize buffet, barbecue, cooking class, birthday parties, conference parties, etc. It deserves to be one of best Hoi An restaurants.
8. Van Loc Restaurant – the oldest life in Hoi An

Address: 27 Tran Phu, Hoi An
Van Loc Restaurant is the oldest restaurant in Hoi An. The restaurant has hundreds of years of experience serving the specialties of the Central in general and the ancient town of Hoi An in general. It is one of the most convenient and beautiful places in Hoi An with an old house and a long style typical of the heritage area. The restaurant specializes in serving local specialties such as cao lau, banh vac, dumplings, wonton, chicken rice with very affordable prices. Besides, the staff of the restaurant is enthusiastic and guaranteed to satisfy you with high quality services. If you've come to Hoi An, take the time to visit the restaurant and enjoy the specialties with typical flavors as well as look at the life of the old people.
9. Green Mango Restaurant
Address: 54 Nguyen Thai Hoc, Hoi An
Located near the end of a quiet road, Green Mango restaurant with classic Asian dishes mixed with a peaceful style will give diners the kindness and coziness. It has fine dining, diverse wine list, especially Lavazza coffee. Green Mango restaurant chain also has branches in Hanoi, Halong Bay and on Cat Ba Island. Therefore, it is one of best Hoi An restaurants that you should not ignore.
So what do you expect more for a great trip? Please contact us – Asia Master Tours for guidance, advice and get the most preferential price when you, your family and friends are going to enjoy Hoi An city.
You can also explore more information about Hue such as Hue Vietnam resorts, Hue Vietnam beaches and Hue Vietnam weather or see our exciting best Sapa tours such as Sapa Motorbike Tours, Sapa Package Toursand Sapa Trekking Tours.
Contact Us
Address: 272 Khuong Dinh Street, Thanh Xuan District, Hanoi, Vietnam
Phone: (+84)24 6293 4678
Email: sm@asiamastertours.com
Hotline: (+84)962 313 698
Website: http://www.asiamastertours.com