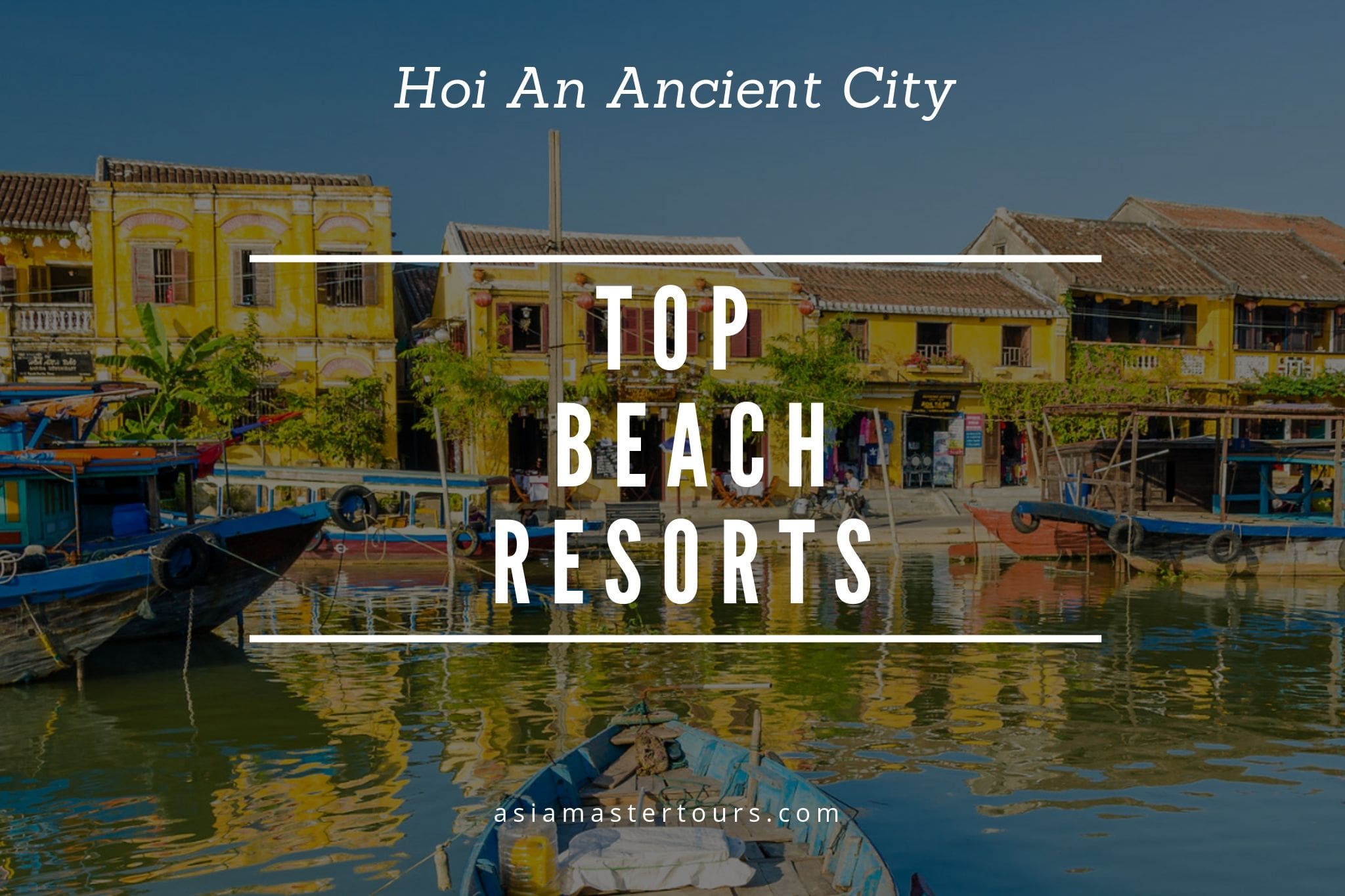 Top 8 beautiful and luxurious beach resorts in Hoi An
Coming to Hoi An tourism, you will surely want a holiday to experience and explore all moments of great relaxation. Therefore, it is important to choose a Hoi An beach resort with beautiful views and good service to stay. Let Asia Master Tours point out some beautiful and luxurious beach resorts in Hoi An which are impressed by foreign tourists!
1. Victoria Hoi An Beach Resort & Spa
Price for a room is from $157 (VAT and service charge included)
Located in an open space with clouds, sky and the sea, the special highlight of the resort is the architectural style. That is the combination of three countries: Japan, France and Vietnam. At the entrance to the resort, you will step up the nostalgic steps and go through the curved gate with bright red tile roofs. It feels like stepping through the gate of time to enter an old landscape.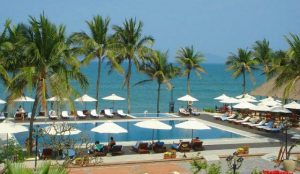 Located right near Cua Dai Beach, just a 15-minute walk to the beach, Victoria Hoi An Beach Resort & Spa has 109 rooms. All were built with luxurious architecture, full facilities and attentive services. This is truly an unique and interesting destination for you to experience it.
2. The Palm Garden Beach Hoi An
Price for a room is from $154 (including VAT and service charge)
This is one of the nearest beach resorts in Hoi An. You only need less than 3 minutes to go to Cua Dai Beach. Not only near the sea but from here, a travel service can take you 5 minutes away to the ancient town Hoi An or to Danang International Airport within 30 minutes. With an ideal location, the resort is built on a 5ha tropical garden, pristine by the lush green of more than 400 different species of palm trees. Besides, there is a rich vegetation stretching over 220 meters on famous Cua Dai beach.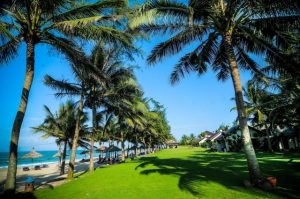 The Palm Garden Beach Hoi An has 212 rooms, divided into Superior styles, Deluxe and Bungalow Beach Front. The interior of the room is made of classical wood, bringing comfort, relaxation. All rooms are full amenities and meet the standards of a luxury resort. If you stay in a room with a view of the sea, how wonderful it is. It's airy and romantic.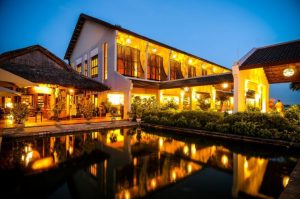 In addition, when staying here, you will enjoy all services such as spa, body care massage, 45m outdoor pool, free wifi coverage throughout the resort. You can enjoy delicious cat dishes from experienced chefs at Colibri Beach Front Restaurant serving European dishes or visit Terrace Café to eat Vietnamese specialties or get delicious drinks at the Contino Club Bar.
3. Sunrise Premium Resort Hoi An
Price for a room is from $176 (VAT and service charge included)
Also among the beautiful beach resorts in Hoi An, Sunrise Premium Resort Hoi An with 222 rooms and villas with views overlooking the open and fresh sea. This is an extremely beautiful destination for family and friend. Because it has not only luxurious and classic designs from rooms, villas but also enthusiastic and professional caring services. You will experience the resort space with clean green outdoor swimming pools, relaxing spa, wifi throughout the resort.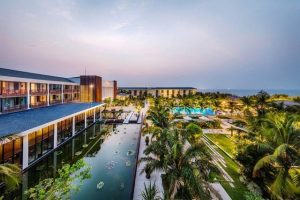 If you are afraid to go down to the dining area, you can call the staff to take it to your room to enjoy. Or if you stay at the villa, you can organize a barbecue and play on the beach as much as you want without fear of being banned.
4. Golden Sand Resort & Spa Hoi An
Price for a room is only $115 (including VAT and service charge)
If you are wondering where to stay when coming to Hoi An, just come to Golden Sand Resort & Spa Hoi An and not to worry about everything. With 212 tastefully designed rooms but no less luxurious, the resort is one of the most luxurious 5-star beach resorts in Hoi An in the old town.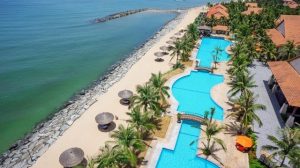 The building materials are taken from nature such as wood, granite bringing a warm and airy space. It has a large outdoor swimming pool for both adults and children with views overlooking the blue sea. Besides, there are palm-leaf sheds that creates a natural feel or hammocks connected by tall coconut trees. Just lying down and enjoying the calm sea, sipping a cocktail is so wonderful.
Professional service staff will quickly solve your problems with other cares and luxury services are available at the resort. If you intend to come here for a vacation, you should book early because the resort rarely has vacant rooms if not booked in advance. From here, if you want to go to the sea or see the old town and My Son sanctuary, it is very close and move quickly.
5. Almanity Hoi An Wellness Resort
Price for a room is only from $153 (including VAT and service charge)
This is the latest luxury and classic Hoi An beach resort, with many types of rooms with different prices to suit the conditions of customers. The room is designed from elegant wood materials, with full amenities such as flat-screen TV, air conditioner, etc. Bathrooms are also fully equipped with shower, shampoo, hair dryer, clean toiletries for visitors to use.

In addition to swimming or bathing in a large and open outdoor swimming pool, you will be able to choose one of three special spa care services. You can join a fitness center, bike hire and tram to move around or enjoy delicious food from a BBQ restaurant. In addition, you can enjoy the cuisine of many countries at Four Plates restaurant.
The resort is only 3km from An Bang beach, Hoi An ancient town and 1km to central market, about 22km from Danang International Airport. Therefore, it is very convenient for you to visit these famous places from here.
6. Vinpearl Hoi An Resort & Villas
Price for a room is from $233 (VAT and service charge included)
Among the 5-star beach resorts in Hoi An, with an open space to mingle with nature but still seem to be extremely luxurious. It has fully furnished rooms or desirable villas with views overlooking the sea. It is really an ideal place for your trip. The Cham Restaurant is decorated in a combination of elegant and luxurious Asian – European style with delicious dishes from famous chefs. Or you can also visit Faifo restaurant to enjoy bold dishes with Vietnamese and Southeast Asian styles. And yet the combination of the bar and the pool at the Poolside Bar gives you time to cool off. And enjoy delicious drinks from professional bartenders.
If you visit the cheap Hoi An resorts, although the price is a bit cheaper but of course you will not be in luxurious rooms fully equipped. Customer service will not be dedicated, attentive and professional. So let enjoy a wonderful holiday at Vinpearl Hoi An Resort & Villas.
7. Hoi An Beach Resort
Price for a room is from $109 (including VAT and service charge)
This is the resort with the most beautiful terrain in the Central Region, between the peaceful De Vong River and the vast Cua Dai Beach. It is a location that can be said not only rare in Vietnam but also rare in the world too. Including many rows of fully furnished interiors and villas spread out by the river and the sea, the view is extremely beautiful. It has an enthusiastic and classy care service such as bar, swimming pool, restaurant, beach bathing, airy gardens. Besides, it is great to quickly move to the famous sights of the Hoi An ancient town. You also have free buses and cabs to take you to and from the center. So you can enjoy them enthusiastically.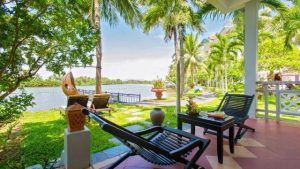 Being immersed with nature, this is truly a beautiful Hoi An beach resort that you must definitely visit if you do not want to waste your life.
8. Allegro Hoi An – Little Luxury Hotel & Spa
Price for a room is from $141 (VAT and service charge included)
The resort is right in the heart of Hoi An city, just 400m from Japanese Covered Bridge and Assembly Hall of Guangdong. It is 700m from the night market and 700m from Hoi An Folklore Museum. This is a resort that meets the needs of travelers who want to stay close to the center and still have a great vacation. Luxuriously designed rooms with full facilities, spa services, sauna, fitness center and 24-hour front desk. All ensure that you have time to enjoy the best in the middle of the bustling Hoi An ancient town.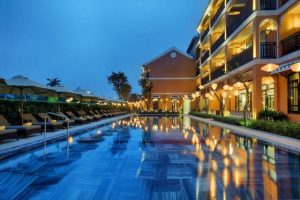 When coming to Hoi An, visiting many famous places, world cultural heritages or beautiful blue beaches makes your trip more perfect. The Hoi An beach resorts will give you a great space to relax with relatives and friends. That helps you get more energy after that new experience trip.
So what do you expect more for a great trip? Please contact us – Asia Master Tours for guidance, advice and get the most preferential price when you, your family and friends are going to enjoy Hoi An city.
You can also explore more information about Hue such as Hue Vietnam resorts, Hue Vietnam beaches and Hue Vietnam weather or see our exciting best Sapa tours such as Sapa Motorbike Tours, Sapa Package Tours and Sapa Trekking Tours.
Contact Us
Address: 272 Khuong Dinh Street, Thanh Xuan District, Hanoi, Vietnam
Phone: (+84)24 6293 4678
Email: info@asiamastertours.com
Hotline: (+84)962 313 698
Website: http://www.asiamastertours.com