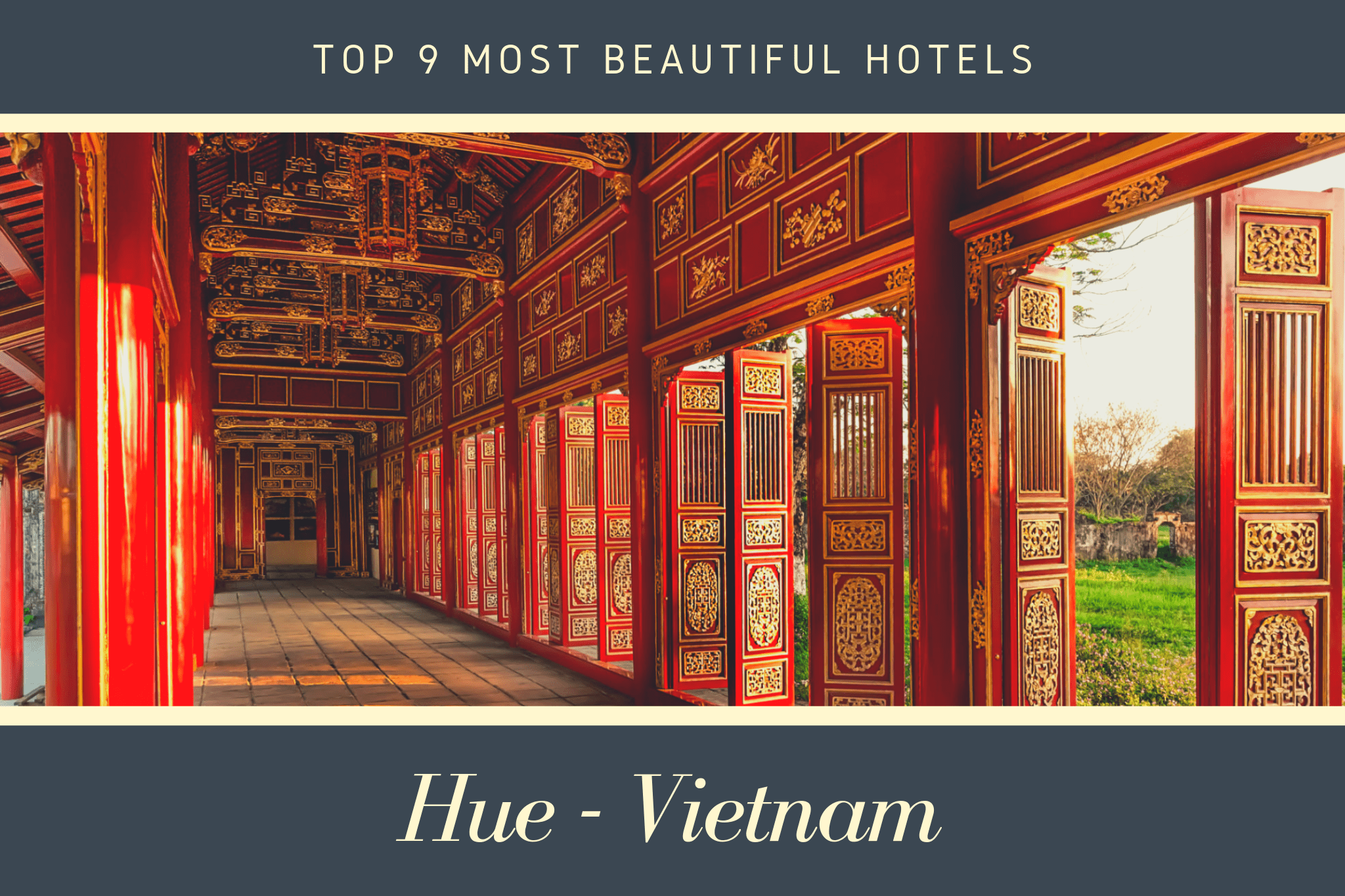 Top 9 most beautiful hotels in Hue city
The scene of lyrical poetry, the architecture of the Nguyen Dynasty, the characteristic accent to the people of Hue, … all of which created a charming ancient capital of Hue with foreign tourist. To come to the land of Hue, one of the most important things is that you must find a hotel which is near the center with good quality and suitable for your journey. Therefore, you should take the time and below are some suggestions for hotels in Hue, Vietnam.
1. Indochine Palace Hotel
Just 2km from Truong Tien Bridge, Dong Ba Market and Hue Royal Museum of Fine Arts, Indochine Hue Hotel deserves the first mentioning hotel on this list. The hotel consists of 222 hotel rooms equipped with amenities such as internet, air conditioning, luxury bathroom with separate bath, etc. Every minute in this hotel will always make visitors happy.
When you became a guest of Indochine Hue Hotel, you will be served by many convenient services such as restaurants, post offices, souvenir shops, children's play areas, services. massage, outdoor swimming pool, etc. Besides, the hotel has a door-to-door shuttle service, travel itinerary advice or bicycle rental for convenience. That helps you easily to get sightseeings in Hue.
Address: 105A Hung Vuong, Phu Nhuan, Hue City, Thua Thien Hue
2. Imperial Hotel
The name that must be mentioned on this list of hotels in Hue, Vietnam is Imperial Hotel. This hotel is like a magnificent palace in the heart of Hue city. There are many types of rooms for guests to choose. Each room has a view of the romantic Huong River and Ngu Binh Mountain.
Moreover, an unique point that customers highly appreciate is the royal meals at the hotel. Hue cuisine is famous for delicious and beautiful dishes in Vietnam and in the world.
In addition, the bar on the hotel terrace is also a favorite place for travelers. Sipping a cool drink and taking in the scenery of Hue Street, Huong River, Trang Tien Bridge at night is really great.
Address: 08 Hung Vuong, Phu Hoi, Hue
3. Moonlight Hotel Hue
If you are still wondering about the hotel location, Moonlight Hotel Hue is a suggestion for you. From the hotel, guests can easily access the famous tourist attractions of the city. This 4-star hotel including 90 rooms is less than 1 km from Huong River. Each room here is equipped with air conditioning, television, internet, etc. Therefore, visitors can be assured of the quality of rooms when resting at the hotel.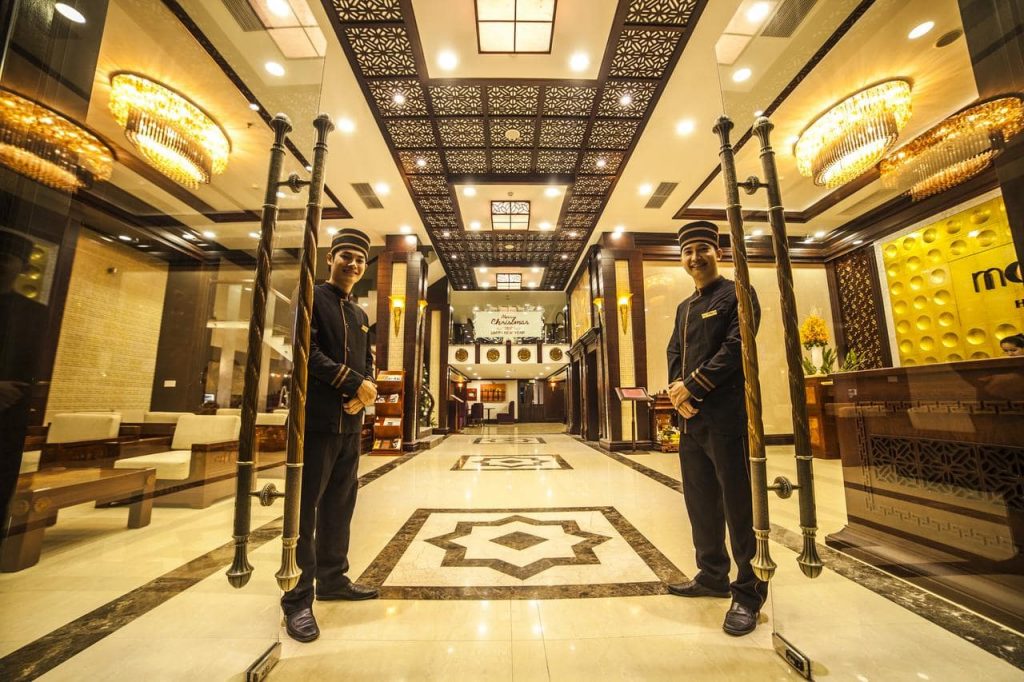 The hotel room system is also designed with balcony for guests to enjoy the view of the Huong River. In addition, Moonlight Hotel Hue has many facilities such as swimming pool, massage room, bar, … "Enthusiastic, friendly staff", "beautiful and modern rooms", "reasonable prices" are the assessments of many visitors to Moonlight Hue Hotel.
Address: 20 Pham Ngu Lao, Phu Hoi, Hue
4. MidTown Hotel Hue
Next, Midtown Hue Hotel is also one of hotels in Hue, Vietnam you should choose. Under the detailed guidance from friendly staff, it is not difficult for visitors to find a pleasant hotel room, end a long way and start to experience the comfortable moments in Hue.
Ignoring the train fatigue, let your whole body relax in a quiet space. Then you take a dip in the "luxurious" bath or lean back on the soft and smooth bed. You will get the vitality back to continue an exciting journey waiting ahead.
If you come to the hotel, you should not ignore the enjoyment of Asian and European delicacies. That is prepared by talented chefs in a spacious and airy restaurant space. After that, visitors will be able to enjoy the relaxation and entertainment services such as spa, swimming pool or rent a royal outfit and take yourself great photos.
Address: 29 doi Cung, Hue
5. Mondial Hotel
Offering panoramic views of the city and Perfume River, Mondial Hotel is an ideal base for tourists. It is on Nguyen Hue street, about 8 km from the Citadel and about 30 minutes drive from Phu Bai Airport. Therefore, it will be easy for travelers to reach the hotel.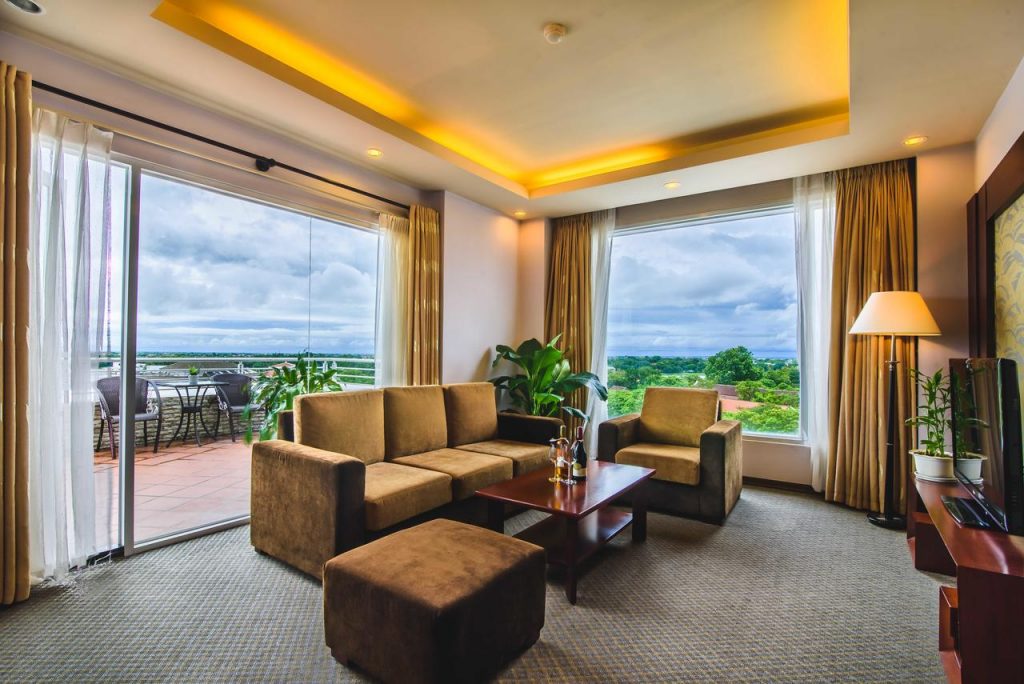 The first impression of visitors is the image of a towering building with the main color of white creating an elegant and bright beauty. The hotel has 9 floors, 106 modern rooms, airy and clean space. In addition, the hotel also provides more systems like fresh pools, gym, conference room, spa and many other utilities. The dining, relaxation and entertainment of the hotel will satisfy many visitors. Therefore, you will have the best spirit for your trip to discover the ancient capital.
Address: 17 Nguyen Hue, Vinh Ninh, Hue
6. Saigon Morin Hotel
Being an international 5-star hotel, Saigon Morin Hotel promises to be an ideal destination for many travelers. The hotel always ensures to provide guests a vacation with top-notch leisure-entertainment-dining services. Therefore, customers will satisfy with the quality of the service. Besides, the hotel also attracts tourists by its history of formation and development.
Saigon Morin Hotel was built in 1901 by a French businessman. From the architecture, the layout and the interior are characterized by the French creating a unique beauty among hundreds of hotels in Hue, Vietnam. Moreover, with its long history of development, the hotel is also a witness to the city's development. If you come here, you will be able to learn a lot of pictures about Hue in ancient times. Moreover, you can know the famous guests who have stayed here through the hotel retention.
Address: 30 Le Loi, Phu Hoi, Hue
7. Gold Hotel
Located next to the Perfume River dreaming of Hue, Gold Hotel is always pleased to the tourists when coming here. The hotel is impressed by its large scale, luxurious architecture and magnificent. Moreover, each room of the hotel has a different decoration. The interior has elegant and modern colors which create inspiration for visitors right after entering the room. From the hotel room, guests will feel all the beauty of Hue City especially when the city lights up sparkling and fantasy without a little noise.
Coming to Gold Hotel, visitors will experience the typical dishes of the ancient land in a luxurious three-star international space. Your rest time will be even better when you enjoy a lot of facilities such as a spacious outdoor pool, a gym with full facilities, or a spa room, etc.
Address: 28 Ba Trieu, Phu Hoi, Hue
8. Huong Giang Hotel
Named after the famous river of Hue, Huong Giang Hotel is one of hotels in Hue, Vietnam visited by many tourists. Although most hotels in the city center have views of the Perfume River, the most beautiful is the Huong Giang Hotel.
Being near the romantic Huong River, Huong Giang Hotel gives visitors the feeling of peace with the architecture in harmony between modern and traditional, along with the green scenery of tropical plants. Not only eye-catching with the outside design, but the hotel is also satisfied by the professional service of the staff, the meticulous and careful layout of each detail. It is the dedication that every customer coming here always feels secure and confident in his or her choice. With 165 rooms, each room is a luxurious and fully rested space.
Address: 51 Le Loi, Phu Hoi, Hue
9. Alba Spa Hue
With modern and spacious architecture, Alba Spa Hotel always attracts a lot of attention from tourists. Located at 29 Tran Quang Khai, from the hotel guests can easily access many beautiful views of the city such as Trang Tien Bridge, An Dinh Palace, Notre Dame Cathedral, …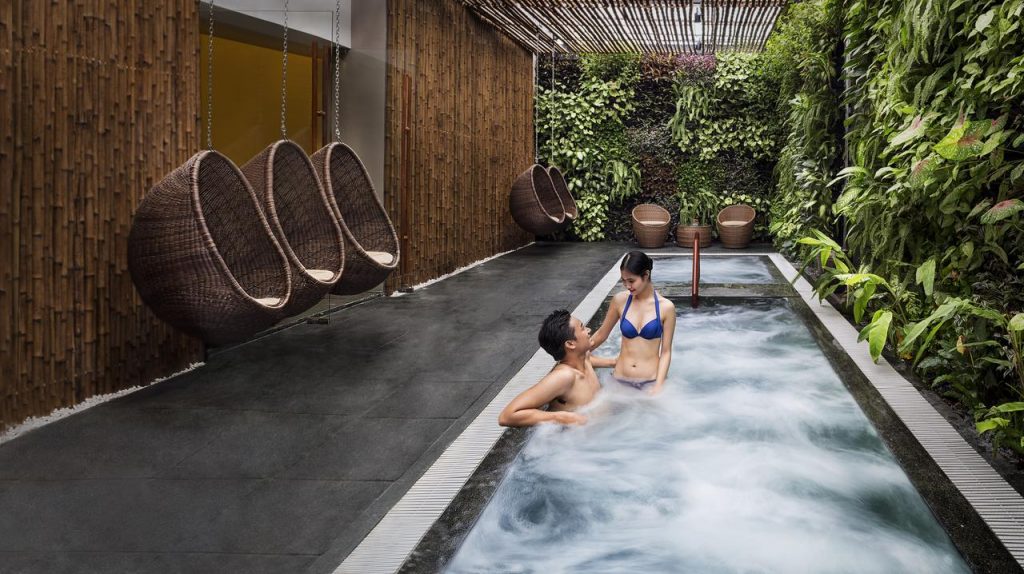 Besides, the hotel includes 58 luxurious rooms with full facilities and equipment. That promises to bring guests the most comfortable moments. From the room of the hotel, guests can see the peacefulness of the dreamy city of Hue, drop soul into the clear and smooth Huong River all year round. In addition to room service and catering services, the hotel also provides other services such as laundry service, massage services, spa rooms, karaoke rooms, … That ensures you have a great experience when staying here.
Address: 29 Tran Quang Khai, Phu Hoi, Hue
Your journey to Hue will be more complete if you find a suitable resting place. Hopefully, the list of hotels in Hue, Vietnam has provided useful information for you.
So what do you expect more for a great trip? Please contact us – Asia Master Tours for guidance, advice and get the most preferential price when you, your family and friends are going to enjoy Hue city.
You can view more articles about traveling to Vietnam.
Contact Us
Address: 272 Khuong Dinh Street, Thanh Xuan District, Hanoi, Vietnam
Phone: (+84)24 6293 4678
Email: info@asiamastertours.com
Hotline: (+84)962 313 698
Website: http://www.asiamastertours.com