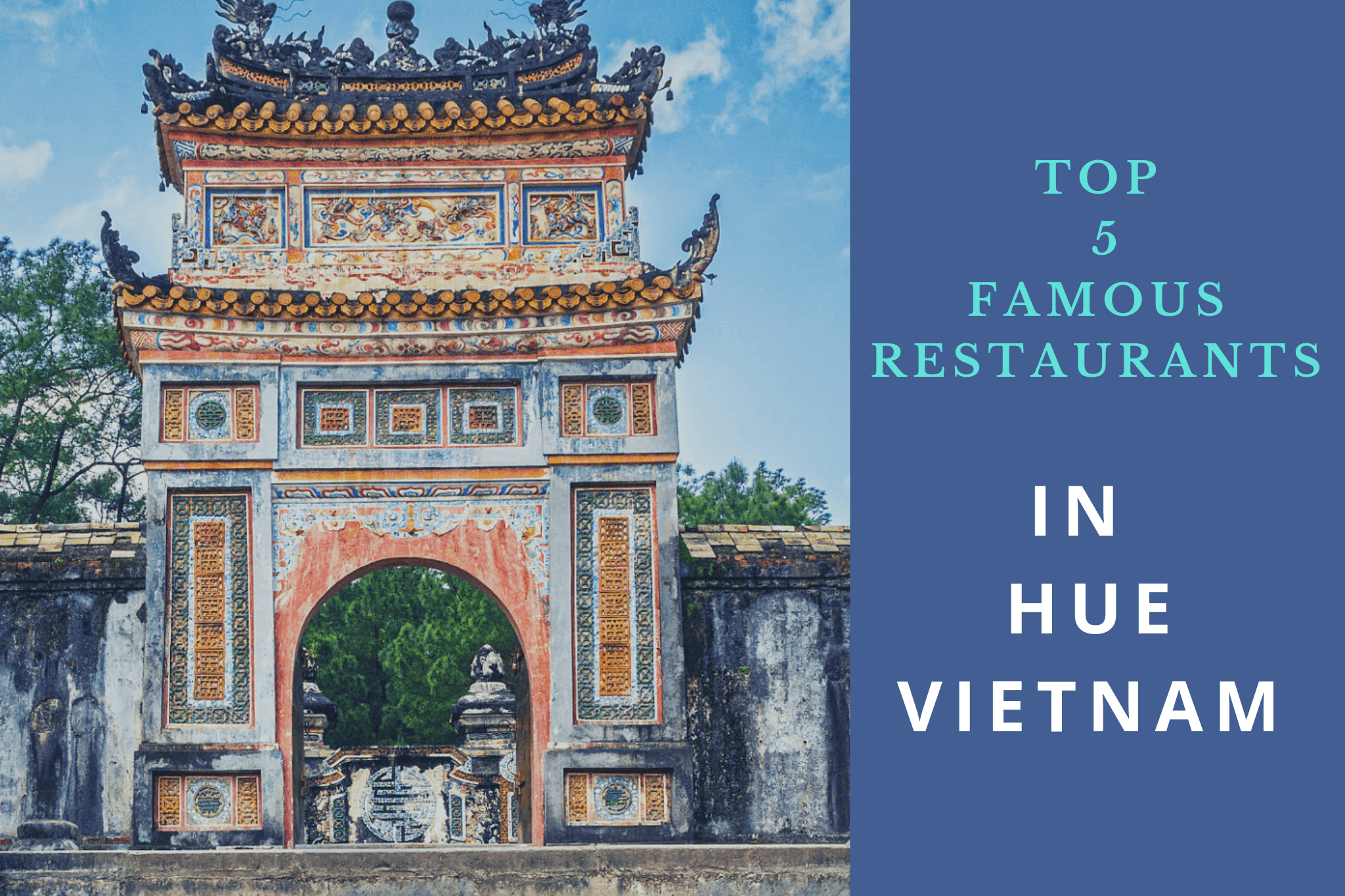 5 Famous restaurants in Hue, Vietnam that you should try
Hue is considered as a famous city with long-standing traditional cultural features and ancient, mossy relics. Besides, this beautiful ancient capital is also known as" the cradle of the culinary treasure of culture" that is most abundant and diverse in Vietnam. Tourists come to Hue culinary discovery not only to experience the taste of delicious food but also to experience all the quintessential and culinary style here. Here is a list of special Hue Vietnam restaurants with cultural dishes that you definitely cannot ignore when traveling to this beautiful city.
1. Royal Park Restaurant
Address: 38 Nguyen Sinh Sac, Hue
This is one of the most famous Hue, Vietnam restaurants. The restaurant has an area of ​​over 1200m2. It has a capacity of more than 600 seats with many separate rooms, large and small room. All are designed in the style of ancient royal architecture combining with the extremely modern style of Eastern orientation.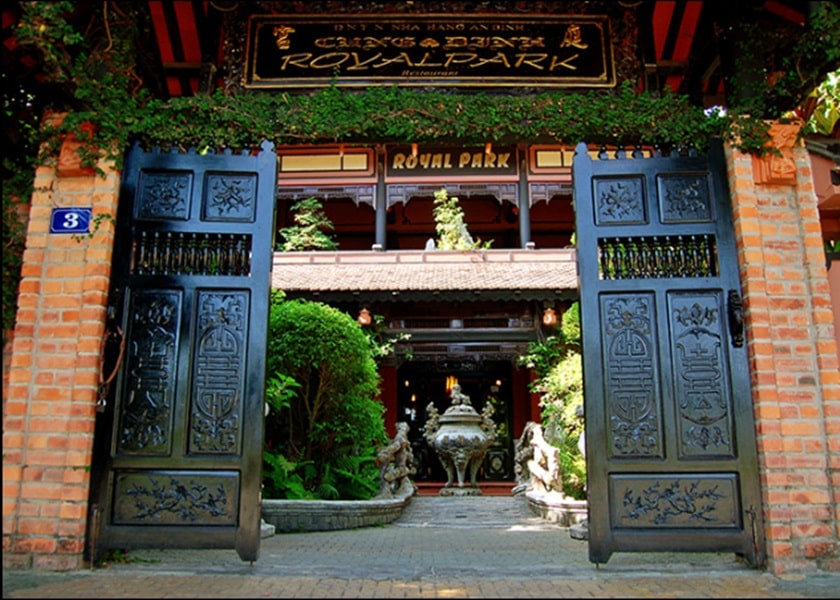 The restaurant is surrounded by brilliant gardens, ornamental plants and large stone statues which are placed around the yard. When you enter here, you will feel like you are lost in a majestic royal palace, magnificent with intricately carved stone pillars. Moreover, space in this Hue restaurant is airy and very quiet. That creates a pleasant feeling for visitors when visiting.
Coming to Hue Imperial Restaurant, you will feel the most complete culinary culture of the people here. The restaurant serves royal traditional dishes, Asian and European dishes, interwoven with old and present cuisine. The menu at the restaurant is also very diverse with specialties such as pork rolls, grilled duck, chrysanthemum stuffed squid, etc. Especially, the dishes are elaborately prepared with luxurious dragon and phoenix shapes.
The chefs of Hue all try to care for the food to keep the typical culinary culture of this ancient capital. You will be extremely impressed and excited to witness the full tray with dozens of dishes presented as works of magic art.
In addition, not only delicious dishes, at Hue Royal Park Restaurant, you will also have the opportunity to put on the royal mantle of the ancient kings and queens to enjoy the most complete royal meal. Therefore, most visitors coming here are very pleased to enjoy the delicious food and experience the new and attractive royal culture.
2. Les Jardins De La Carambole
Address: No. 32, Dang Tran Con street, Hue
Located in an old French mansion near Hoang Thanh, Les Jardins De La Carambole is known as the oldest French-Vietnamese restaurant in Hue. This restaurant was built in the style of old French architecture with original brick floors from the 1915's. The doors of the restaurant are designed with the dome style of the ancient churches.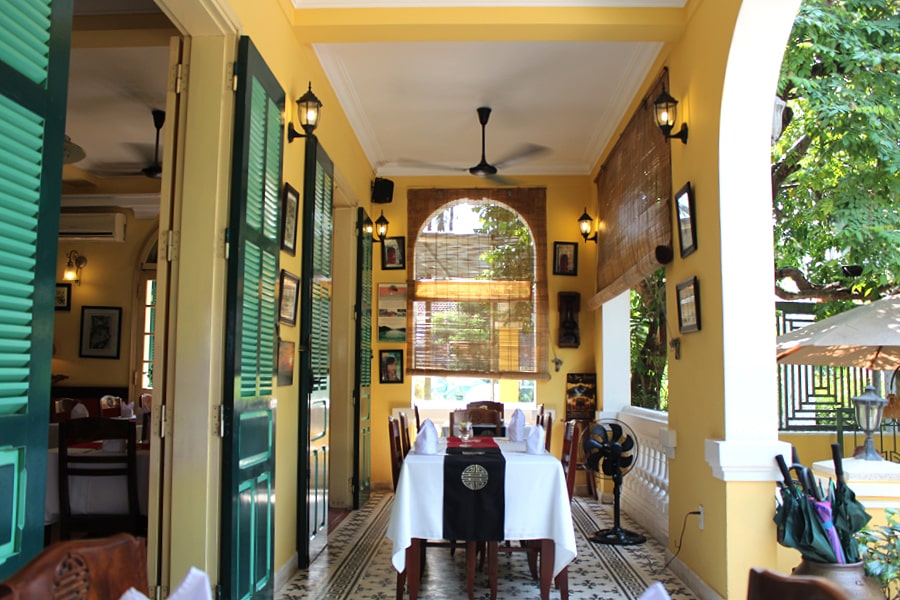 Entering the restaurant, you will feel a harmonious combination between modern Western style and traditional features of Hue culture. The old wooden furniture is still used with the familiar layout like in the movies of the old war.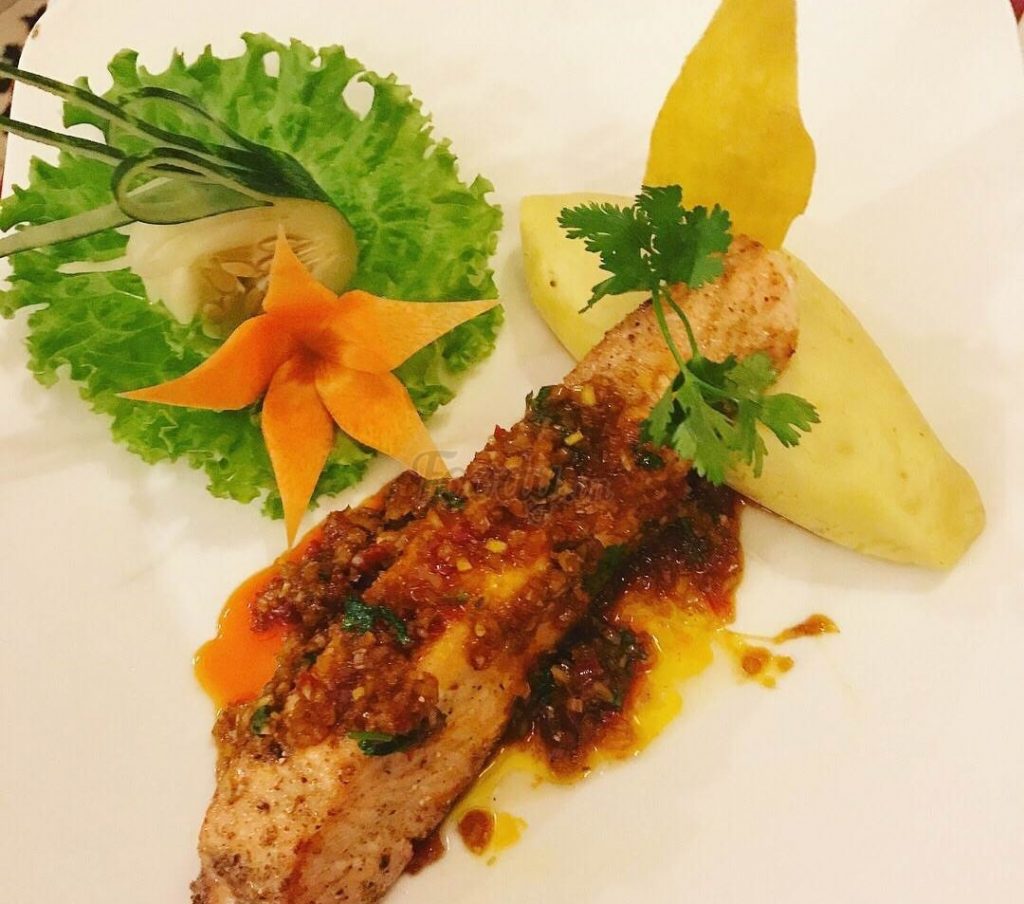 The food at the restaurant is not too expensive but it is very good with a menu combining traditional and modern dishes. If you come here, you should not miss the delicious green mango salad with grilled sea bass with Mediterranean sauce; or grilled beef with banana leaves imbued with the Central identity with the unique aroma of lemongrass and banana leaves. A strange banana bread with exotic passion fruit sauce will be a great dessert for meals here.
In addition, this restaurant also has a small bar for visitors to enjoy the famous glass of fine French wine. This is an ideal place when you not only want to explore traditional cuisine but also want to find a combination of different cuisines.
3. Ancient Hue Restaurant
Address: 4/4/8 lane 35 Pham Thi Lien, Kim Long ward, Hue city.
Ancient Hue Restaurant is located in the Phu Mong – Kim Long gardening house, which is an old noble village located on the poetic Huong River. The owner of the restaurant invested in architectural design as a capital of the ancient Nguyen dynasties with the typical layout and scenery of Hue ancient houses.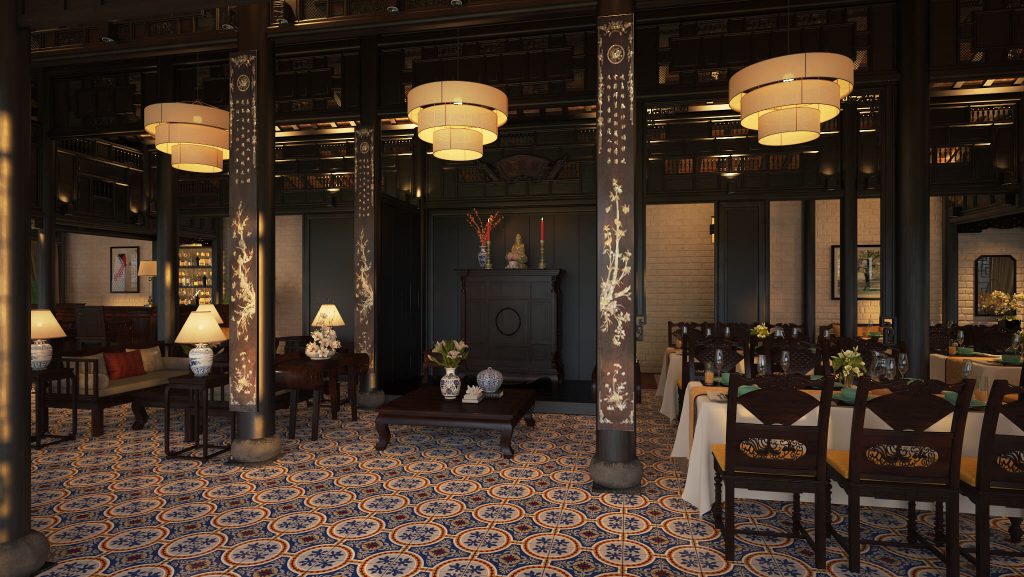 With an area of ​​over 2000 m2 designed in a traditional style, in the middle of Ancient Hue yard is the copper censer, ancient well, lotus pond and surrounded by five-room houses. All the houses here are featured with many wooden furniture, especially carved with dragon and phoenix sophisticated. That creates an extremely ancient and luxurious feeling. Besides, there are also galleries of antique objects, paintings or Hue traditional dresses for visitors to visit and take pictures.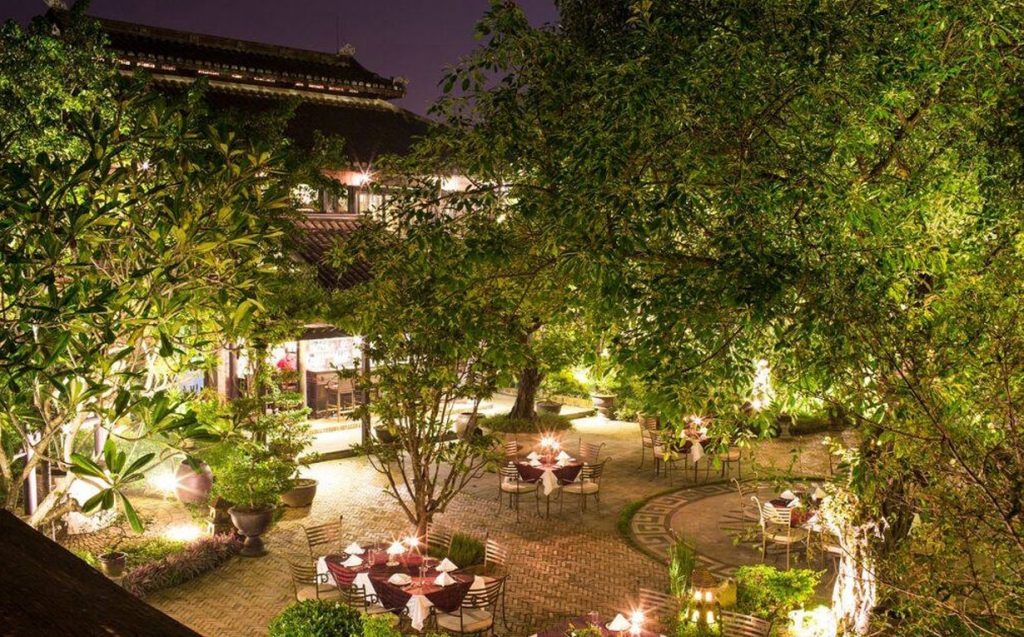 The specialties featured at this restaurant are royal dishes with impressive and sophisticated decoration. Ancient Hue has a variety of dishes from Asia to Europe. But the most outstanding is still the traditional dishes of Hue ancient capital such as noodles, tea, braised fish, fig mixed or special royal dishes.
Coming to Ancient Hue, you can both enjoy the food and watch the martial arts performance or court music of Hue like a king of the past. It can be said that Ancient Hue is not only considered a culinary restaurant but also a cultural and artistic complex that visitors cannot ignore when coming to Hue. Therefore, it is on the list of the best Hue Vietnam restaurants.
4. Y Thao garden restaurant
Address: 3 Thach Han, Hue city.
Y Thao garden restaurant is one of the best Hue Vietnam restaurants. It is located inside the Imperial City owned by a family living here. This restaurant has the architecture of an old villa with two main areas: garden space and indoor space. The space in the garden is quite large with many kinds of trees creating a fresh and airy atmosphere. The space inside the house is quiet and polite with the classic layout.
At Y Thao garden restaurant, you can find very specific Hue architecture through the careful design and decoration of the owner. One more special thing when visiting this restaurant is that you can admire the beautiful collection of ceramics and woodwork of the landlord in their living room. Moreover, you can also chat together to learn more about the life of Hue people before enjoying a meal in the garden dining room.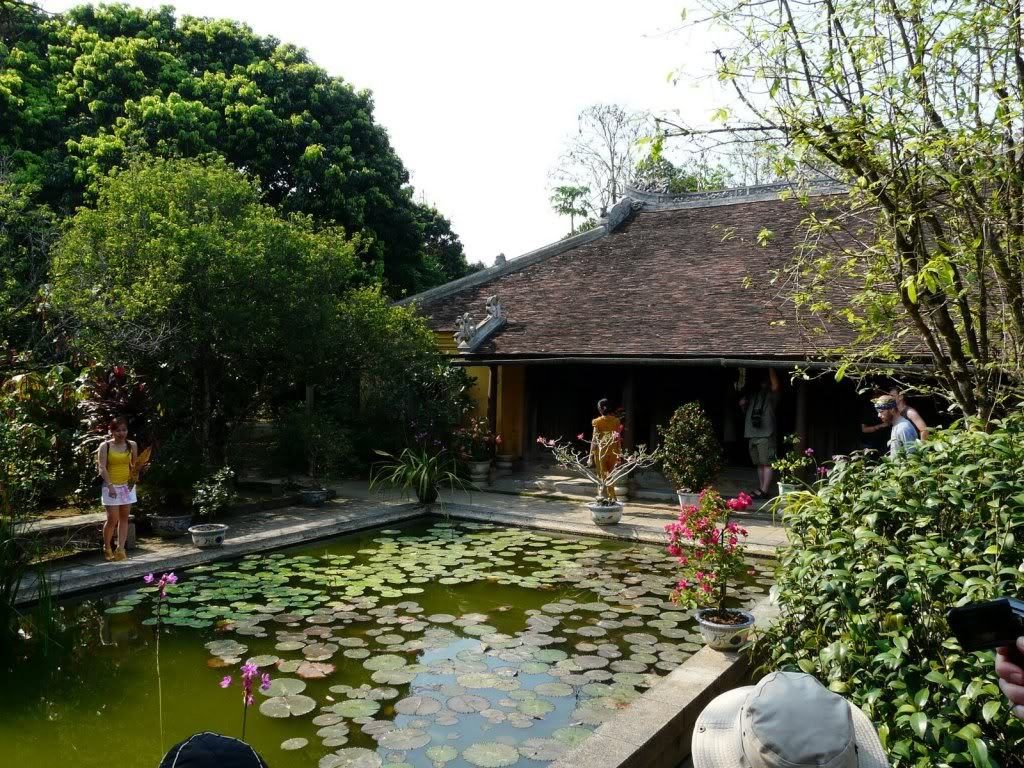 Y Thao Garden serves a lot of Hue specialties with a nice cooking style and presentation. The menu has a diversity of vegetarian dishes and savory dishes such as spring rolls, phoenix rolls, cinnamon rolls, green bean cakes, etc.
More specifically, at this restaurant, you can also register courses to cook Hue dishes in royal style with an affordable price. If you are curious and want to discover how to make luxurious dishes of Hue, this is a destination not to be missed.
5. Tropical Garden restaurant
Address: 27 Chu Van An, Hue.
This is one of the first local Hue Vietnam restaurants opening to tourists in Hue. Located on Chu Van An street in the center of Hue city, Tropical Garden has a very cool and lovely space with lush green gardens all year round. You can choose to sit inside or outside the garden of the restaurant to enjoy the dishes.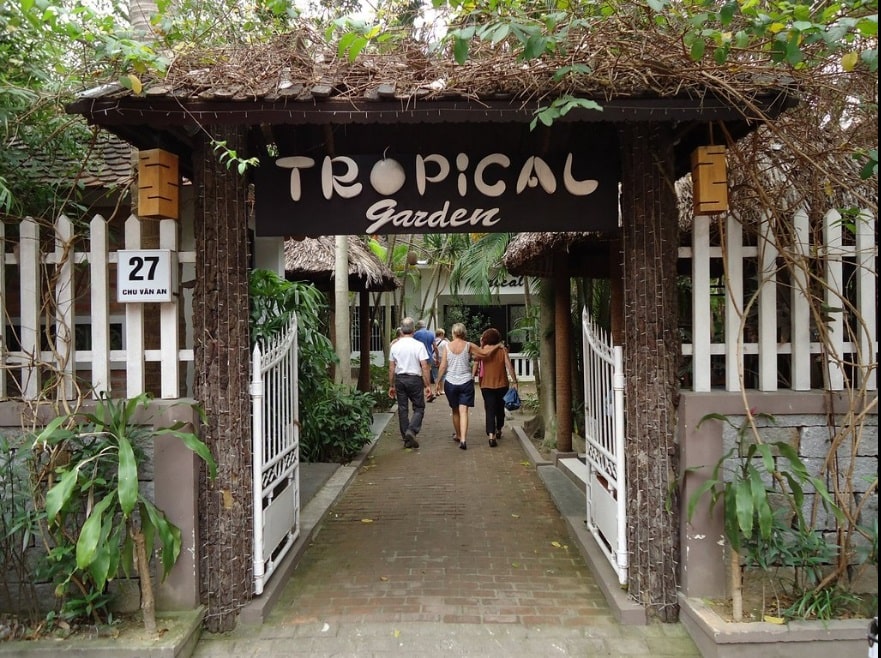 This restaurant mainly serves local dishes such as pancakes, grilled spring rolls, grilled shrimp wrapped with sugarcane, Hue tea, etc. Besides, the restaurant has traditional music shows every night for visitors to explore more. That is the unique culture of Hue ancient capital.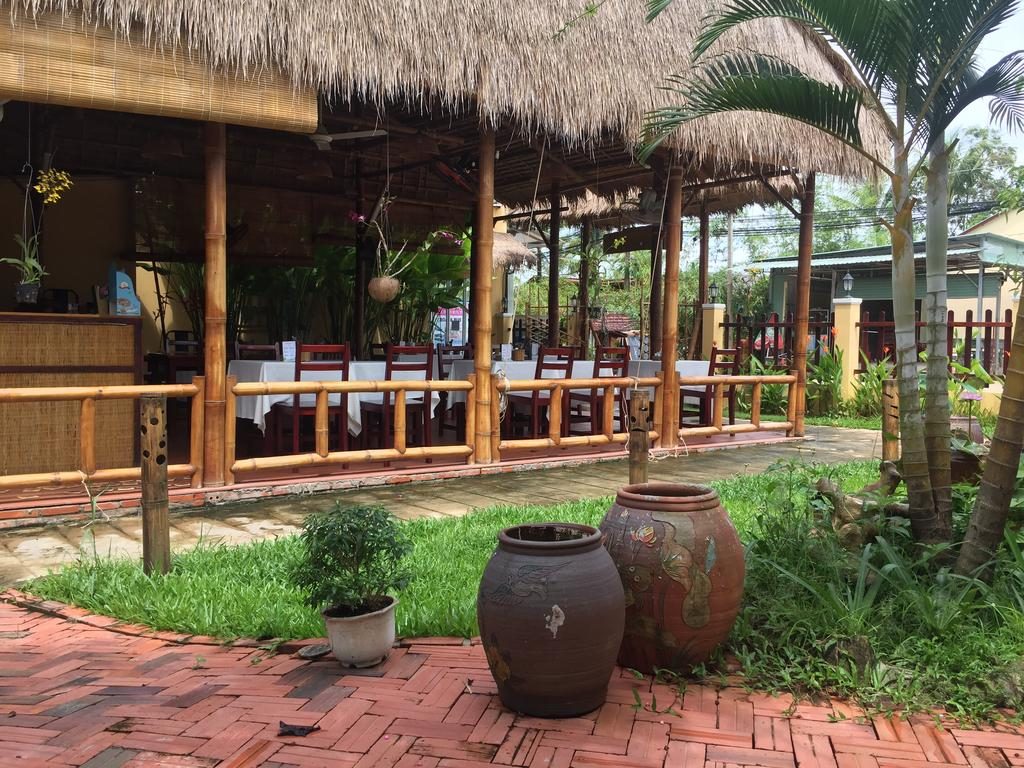 Above are the famous Hue Vietnam restaurants which are loved by tourists when visiting Hue. If you have the opportunity to visit this beautiful ancient capital, do not miss these special culinary restaurants.
So what do you expect more for a great trip? Please contact us – Asia Master Tours for guidance, advice and get the most preferential price when you, your family and friends are going to enjoy Hue city.
You can view more articles about traveling to Vietnam.
Contact Us
Address: 272 Khuong Dinh Street, Thanh Xuan District, Hanoi, Vietnam
Phone: (+84)24 6293 4678
Email: info@asiamastertours.com
Hotline: (+84)962 313 698
Website: http://www.asiamastertours.com