Want to explore Da Nang? Don't miss these 4 places
Along the S-shaped Vietnam, there are lots of destinations that you should visit. In North, we can't miss Sapa, in the South we shouldn't miss Sai Gon. And, what about the Central of Vietnam? Of course, Da Nang. But, you might not be surprised by this answer because this destination is really famous among travelers. This city is one of the most worth-living cities in the world. And, if you want to know why, travel to Da Nang now.
Because of its popularity, you might know that there are lots of things to do in Da Nang. But what are they? You don't know because you haven't been there before. So, if you are in this situation, keep reading this article. We will share you some must-see places in Da Nang right now.
1. Dragon Bridge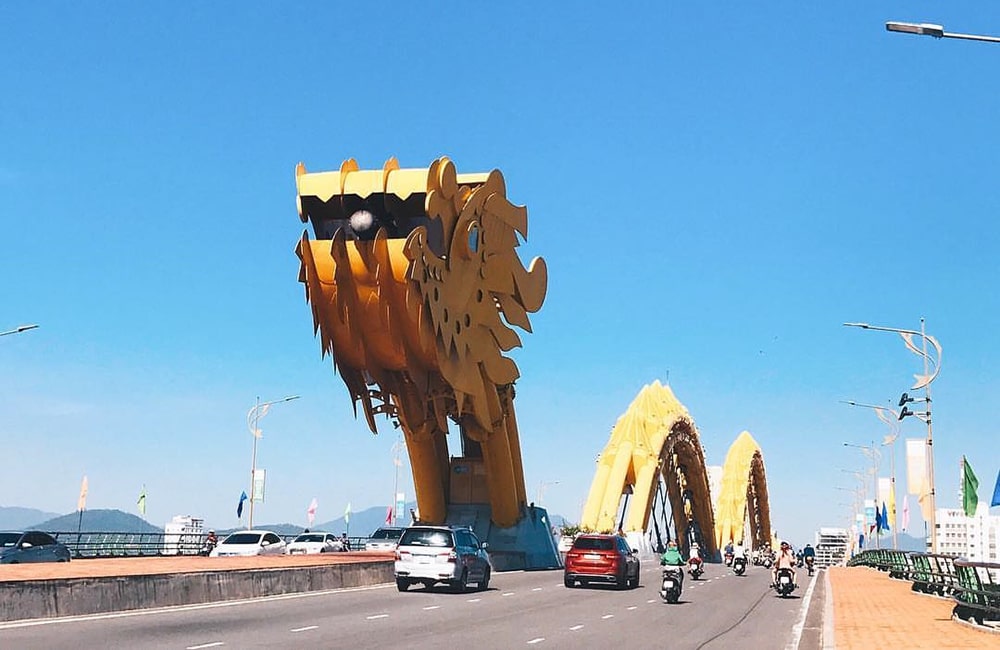 The new and beautiful symbol that replaces the old Quay Song Han Bridge is Dragon Bridge. Today visitors coming to Danang not only stop on this bridge to take pictures but also enjoy watching the Dragon spray fire and water on weekends. The bridge was inaugurated in March 2013, and the Dragon Bridge design was voted the most unique designed bridge in Vietnam, with 6 lanes for 2 separate directions. The bridge has a unique single-sided dome structure in Vietnam so far. The design illustrates the shape of the dragon head of Ly Dynasty, and the architecters get idea for the dragon tail from the Lotus symbol. The bridge crosses the Han River, connecting the two banks of the city along with many other famous bridges of Da Nang such as the Han River turning bridge, Tran Thi Ly bridge. Visiting this symbol of the city is one of things to do in Da Nang. And, of course, don't forget to watch it sprays fire and water.
The time of Dragon fire and water spraying is on every Saturday & Sunday. In particular, after 20h50, the vehicles are prohibited to cross the bridge, 21h00 Dragon sprays 18 times and water 3 times. To have a convenient seat to watch the Dragon show, you should arrive 20 minutes earlier to have a nice view.
2. My Khe beach
Other things to do in Da Nang is enjoying My Khe beach. Visiting Da Nang, no one should miss a fun and relaxing time on My Khe beach. This is one of six beaches voted by Forbes magazine as the most charming beach on the planet with smooth, white, beautiful and poetic beaches. When you come here, you also have the opportunity to participate in sea sports activities such as diving, fishing, windsurfing, paragliding, beach soccer, etc. Especially on the occasion of summer and cultural tourism, Danang always organizes annual cultural exchange activities along the My Khe beach axis.
In addition, when swimming here, you are also completely assured by a professional rescue team, they sit on a hut, and sit on basket boats right on the beach. Rescue teams work from 5:00 am to 20:00 daily. When going to the beach you should go to public beach areas for safety.
3. Ba Na Hills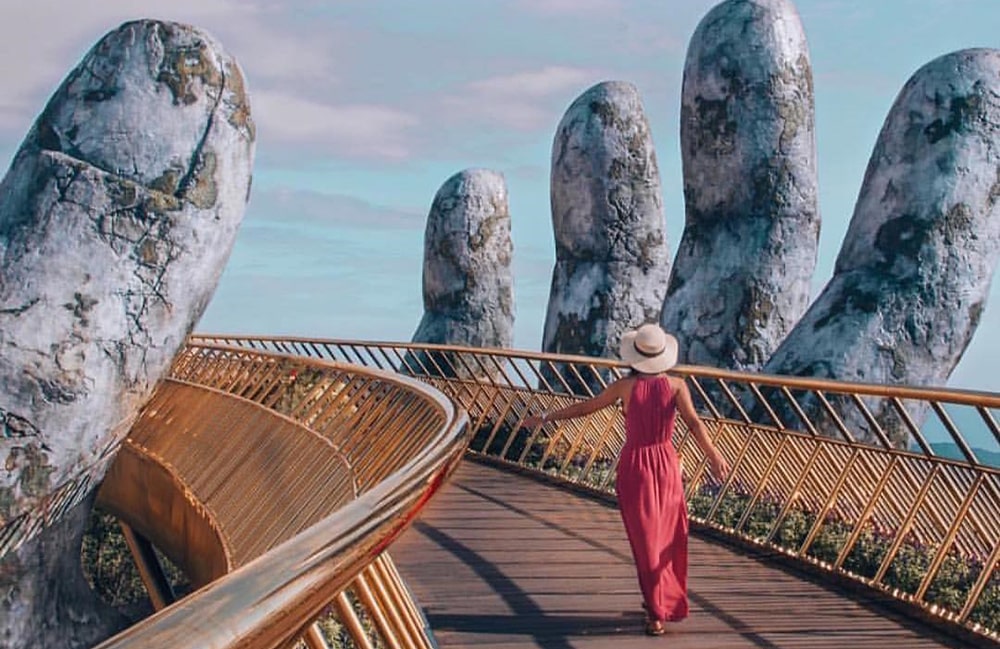 This attraction is quite famous, recently there is an investment with many new places to play with many activities for families and groups of tourists. When you first come here, you might feel the air is extremely clean and airy, the temperature drops to about 6 -7 degrees compared to the city, sunny in the mountains but it won't make you sweat. Ba Na Hill area has many activities, it takes you all day here, so you should arrange a reasonable time. That's why according to lots of tourists, enjoying a whole day in Ba Na hills is one of the best things to do in Da Nang.
The main attractions to visit in Ba Na include the French village, with the French architectural simulation, this area focuses quite a lot of restaurants. The highlight is the square with the fountain in the middle, many tourists come here to take a picture. Large indoor entertainment area, you can not ignore: Wax statue museum, climbing ability, free drop games, etc. So, you should come here to admire da nang things to see. And, you will know that there are not only beaches but also various things in Da Nang for you to enjoy.
In April 2014, Ba Hills Hills also opened the Love Garden (Le Jardin D'Amour), growing quite a number of flowers, this area is quite beautiful, suitable for young girls who love flowers to take pictures here. While walking and listening to French love songs that make you forget about sadness, sometimes it makes you feel like you're somewhere in France.
4. Son Tra peninsula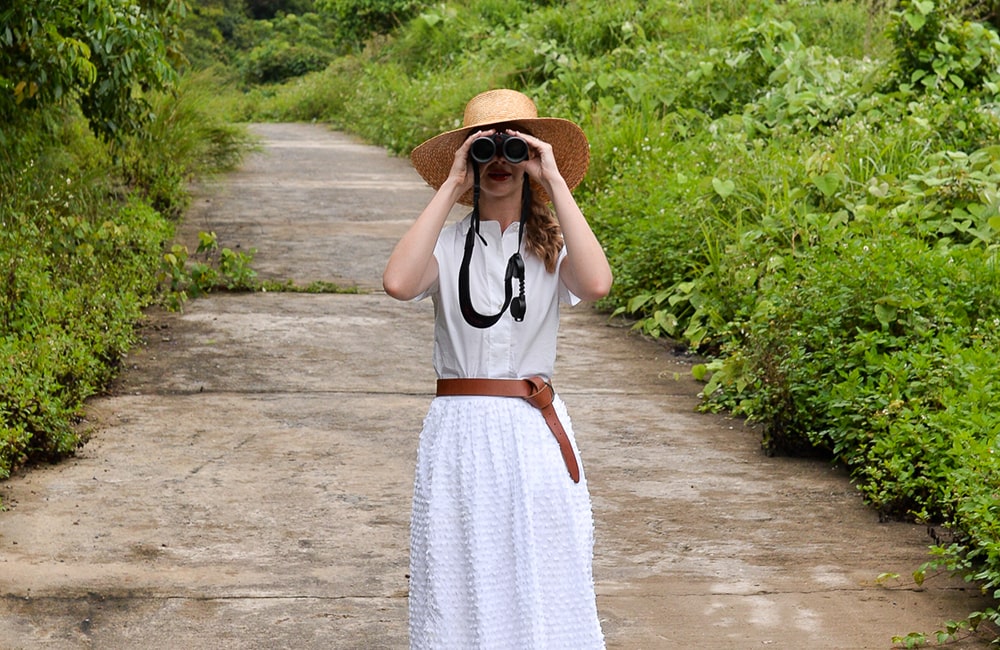 10km from the city of Southeast, to the northeast, Son Tra Peninsula is considered as a primeval old forest in the young city and also one of the best things to do in Da Nang. With a rich and diverse nature reserve,from the top of the chessboard on the peninsula, you can see the whole city of Da Nang with My Khe beach running long. It only takes you haft day to visit this peninsula. There are various tops that you shouldn't miss when visiting Son Tra such as Linh Ung Pagoda with 67m high Quan Quan Am Bodhisattva Buddha statue, the Old Ancient Tree with more than 800 years old.
In addition, Son Tra peninsula also attracts tourists who like to take photos, because standing from above you can view the whole view of Da Nang city. Along the sea there are many natural beaches, along with fishing villages which is a beautiful highlight for you to enjoy taking photos.
Here are some destinations that you should visit when coming to Da Nang. These destinations are suitable for both individual travelers and a group of travelers. In these places, you can enjoy the best things to do in Da Nang such as enjoying the beach, taking stunning pictures for your travel blog. If you have any interesting experiences in Da Nang, don't forget to share with us below.