Wanna enjoy a different Da Nang? Go to these places
One of the most worth-living cities in the world is Da Nang. This place has magic which attracts lots of both domestic and international tourists. There are various things to see in Da Nang which make you enjoy your vacation the best. Moreover, people here are very friendly. They can help you without any requests. And, they are also willing to show you around the city even when they are busy. The price here is reasonable and can be considered to be cheap for tourist areas. And, if you wonder what are the best things to do in Da Nang, you might feel disappointed because all the things of this city are the best.
However, preparing for a perfect vacation is good. You need to sketch your plan in Da Nang. The first thing you need to do is book a hotel with affordable price. Then, you also need to sort out your itinerary for each day in Da Nang. But, if you still don't know where to go, you can look at our list of Da Nang things to see below.
1. Ba Na hill
Located 30km from the center of Da Nang city to the Southwest, Ba Na Hill – the "Pearl" of Da Nang attracts a large number of tourists by the cool year-round climate. Visiting Ba Na Hill, you can not ignore the 11 tourist destinations below.
1.1. Linh Ung pagoda
Linh Ung pagoda Ba Na is one of three famous Linh Ung temples of Da Nang city, also known as "Linh Ung spiritual triangle" (together with Linh Ung pagoda Ngu Hanh Son, Linh Ung Son Tra pagoda). Located in a land with beautiful terrain at an altitude of nearly 1500m above the sea, in front of the pagoda there is a special pine tree, the pagoda is the destination of many Buddhists and those who want to find peace in mind. Linh Ung Pagoda has a statue of the Buddha Thich Ca Mau Ni with a height of 27m meditating on a beautifully carved lotus court. The marvelous scenery of this pagoda makes it become one of best things to see in Da Nang in general and Ba Na in particular.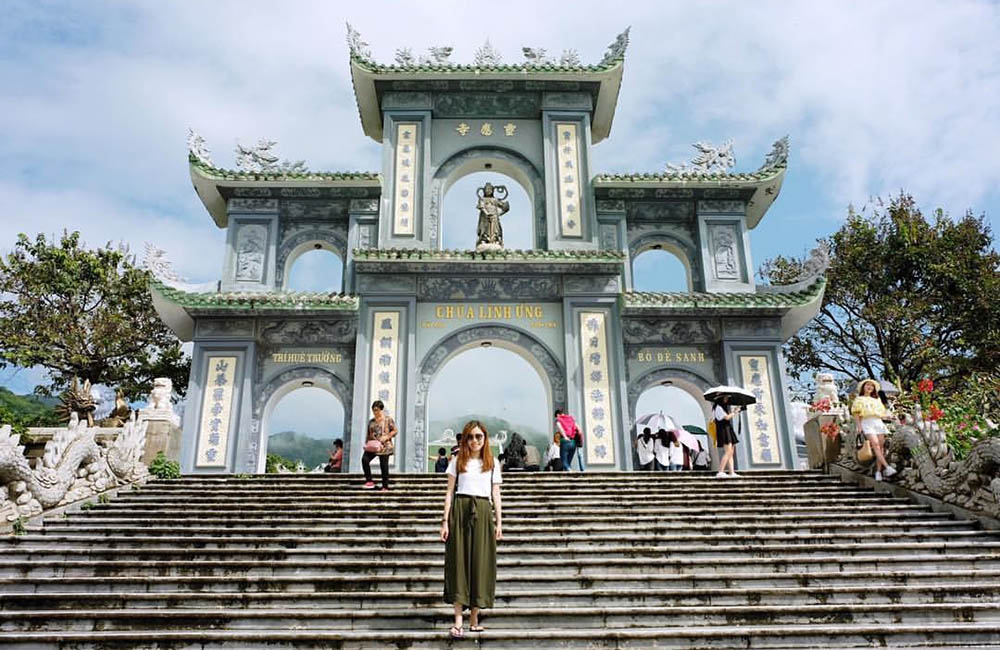 1.2. Museum of the wax statue
The wax statue museum is the largest display of wax statues in Vietnam with wax figures simulating famous figures in the world in different fields such as cinema, music, sports politics, etc. Hands Sophisticated, skillful Italian artists will give you the feeling of looking at real models in real life. Come to Ba Na Hill, do not forget to visit the Wax Statue Museum. Taking pictures with "celebrities" in this museum is must-do things in Da Nang.
1.3. French village
Dubbed "Europe on the top of Ba Na", the French village will make you amazed by the architectural style of nineteenth-century Europe such as ancient buildings, magnificent castles, and close fences. Gothic style, tiled streets, etc. are designed by the famous French architect. Entering the village, tourists like to get lost in real France. This is Ba Na tourist destination ideal for wedding photography for couples.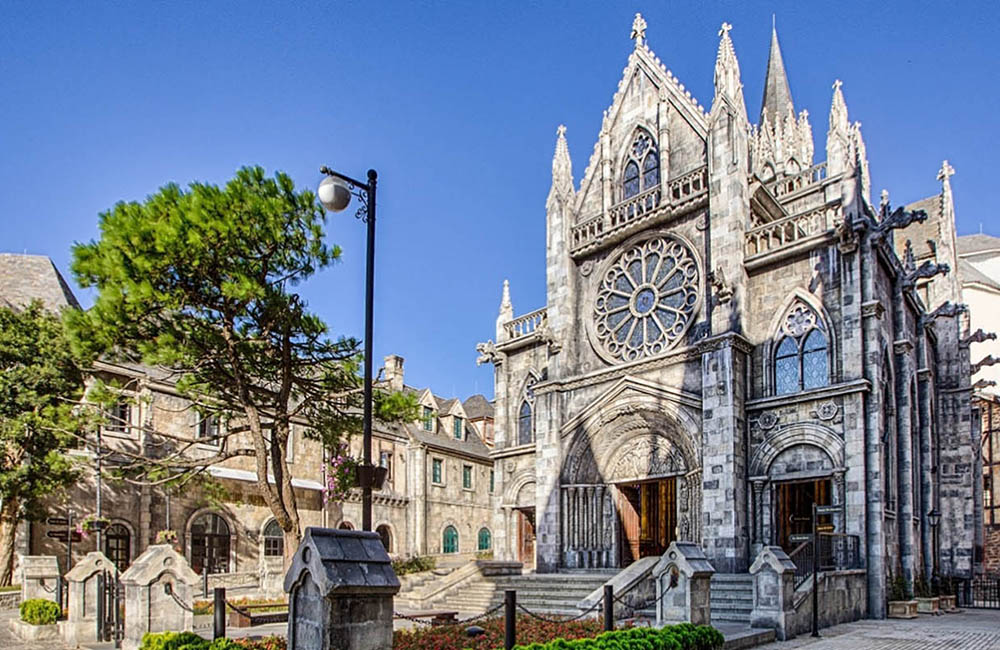 2. Nam O reef
Nam O Reef is a relatively new tourist destination with many tourists because, in most of Da Nang's journeys, there are few tourist companies that bring Nam O Reef into the route of sightseeing and discovery. However, Nam O Reef always invites curiosity and interest for those who have ever set foot here. Then, if you are looking for a pristine place, Nam O reef is one of best things to see in Da Nang.
The Nam O reef is about 2 ha wide, divided into 2 clusters of Reef and Con. The Reef runs in the West-Northwest – East-East direction, about 300m long, 50m wide. The Reef is smaller, lying parallel and half a half. Between 2 reefs, there is a wide creek about 20m.
In addition to the beautiful natural scenery, the Nam O reef is also a paradise of unique seafood dishes, including the famous Nam O salad combined with many different kinds of fish to create a unique flavor of this land. Besides, thanks to the small fish migrating, Nam O is also famous for Nam O fish sauce.
Moving to the Nam O reef: Start from the central bus station in Da Nang, following Ton Duc Thang Street, running along Nguyen Luong Bang Street, passing Xuan Thieu beach following the winding fishing village entrance, the peaceful beach will be seen. White sand stretches along the coast.
3. Things to see in Da Nang – Thuan Phuoc lighthouse
This is a lighthouse which is quite close to the center of the city, although it does not have a unique design like the Tien Sa lighthouse, the Thuan Phuoc lighthouse has the appearance of reaching out to the big sea which is connected to the mainland by rock embankment wave.
From here, you can clearly see Thuan Phuoc bridge, 3 other unique bridges of Da Nang are the bridge turning Han river, Rong bridge and Tran Thi Ly bridge. Not only that, in the afternoons, the sea of Thuan Phuoc is also a place of wind to admire the beautiful sunset. So, if you want to have stunning pictures, Thuan Phuoc lighthouse is an ideal things to see in Da Nang. For the best moments, you should visit this place in the early morning or late afternoon.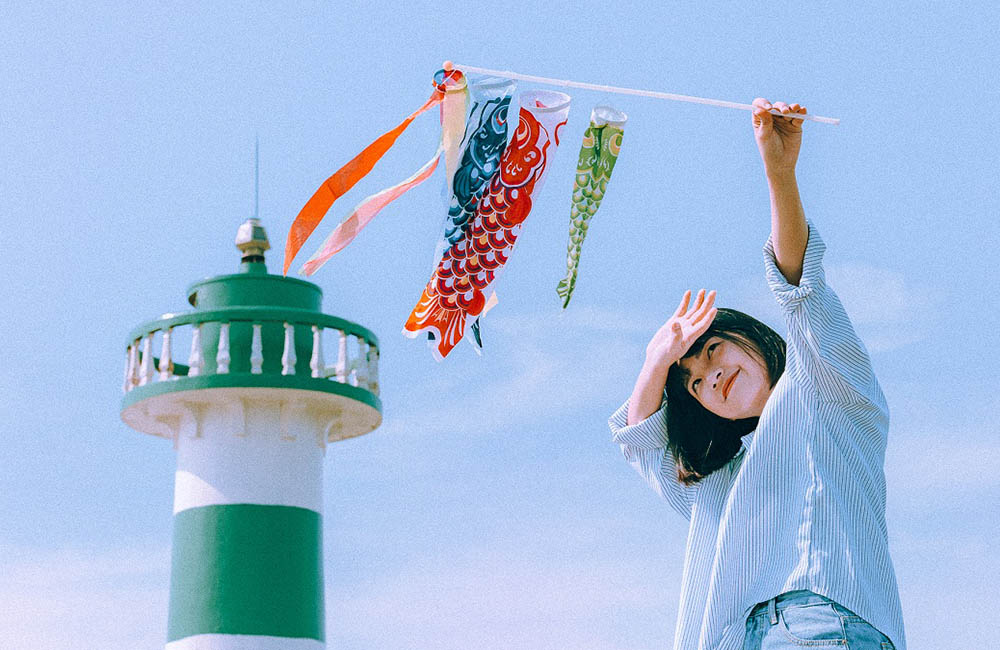 Directions: this place is located near Thuan Phuoc bridge on the east side of the Han River, the road to the lighthouse is easy, from Tran Hung Dao street you run towards Thuan Phuoc bridge, followed by Le Van Duyet street, running for another 1km to look at the river. Welding is going to see.
Here are some best things to see in Da Nang for the best itinerary. You can spend your whole vacation staying in your hotel. Or, you can roam any corner of Da Nang to understand the reasons why this city is one of the best cities in the world.