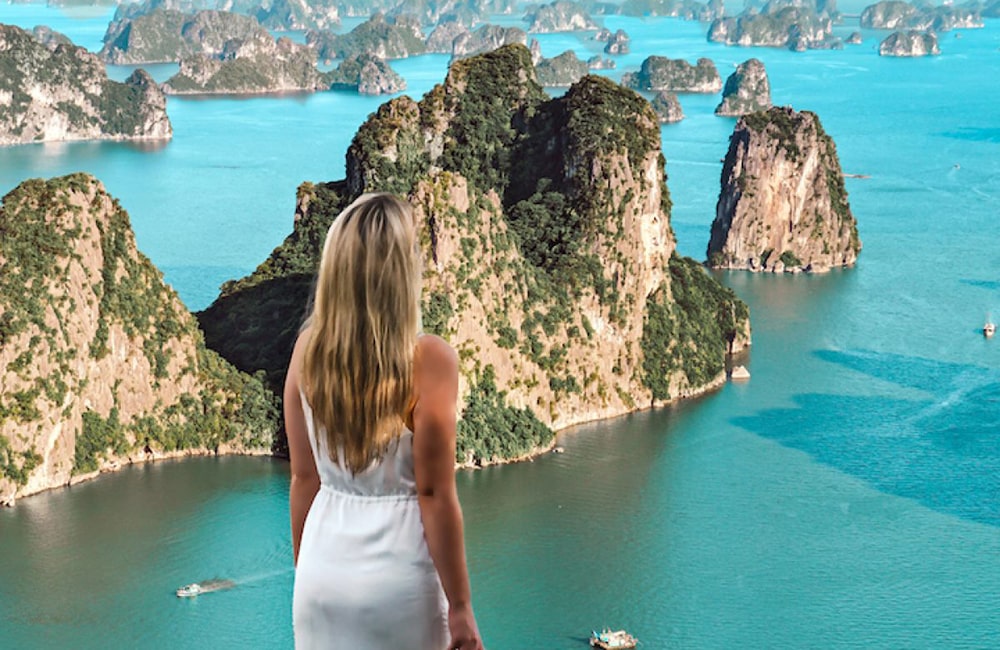 The best ways to travel from Hanoi to Halong bay
Among various famous destinations in Vietnam, Halong bay is one of the most prominent and popular. This place attracts thousands of tourists every year since the tourism was developed here. You can take flights to the central or the south of Vietnam easily and fast. But, what about Halong bay? How to get to Halong bay? It not might be the most important question for you when you decide to visit Halong bay. It is because the travel agency can arrange you a private car or something suitable for your needs. However, you still should scroll down this article if you want to have more options, especially when you travel on your own.
Each way from Hanoi to Halong bay offers you different prices and services. Moreover, not all of them give you the same experiences. So, if you want to know how to get to Halong bay, don't skip this post.
1. Some words about Halong
Ha Long Bay is known not only as a UNESCO World Heritage Site but also one of the world's most famous natural wonders. Few people know that the Ha Long Bay Complex is comprised of two other beautiful bays, Lan Ha Bay and Bai Tu Long Bay (hereinafter referred to as Ha Long Bay).
With many landscapes, rich and diverse fauna and flora which contain archeological and geological significanc, Ha Long Bay is considered one of the most famous places of Vietnam among foreign tourists. That's why how to get to Halong bay is no longer the difficult puzzle for those who want to visit this place.
Ha Long Bay is located in the west of the Gulf of Tonkin, about 170 km from Hanoi or 3.5 – 4 hours by car. Halong city center is located near the sea in the north of the bay. Ha Long Bay has a total area of 1,553 km2, including two famous bays, Bai Tu Long Bay in the east and Lan Ha Bay (where Cat Ba Island) is located in the south.
Halong Bay is not only well-known for its millions of years of natural caves scattered across 1,969 large and small islands but also famous for its rich vegetation and multi-species form. Let's move to the part which solve our puzzle how to get to Halong bay.
2. Means of transport for traveling to Halong
2.1. Coach
From Ha Noi to Ha Long, the fastest means is by car. Normally, coaches to Ha Long will depart from My Dinh bus station with a time of about 4-5 hours if the coach runs in the old route. However, many of the car companies now have 9-seater limousines with spacious seats which follow the Hanoi-Hai Phong Expressway to shorten the travel time to about 3hours. So, you can choose the appropriate time for you trip. To consult the price and timetable of coach, you can visit website vexere.com.
2.2. How to get to Halong bay by train
Every day, there is a train from Yen Vien station to Ha Long railway station, but this train is a market train (only hard seats) and travel time is very long (7-8 hours for distance 170km). Moreover, when you reach the station, you have to take a taxi to the city center. Therefore, the train route to Ha Long is only suitable for you when you have plenty of time and are curious enough to try different feelings. And with the train you also can get new experiences of how to get to Halong bay.
2.3. Helicopter
This option is suitable for those who don't have financial problems but the time is tight. Daily helicopter departs for Ha Long from Noi Bai (Hai Au) in the morning and afternoon. Time flies about 45 minutes and the plane landed in Tuan Chau harbor. If you have registered for more sightseeing flights, the time will last for 1 hour (45 minutes to Ha Long Bay and 15 minutes to sightseeing on the bay). This luxurious mean of transport will bring you new feelings as well as experiences. Have you ever wondered how Halong bay look from above? No matter yes or no, you should try helicopter if you have money. So, helicopter is not a bad idea for how to get to Halong bay, right?
3. Travel in Halong bay
Ha Long City is small and the fact that the main purpose of most tourists coming here is to explore the Ha Long Bay .So, there is not much things to see in the city, you can choose taxi for convenience. In case you want to actively explore, you can rent motorcycles in Ha Long and then ride around the city by your own.
And, what about Halong bay? To visit Halong bay, you should go on cruise. If you go on a group, you really should choose to stay overnight on cruise. Normally, the yacht will also serve meals on board if you have needs. You also can have various services like in a hotel. The thing is that is you go on a large group, the price for a cruise will cheaper than a smaller one. And if you go with your boyfriend or girlfriend, you also should try it. There are many types of charter rentals, ranging from 700k-2000k for 1 hour. And the price for rooms can range from 1 to 5 million per night.
Here are some basic means of transport for how to het to Halong bay. You can let your travel agency arrange everything for your trip. Or you can go by your own and discover whatever you like. Follow your needs and your heart.