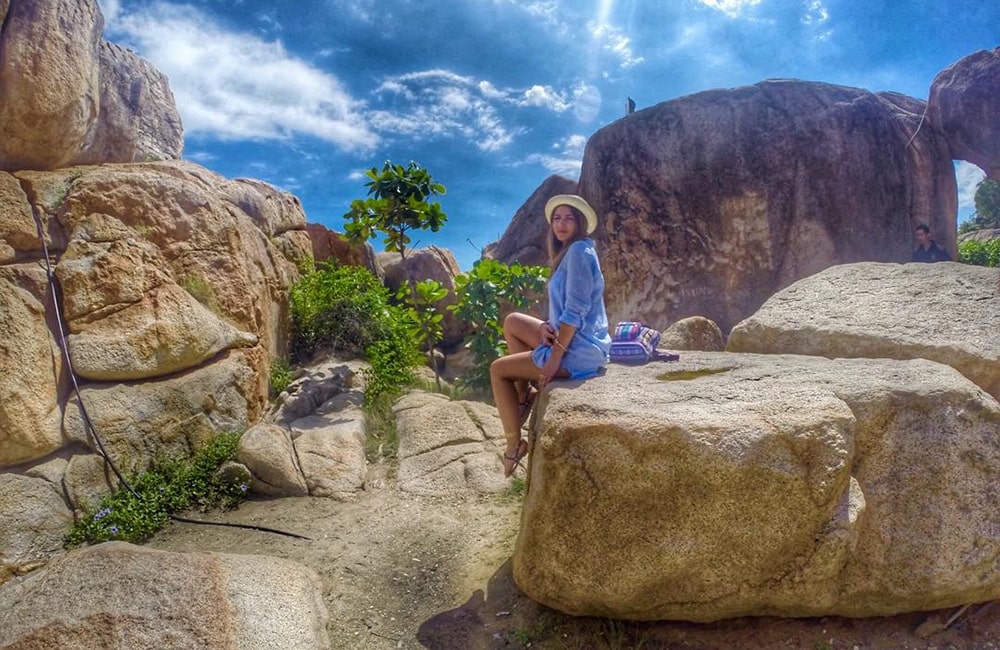 Review of itinerary for Nha Trang tour 2 days, 1 night
A tour to Nha Trang is one of the best options for summer vacation. So, there are lots of tourists both domestic and international flocking into Nha Trang. The preferable weather of Nha Trang makes this destination be able to welcome visitors all year round. In Nha Trang, there are lots of things that you can enjoy besides the beaches. You can spend one day to walk around or hire bile to ride around the city. You can find various sites such as some water parks, Ponagar tower, etc.
However, what is the best ways to discover Nha Trang? Some people want to do it themselves. It's because they think they will have freedom to roam around and they don't want to follow any itinerary. However, others prefer paying for Nha Trang tours. They think that vacation is a moment when you can relax not for planning your vacation like your works. Moreover, sometimes, booking a tour is cheaper than going by yourself. So, if you want to know what you will do in Nha Trang tours, you might want to take a look at our itinerary below. Or, even you don't want to pay for a tour, you also know where you should go in Nha Trang.
Day 1:
Oceanographic Institute – Nha Trang bathing – Eating seafood – walking at night market and square
Normally, the majority of tourists prefer to stay in areas on Tran Phu street located near Tram Huong tower, just cross the road to the beach, here are mostly 4-star and 5-star hotels. Prices are also relatively more expensive than others. So if you want to save costs, you can still stay in 3-star hotels, 2-star hotels on Nguyen Thien Thuat, To Hieu and Hoang Dieu streets … Most of Nha Trang tours arrange hotel for clients based on their budget and their demands. So, if you have any special necessaries, don't hesitate to contact with your tour operator.
Around 2:00 pm check-in 3-star Edele hotel hotel on Nguyen Thien Thuat street. We set through booking.com, walking about 5 minutes to the beach. See review of Edele hotel details here!
We rest for about 1 hour then rent a car at 120K hotel / day to eat bun bo Nguyen Loan – 123 Ngo Gia Tu. Price 1 special 35K bowl, delicious fish ball, crispy crunchy jellyfish quite strange mouth, if anyone has not eaten, please tell me! Refer to some locations for selling bun cha, other vermicelli and vermicelli in Nha Trang.
At 4:00 we visit the Oceanography Institute – 1 Cau Da. There are many types of fish deep in the ocean, marine algae, coral …Since we arrived in Nha Trang near the afternoon, we could not go in time, so we selected the points around the city to go. You can change other locations such as the cathedral of Kito King, Ponagar tower, Hon Chong, Hon Dau … But, if you go on Nha Tarng tours, your timetable is fixed so you don't need to worry.
Around 5:00, we go to the beach, along Tran Phu Bai road, along this beach, you can choose any place that you want to enjoy your sun-bathing. Nha Trang beach is also green but according to our experience, the beaches at the resort or the islands will be more beautiful. More recently, Doc Let in Van Phong Bay (40km from the center) looks like Hawaii in Vietnam.
At 7:00 we go enjoy seafood on Thap Ba street, Xuan Anh snail shop for dinner . This place is very famous among locals because of fresh seafood with reasonable price. The average price for 3 people is 1,000,000 including meat crab 525k / 2con / 1.5 kg, 80k / scallop scallop / plate, 160k head shrimp / 4 slices, 100k scallops / plates, 100k oysters / plate.
To enjoy our night, we go to night market. There are lots of interesting things sold here form food to souvenirs. Snacks, sandwiches is sold with 10k hams along delicious sugar bags. If you are go on Nha Trang tours, you also can visit night market because night is your free time when you can explore the city by yourself.
If you like vibrant and energetic type, try Sailing club on Tran Phu street. Here you can listen to music and watch the sea (from 150k – 200k) or enjoy the cool sea breeze from the rooftop of clubs like Skylight, etc.
Day 2:
Watch the coral island of Mun island – eat seafood at Mieu island
We wake up early and ride to Cau Da port, rent a 800k wooden boat (accommodating 15 – 20 people), you can ask the boat owner to take any island. My group go to Mun island to see coral (45 minutes from the port).
Note: If the group is large, renting a boat or cano is the most reasonable (Cano costs 1tr4). If the group of few people, I recommend you to go on tour (600k – 800k / person), while saving costs but not being cut. If you pay for Nha Trang tours, you don't need to worry about this anymore because the travel agency will arrange everything.
We sign up for a diving service to watch corals in another boat. Price 500k / person about 20-25 minutes. According to me, try to know that, but it is not very happy, diving less than 15 minutes, I demanded it. The sea water is green but the beach is full of rocks, so services such as going to a banana boat, watching corals on glass bottom boats, paragliding … are more popular than bathing. (Consider carefully before going up because the price of games here is quite expensive).
Mun island in Nha Trang
By the way, we have some advice for you: You should register 3 island tour if not intend to watch coral, the price ranges from 120k – 350k. For this tour, you will be taken to the place and enjoy services such as swimming, watching coral, having lunch … Another thing to note is that you do not want to go on a cheap tour, choose reputable places to avoid being trick. Register for a cheap tour here.
11:00 My group eats seafood in fishing village (Mieu island), 700k / kg squid, 600k / kg pomfret, making 4 dishes, very fresh seafood but cooking normally. After eating, we are taken to the beach for bathing, costing 50k / person.
Tips: You should book a package tour: diving coral (15 ″), bathing and eating seafood for 800k / person, car for taking place will save much more cost. So, sometimes, you should consider book Nha Trang tours instead of going on your own.
Near 4:00 pm, the boat takes my group to the city and we spend the rest of the day to relax. At 6:00, we eat chicken rice at Hai Chua restaurant, 120k / dish. After eating, we separate to join in different activities that we like.
Here is the detailed itinerary of our Nha Trang tours. We only spent two days there, but we all felt so satisfied. We paid for the diving tour only. But, if you want to buy the whole tour, it's ok, too.