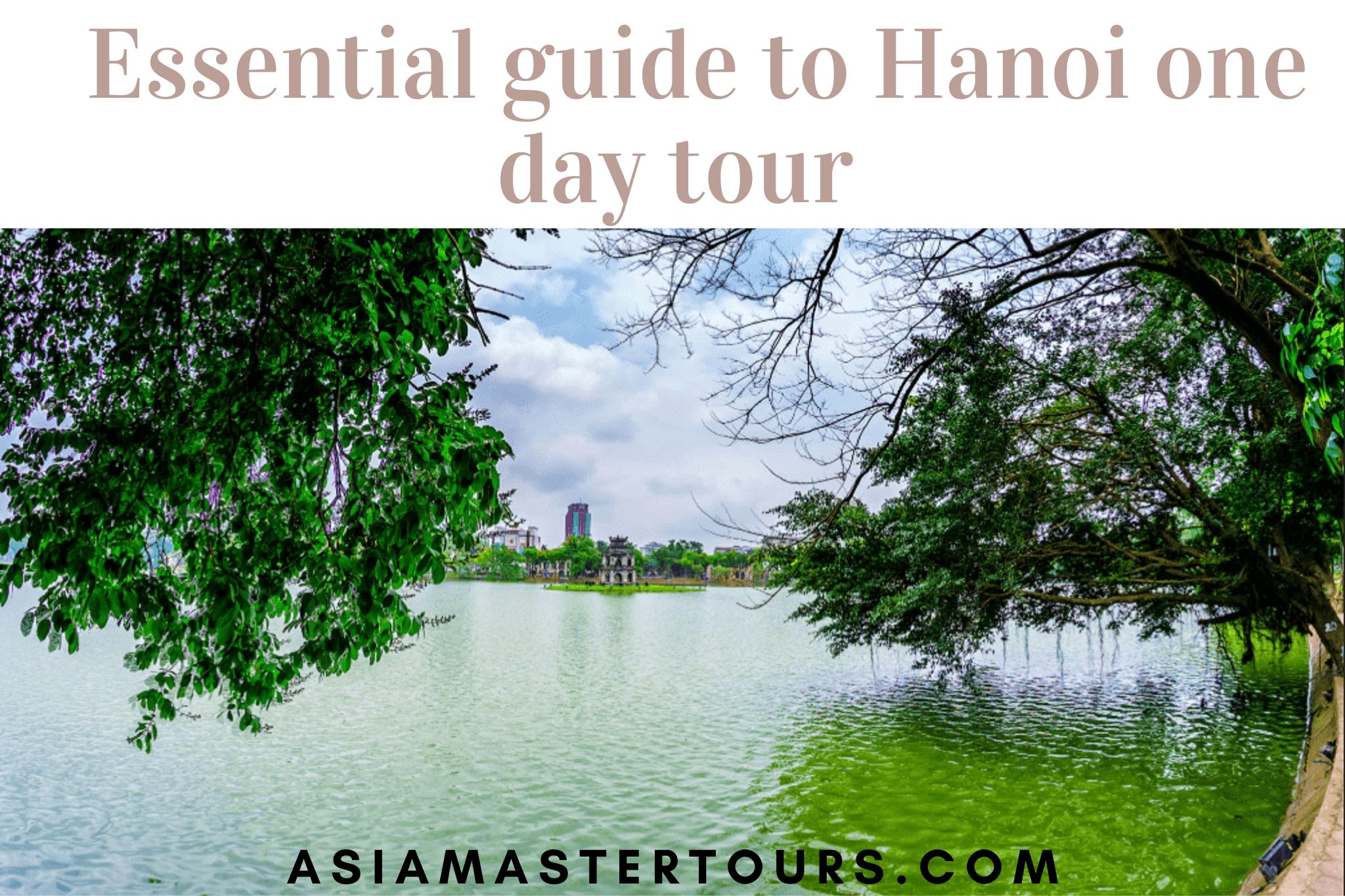 One Day Tour in Hanoi-What can you learn about this city? ( Part 2)
One day tour in Hanoi
It is one day tour due to the transition distance in one day. Thus, this tour formally refers to the adjacent areas that you can visit while being in Hanoi. There are numerous well-known conventional villages, natural attractions, and relics. Some of them boast different features that show the animated lifestyle of an ancient citadel.
If you are fond of looking for traditional values of Hanoi, then the villages that gave birth to the major occupations are the perfect niches for you. 
Bat Trang Ceramic Village – Insight Of Hanoi Culture
Once visiting Hanoi, it is a prerequisite to come to Bat Trang. Bat Trang ( Bat Trang Commune, Gia Lam District) is about 14 kilometers away from the center of Hanoi. This village is quite famous for its ceramic occupation which has been existing for more than 500 years. Under the guidance of the local guide, you will have a chance to learn about the history of the village and do your own pottery simultaneously.
Bat Trang tour is always available in Hanoi Tour programs. You might want to consult our itinerary, proudly present to you the most intimate experience in Hanoi.
Van Phuc Silk Village- The Tour To Costume Culture
The way to Van Phuc Silk Village only takes about 15 minutes of yours from the center. Van Phuc is located in Van Phuc Ward, Ha Dong District, about 10 kilometers from the heart of Hanoi. The colorful silk materials and exhibits enriching the history of the village are the reasons why you should come to Van Phuc.
Not only the renowned handicraft, but Van Phuc is also famous for its integrity. The images of wells, banyan trees have become the part of long-standing Vietnamese village. However, the rapid civilization in Hanoi has demolished the traditional value of surrounding villages. Luckily, you can spend one day tour in Van Phuc to enjoy the peaceful ambiance and purchase silk products.

Rattan Phu Vinh Village
Rattan Phu Vinh Village is in Phu Nghia Commune, Chuong My, Hanoi. It is particularly famous for the rattan weaving which has been existing since the early 17th century. The materials to make the baskets, utensils in the past are mainly from the stem of rattan. This part is surprisingly durable, cheap and eco-friendly.
When visiting Phu Vinh Village, you might want to purchase hand-made purses, handbags, they were all made from handy local artisans. Additionally, you can also find some ornamental furniture such as a coffee table, stool and so forth.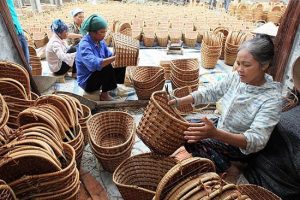 Bamboo Dragonfly in Thach Xa Village
Thach Xa Village is situated underneath the Tay Phuong Mountain ( Thach Xa Commune, Thach That District, Hanoi). Apart from bamboo dragonfly, this village is also famous for " Che Lam" specialty, a flawless combination between molasses, malt and other ingredients.
Backs to the old days in Vietnam, when toys did not have a clear conception, bamboo dragonfly was the most ubiquitous then. As the image of the field, along with the dragonfly have left an unforgettable memory for every Vietnamese. Holding this in your hand, you would still find nostalgic about childhood with the neighbors' children on the field every sunset.
Ngu Xa Bronze Village
Ngu Xa Village is located in Ngu Xa Street, Ba Dinh District, Hanoi. Its traditional career has orginated in the 17th century. During the era of Thang Long Citadel, bronze manufacture was one of the 4 noble occupations. Averagely, it would take about 6 months to fully accomplish the bronze product. From pouring to the mold to polishing, they are carefully done by the competent artisans in Ngu Xa. 
In the end of the 20th century, Ngu Xa bronze was influenced by the civilization of Hanoi. Fortunately, the artisans in the area have propagated to their descendants and promoted it effectively as a national treasure. 
Jewels making Dinh Cong Village
This village is currently situated in Dinh Cong Ward, Hoang Mai District, Hanoi. This is one of the oldest sole occupation Villages in Hanoi ( since the 7th century), but it has partially dwindled in the past few years. However, the two artisans are Quach Van Truong and Quach Van Hieu still open class to ensure the existence of it.
Non La Chuong My Hanoi
Non La is also known as Non Chuong Village. This hat is a prominent part of National costume which has been in Vietnam for hundreds of years. Non Chuong Village is situated along Day River, Phuong Trung Commune, Thanh Oai District.
Along with fascinating Ao Dai, Non La is also the pride of Vietnamese Custome. Make a quick search on the Internet, you can easily find the politicians, celebrities wear Non La. It is the emblem for friendliness, harmony of Vietnamese people.
One day tour to popular destinations outside Hanoi
Ninh Binh-Perfect Spot for Hanoi One Day Tour
Ninh Binh is a Province in Red River Delta, about 90 kilometers to the South of Hanoi. In the last few years, Ninh Binh has become one of the top destinations in Vietnam due to its beauty. It is incontrovertible that Ninh Binh boats glamorous landscapes such as Trang An, Tam Coc, Bich Dong, Mua Cave. Additionally, this is also the ideal destination for history aficionado as it used to be the Capital City in Vietnam. Besides, there is also Bai Dinh Pagoda, the largest pagoda in Southeast Asia which is suitable for anyone seeking serenity.
In 2015, UNESCO recognized Trang An Complex as a World Heritage Site. Thus, the recognition empowered the position of Trang An to become one of the most worth-visiting destinations in Vietnam.
Halong-Get Away From The Bustle And Hustle Of Hanoi
Halong Bay plays a pivotal role in Vietnam tourism. It is evident that you must spend at least one day in Halong Bay when coming to Vietnam. Halong Bay covers more than 1600 islands and islets, some of them are prominent above the surface of the sea. Just like Trang An Complex, Halong bay was recognized by UNESCO as a World Heritage Site, not only once, but twice ( in 1994 and 2000). Spending one day in a stellar cruise, you will have the best time to unwind in the most extraordinary spot in Vietnam. If you are looking for the standard cruise, visit our website for Hanoi-related tours which you can have the most enjoyable time on a luxury one.