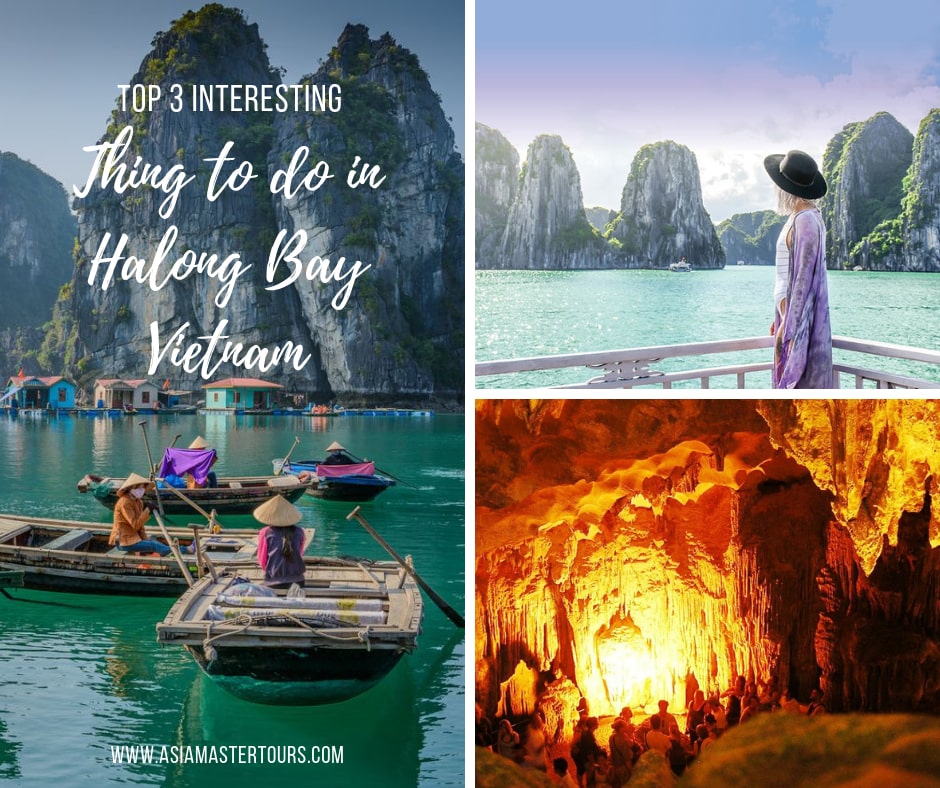 Top 3 interesting things to do in Halong Bay
Ha Long Bay is a famous tourist destination of Vietnam, located in the West Bank of the Gulf of Tonkin in the Northeast sea area of Vietnam. With thousands of wonderful islands, Halong Bay has been recognized by UNESCO as a natural heritage of the world. Ha Long tourism has the advantage of beautiful scenery which attracts lots of domestic tourists and international.
Visiting Halong Bay, you not only have chance to discover the exotic beauty of this famous bay but also can join in various interesting activities. Let's take a look at things to do Halong Bay now
1. Visiting famous caves
Coming to Halong Bay, we can't help to mention gorgeous caves with interesting karst formation. Let's discover one of the best things to do in Halong Bay now.
Thien Cung grottos: is located in the north of Dau Go island, 4km from the tourist ship harbor to the south. This place is one of the most beautiful caves in Ha Long. This 10,000m² cave is very complex and includes many levels, many with very high ceilings and walls. Especially, in the cave, we also see a lot of stalactites with strange shapes.
Dau Go cave: Along the Dau Go island, about 300m from the Thien Cung cave we can find Dau Go cave. Dau Go is a large, beautiful cave with mossy antique style, the French called "Cave of wonders". The cave has a diverse fauna and flora. Due to the wide opening, the humidity in the cave is high and the effect of sunlight can be seen immediately on the diversity of the flora, especially mosses and ferns. wood tree … This is a distinctive feature compared to many other caves in Ha Long Bay. And visiting this cave is definitely one of things to do in Halong Bay.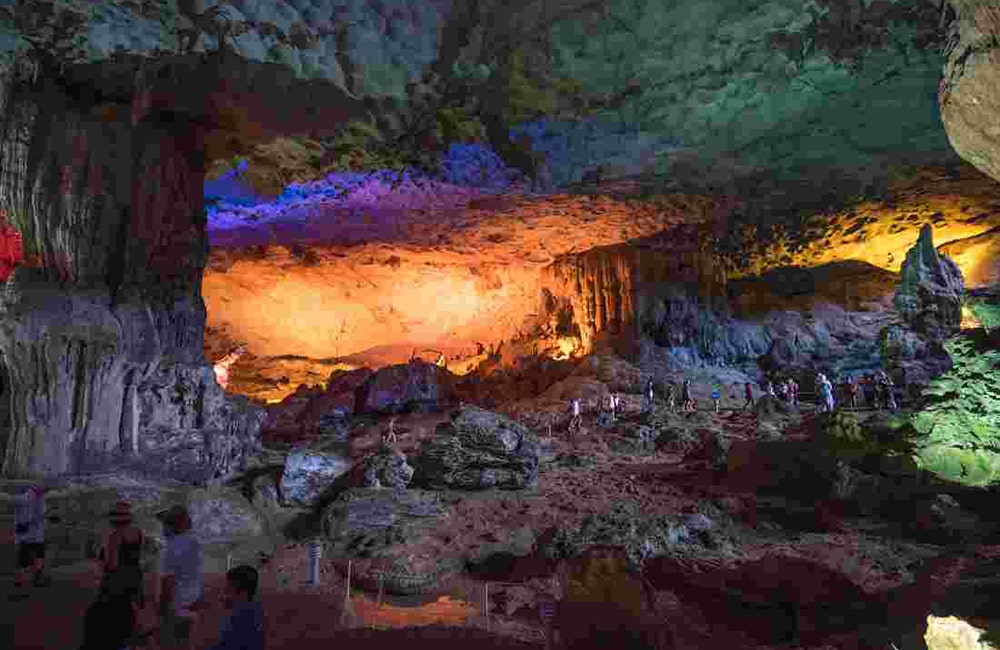 Me Cung cave is located 25m high on Luom Bo Island, about 2km south-west of Ti-Top Island. The Me Cung cave has a complex structure with many levels, many compartments, a niche spreading over the roof of the stone with the length of more than 100 meters, rising to the west and looking down to a small lake called Ho Me.
Sung Sot cave: Sung Sot cave help to end this list of beautiful caves – things to do in Halong Bay. This cave is located in the heart of the World Heritage Ha Long Bay, on the island of Bo Hon. Inside of Sung Sot cave there are fossil stalactites with extremely rich shapes which you must see among other things to do in Halong Bay. Sung Sot Cave is located in the center of many famous tourist sites of Halong (Ti Top beach – Bo Nau Cave – Me Cung Cave – Luon Cave).
2. Enjoy beautiful beaches
There are lots of pristine and beautiful beaches in Halong Bay where you can lie on the white sand or just immerse in the crystal water. Enjoying peaceful beaches is also one of the most interesting things to do in Halong Bay
Sim Soi Island: Soi Sim is about 8.7ha, located in the west of Halong Bay, about 12km from Bai Chay tourist port (Halong city), about 700m from Ti Top Island. The island is a primeval forest with many kinds of plants, many of which are endemic, valued and characteristic of the Ha Long Bay ecosystem. Local people said, because on the island grew a lot of sim trees should be called Soi Sim. Visiting this island is one of the most amazing things to do in Halong Bay
Ti Top Island is an island with steep slopes, with a shallow white sandy beach. Regular cruise ships come here so visitors can enjoy the best things to do in Halong Bay. They can walk around to discover the island or just enjoy the beautiful beach here. From above, Ti Top Beach is shaped like a full moon embracing the island. Unlike many other tourist destinations on Ha Long Bay, Ti Top Island also owns a beautiful beach, called Ti Top beach. Beach area is not large but quiet, airy and very clean, the sand in the beach continuously tide up and down, clean white, sea water in four seasons.
3. Visit other interesting destinations – things to do in Halong Bay
Quang Ninh Museum: Quang Ninh Museum – Library is a unique architectural art. Only being seen from outside but makes people have to "wow" ! From the very high stairs to the dark glass as a giant mirror reflecting the image of the sky in Ha Long, plus font impressed by the impressive Museum enough to capture a dozen virtual photos. On the inside, everyone must be overwhelmed by space. With 3 floors, Quang Ninh Museum provides the most complete view of visitors to nature and people here. The museum is open on weekdays, except Monday, from 8am to 5pm. Tickets to visit the museum will be 30,000 VND / time / person with adults; VND 15,000 / time / person for students and VND 10,000 / time / person for children. This place is also attract lots of tourists and become one of things to do in Halong Bay.
Dragon Park: If you go crowded, have fun, explore and want to try out the strong feelings, Dragon Park will be very suitable here. Be sure to have fun at no less than any other entertainment park! This is the largest theme park in Southeast Asia. Dragon Park is located in the Sun World Group Park where there are more than 30 games of all kinds, from the adventurous ones bring the feeling of being conquered to the games which are familiar to everyone. Why don't you go to this amusement park to enjoy funny things to do in Halong Bay.
Queen Cable car crosses the gate of Cua Luc Bay, connecting from Bai Chay beach to Ba Deo (Hon Gai, Ha Long city), so if you are on this cable car system you will be overwhelmed by the beautiful secene of Ha Long Bay from above. Whether it's a day or a night, the scenery that you experience directly is great! Situated on the top of Three Deo Hills, the Solar Cycle is Vietnam's second largest and one of the largest in the world. Here, you will be watching Ha Long Bay from the height of 215m above sea level! Taking in the eyes of the large, beautiful and beautiful images of Ha Long Bay will definitely be an experience not to be missed.
There are still various things to do in Halong Bay that we can tell you all in this article. So, the best way to find out is booking a tour to Halong and stay there at least 3 days. Have fun with your vacation!