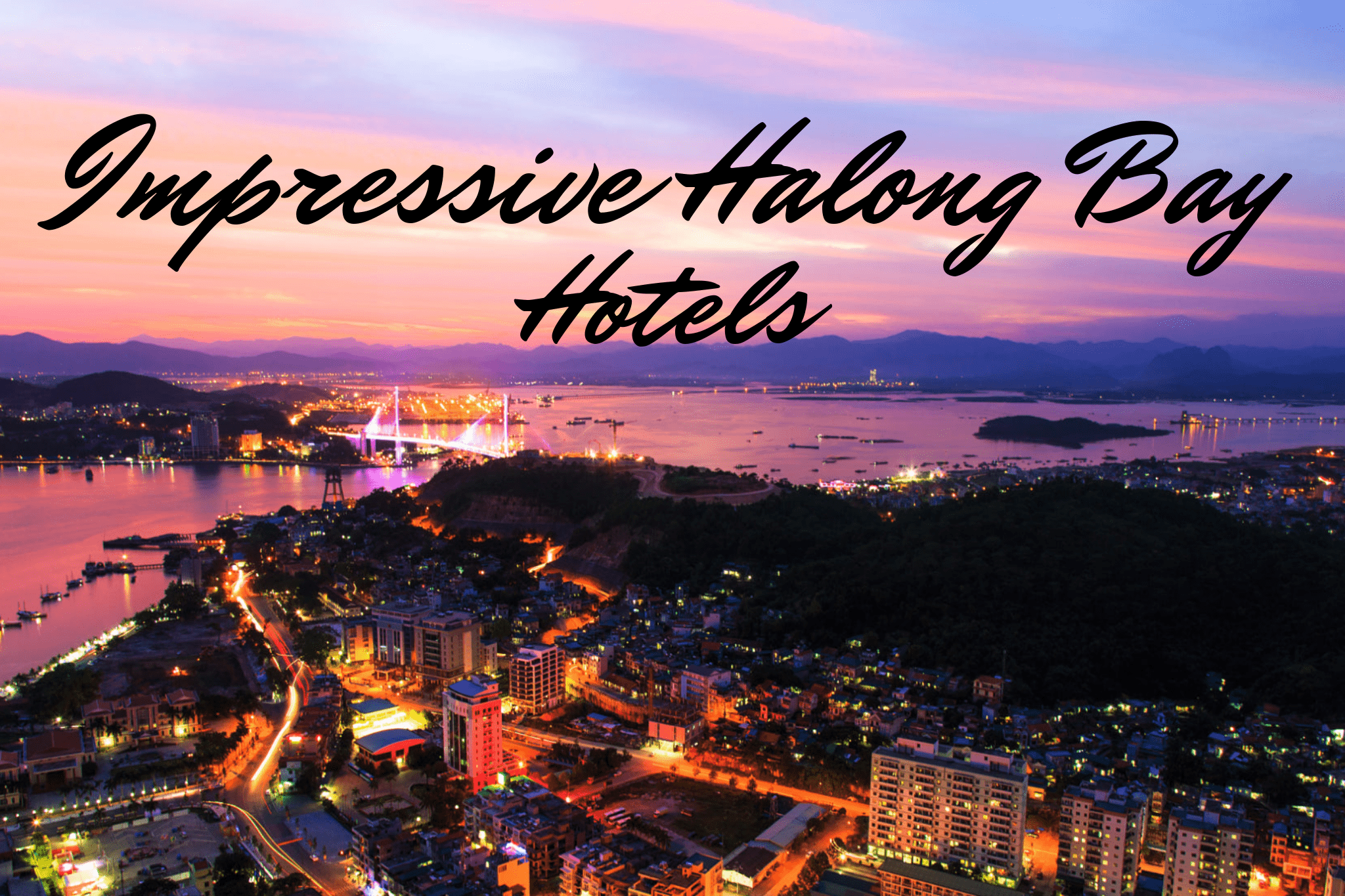 Top Impressive Halong Bay Hotels in Vietnam
Halong Bay is one of seven world natural wonders, which was recognized by UNESCO in 1994. Therefore, this is the destination that you should not miss in the tour of Southeast Asia. As a popular travel destination in Vietnam, Halong has an abundance of hotels, hostels, and other kinds of accommodation. Feel free to choose which one is suitable for your style and budget. Let join with Asia Master Tours to explore top best Halong Bay hotels.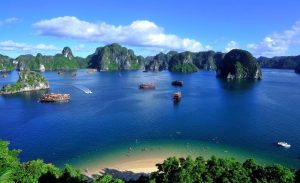 Here are some luxury hotels in Halong Bay:
1. Vinpearl Halong Bay Resort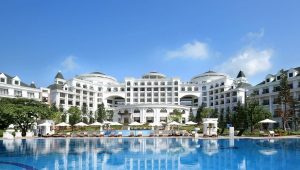 As one of the members of Vinpearl's "big family", Vinpearl Halong Bay Resort deserves to be an attractive stay on the list of Halong Bay hotels. Referring to Vinpearl Halong, it is impossible not to mention the liberal architecture, elegant but also extremely luxurious. That makes us feel like living in a fairytale castle on the blue beach. It is special that this place is located on the island of Reu – one of the most beautiful islands of Halong Bay. This island is so very quiet, extremely suitable for those who love the peace of the pearl of East Halong Sea. With full class service and enthusiastic staff, Vinpearl Halong Bay Resort will make your trip more memorable than ever.
Address: Hon Ro, Ha Long Bay, Quang Ninh
2. Muong Thanh Luxury Quang Ninh Hotel
Muong Thanh Quang Ninh Hotel officially went into operation in September 2010. This hotel impresses visitors by its magnificent scale. Muong Thanh Luxury Quang Ninh Hotel has 34 floors and 508 rooms which are divided into 6 types from Deluxe to Presidential Suite. Therefore, you will have lots of suitable accommodation options which are suitable for your pocket and preferences.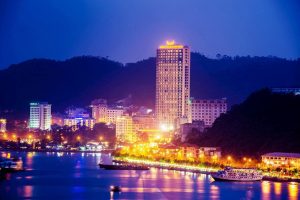 Moreover, with extremely sophisticated and luxurious architecture space, you can easily make many super cool check-in pictures. Besides, the hotel is located right in the center of the busiest tourist area in Halong – Bai Chay. Therefore, you can participate in attractive tourist activities here such as swimming, enjoying food … without being worried about moving again!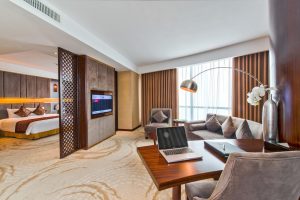 Address: Group 1, Area 2, Bai Chay Ward, Ha Long City, Quang Ninh Province
3. Wyndham Legend Halong
It will not be exaggerated to call this place as "the most beautiful hotel in Halong". Located on the romantic Bai Chay beach with impressive scale, you will be overwhelmed by the wonderful scenery from Wyndham Legend Halong. That is the spectacular Bai Chay Bridge, the world natural wonder of Halong Bay on the side. Imagine that if you wake up early, just pull the curtains and you can admire a paradise right before your eyes.
Besides, the location of the hotel is also very convenient if you want to have fun at the Sun World Park in Ha Long, which has been popular in recent days. Moreover, with modern equipment and a system of high class rooms, Wyndham Legend Halong is one of the most attractive Halong Bay hotels for you.
Address: 12, Halong street, Bai Chau ward, Halong City, Quang Ninh province
4. Halong Paradise Suites Hotel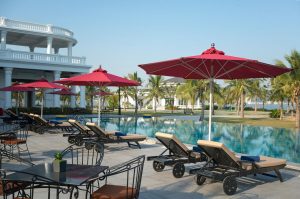 Visiting Halong Bay without setting foot on Tuan Chau island is a pity. In addition to experiencing world-class entertainment, Halong Paradise Suites Hotel is a reason why many tourists are impressed by Halong. Although the architectural style of ancient European breath, this hotel still blended with modern and luxurious design lines. As a result, whether it is a large hall, a restaurant or a room, all will give you a sense of "luxurious". Besides, you should not miss Paradise Spa to enjoy relaxing moments like in paradise. in conclusion, with all the above great things, Halong Paradise Suites Hotel deserves to be on the list of best hotels in Halong Bay.
Address: Tuan Chau Island, Halong, Quang Ninh
5. Novotel Halong Bay Hotel
The next stop on the journey to discover best Halong Bay hotels is Novotel Halong. Are you a fan of Asian architectural style? Would you like to experience quality services? You want to be with your loved ones with unforgettable moments in Halong? So what are you waiting for without visiting Novotel Halong?
Inspired by nature, the hotel is covered by designs from wood and bamboo materials but still retains its charming modernity. With this design style, you will feel completely comfortable during your stay in beautiful Halong. Moreover, a plus point for Novotel Halong Hotel is the extremely good service quality: friendly, enthusiastic staff, entertainment services andhigh class restaurants.
Address: 160 Ha Long Road, Bai Chay District, Ha Long, Quang Ninh
With the desire to help you easily and conveniently in selecting hotels when traveling in Ha Long, we would like to share some of the other hotels which are near the sea, cheaper than those above. Hopefully, you can choose for yourself the most suitable hotels at affordable prices.
6. Alex Hotel
Hotel Alex Hotel takes a 10-minute walk from Halong Port, 45-minute drive from Yen Tu Pagoda and a 50-minute drive from Cai Bau Pagoda. The hotel is conveniently located: only 3 minutes walk to the beach, the city center, post office, near the bank, ATM 24/24, night market, supermarket and other related services .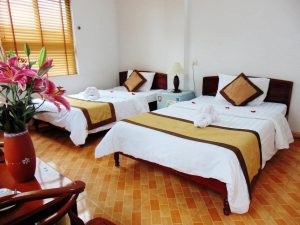 Room facilities: Landscape view, TV, Cable TV, Air conditioning, Work desk, Living area, Fan, Carpet floor, Wardrobe / closet, Shower, Toiletries Free, Toilet, Bathroom, Slipper, Mini fridge, Wake-up service. Featuring free Wi-Fi and a 24-hour front desk, laundry and ironing services are available at an extra cost. Luggage storage and safety deposit boxes are available at the reception, especially with free business services using computers. Not far from the hotel are restaurants and bars serving Asian and Western dishes.
Address: 28A Anh Dao Street, Bai Chay Ward, Ha Long City
7. The Light Hotel
The Light Hotel is located near Vuon Dao Trade Market (5 minutes walk), 800m from the night market, 200m beach. Moreover, with a convenient location, customers can easily access tourist attractions in the city. Besides, the Light Hotel offers modern design, providing full facilities in rooms for guests: hot and cold air conditioning, mini fridge, flat screen TV, dryer, kettle, wifi . In addition, the Light Hotel has a restaurant serving breakfast, fast food, a bar for refreshments and coffee. It also has a large lounge and luggage service. The view around the hotel is clean, airy, quiet so tourists will have wonderful holidays in Ha Long.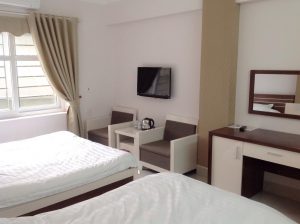 Address: 108A Vuon Dao, Bai Chay Ward, Ha Long City
8. Vietnam Trade Union Hotel Quang Ninh
Vietnam Union Union Hotel Quang Ninh is far about 145km from the Noi Bai International Airport, 62 km from Cat Bi Airport and only 300m from the beach. Located on the banks of Ha Long Bay, it is very convenient for traveling, sightseeing and swimming.
The hotel has 60 luxurious rooms with fully equipped, suitable equipment to meet high standards. The restaurant of the hotel has a luxurious banquet room, a team of top chefs with delicious dishes from Vietnam, China and European countries. The room in this hotel has full facilities such as bar, elevator, cafe, 24-hour reception, spa, wireless internet and free wifi, laundry, cable TV, free breakfast … with many convenient services and other benefits.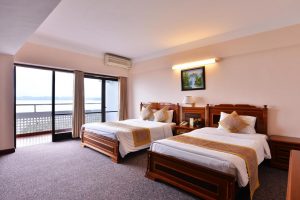 Address: no 1, Area 9A, Bai Chay Ward, Halong City, Quang Ninh
So what do you expect more for a great trip? Please contact us – Asia Master Tours for guidance, advice and get the most preferential price when you, your family and friends enjoying Halong Bay with best Halong Bay hotels
You can view more articles about traveling to Vietnam.
Contact Us
Address: 272 Khuong Dinh Street, Thanh Xuan District, Hanoi, Vietnam
Phone: (+84)24 6293 4678
Email:info@asiamastertours.com
Hotline: (+84)962 313 698
Website: http://www.asiamastertours.com