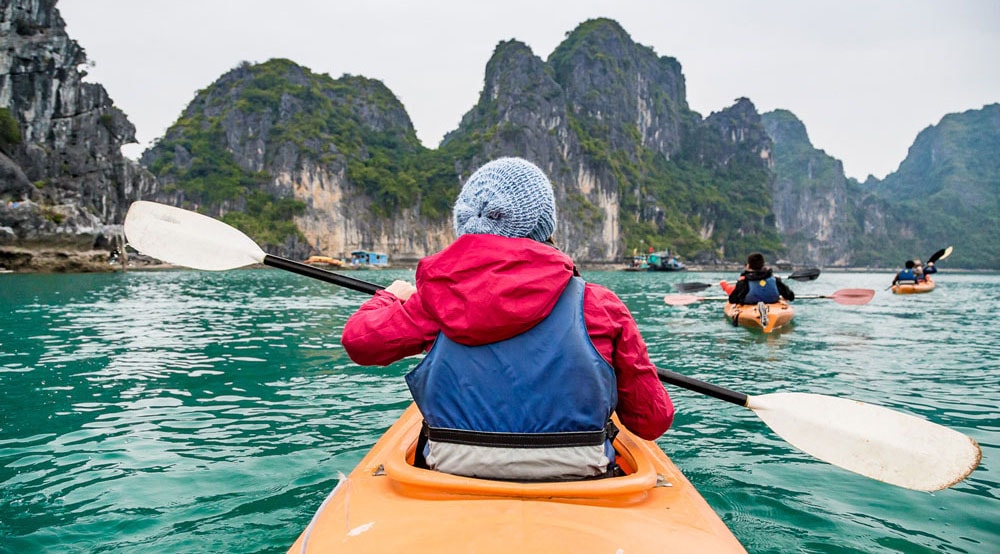 Want to find the true Vietnam? Join in Vietnam kayaking
Do you love aquatic activities, especially kayaking? If yes, on your trip to Vietnam this summer, don't miss Vietnam kayaking. Vietnam offers you various ideal places for this activity that I will outline below. I bet you will be impressed by some special destinations.
1. Vietnam kayaking – West Lake, Hanoi
For those who have started kayaking, this place is the best for you. This is because among the most attractive places for Vietnam kayaking, this one is less challenging with almost no waves on the surface. The lake surrounded with neighborhoods, but it's quite peaceful and calm. I would say that although this lake is not far from the center, you can feel the different atmosphere when you get there.
There are some kayaking clubs on West Lake you can join. They tend to charge you about 150.000VND for 2 people. You can find these clubs on Facebook or go directly to this lake and ask some rowers there.
2. Halong Bay, Quang Ninh – Must-go place for Vietnam kayaking
You must have glanced at some information about this famous bay of Vietnam. I highly recommend this place for your Vietnam kayaking trip. It is listed in the world's 25 leading places for kayaking. This activity becomes common in this place, so there is always a guide that can show you how to control your boat. It means you don't need experience for Halong Bay kayaking.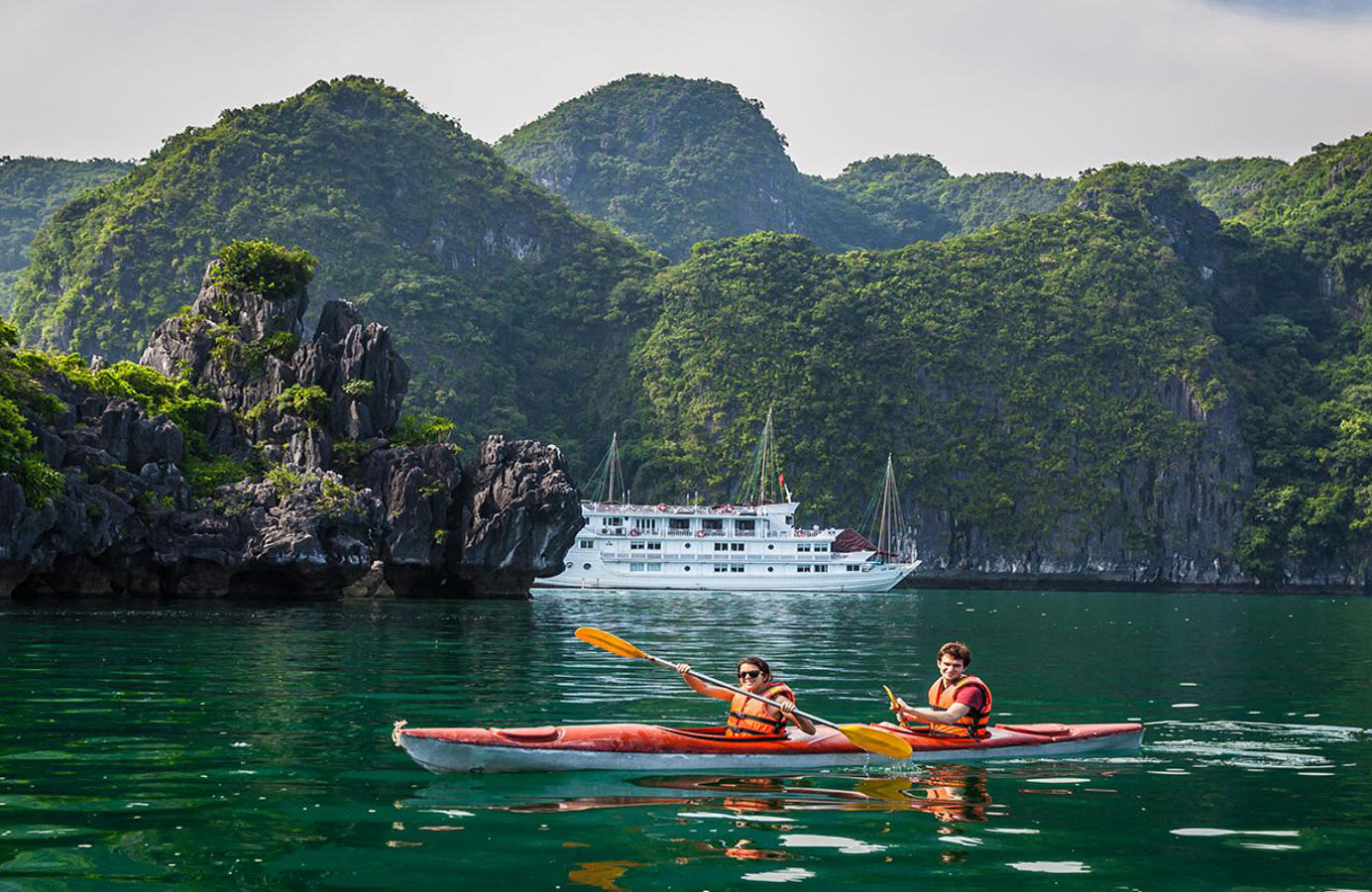 The instructor will guide you through narrow waterways to cave packed with sparkling stalactites and fishing villages. Don't worry if you don't have much endurance. They always give you frequent breaks on the way and you can kayak at your own pace.
Normally, for Vietnam kayaking on Halong Bay, they will charge you 100.000 or 200.000 VND for one kayak per hour. And you can join in with other visitors. This activity is usually included in Halong Bay tour.
3. The most beautiful cave for Vietnam kayaking – Phong Nha cave, Quang Binh
Another famous place for Vietnam kayaking, actually, you have wide range of aquatic activities there like: trekking, playing zipline, bathing mud,… For kayaking, you should be prepared some before going because kayaking route there is quite long.
There are two common routes for visitors. The first one is kayaking through Son River. With this route, you can experience the calm river and clear blue water. You also can admire the pure nature among the river bank as well as improve your health.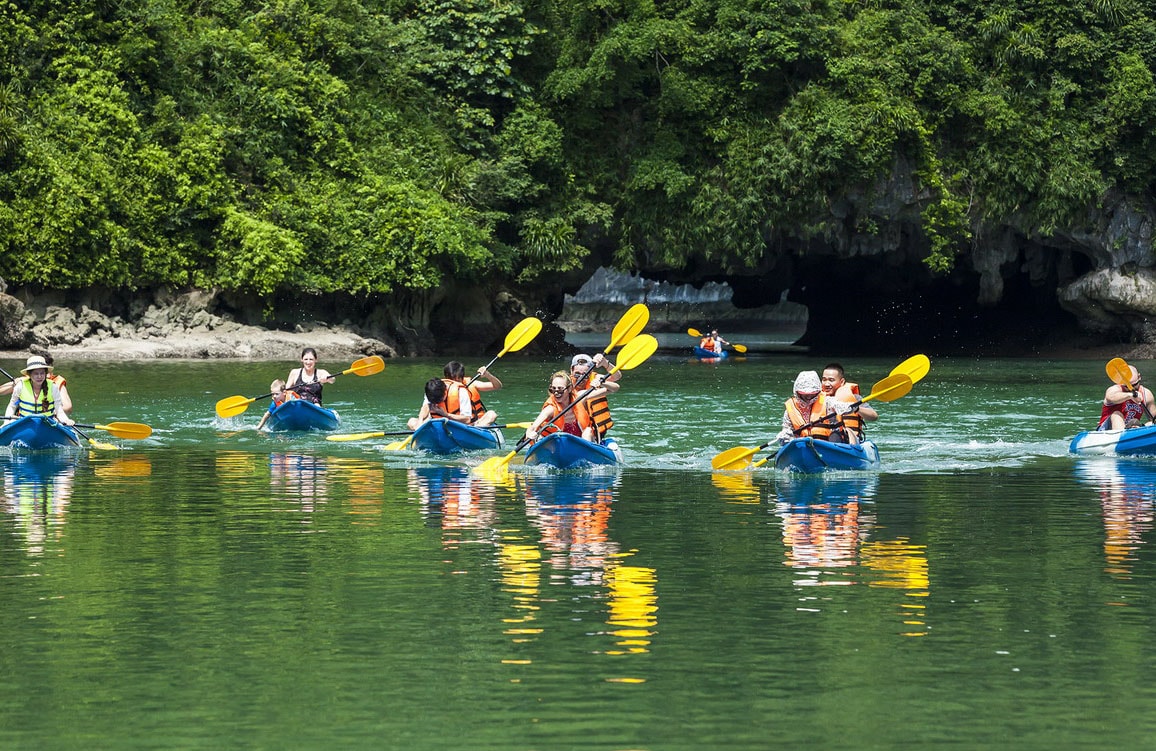 The other is exploring one of the largest wet caves in the world – Phong Nha cave. You will never feel regret with Vietnam kayaking if you choose this one. This is because you will be amazed with the waterway network and thousands of unique stalactites in different shapes in the cave.
Of course, you will have a guide to lead you to anywhere you want. The price for one rental kayaking is about 100.000VND per hour.
4. Perfume River, Hue
In the list of the best places for Vietnam kayaking, if you want to find some activity to admire the soft and tranquil beauty of Hue City, you should go for kayaking on Perfume River. As people say, the daily activities of locals are taken place along the river bank.
Moreover, you also can pass through lots of impressive architecture, crowded local markets,… You can immerse yourself into the peaceful atmosphere there. This kayaking trip is calmer and less adventurous then in Phong Nha cave
5. Explore the most worth-living city by Vietnam kayaking on Han River
If you have a trip in Da Nang city, kayaking on Han River is one of the most favorite program. Even if you have been there for several times, this activity will provide you with the totally different look about the city.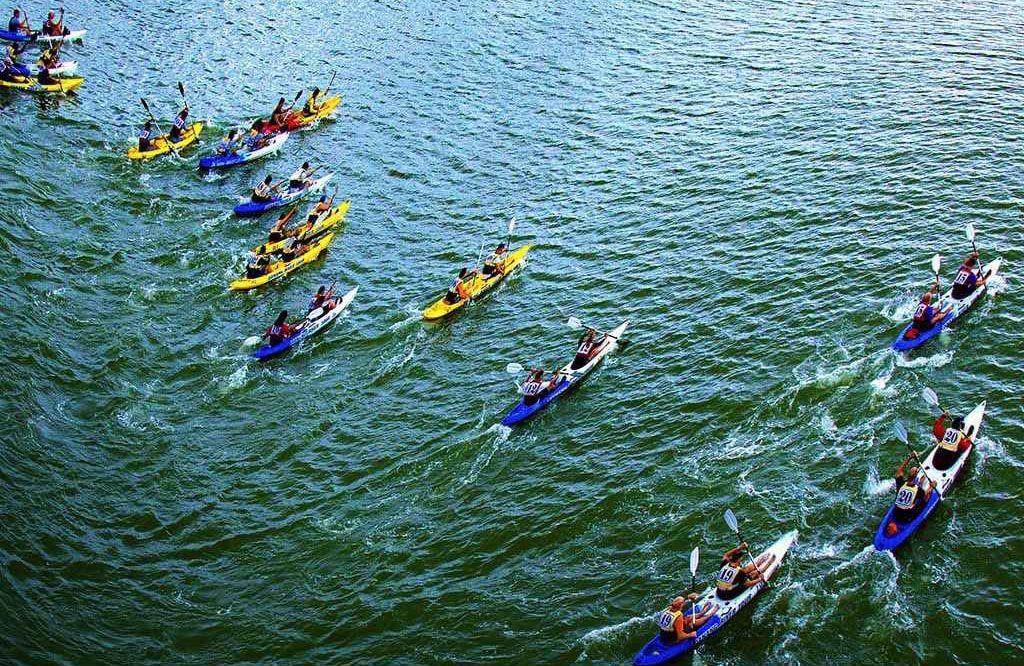 You can go through under the most beautiful bridge of Vietnam or be astounded with the twinkling landscapes of the city when the sun spreading out its last lights. And maybe it is the moment you are looking for throughout your trip.
6. Tuyen Lam Lake, Dalat
On our list of best places for Vietnam kayaking, Tuyen Lam Lake is definitely fantastic for kayaking. This lake is located 5 km to the south of the center of Dalat City. No one can deny the romantic beauty of Dalat; however, feel this city from a kayaking trip is totally a different and unforgettable memory.
Joining in this trip, you will pass by famous pine hill and maple forest, which are the symbol of the city. It will be a slow-pace kayak and you can dip into the cool breeze with the calm river. This Vietnam kayaking place is for those who prefer relaxing to going adventure.
7. Pu Luong – an undiscovered destination for Vietnam kayaking
You may find this name quite strange. That's right. This place located in the northern Vietnam is still unexploited by tourism. Pu Luong is situated in Thanh Hoa province, near Mai Chau. Actually, kayaking is not the most common activity there besides trekking, cycling,..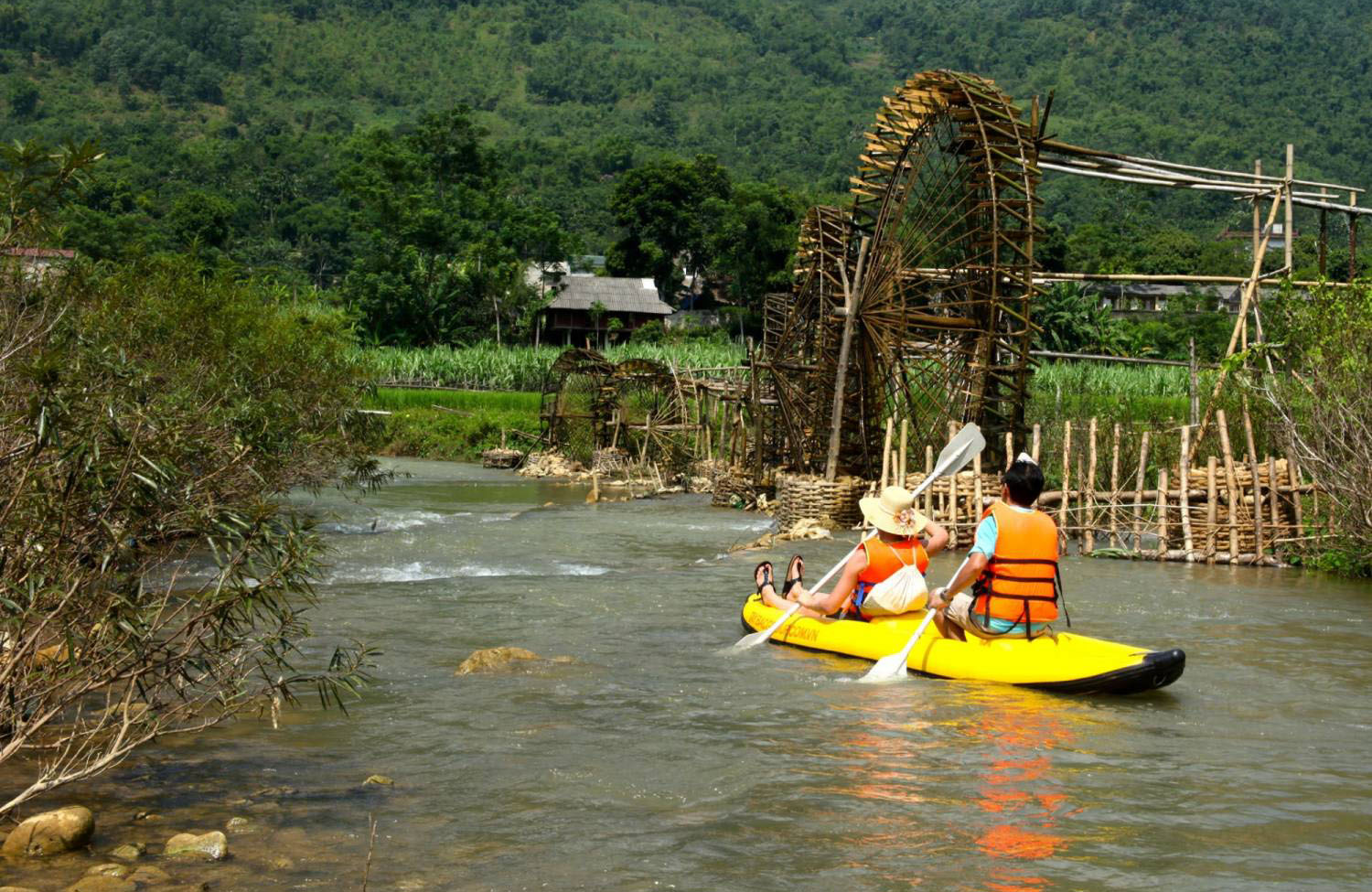 But it's worth trying, especially during rainy season. Kayaking on Pu Luong's river you can pass by the simple stilted houses, the eye-catching water wheels as well as the green farmland. In this destination, you can find a different Vietnam kayaking style, which makes you enjoy the countryside atmosphere rather than enormous bay.
8. Get ready for Vietnam kayaking
After picking your favorite destination for kayaking, you should pay attention on some notes. If you are a professional at kayaking, I'm sure you know all. However, if you are a newbie, read these tips for the best preparation.
Get some lessons
In most of Vietnam kayaking destinations, you might feel it's not challenging even it's your first time. But you may not know how hard can it be to paddle a kayak. At your first time, you might find yourself paddling around in circles.
So not to waste your time, you should learn how to paddle first. You don't need to become professional, just know how to control the paddle to move forward instead of going around.
Vietnam kayaking – dress for water
You should choose clothes that are appropriate for the water not the air temperature. You don't need to wear like a professional rower. All you must have is wetsuit to protect you from getting cold in case you fall and durable footwear. The more well-prepared you are, the more enjoyable your Vietnam kayaking trip is.
Always wear life jacket
It's obligated for any kayaking route you participate in. All most Vietnam kayaking destinations have calm water, no many waves. But you don't know what can happened and how dangerous it is even you are a strong swimmer.
Have a correct posture on your kayak
It's about sitting properly on your kayak, how you hold the paddle in the right way,… this technical problem can be solved if you attend a class for kayaking before Vietnam kayaking. On the other hand, if you haven't joined any classes, the instructor will show you all. You just need to stay focus on the lesson and ask the instructor again if you miss something. Keeping right postures won't harm your muscles and lessen the chance of accident.
Don't kayak alone
In all Vietnam kayaking places, you team up for this activity. But in case you find the common route is boring and you want to discover something different, ask your guide. Never kayak alone. First, you might get lost in the middle of river, caves,… which is not a good situation at all. Second, when you join with other kayakers or follow your guide, if you get into troubles, they can support you immediately.
Above are things you should know before going for Vietnam kayaking. Don't hesitate to join in this activity when you visit Vietnam. You will have lots of unique experiences. Lastly, hope you feel happy and enjoy Vietnam kayaking.