Bhutan – An Enchanting Realm
$2965

$2521
per person
Highlight! 
Enjoy dazzle views of the Earth's highest peaks of Himalayas
Visit a spacious and open valley which is heaven for trekking or hiking
Contemplate 167 feet high Buddha situated on top of a hill overlooking the city of Thimpu
Learn history os Buddhism dated back from its beginning
Destination

Arriver

Paro, Bhutan

Departure

Paro, Bhutan

Tour Code

NL15

Included

A minimum of 3 star accommodation (4 & 5 star may require an additional premium).

All meals

A licensed Bhutanese tour guide for the extent of your stay

All internal transport

Camping equipment and haulage for Trekking tours

All internal taxes and charges

A sustainable development fee of $65 $ Visa. This sustainable development fee goes towards free education, free healthcare, poverty alleviation, along with the building of infrastructure.

Not Included

Alcohol beverages

Expenses of personal nature

Tips for driver and guide

Meals (DL) at 5star

Evacuation in case of Emergency

Medical and personal Insurance

Any Flight Charges from any destination
Terms of tour
Our offers:
Free 1 bottle of water of 500 ml / person / day during road transfers.
Support 24/24 during the trip, from the office in Hanoi, by a dedicated customer agent.
Payment conditions:
A deposit of 40% of the total price is required before we process your booking .
An Additional deposit of 40% of the total amount is required 14 days before your arrival date.
The balance of 20% will be fully paid upon the customer's arrival in cash or by credit card.
Bank charges related to the payment are borne by the customer.
Cancellation fees:
In more than 30 days prior to the trip departure: No charge
In 15-30 days prior to customer's arrival: 10% charge
In 06-15 days prior to customer's arrival: 30% charge
In 02-06 days prior to customer's arrival: 60% charge
Within 02 days prior to customer's arrival: 100% charge.
Notes:
These rates are applicable per tourist per night halt in Bhutan.
On the day of departure, the 'local agents' host obligation shall be limited to providing breakfast only and any extra requirements shall be payable on usage basis.
The list of hotels and lodges approved to provide accommodations all listed on this website. If your accommodation is not listed on this website then it is not licensed cater for international tourists.
The Royal Government of Bhutan sets minimum selling prices for packages to Bhutan. These must be paid in US dollars prior to arrival in Bhutan.
1
Day 1: Your country – Paro – Thimphu
The flight into Bhutan takes you close to the great Himalayas, offering dazzling scenic views of some world's highest glacial peaks. As you enter Paro valley, you will sweep past forested hills with the silvery Pa Chu (Paro river) meandering down the valley below. Paro Dzong (fortress) and Ta Dzong (watchtower) on the hills above the town will be a fine sight. Our representative will meet you at Paro airport, and you will be transferred to Bhutan's capital, Thimphu, an exciting blend of tradition and modernity. Overnight at the hotel in Thimphu.
2
Day 2: Thimphu Sightseeing
Today's full day sightseeing in Thimphu valley. National Memorial Chorten: The building of this landmark was envisaged by the third king, His Majesty Jigme Dorji Wangchuck, as a monument to world peace and prosperity. Completed in 1974 after his untimely death, it is both a memorial to the Late King ("the Father of modern Bhutan") and a monument to world peace. The paintings and statues inside the monument provide a deep insight into Buddhist philosophy.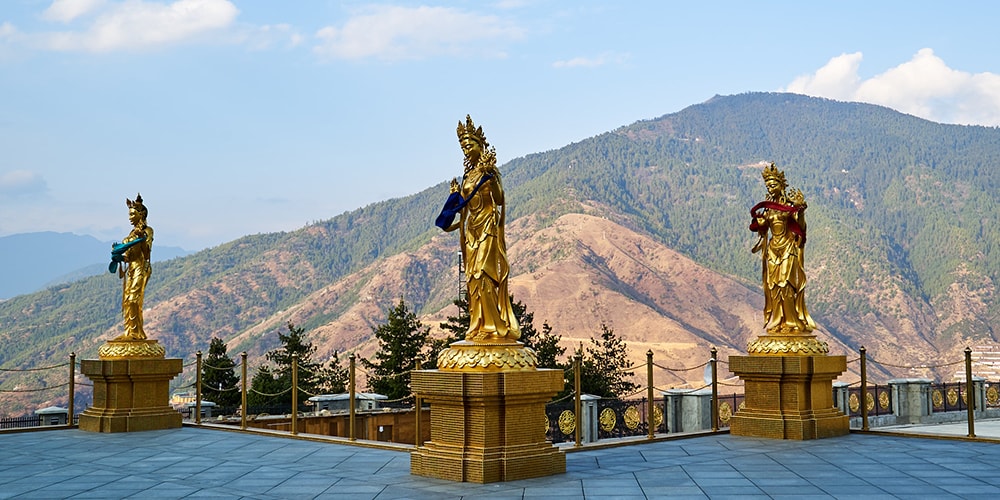 Visit Kuensel Phodrang (Buddha point), the siting Buddha statue is 167 feet high and situated on top of a hill overlooking the city of Thimpu. Visit Motithang Takln Preserve (Mini Zoo), is a wildlife reserve area for Takin, the National Animal of Bhutan. Institute for Zorig Chusum (commonly known as Painting School) where students undertake a six-year course on the 13 traditional arts and crafts of Bhutan; Post Office, you can create personalized postage stamps by your own photo for souvenir or sent home on a postcard (own express)
Trashichhodzong: This impressive fortress/monastery houses Secretariat building, the throne room of His Majesty, the King and various government offices. It is also the summer residence of Chief Abbot and central monk body. Overnight at the hotel in Thimphu.
3
Day 3: Thimphu – Trongsa Drive
After Breakfast proceed to Punakha across Dochula pass (3150m). enjoy your first view of the eastern Himalayan Mountains. Here we can spend some time photographing the Druk Wangyal Chortens. This hill of 108 religious buildings in the middle of the pass reflects Bhutan's spiritual and artistic traditions.
Then continue onwards, reaching Wangduephodrang town in time for lunch. From Dochu-la pass, it is a long, winding descent into the Wangduephodrang valley, which is about 1,700m below the pass. Take lunch at Wangduephodrang town, then continue on to Trongsa across Pele-la pass (3,300m/10,830 ft), the traditional boundary between east and west. The pass is marked by a large white chorten prayer flags. There is an abrupt change in vegetation at this point, with mountain forest replaced by high altitude dwarf bamboo.
Stop en route at Chendbji Chorten, patterned on Kathmandu's Swayambhunath Stupa, with eyes panted at four cardinal points. It was built in the 18th century by Lama Shida from Tibet, to cover the remains of an evil spirit that was subdued at this spot. Arrive at Trongsa late afternoon and check into the hotel for the night
4
Day 4: Trongsa – Bumthang
After breakfast, visit Trongsa Dzong. Built in 1648 it was the seat of power over central and eastern Bhutan. Both the first and second Kings of Bhutan ruled the country from this ancient seat. All four Kings were invested as Trongsa Penlop ('governer') prior to ascending the throne, and the present Crown Prince now holds the post. The Dzong is a massive structure with many levels, sloping down the contours of the ridge on which it is built.
Then drive to Bumthang, 68 km from Trongsa, a journey of about 3 hours, over the Yutong-la pass (3,400m/ 11,155 ft). The road winds steeply up to the pass, 28 km from Trongsa, then runs down through coniferous forest into a wide, open cultivated valley known as the Chumey valley. Check into hotel. Overnight at the Hotel in Bumthang.
5
Day 5: Bumthang Sightseeing
After breakfast explore the valley which is different from other valleys in Bhutan. It is a spacious and open valley ranging in altitude from 8'500 ft to over 13'000 ft. It is a haven for trekkers and hikers. It is home to many of prominent Buddhist temples and monasteries. We visit Kurjey Lhakhang that is named after body print of Guru Rimpoche, built in 1652 by Minjur Tempa, here we can arrange "offering Tshok". Visit Tamshing Lhakhang (Temple of the good message), established in 1501 by Pema Lingpa and is the most important Nyingmapa temple in the kingdom. In the evening, visit Membarstho which literally means, "The burning Lake". Dinner and Overnight in Hotel at Bumthang. Later visit Jambay Lhakhang, the ancient monastery dating from the introduction of Buddhism in the country. Evening visit to local shops. Overnight at the lodge in Bumthang.
6
Day 6: Bumthang – Punakha
After an early breakfast, we leave for Punakha to retrace our route, which is about 197km and 6.5hrs drive picnic lunch at Chendebji. Even though you are on the same road, you will be surprised to find the return drive just as interesting because new and different scenes still unfold on every turn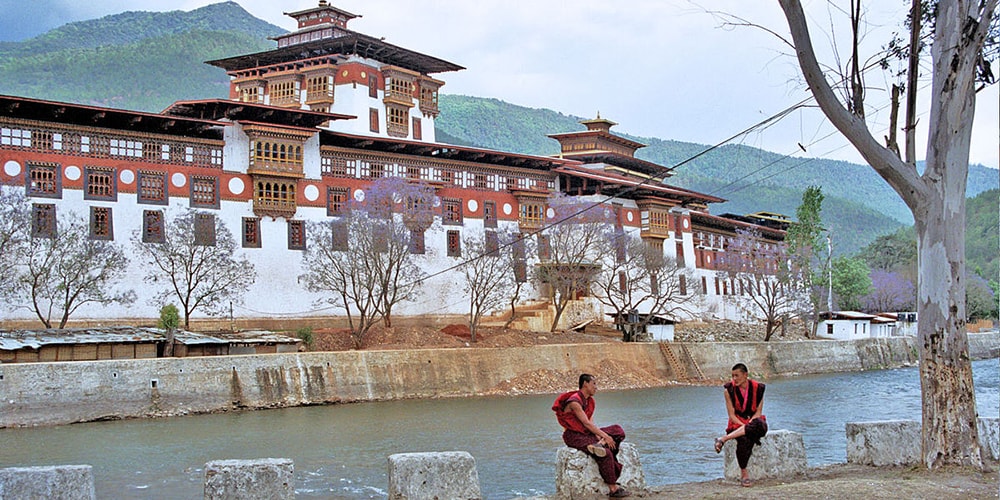 7
Day 7: Punakha Sightseeing – Paro
After breakfast drive to north of Punakha for a short excursion to Khamsum Yuelley Namgyel Chorten. Khamsum Yuelley Namgyel Chorten stands majestically on a strategic ridge above the Punakha valley. Thragthung Dudjom Lingpa visualized it out of Buddhist treasure teachings. It is sacred religious edifices, which will help to ward off negative forces, promote peace, stability and harmony in a changing world. It is the only one of its kind in the world. This chorten is a fine architectural and traditional manifestation whose details of constructional design are drawn from the scriptures and not from the technical books. The Chorten is also an esoteric embodiment of positive forces prevailing over all negative influences in the three forms of existence. According to Lamas, the Chorten is a quintessence of Buddhism and in various ways it will promote the health, happiness of the king and people thereby subjugating all evils. In the afternoon visit Punakha Dzong, a massive structure which lies between two rivers, known as Phochu and Mochu, symbolizing the co-existence of the masculine and the feminine currents of different colours, uniting at this confluence. Punakha was Bhutan's capital until 1955, and Punakha Dzong still serves as the winter residence of the central monk body. Bhutan's first King, Ugyen Wangchuck, was crowned here in 1907. The fortress has withstood several damages from fire, earthquake and flood over the centuries. The latest flood, in October, 1994, caused great damages to the fortress but miraculously spared its most holy statue. After that drive to Paro which takes 3.5hrs.
8
Day 8: Excursions To Taktshang & Paro sightseeing
After breakfast drive 13kms to reach you at the foot of the Taktshang cliff from where you will have to climb uphill about 2 hours to appear you before Taktshang monastery perched giddily on a rocky ledge with a sheer drop of 800m alongside a waterfall cascading as if from the blue.
Taktshang means 'Tiger's Nest'. Guru Padmasambhava, known as the Second Buddha, alighted from the flying tigress and meditated at the shrine in the second half of the 8th century. As a result, it is the dream destination for Buddhist pilgrims from the world over.
You will have a 'picnic lunch' in the Taktshang Cafeteria on your return from the monastery. The round trip takes about 4 hrs. If desired, pony ridings can be arranged. Then visit to Ta Dzong (National Museum) and then walk down the trail to visit Rinpung Dzong which has a long and fascinating history.
In the evening, visit Kyichu Lhakhang, one of the oldest and most sacred shrines of the Kingdom.
You will be bade farewell at Paro airport.