Trongsa, formerly Tongsa, is a town and capital of the Trongsa District in central Bhutan. This name means "new village" in Dzongkha. The first temple was built in 1543 by the Drukpa Kagyu lama, Ngagi Wangchuk, the grandfather of Shabdrung Ngawang Namgyel, who unified Bhutan.
1. History
Chokhor Raptentse Dzong in Trongsa, built in 1644, was used as the power chair of the Wangchuck dynasty before becoming Bhutan's leader in 1907. Traditionally, Bhutan's first king became the Penhope Trongsa (governor) before being named Crown Prince and last king. Built on a mountain spur above the heights of the canyons of Chong Mangde Dzong that controlled East-West trade for centuries. The only road connecting East and West Bhutan (precursors of modern side roads), passing through the yard of the dzong. At the command window of the large door penlop can be turned off, dividing the country into two.
But higher on the mountain slope is a watchtower, called "Ta Dzong", to protect the dzong from the enemy.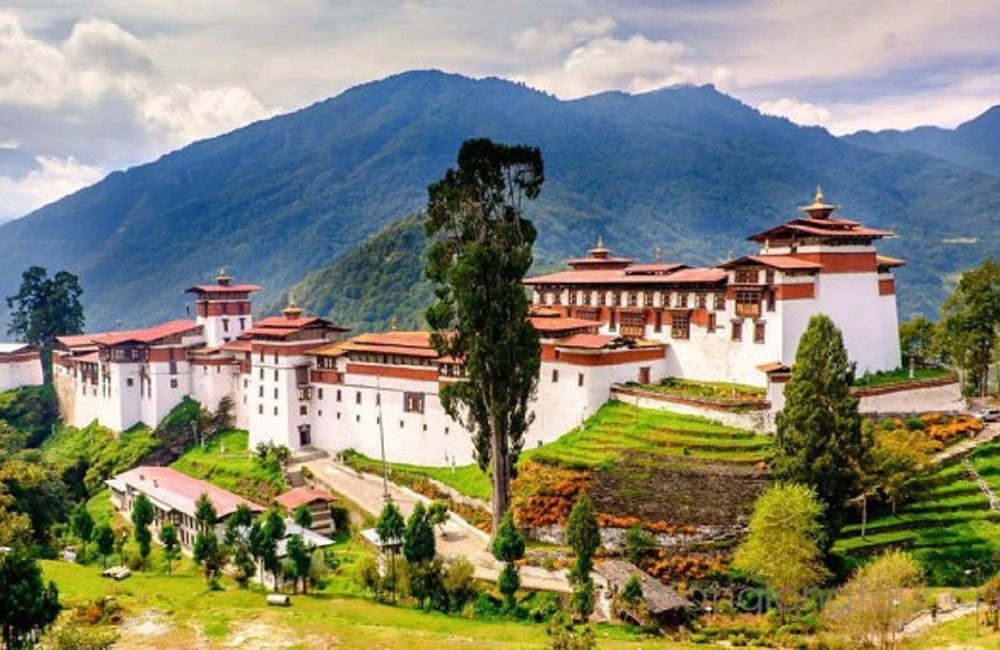 2. What to visit in Trongsa
2.1 Chendbji Chorten
This place is quite far, 4 hour driving from Wangduephodrang. This place has spiritual purpose to prevent evil spirits of this area to harming people. It was built in 18th century by Lama Shiba who came from Tibet.
2.2 Trongsa Dzong
Almost any district in Bhutan has its Dzong. This structure was built in 1648 and used to the political power of Bhutan with both first and second King governed the country from here. It is also a complex of various structures from temples, corridors, buildings,… With the special of structure varying in altitude, you can see it from any point in Trongsa.
2.3 Ta Dzong
This stone structure was built in 1652 by Chogyal Minjur Tempa. Now it was revamped to become a museum. In this museum you can see the combinations of tradition and modernity.
3. What to do in Trongsa?
3.1 Visit temples
When visit Trongsa and Bhutan in general, you shouldn't miss visiting temples where you can admire Bhutanese culture and architecture. Inside Trongsa Dzong, there are various small temples which are very beautiful.
3.2 Local market
Come to local market you will have chance to experience the diversity of Bhutanese culture. Here people sell their products such as handicrafts, veggies, food,… People here are very friendly and welcoming so don't worry if you don't know how to bargain.
3.3 Trekking
With the beauty of nature and various sightseeing, trekking is definitely an amazing activity that you will enjoy the most. A short trek inside Trongsa Dzong might satisfy you because you can admire beautiful temples, various buildings and the nature outside.
4. What to eat in Trongsa?
4.1 Ema Datshi
We will start with Ema Datshi, the most famous dish in Bhutan. Ema Datshi is cooked with chili and cheese. This is a popular dish but the Bhutanese will not eat it everyday. Chili in Ema Datshi can be fresh chilli or chopped dried chillies cooked with Bhutanese cheese – Datshi. Each person cooks Datshi in different ways, there are people who cook fairly well and loose, but there are people sticky and sticky, fat.
4.2 Shamu Datshi
The third dish with datshi cheese is Shamu Datshi: a dish of cheese with mushrooms. Mushrooms for cooking in this dish can use a variety of different types, mainly local mushrooms. The mushrooms will be stewed with cheese sauce with butter until soft and the cheese is melted.Datshi dishes will be served with rice.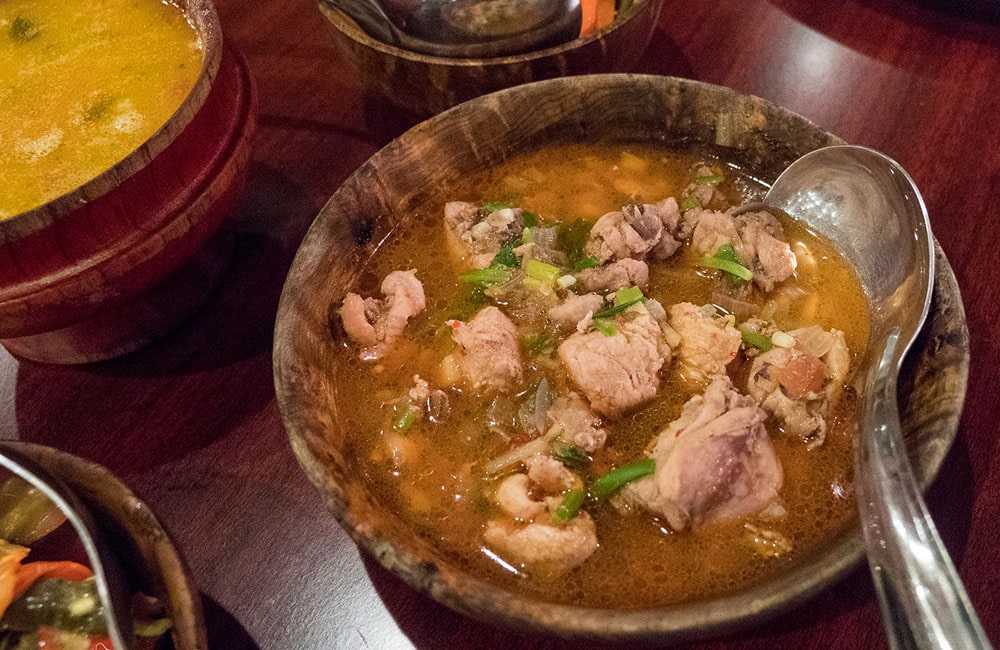 4.3 Shakam Paa
Shakam paa is a good food of Bhutan. Dishes are made with dried beef, dried chilies and radishes. The croissants are slightly chewy and are cooked with lots of peppers but the taste is great. And the special thing about Bhutanese dishes is that the chilli is left unprocessed and not sliced. That makes the food very beautiful.
.4 Dondo Datshi
Fried egg with egg, also known as Datshi Gondo is a characteristic egg of Bhutan. The eggs are well beaten with Datshi cheese and a large amount of butter. Dried chillis can be added to or not depending on the user. The result after frying is a delicious crunchy egg with Bhutan flavor. Dishes can be eaten with rice. And to make a special dish you can eat cooked rice from Himalayan red rice.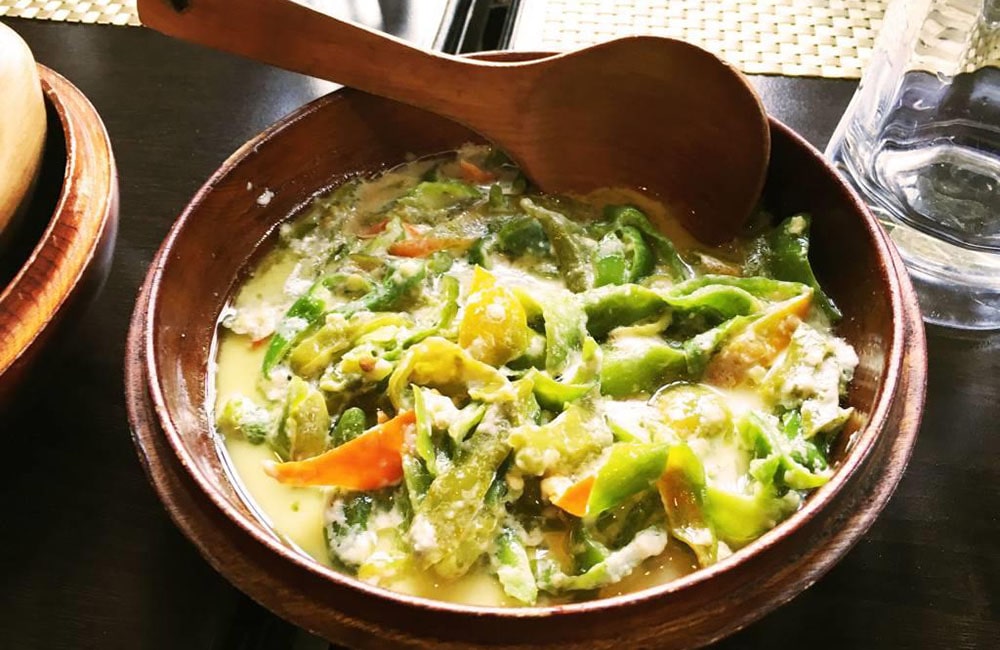 Good to Know
Currency used
Rupee India, Ngultrum Bhutan