Paro Taktsang, also known as "Tiger Cave", was built on a cliff in 1692. According to legend, "Second Buddha" – Guru Rinpoche has been riding tigers here and meditating for three years. Later, he was honored by the Bhutanese as a god. Today, Paro Taktsang has a religious and cultural significance that is very important to this country.
1. Best time to travel to Paro
The climate in Bhutan varies with altitude, with the heat and humidity gradually advancing south due to the monsoon from June to September. As night falls, the temperature decreases, the temperature decreases as the terrain goes high. It is divided into four distinct seasons, spring is around the end of March, April, summer is from June to July, fall is late September, October, November and winter is October to mid March.
The period from late September to late November is the ideal time for Bhutanese tourism. At this time it is green, although there is more rain but in return you will see flowers azaleas, magnolia and many other wild flowers in the valley. In addition, summer is also a nice time to travel to Paro, Thimpu as well as other areas in western Bhutan.
2. How to get to Paro?
To get to Bhutan, you have to transit one of the following three locations: Singapore, Bangkok or India. Traveling to Bhutan is a bit difficult as the number of flights to this country is not much. One day only about 2 international flights. It is best to plan early to buy a plane ticket.
Often the travel company will charge you by the date, about $ 250 for peak season. This fee includes hotel, private car, driver, tour guide, 3 meals and travel admission fee (visa and air ticket separately). This makes it difficult to travel the dust.
Paro airport is the only international airport in Bhutan. On the flight to and from Bhutan, you can see Everest, Kanchenjunga, Makula, and other peaks such as Jumolhari, Jichu Drakey, Tsrim Gang…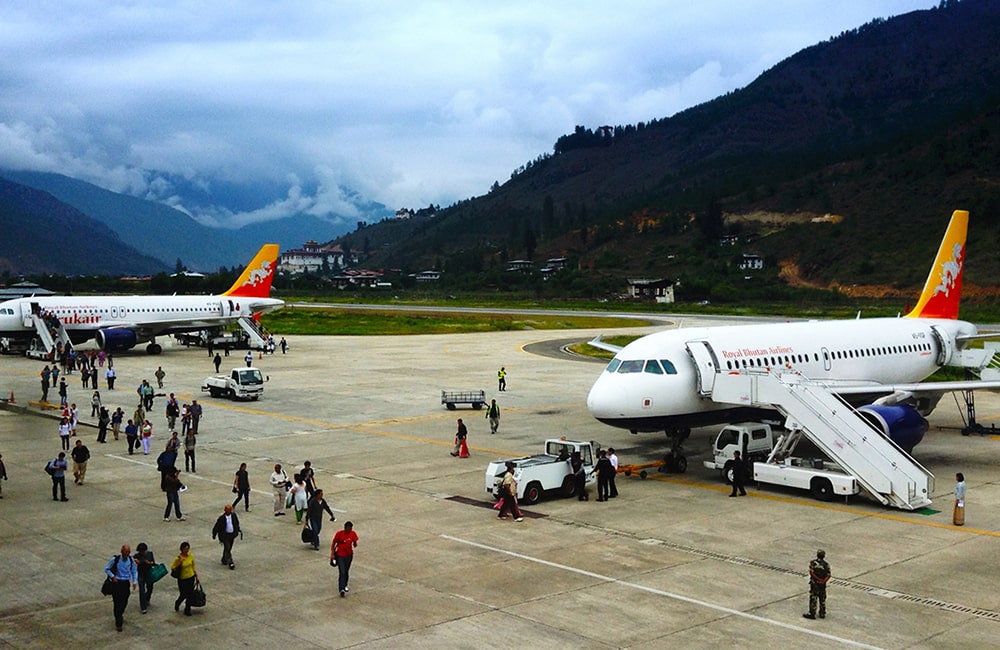 3. Where to stay in Paro?
Naksel Boutique Hotel & Spa – Ngoba Village, Paro Bhutan, Paro, Bhutan. Room rates range from $ 150. The hotel offers beautiful views from the hotel's rooms, allowing you to enjoy all the beautiful surroundings. Rooms are made of wood, traditional design creates cozy space.
Kichu Resorts – Lango, Paro, Bhutan. Room rates range from $ 70. Staff friendly, enthusiastic with visitors. Good food, large & clean room … are plus points for this hotel.
4. Where to visit?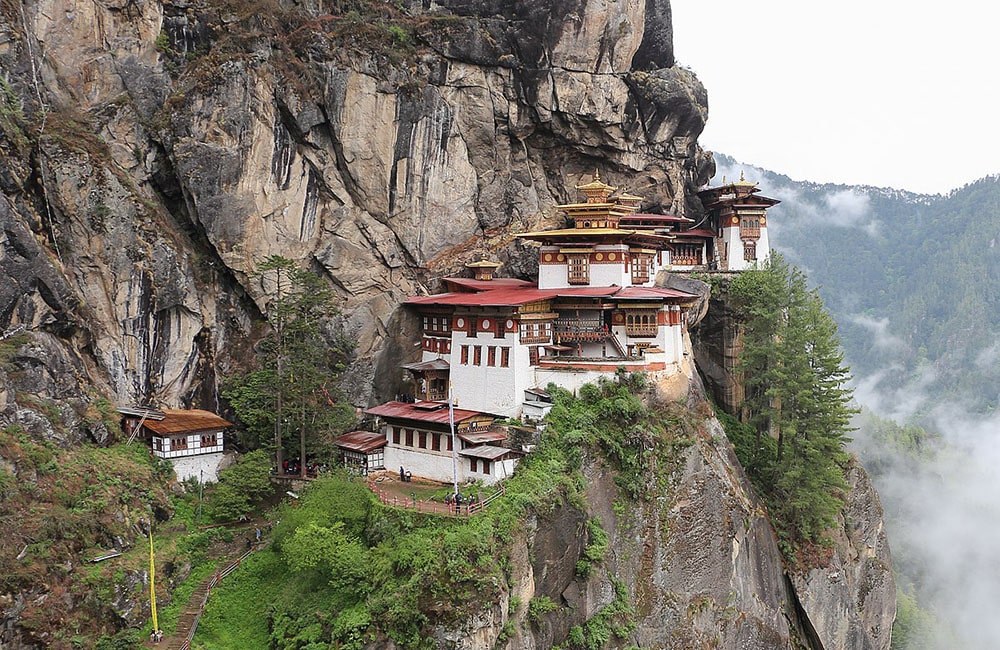 Taktsang Monastery (also known as Tiger's Nest) is located in the town of Paro – the gateway to Bhutan by air. Not only is one of the most important Buddhist sites in the world, Tiger's Nest is also a cultural icon and one of Bhutan's most popular destinations. The monastery attached to the event, Guru Rinpoche, visited and meditated there for three years, three months, three days and three hours in the 8th century on his second visit to Bhutan. It is believed that he returned to the back of a flying tiger so he named Tiger's Nest for the monastery. The temple was built in 1692 on a 3,120m high cliff, about 12km north of Paro. Tiger's Nest has also undergone a number of restorations before being rebuilt by King Jigme Singye Wangchuck in 2005, after the 1998 fire destroyed the monastery with a number of paintings and paintings.
To reach the Tiger's Nest you can choose to walk or horseback depending on your fitness. When you reach the temple, you will be very tired, so you can rent a horse for $ 10. Remember that horses only carry you one way and you have to walk the other way. If you are not feeling well or have problems with altitude, consider carefully before going. You can also take a taxi to the temple for $ 500 ($ 7.52) two way trip. Each afternoon takes about 20 minutes. Taxi will pick you up according to your appointment.
5. What to eat in Paro?
Ema Datshi
This is the most popular dish in Bhutan. Ema means chili and datshi is the cheese in Dzongkha – the main language in Bhutan. You will not only eat ema datshi everyday, but you will see it in every meal when in Bhutan. Chillis – either fresh green chillies or red chillies, chopped and cooked with cheese and plenty of butter. Although the main ingredient consists of chili and peppers, it is difficult to find two identical ema datshi dishes: each one has its own taste and flavor, some will thin, others will be cooked. lots of cheese.
Shamu Datshi
The dish of cheese cooked with vegetables is shamu datshi, including mushrooms and cheese. Like other Bhutanese datshi, you eat shamu datshi with rice. You have probably noticed, there is no way to come to Bhutan without eating the cheese with cheese, so much cheese! Datshi is probably one of the first Bhutanese you learned.
Momo Cake
Momo is a kind of dumplings, very popular in India, Nepal, and Bhutan – as well as throughout the Himalayas. They are very similar to other kinds of dumplings in the world, which probably originated in China. Momo is easily found in all restaurants and street cafes in Bhutan. You can eat hot momo with grilled meats, cheese, vegetables, or eat with lots of ezay – a kind of Bhutanese chili sauce. Also, momo can be fried crispy after steaming. This is a popular snack in Bhutan, and certainly you will always have momo to enjoy in Bhutan.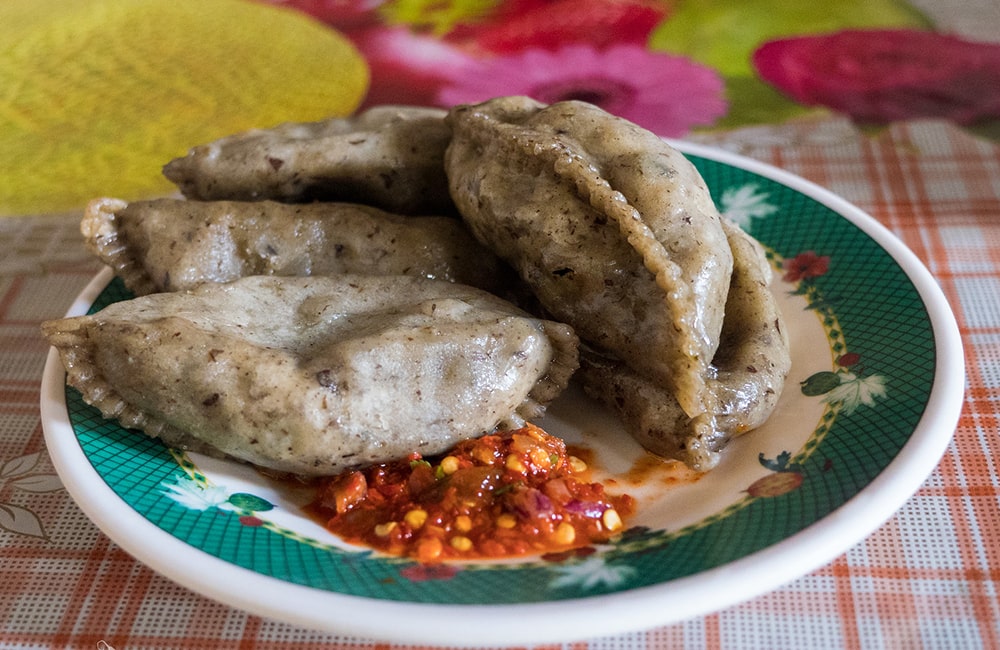 Ezay
It is impossible not to mention ezay – the word for any chili sauce in Bhutan. Here you can think, chili sauce is not really a food … But in Bhutan, ezay is mandatory to eat with all food, so it can be considered as a separate item itself. It's more like a salad than chili sauce. Every Bhutanese has its own recipe for ezay. May include dried chili, Sichuan pepper, tomatoes and a little bit of cheese.
6. Notes when visiting Bhutan
– Bhutanese people speak only their language, very few people know English, so when arriving in the country, tourists need to rely on Bhutanese guides.
– To protect the wild beauty and preserve its cultural traditions, the Bhutanese royal family decided annually to only allow about 6,000 visitors to the country. Each tourist must pay at least $ 200 per day in Bhutan and follow the program arranged by a Bhutanese tourism company.
– The Bhutanese currency is Ngultrum (Nu). One US dollar = 46 Nu.
– Before traveling to Bhutan you should exchange a Bhutanese money upon arrival at the airport. There are very few ATMs in Bhutan and most of them serve local people.
– When touring Bhutan to sensible places like the royal palace absolutely not photographed.
– Temples can be visited, but not photographed.
– Tobacco use in Bhutan is strictly forbidden, and smoking can be arrested and sent to jail.
– Bhutanese people are very friendly and hospitable, you can get acquainted and chat with them.
– Do not catch fish, kill animals, cut trees, pick flowers … those behaviors can disturb people and make the authorities pay attention.
Good to Know
Currency used
Rupee India, Ngultrum Bhutan