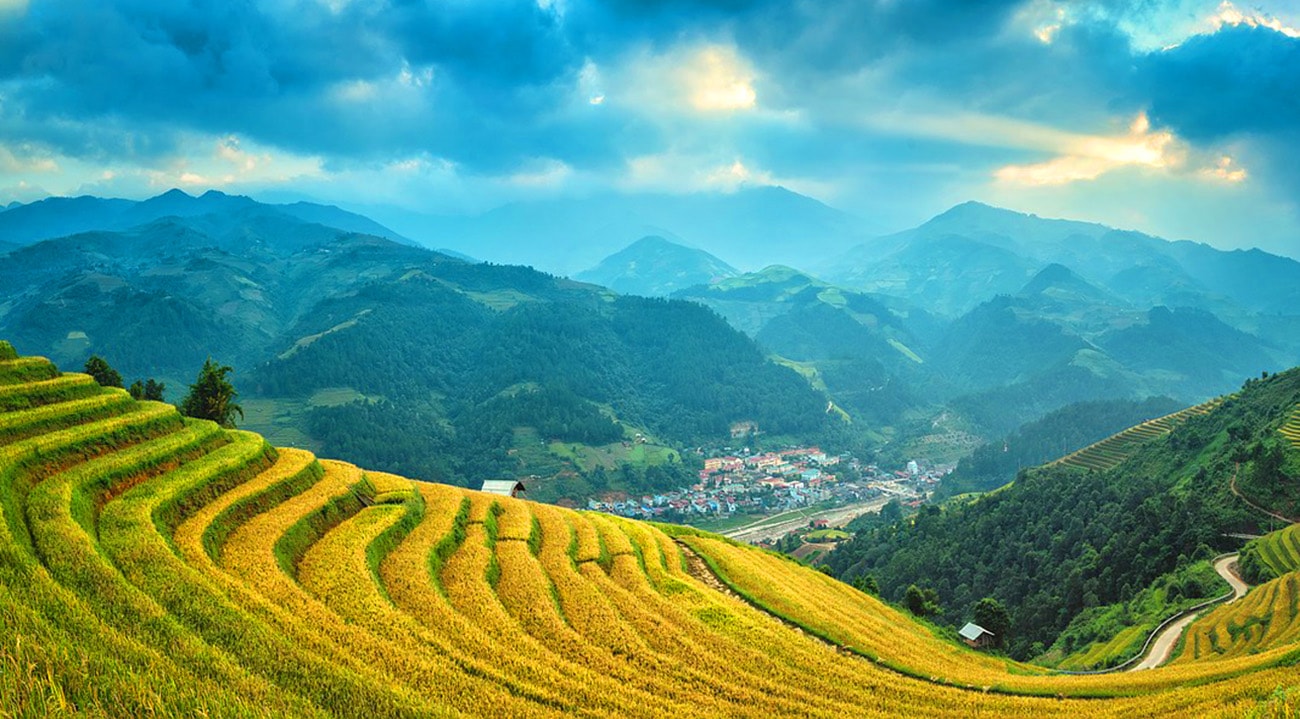 Overview about Sapa adventure – Discover Northern Vietnam
One of the most beautiful mountainous destinations in the world is Sapa, Vietnam. This land will amaze you with their own splendid landscape, sparkling rice terrace and so on. I'm sure that you must hear about Sapa once and at some point you will be curious about this land. And if you are preparing for Sapa adventure, here are all the things you need to know.
1. Where is Sapa?
Sapa is a mall, mountainous town in Lao Cai, located about 350km northwest of Hanoi. This town lies close the border with China. You can find the Hoang Lien Son mountains there, where located Fansipan peak – so-called "the Roof of Indochina" at a height of 3143m above sea level. Because of its altitude, the climate is moderate and cool all year. During the summer, there is lots of rains and fog. And what makes Sapa become special and different from others Vietnamese destinations is there are snowfalls in winter.
Other things make your Sapa adventure become more attractive is that Sapa is home of six main ethnic minority peoples: Kinh people, Hamong, Dao, Tay, Giay and Xa Pho. Each group lives in separated hillside villages where they preserve their traditional customs and lifestyle. They live particularly live on agriculture and cattle-breeding.
The geography of Sapa is the combination of high range mountains, wide valleys and gently sloped hills. And I would say that this unique location creates the diversity of splendid landscape, animals and plants which display to your eyes a party of colors.
When you get there, you also feel the special connection between Sapa nature and people. For me, it is when the nature with all its resources always supports people. On the other hand, local people are trying to protect and keep the nature in its original state.
2. What kind of Sapa adventure I can take?
Depending on your purpose, your physical strength and your time, you have wide range of adventurous activities in Sapa. These vary from trekking, mountain biking to mountaineering. I haven't experienced all, but as far as I'm concerned I will tell the most popular activities for Sapa adventure
Trekking
There is no doubt that trekking is the great idea for Sapa adventure. You also can choose your trekking destinations and time for it. The last time I came there, I joined in one day trekking to some ethnic villages. We visited Cat Cat village, which is very famous for its well-preserved architecture and its handicrafts. I even had chance to wave a piece of multicolor fabric, which is an amazing experience. We trekked to Cat Cat village then to Ta Van, which is surrounded with twinkling rice terraces. It took us one day to finish this route.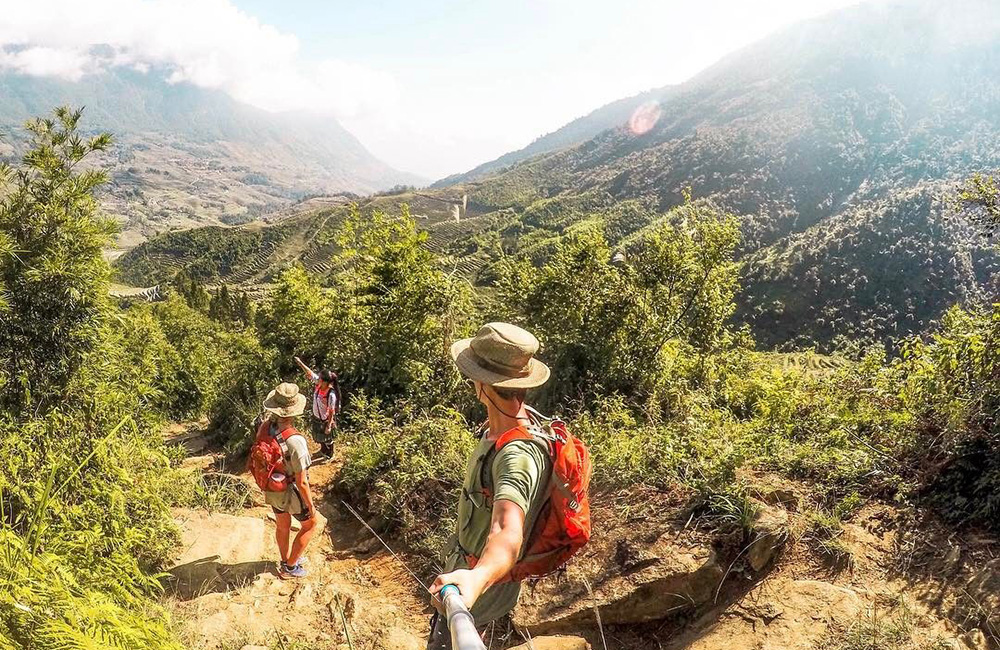 If you want more Sapa adventure, you can join Fansipan mount trek. You can do it one day or two days maximum. With Fansipan mount trek, you should prepare your pack more and hire a guide because without a guide the authorities don't allow you to climb Fansipan. However, I'm sure that you will be amazed by the change of fauna and flora along the Hoang Lien Son mount.
Mountain biking
If you find it bored to walk around Sapa, you can ride a bike through mountains for Sapa adventure. I guess some will say that it's only for professional bikers. Yes and no. If you choose the difficult route with hard rocks, mud and gravels, you need training like a professional one. But you only want to ride around the villages and from one destination to the others, you just need to know how to ride a bike.
There are lots of shops in Sapa town where you can hire a bike with 1 or 2$ per day. Check your rental bike carefully before take it and enjoy your riding.
Riding motorbike
This activity doesn't require you lots of physical conditions but your skills. Sometimes, especially after raining, the road is really slippery so you need to ride carefully and skillful to handle some situations.
In contrast, you can find it extremely convenient for Sapa adventure, because you can move around freely and save lots of money. The price for rental motorbike is about 4 or 5$ per day. And you just have to pay 50.000VND for gas then you can go anywhere you want.
Dao herbal bath
You definitely should try this if you want to have a true Sapa adventure. It's the herbal bath therapy of Dao people in Sapa. The elements for this therapy are only found in mountainous areas. After being selected carefully, they are mixed with different amount and boiled in 3 or 4 hours to extract their essence. This therapy can eliminate you stress, tiredness and release your tight muscles. To fully enjoy Sapa adventure, you shouldn't miss it.
Homestay in Sapa
Instead of having chosen a hotel, we chose homestay for our 2 nights in Sapa. I think it's also the way for Sapa adventure when you live with a local family, eat, sleep, work like them. Last time, I spent 2 hours on my host family rice fields trying to grow rice. And you also have chance to enjoy their traditional dishes with unique ingredients and favors.
Visit love market in Sapa
As you know, market is place for people buying and selling things. Therefore, lots of people flock into local weekly markets to meet each other. The young have chance to communicate with others by participating in public activities like playing traditional games, playing leaf-horns, singing or dancing,… Through these activities they might find out their partner and in the future they may become husband and wife.
I would say that joining love markets in Sapa is not an activity that can provoke your adrenaline. It's a Sapa adventure to its culture, to the daily life of locals. And it's also a chance for you to enjoy the purest ethnic custom.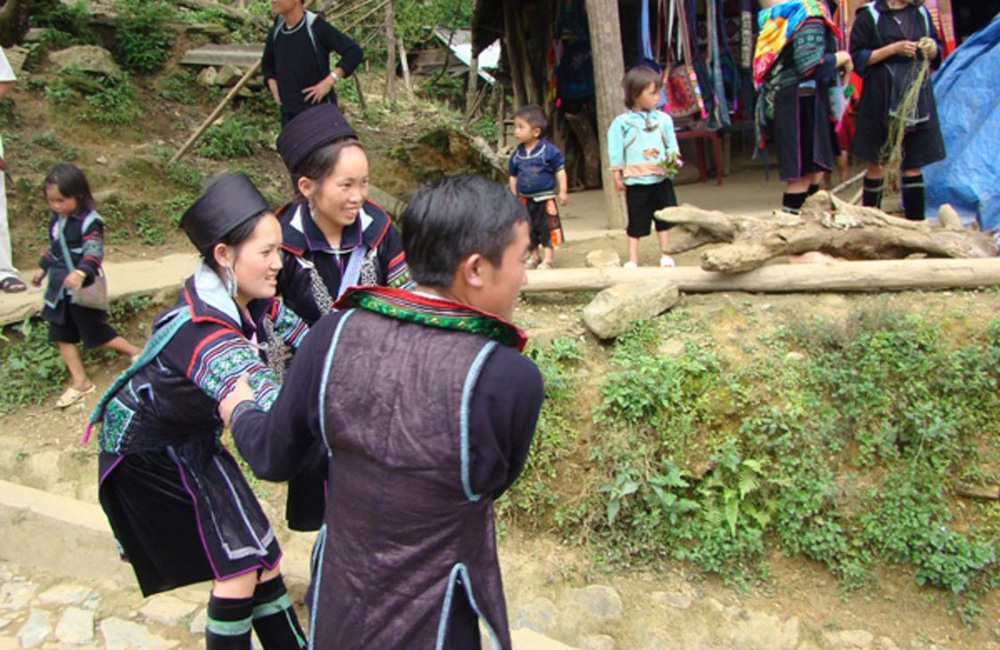 3. Transportation for Sapa adventure
Bus
For all travelers, the most popular transportation to Sapa is bus. There are a lot of buses from Hanoi to Sapa and you can catch them at bus stations in Hanoi like: My Dinh, Giap Bat,… Normally it takes you about 3 hours to get to Lao Cai city. You should call the bus company first to check the bus number, available seat and departure time. IN my experiences of Sapa adventure, the most prestigious companies are Sao Việt, Sapa Express, Inter Bus Line. And they also offer you sleeper bus seat, which can make your journey more comfortable with price from 200.000VDN – 400.000VND
Train
Another choice for carsick person is train. All train departures from Hanoi station at night. As the consequences, if you look for a splendid sightseeing along the way for Sapa adventure, you will be disappointed because you go at night and you just want to sleep but nothing else.
The price for boarding pass depends on the type of seat like: hard seat with AC, soft seat with AC, cabin with 4 berth, … it's range from 500.000VND to 1 million/ one way.
Motorbike
Of course, you will have a true Sapa adventure if you take a long ride from Hanoi to Sapa. But with this transportation you will have more notes than the others. First of all, you should use a manual motorbike rather than an automatic one because you can handle some situations on the read more easily with the former.
Secondly, you must check carefully the route before setting off. Mark the break points on your map. And don't forget to equip yourself with protective item like helmet, glovers,…
4. Which season is perfect for Sapa adventure
Spring – fairy world
Spring is the time that all most flowers in Sapa blooming, so I would say Sapa adventure in spring is the adventure to the fairy tales of flowers. You can easily catch up a road full of cherry blossom and that's so romantic, right? And if you are keen on vintage style, these old cherry will draw your attention because of its antique beauty.
Another symbolic flower for spring in Sapa is Plum flower. Every bunch of white plum flower looks like clouds floating in the sky. For me, it's like a sweet Sapa adventure.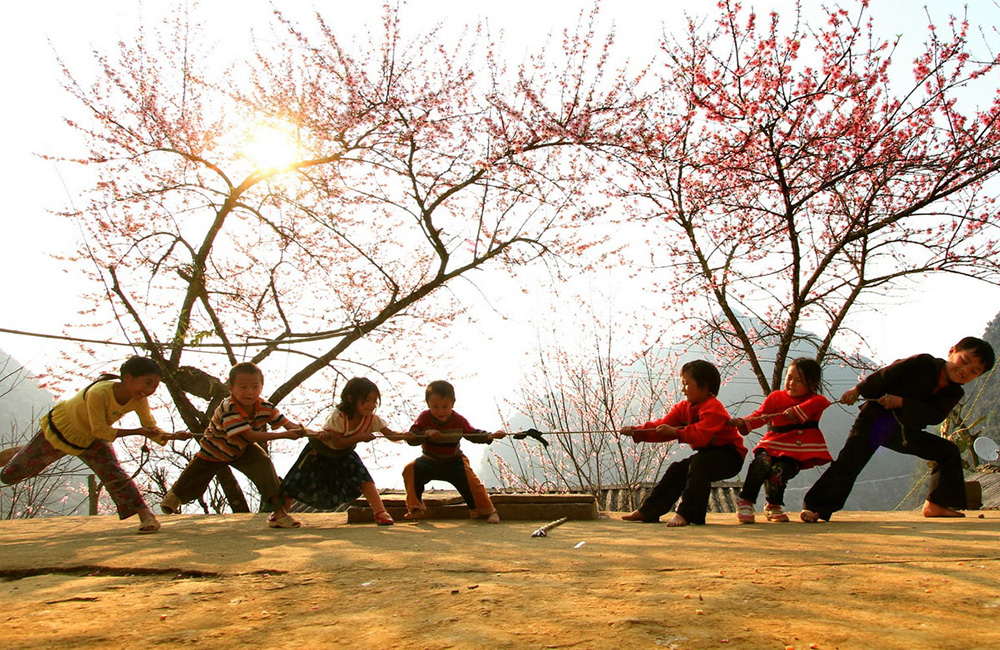 Summer – get away from the heat of city
As you know summer in Vietnam, especially in the South is strict and unbearable. However, with it altitude, the weather in Sapa is cooler and less sun. Therefore, Sapa adventure in summer is the escape from the heat.
Besides of low temperature, with Sapa adventure in summer you also have chance to admire sparkling rice terraces extending through the hills, the valleys. The most beautiful time of these rice fields is on June, when they all turn into twinkle yellow. I bet you can't take an eye off them.
In this picture, you also see the greenish of vegetable gardens of locals. All vegetation in Sapa is cultivated naturally without pesticide or stimulus. You should try them anyway, their natural sweetness is awesome.
Autumn – foggy town
The whole town is covered by thick fog, especially in early morning or at twilight. It will make you feel like Alice in Wonderland. And autumn is also the ideal time for trekking. With low temperature, less sun your Sapa adventure will be easier.
In contrast, you only can join in day trekking. This is because with thick fog, it's too dangerous to stay overnight outside between the ranges of mountain.
Winter – snowing in Vietnam
For all western travelers, snow isn't a strange thing. But for Vietnamese, snowing is rare climatic phenomena. Therefore, it might not be intriguing for you much; however, you also feel interesting with some familiar landscape. Does that peaceful villages covered by snow seems familiar to you?
For me, they are look like old European villages in winter. And therefore I would call Sapa adventure in winter is the trip back to your home.
5. Accommodation for Sapa adventure
Before starting Sapa adventure, you should fins somewhere to stay. Sapa is a well-known tourist destination, so there is a wide range of accommodation for you from hostels to luxurious hotels. You can book an accommodation online easily.
But for the best Sapa adventure experience, I recommend you to choose homestay. I don't mean the homestay with swimming pool, bar or lounges. You should try a local homestay where you can live with local family and experience their daily life.
Of course that you won't have excellent facilities like in the hotels, but you will have unique experiences. You will have chance to join in farming works, household chores or enjoy local dishes.
6. Destination for Sapa adventure
Fansipan mount
Fansipan mount is located on Hoang Lien Son range with the height of 3143m. it's the highest mountain in Vietnam also named "the Roof of Indochina". For the true Sapa adventure, you can join in Fansipan mount trek to conquer this mount. Climbing Fansipan never disappoint travelers. And you are also required good physical strength and basic knowledge about trekking.
Cat Cat village
This is an ideal destination for short trekking. You can experience the H'mong culture here from the architecture to small stalls for traditional products. This village is famous for its well-preserved tradition, so here is where you can enjoy the purest culture of ethnic people in your Sapa adventure.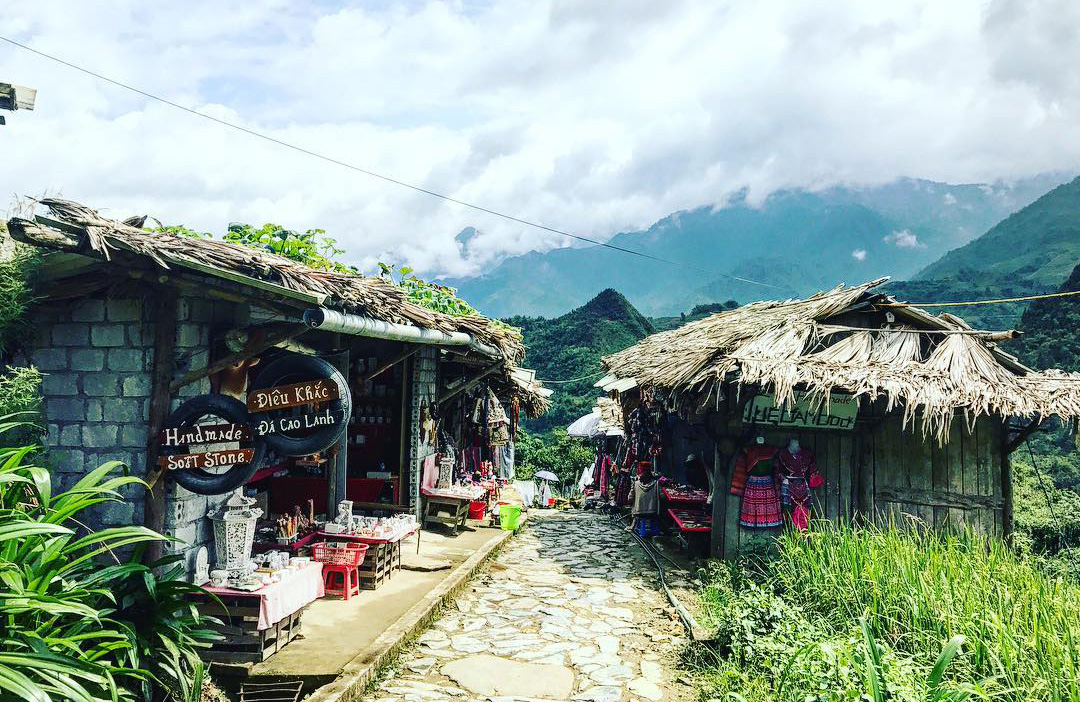 Muong hoa valley
It is the largest valley in Sapa. You will be overwhelmed by the sea of flower blossom in spring. You also can find ancient rock field there. Hundreds of stone with strange drawings and characters have challenged archeologists for long.
I believe that this article help to sketch an overview picture about Sapa adventure for you. There are still so many things for you to explore in Sapa that I can't tell you all. Therefore, you should go and experience by yourself.