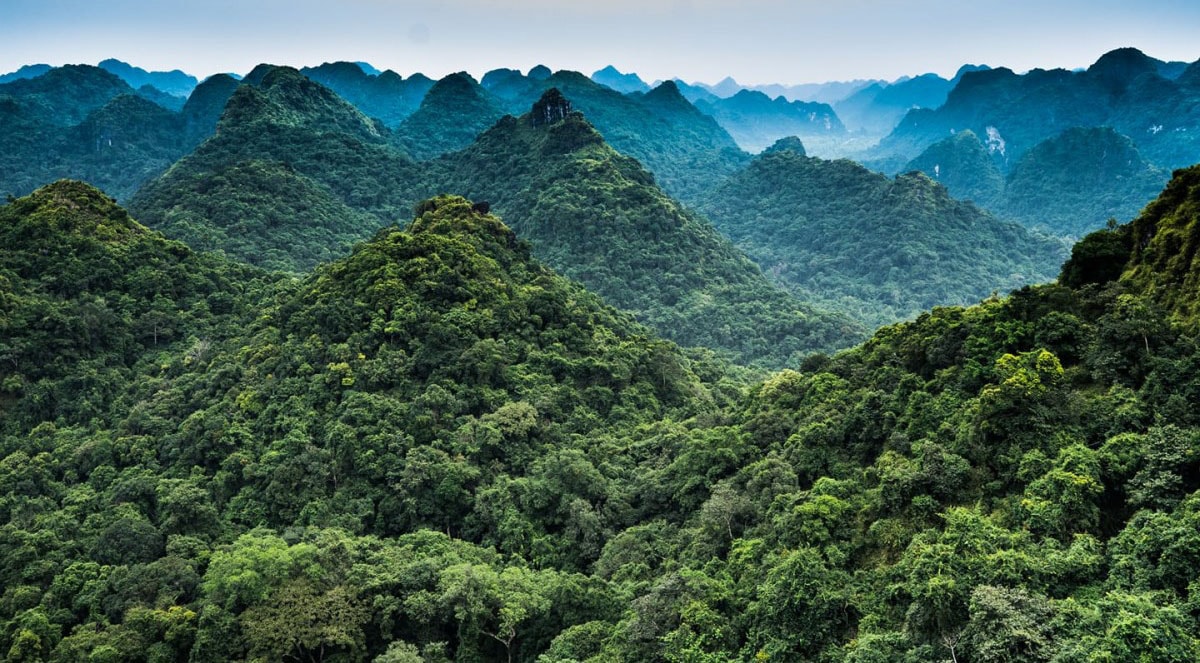 Cat Ba national park hiking – A day trip, but enormous reward !!!
You are interested in Sapa trekking, but you don't have enough time and strength to go for multi-day trip. Then, Cat Ba national park hiking is an alternative option. If it sounds strange for you, read what I will outline below and you won't miss a worthy destination.
1. Cat Ba national park hiking
First of all, have you ever wondered what hiking is? Is it like trekking? Hiking is the acting of walking which is referred to an activity less planning and organization. Moreover, hiking is most commonly for a day trip and it's more like a leisure walk.
In contrast, trekking is a longer and harder hike. And it is a long distance walk which demands more stamina, skills and heavier pack. It's more like several day activity then one day.
So why is the Cat Ba national park hiking perfect? First of all, as I said before, if you don't have enough time and physical conditions, you should choose this destination. With a specific route, Cat Ba national park hiking only takes you about 6 hours to complete. And you can choose hike with a guide or not.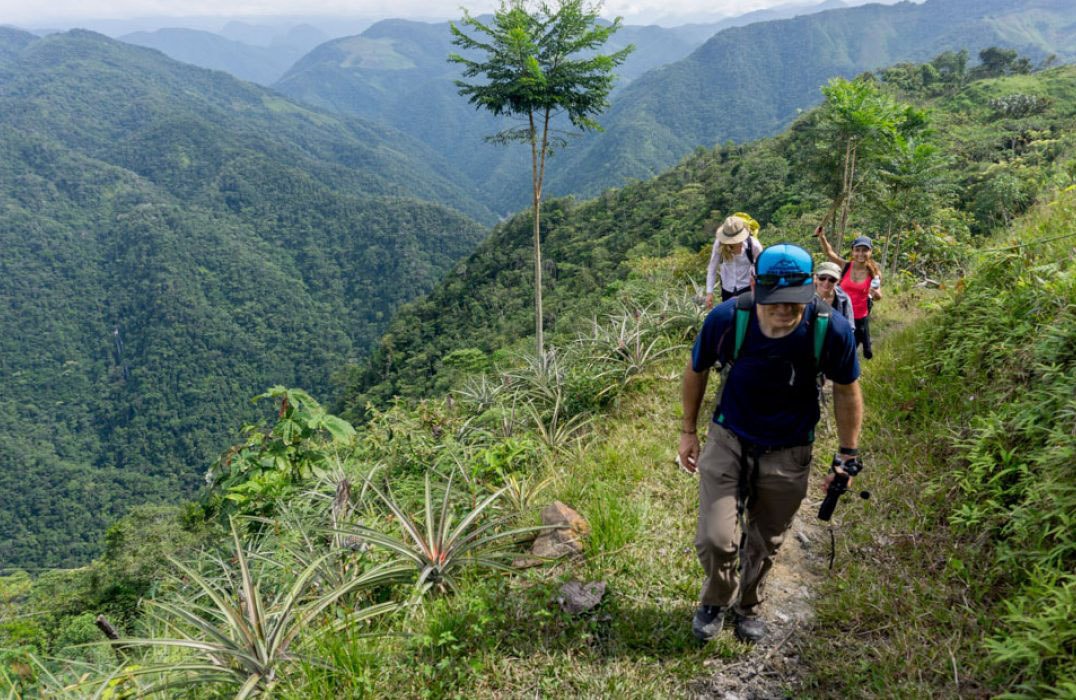 And what makes Cat Ba national park become the best perfect for hiking? I'm sure you can figure out the answer from its name. This place is home to 32 types of mammal, including most of the world's 65 remaining golden-head langur that the most endangered species in the world. In addition, along Cat Ba national park hiking, you also have chance to come across 69 species of birds, 20 species of reptiles and amphibians,… And many of these animals are listed in the Red Book and under tight protection.
Also, the system of fauna and flora there is so amazing. There are about 745 species of plants, including various species of rare wood trees. Some of them have really interesting use that you will know if you go Cat Ba national park hiking a guide.
In general, Cat Ba national park hiking is a pleasured walk among the amazing nature. You can have chance to immerse yourself in the pure landscapes and fresh atmosphere.
2. How many routes for Cat Ba national park hiking?
There are so many routes for Cat Ba national park hiking. If you book a tour, your guide will lead you to the most common route. And of course, this route is the easiest one.
In contrast, if you want to hike on your own, the thing you must pay attention is timing. The park closes at 5pm, so it's important to calculate the time and consider which route you should take.
The fees include 5000 VND parking fee and an entrance fee of 40.000 VND per person. And you should prepare your own map because they don't provide you with a map of Cat Ba national park hiking.
Route 1
The most common one is marked on the big board right at the entrance. They draw you the routes you can go to reach Ngu Lam Peak. Bring your own map to mark stop points or just take a picture of this board.
I would say that Cat Ba national park hiking is not too difficult in general, but at some parts you need to use your hands to maintain your balance. And most people are willing to stop and do you a favor.
Route 2
This is the route I took last time I came for Cat Ba national park hiking. It's not totally out of the common route, and I found some views really interesting.
From the entrance to the frog lake: this part is not difficult at all, even though there are lots of ups and downs and cobbled. You should be aware that the weather is humid and hot during summertime, so don't forget to get yourself hydrated.
From the frog lake to Viet Hai village: This part becomes more difficult than the former with a lot of slippery and sharp rocks. There is no pavement at all. You will find it hard to ascend and descend along the Cat Ba national park hiking. It will take you about 2 hours to get to Viet Hai village where you can stop for lunch. There are kiosks that provide fresh water, snacks and other stuff.
Then I went to Viet Hai pier to finish my Cat Ba national park hiking. From the village to the pier, there is small concrete road, no traffic and of course landscapes.
At the pier, you have to take taxi boats shuttle back to Cat Ba with about 200.000VND. You also can get a shared public boat with lower price, but if you don't want to wait too long just take private taxi boat.
3. Others attractions for Cat Ba national park hiking
As you can see from the only map at the entrance, there are two viewpoints for a panoramic view of Cat Ba national park. The first one is a tall man-made structure which gives you an incredible view of the forest with mountains.
The second one – my favorite requires you a short walk forward. It is the Ngu Lam peak. The path to this peak is hidden amidst the bushes. This viewpoint thi higher so you can get more splendid view of Cat Ba national park hiking
4. Some tips for Cat Ba national park hiking
Always be hydrated
Like every walking journey, you always have to provide your body with water. Although the Cat Ba national park hiking only takes you few hours to complete,, you should bring 1,5l water more or less.
The amount depends on the weather, you should bring more than 1,5l in the summer because the humidity and hot atmosphere will squeeze every drop of water in your body. Moreover, the more water you bring, the less money you have to spend on expensive kiosks.
Use paper map
No kidding. I know that we are all familiar with Google maps and it is absolutely convenient. But with Cat Ba national park hiking, Google isn't helpful much when you are plodding through the jungle.
It doesn't show you the specific paths nor tell you how to reach your destination. Therefore, if you take Cat Ba national park hiking without a guide, bring along your own paper map marked with stop points of take a picture of the big board at the entrance.
Indispensable stuff
Hiking shoes: because of the mountainous terrain of Cat Ba national park, you need a proper pair of hiking shoes. Not too tight, not too loose. You shoes must have sturdy sole and be waterproof.
A raincoat: In case of raining, you should prepare a raincoat. More specific, if your pack is waterproof, that's great. If not, you ought to prepare a big raincoat so that it fits you and your pack.
Hat and sunglasses: absolutely you need these things. You don't want to get your hair wet by the fox, especially in the early morning or get burnt in the sunny days.
Cream and lotion: Even though with Cat Ba national park hiking, you can barely get your skin burnt by the sun, sun cream is essential to protect you from the UV rays, which can go through the leaves and attack your skin.
The other thing is anti-insect lotion, when Cat Ba national park hiking, you can easily bump into lots of unknown insects. You don't know they are poisonous or not, so it's better to keep them stay away from you.
I would say that Cat Ba national park hiking is simpler than Sapa trekking and it's a great alternative. You can combine your beach holiday in Cat Ba islands with Cat Ba national park hiking. Hopefully, you guys will have a great experiences there and totally enjoy your holiday.