Top 3 best places for nightlife in Hanoi
Almost every traveler is surprised by the dynamic nightlife in Hanoi. This is because most people say that Hanoi is more conservative and quite than Sai Gon. In fact, when I came here for 2 weeks I didn't find any difference between nightlife in Hanoi and in Sai Gon.
You can easily find hundreds of bars, pubs, clubs, lounges,… in Hanoi range from the most basic one with small space to swanky places. At some bars, you have to pay for entrance fee but almost of them are free. You can drink from one club to another and your nightlife in Hanoi seems never end until dawn.
In this post, I would like to give you guys some reviews about my findings of nightlife in Hanoi. You will find which bar plays your favorite music or which club is the best one to chill.
1. Main areas of nightlife in Hanoi
Like in Sai Gon, almost bars and pubs are only located in specific areas to not distract the neighborhoods. However, in Hanoi all bars and clubs have to close at 1am. It's the law and there are lots of polices go around these areas to check. Despite of it, some bars are still open secretly.
Come back to our main topic, there are 3 main areas of nightlife in Hanoi
The Old Quarter:
This area is always full of people both local and tourist at night. People come here not only for clubs but also for food and drinks. You can find any dish here from Vietnamese food to western one. And there are lots of clubs here more than other areas.
They mostly concentrate at some street like Ma May, Ta Hien,… you will feel that this area of nightlife in Hanoi is crowded and animated. But for me it's cramped and messy and only for party not for chilling out.
The West Lake:
Clubs in this area attract more foreigners than Vietnamese. At the first look, this area is rather quiet for nightlife in Hanoi. There are no people going around at street. Because clubs here are located near residential areas, they don't have open design, no entrance outside and no music coming out of the disco.
And most of clubs here require entrance fee. Prices of drink are the same in the Old Quarter. However, I felt in love with the atmosphere and the space inside. The music is not too loud, you can have a drink with your friends and chat with them.
The historical center
This area is from Hoan Kiem lake to Tran Hung Dao street, especially around the Opera House. If you want to enjoy nightlife in Hanoi in this area, bring lots of money. This is because most bars and clubs here target rich Vietnamese young and tourists.
I just took a look at this area and haven't come to any bar yet. If you joined any party here, let me know how it is.
And now, I will show you the most popular bars and clubs in each area
2. The Hanoi Old Quarter
A busy, crowded and chaotic zone with the most nightlife spots in Hanoi. Most of them are small serve bottled beer with higher price than at stools in the street. It's popular among young Vietnamese and backpackers. And as I said, most of them are close at 1am; however, there are some hidden bars still party until 3am.
One thing you should pay attention is that this area (the intersection of Ta Hien and Luong Ngoc Quyen street) is dedicated to walking only. So you only can walk from this club to another for nightlife in Hanoi at the Old Quarter.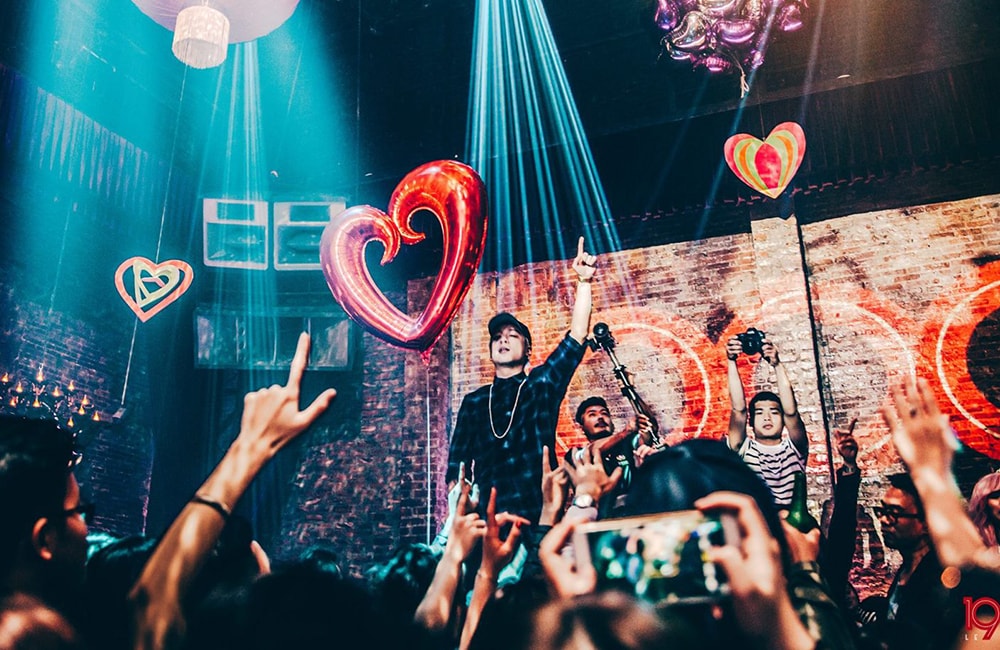 People drink every day at this place and drunk is everywhere. It's so funny that you can come across one drunk guy lying on the ground and sleeping like on the bed. You also notice that many people inhale gas from big balloons, which can make you numb few minutes. It's not drug so it's not illegal in Vietnam. You can buy it with 1 or 2$, but it also makes your hangover worse.
To be continued, I will outline some clubs and bars that you can crawl from one to another to enjoy your nightlife in Hanoi
Bars:
RockStore: the owner is foreign. If you want to enjoy some live music in your nightlife in Hanoi, come here. The DJ and live bands play some piece of electric music from reggae to pop. This bar also serve western food and it opens from 10am to 3am.
Local: it's my favorite one for nightlife in Hanoi. This bar is located right in the beer corner. Narrow space and full of people literally can make you feel uncomfortable. But the music is awesome, they play the top EDM songs (almost original) so you can sing along and have fun.
Dragonfly: This bar is also tiny, but it has outdoor and indoor area. You can be served food, shisha, balloons, alcohol here.
Craft Beer Pub: is not too loud like 3 above. It's more like rustic bar with craft beer and typical western food. This bar is popular among foreign rather than Vietnamese. I really like beer here because it's super fresh.
Clubs
1900 Le Theater: From Local bar go forward a little and you find this big club. This modern venue plays music usually in Vietnamese and some common EDM songs. It seems that this area is quite popular for nightlife in Hanoi of Vietnamese young.
Hair Of The Dog: This small club has 2 floors. The first one is always full of locals and the second one is for foreigners. Although this bar opens very soon at 8 or 9 pm, the party only starts at midnight.
3. The nightlife in Hanoi at West Lake area
Bars and clubs in this neighborhood are mostly dedicated to expats and rich people. I advise you to take Uber or Grab to this area. It only costs you about 50.000VND. And here is some chilling places for enjoy nightlife in Hanoi
Bars:
Sidewalk: is an open air/ covered bar where offer all kind of refreshment, coffee, cocktail and alcohol. It's suitable for an interesting nightlife in Hanoi because they play all kind of music from live, hip hop, acoustic,…
Moreover, sometimes they organize special event like Free Beer Friday, Free Rum and Coke on Saturday,… Check Facebook for newest event
Birdcage: I also like this bar so much because it's friendly to LGBT and they have drag shows sometimes. However, this bar only opens on Friday and Saturday until 6am.
Standing Bar: perfect place for nightlife in Hanoi if you want to drink all night. They serve 16 types of craft beer, local and imported. And of course you also enjoy some tapas.
Clubs:
Savage: here it is, my favorite one for nightlife in Hanoi. It's a new nightclub in West Lake area and very popular among expats. Music here is mostly techno and non-commercial electronic. You have to pay 100.000VND for entrance fee at normal day and higher if there is any event.
The second floor is a rooftop with lake view. Up the second floor and you are in totally different world without loud music and disco lights.
Hanoi Rock City: this club is event and art space in Hanoi. You can enjoy live bands, DJ performance, exhibitions,… the entrance is free but drinks are much more expensive than other places. You can check its website for coming event HRC.
88 Lounge: it's a wine lounge restaurant. If you look for a romantic place for date, this is the one. The price here is more expensive than other places for nightlife in Hanoi, but it's worth a try for perfect wine, food and view
3. Historical City Centre
The historical center (excluding the Old Quarter) is range from Hoan Kiem Lake to Tran Hung Dao street, which is full of bars, lounges, restaurants, clubs for nightlife in Hanoi. Most of them target rich people (both Vietnamese and tourist).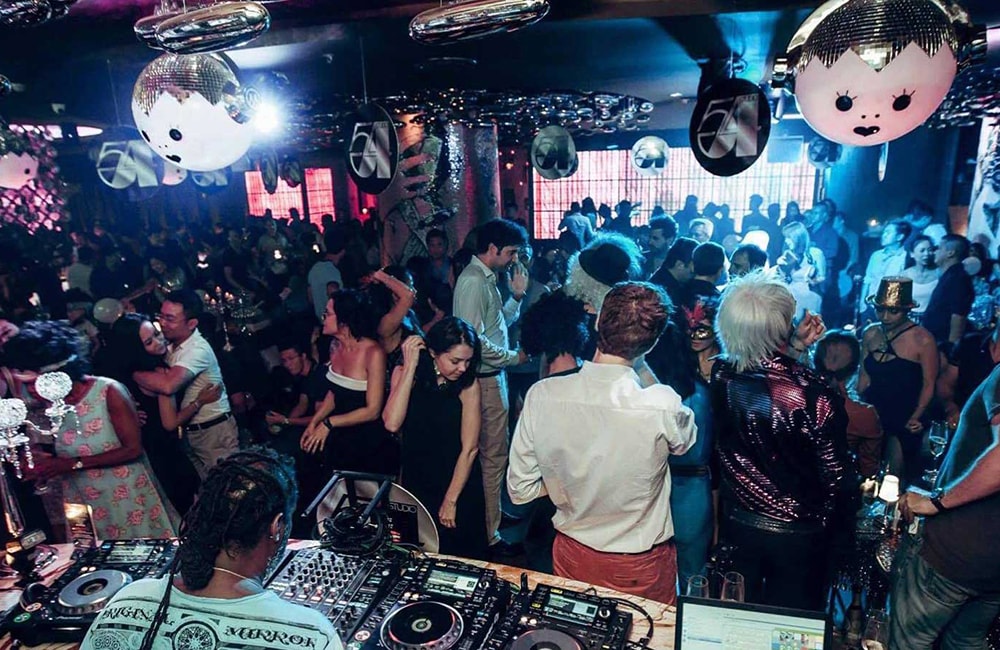 Bars:
Cosa Nostra: this bar has simple design with concrete floors and walls. The second floor includes a small terrace. And the price here is quite overwhelming with 100.000VND for the cheapest beer.
Tadioto: if you haven't been here, prepare to be wowed. It's next to the Cosa Nostra. The whole bar is space of art from every detail of decoration on the wall to the way of representing food and drinks. This bar if the best place for nightlife in Hanoi.
Clubs:
Camelia: it's the part of luxurious hotel – Mélia Hotel. It's an ideal place for group of friends. It is decorated in trendy way.
The Bank: spacious bar with DJ music. It attracts lots of Vietnamese and tourist. Prices are high but cocktails are great.
In general, nightlife in Hanoi is so dynamic and energetic. You won't be bored here with every night party. Find your favorite bars and enjoy nightlife in Hanoi with your friends.