Koh Samui
Koh Samui is the second largest island of Thailand located in the gulf of Thailand. This place is an ideal destination for those who love beaches, coconuts and amazing fine sand. You definitely will have an unforgettable vacation in Koh Samui. In addition, this island is also famous for other splendid sites that you can spend your time besides of beaches.
Moreover, there is wide range of accommodation for you. You can have a luxurious vacation in 5 star resort or a closed to nature trip with a bungalow new the beach. All choices are available for you. You can spend a week here without getting bored and always want to go back again.
1. History
Before 1940, Koh Samui was unknown island without roads or vehicles. The local life was very simple. People communed mostly on foot and boat and almost had no contact outside the islands. And the only way to travel from mainland to Koh Samui was by night boat and it took more than 6 hours. Because of these difficulties, there was no tourism on Koh Samui.
Fortunately, thanks to the order of Thai government in 1973 about constructing the ring road of Koh Samui, this island has changed drastically. People from mainland started to immigrate to Koh Samui because the saw the potential of this place where they can cultivate coconut, durian, banana,… And this change brought a new face for Koh Samui.
Gradually, tourism appeared and drastically replaced agriculture to become the main source of income on the island. Tourist from all over the work has traveled to Koh Samui to admire the pristine beauty of this island. Moreover, the quality of hospitality service, infrastructure is also updated to make sure that visitors will have the best experience.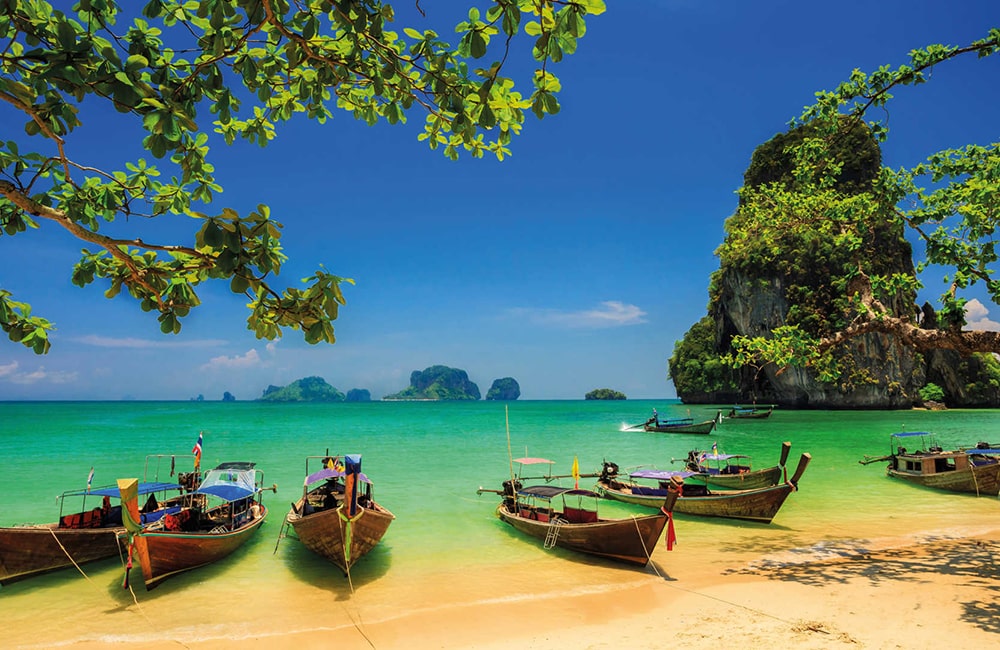 2. Appealing destinations on the islands
2.1 Ang Thong National Marine Park
This place is an archipelago of 42 islands which is a protected area in the gulf of Thailand. The landscape of this park is various from mountains, jungle to beautiful beaches, waterfall and hidden natural lakes. Thanks to this diversity of landscape, the eco-system here is also abundant with wild animal and marine creatures.
There are lots of outdoor activities in Ang Thong that will take all your time here. You can join in snorkeling, kayaking, hiking or diving. But if you don't want to participate in any activitites, you can lie on the beaches and enjoy your day. Mostly, travelers join a day trip to Ang Thong, but if still can stay overnight. There are some simple bungalows and restaurants here.
2.2 Big Buddha Shrine
Big Buddha temple is located in a small island in the north-eastern of Koh Samui. There is a giant Buddha statue considered as landmark of Samui because people can see this statue from the distance. This special statue is built in 1972. The posture of Big Buddha is the symbol of purity, enlightenment in Buddhism. This pose is called Mara posture in which the left hand palm is up while the right one faces down.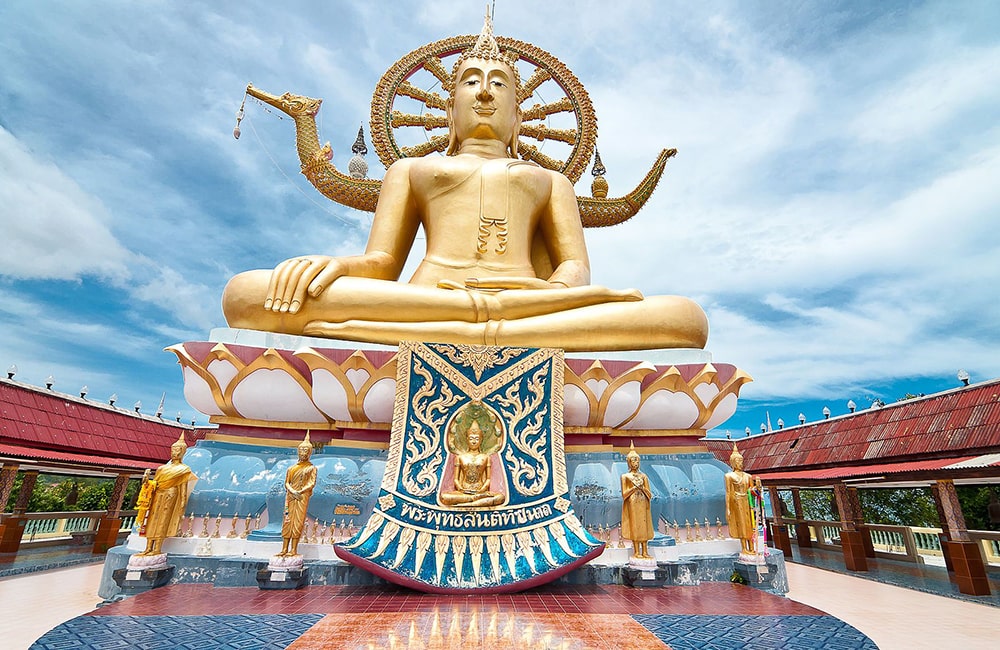 2.3 Fishermen's village Bophut
This village is a historical place on Koh Samui. There are lots of old stores, ancient buildings, cozy restaurants and small hotels. You can find the simple and local atmosphere here instead of tourist one. On every Friday, the village becomes walking area where lots of local and tourist come here to shop and enjoy the peace here. There are lots of nice restaurants along the beach where you can enjoy both good food and the lively waves.
2.4 Hin Ta and Hin Yai
Hin Ta and Hin Yai are interesting naturall rock formations on Koh Samui. People always find the interest in the amazing of nature. These two rocks are also known as Granpa (Ta) and Grandma (Yai) which look like male and female genitals. You may also have chance to hear some myths about these rocks from locals.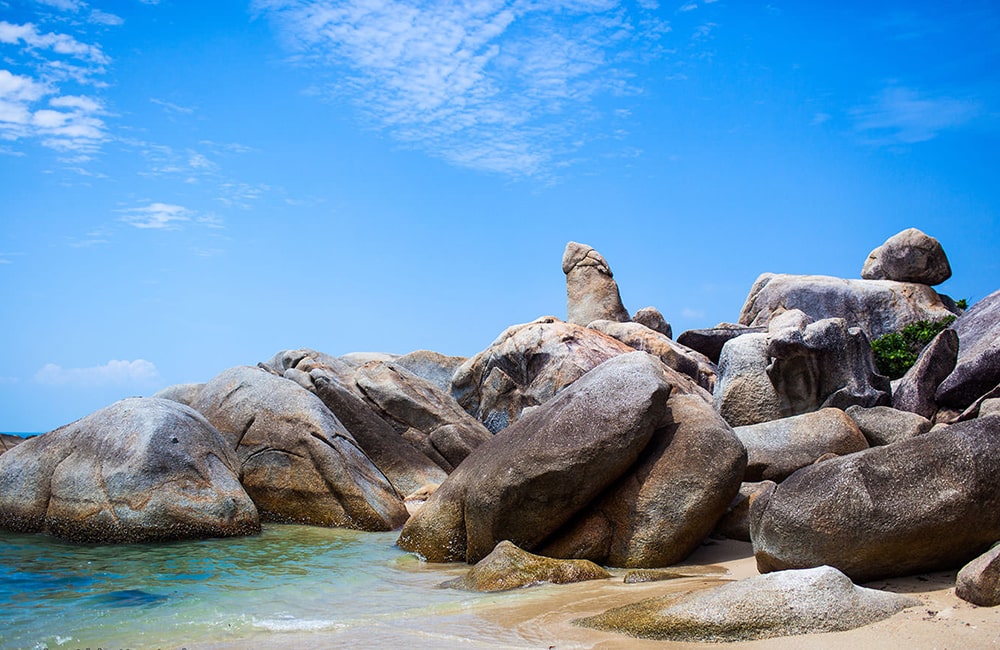 2.5 Koh Tao
This island is not far from Koh Samui. Its name means "Turtle island". Thanks to the beautiful beach, amazing coral reefs and the diversity of marine life, Koh Tao is one of the most popular diving spots in Thailand. Beside of beach activities, you can explore the wild nature of this island. This island is also a nice choice for vacation. Here you can find many kind of accommodation from resort to homestay, lots of good restaurants and dynamic nightlife.
3. Outdoor activities
3.1 Snorkeling
Diving under the warm and clear water of Koh Samui is one of the first things you want to try. Nothing can compare to feeling when you admire the whole wonderful marine life. Seeing sea creatures swimming through colorful coral reefs is so amazing that you might not want to leave the sea. There are various diving spots in Koh Samui like Koh Tan, Koh Phangan, Ang Thong Marine Park,…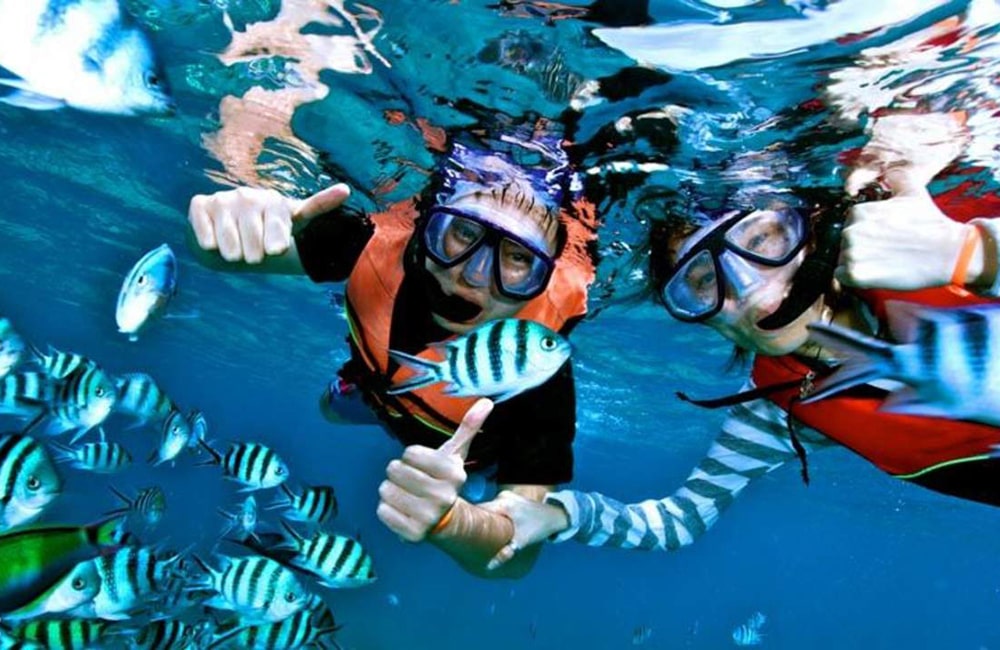 3.2 Kitesurfing
Another adventurous activity in Koh Samui is kitesurfing. This activity requires a little skill, but it's really fun and worth a try. Most of surfing spots in Koh Samui is really flat and swallow which guarantees your safety.
3.3 Kayaking
Thanks to the peaceful sea, kayaking is really relaxing in Koh Samui. This activity is the combination of workout and exploration of calm water, surrounding beaches and islands. This activity is suitable for family, couples even for solo travelers.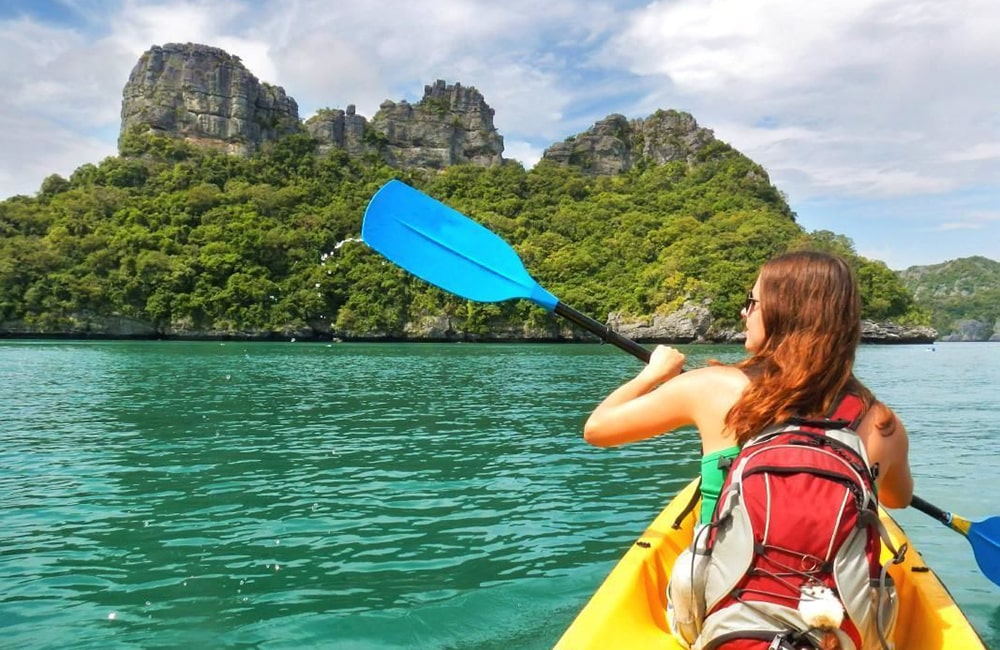 3.4 Crocodile show
If you are looking for thrilling things in Koh Samui, crocodile show is for you. It can take your breath away while watching the performers putting their hands or their head into the mouth of crocodiles. Other shows with snakes, monkeys or lizards are also available. The opening hour is from 10am to 6pm.
3.5 Party at the beaches
With an increase of foreign tourist, there are numerous bars, pubs on the beaches where travelers can party everyday. These bars always attract lots of young crowds having drinks and dancing on the beach. You should join in Full Moon party or lack Moon & Half Moon parties. You definitely have good time here.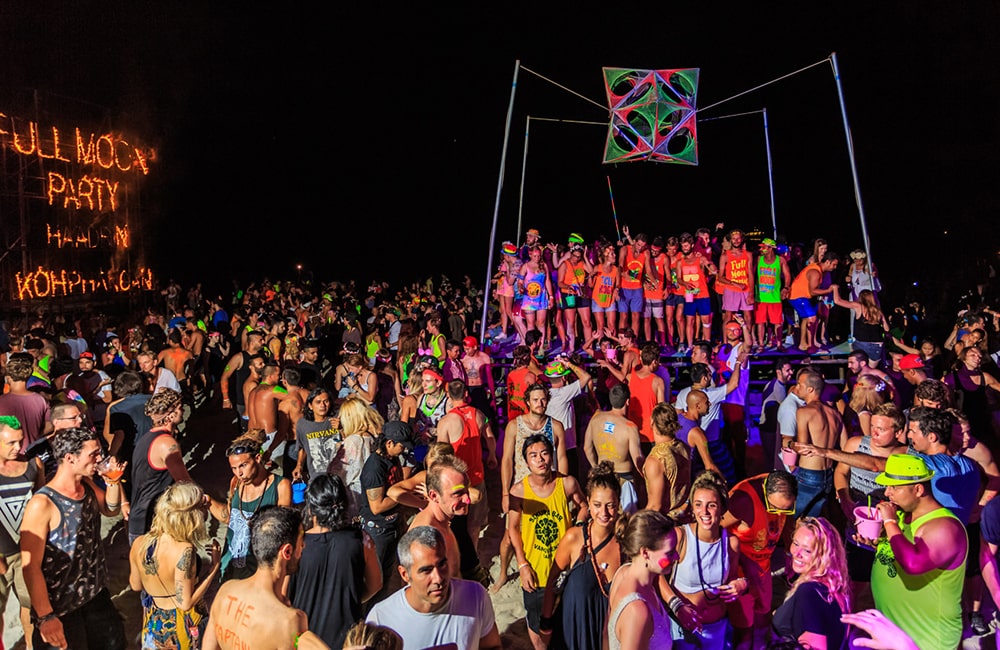 4. Food
4.1 Seafood
Seafood is absolutely the must try dish in Koh Samui. With long coastline and the diversity of marine life, seafood in Koh Samui is really abundant and fresh. You can enjoy fish, jellyfish, crab,… prepared in Thai recipe. It's really different from western recipes. Moreover, all ingredients are grown locally right in the island.
4.2 Kalamae
This is a typical candy made from rice flour, coconut cream and palm sugar. This candy is popular on Koh Samui because people grow lots of coconut trees here. You can find this candy in any market on Koh Samui, but Hin Ta & Hin Yai is where you can find it more easily.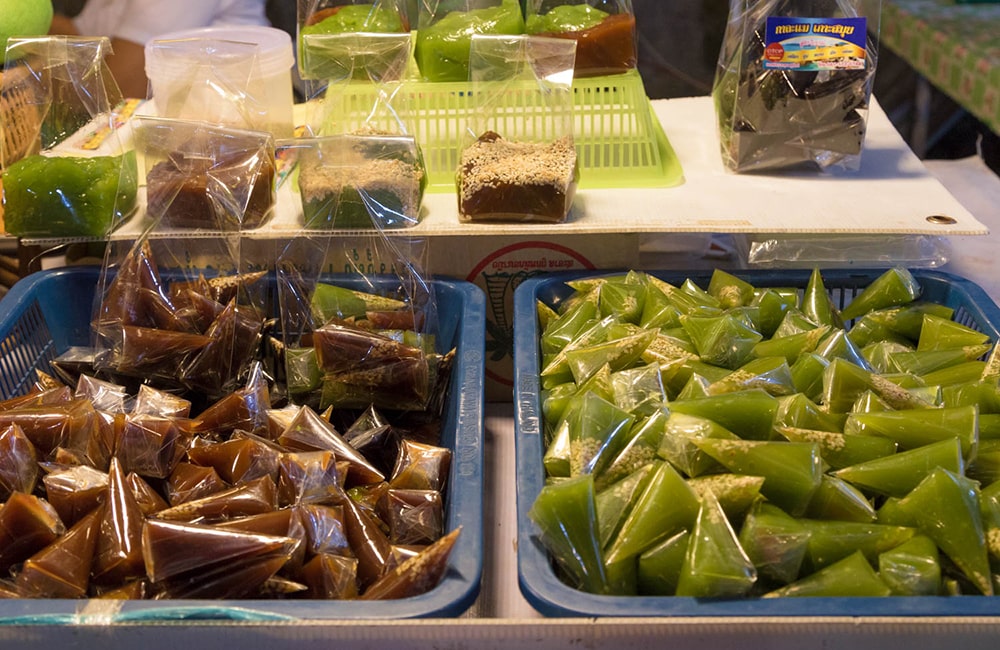 4.3 Satay
Satay is BBQ which are made from chicken, beef, pork, fish,… and served with peanut sauce. In Thailand, this dish is one of the most famous street food with excellent taste. Satay can be found in any restaurant on Koh Samui even in wet market. Also, there are some food stalls in fishermen's village selling this dish.
4.4 Tom Kha Kai
This dish is chicken soup with spicy and sour taste. This dish is very common in Thailand with main ingredients like coconut milk, lime juice, lemon grass, galangal,… Like other asian food, this dish is the combination of meat and herbs. The coconut milk helps to enhance the flavor of main ingredients.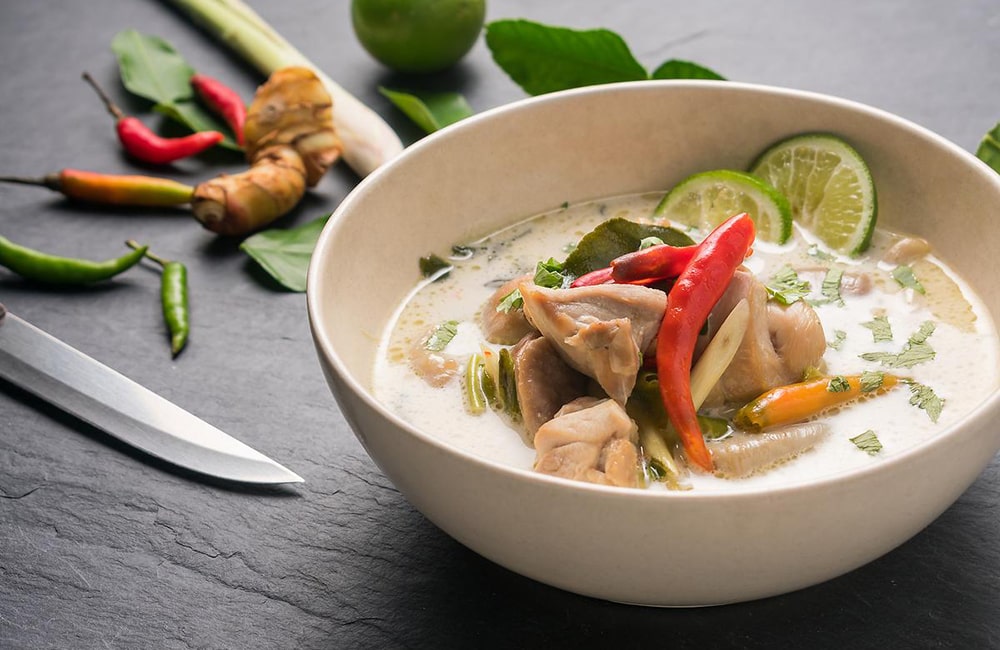 5. How to get to Koh Samui from Bangkok
5.1 By plane
You can book flights from Bangkok to Koh Samui. This is the fastest and most convenient way, but the price for lights is quite expensive. There are 2 airlines you can choose. One is Thai airway with 2 flights a day, the other is Bangkok airway with more frequent flights. When you reach the airport on Koh Samui, you can chose lots of transportation to get your hotel like taxi or bus.
5.2 By train and ferry
Train and ferry are the cheaper option for you. To save time, you should catch night train from Bangkok's Hualamphong train station. When arriving at Don Sak pier, you can take a ferry to Koh Samui. The conventional ferry takes you about 90 minutes while the high-speed one just takes you 45 minutes. For train tickets, you can buy them online or directly at train station.
5.3 By bus and ferry
The final one to get to Koh Samui is by bus. And of course that this option is the cheapest of all. You can catch a bus from Bangkok to Chumphon. Once you reach Chumphon, you can take high speed ferry through Koh Nang Yuan, Koh Tao. By going this route, you can admire the beauty of islands along the way. This option may take you about 11 hours in total.
Good to Know
Languages spoken
Thailand