Welcome to Hue
Pronounced 'hway', this deeply evocative capital of the Nguyen emperors still resonates with the glories of imperial Vietnam, even though many of its finest buildings were destroyed during the American War.
Hue owes its charm partly to its location on the Perfume River – picturesque on a clear day, atmospheric even in less flattering weather. Today the city blends new and old as sleek modern hotels tower over crumbling 19th-century Citadel walls.
A few touts are a minor hassle, but Hue remains a tranquil, conservative city with just the right concentration of nightlife.
1.1.1 Inside the Citadel
Built between 1804 and 1833, the Citadel (Kinh Thanh) is still the heart of Hue. Heavily fortified, it consists of 2m-thick, 10km-long walls, a moat (30m across and 4m deep), and 10 gateways.
The Citadel has distinct sections. The Imperial Enclosure and Forbidden Purple City formed the epicentre of Vietnamese royal life. On the southwestern side were temple compounds. There were residences in the northwest, gardens in the northeast and, in the north, the Mang Ca Fortress (still a military base).
Note that if you're planning to visit the Royal Tombs too, combination tickets including the Citadel and the tombs are available.
1.1.2 Worth a Trip: Royal Tombs South of Hue
South of Hue are the extravagant mausoleums of the rulers of the Nguyen dynasty (1802–1945), spread out along the banks of the Perfume River between 2km and 16km south of the city. There are also fine pagodas and other sights.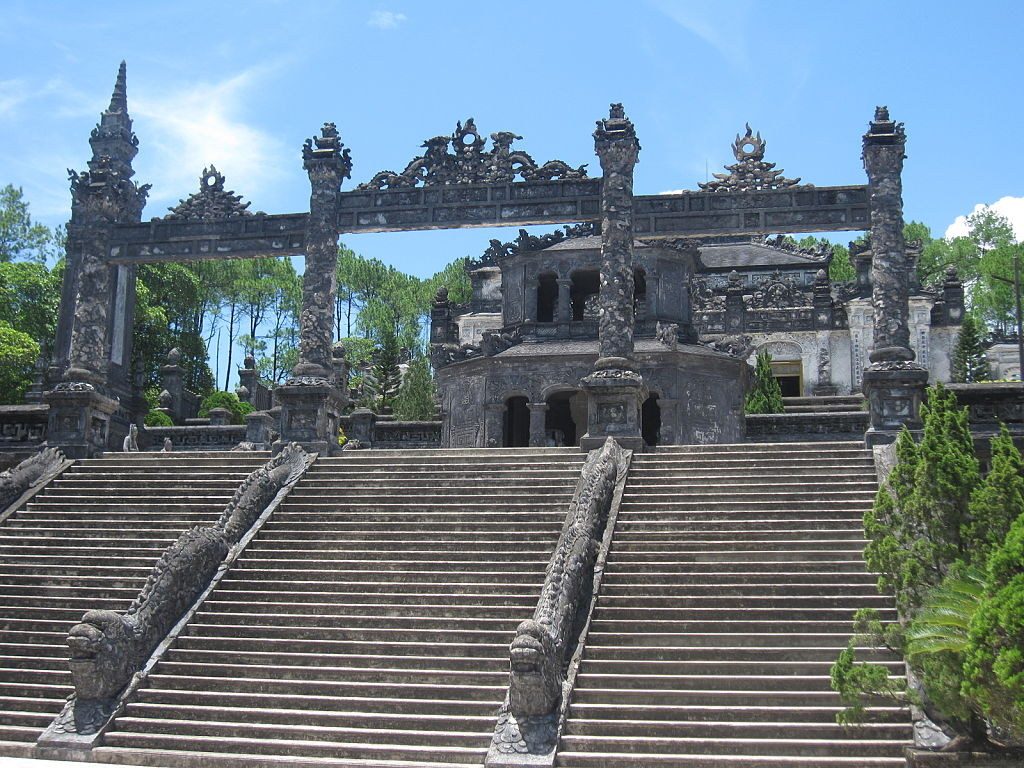 Almost all the royal tombs were planned by the emperors during their lifetimes, and some were used as residences while they were still alive.
Most of the mausoleums consist of five essential elements. The first is a stele pavilion dedicated to the accomplishments, exploits and virtues of the emperor. Next is a temple for the worship of the emperor and empress. The third is an enclosed sepulchre, and fourth an honour courtyard with stone elephants, horses, and civil and military mandarins. Finally, there's a lotus pond surrounded by frangipani and pine trees.
Most people visit on an organised tour from Hue, either by boat or combining boat and bus, but it's possible to rent a xe om or bicycle and do a DIY tour.
Entrance to the main sites is adult/child 150,000/30,000d per site, but discounted combination tickets including the Citadel are also available.
1.1.3 Worth a Trip: Tombs & Dunes
From the centre of Hue it's only 15km north to the coast, the road shadowing the Perfume River before you hit the sands of Thuan An Beach. Southeast from here there's a beautiful, quiet coastal road to follow with very light traffic (so it's ideal for bikers). The route traverses a narrow coastal island, with views of the Tam Giang-Cau Hai lagoon on the inland side, and stunning sandy beaches and dunes on the other. This coastal strip is virtually undeveloped, but between September and March the water's often too rough for swimming.
From Thuan An the road winds past villages alternating between shrimp lagoons and vegetable gardens. Thousands of garishly colourful and opulent graves and family temples line the beach, most the final resting places of Viet Kieu (overseas Vietnamese) who wanted to be buried in their homeland. Tracks cut through the tombs and sand dunes to the beach. Pick a spot and you'll probably have a beach to yourself.
At glorious Phu Thuan Beach (about 7km southeast of Thuan An) are the funky Beach Bar Hue and charming Villa Louise. The restaurant and beach can be used by outside guests – there's an entrance fee of 100,000d, which can be offset against food and beverage purchases in the beachfront bar. For 250,000d per person, guests can also use the lovely pool area at Villa Louise. A taxi from Hue to Phu Thuan is around 250,000d and a xe om (motorbike taxi) around 100,000d. Ask at backpacker hostels in Hue about occasional shared shuttles to Beach Bar Hue.
Around 8km past Beach Bar Hue, the remains of Phu Dien, a small Cham temple, lie protected by a glass pavilion in the dunes just off the beach. There are seafood shacks here too.
Continuing southeast, a narrow paved road weaves past fishing villages, shrimp farms, giant sand dunes and the settlement of Vinh Hung until it reaches the mouth of another river estuary at Thuon Phu An, where there's a row of seafood restaurants. This spot is 40km from Thuan An. Cross the Tu Hien Bridge here and you can continue around the eastern lip of the huge Cau Hai lagoon and link up with Hwy 1.
1.2 Sleeping
Hue accommodation rates are well below those in Hanoi or HCMC. The main tourist enclave is between Ð Le Loi and Ð Vo Thi Sau, and other good options are along Ð Nguyen Cong Tru.
1.3 Eating
We have the famed fussy eater Emperor Tu Duc to thank for the culinary variety of Hue.
Vegetarian food has a long tradition in Hue. Stalls in Dong Ba Market serve it on the first and 15th days of the lunar month.
Hue also has great street food. Consider a street-food tour with Hue Flavor.
Royal Rice Cakes
These savoury Hue specialities come in different shapes and sizes, but are all made with rice flour. The most common is the crispy fried, filled pancake banh khoai (smaller and denser than southern Vietnam's banh xeo pancakes). The other variations are steamed and sticky rice–like, and are usually topped with shrimp and dipped in sweet fish sauce. Look for banh beo, which come in tiny dishes; banana-leaf-wrapped banh nam; transparent dumplings banh loc; and the leaf-steamed pyramids banh it, which can come in sweet mung-bean or savoury varieties.
1.4. Drinking & Nightlife
Hue has a very active bar, pub and club scene. Most of the action happens along Ɖ Pham Ngu Lao and Ɖ Vo Thi Sau.
1.5 Shopping
Hue produces the finest conical hats in Vietnam. The city's speciality is 'poem hats', which, when held up to the light, reveal shadowy scenes of daily life. It's also known for its rice paper and silk paintings.
2.1 Etiquette
Meals When dining with Vietnamese people, it's customary for the most senior diner to pay for everyone. It is still polite to offer to pay at least once.
Homes Remove your shoes when entering a private house.
Heads Don't pat or touch an adult (or child) on the head.
Feet Avoid pointing your feet at people or sacred objects (eg Buddhas).
2.2 History
In 1802, Emperor Gia Long founded the Nguyen dynasty, moved the capital from Hanoi to Hue in an effort to unite northern and southern Vietnam, and commenced building of the Citadel. The city prospered, but its rulers struggled to counter the growing influence of France.
French forces responded to a Vietnamese attack in 1885 by storming the Citadel, burning the imperial library and removing every object of value. The emperors continued to reside in Hue, but were excluded from events of national importance.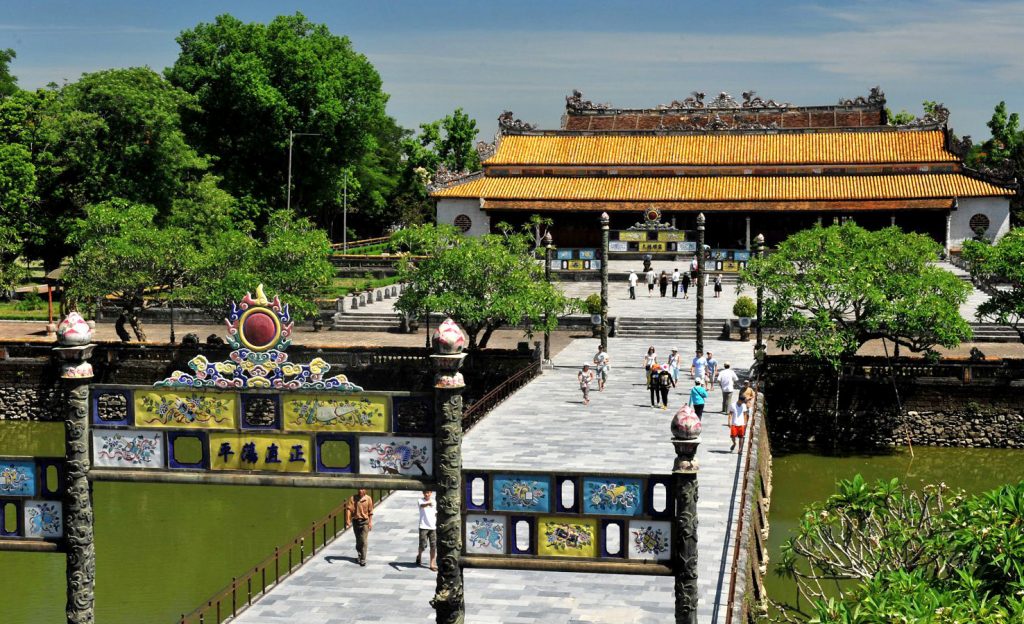 The attention again shifted to Hue during the 1968 Tet Offensive. While the Americans concentrated on holding Khe Sanh, North Vietnamese and Viet Cong (VC) forces seized Hue, an audacious assault that commanded headlines across the globe.
During the 3½ weeks that the North controlled the Citadel, more than 2500 people (ARVN soldiers, wealthy merchants, government workers, monks, priests and intellectuals) were killed. The North called them 'lackeys who owed blood debts'. The USA and South Vietnamese responded by levelling whole neighbourhoods, battering the Citadel and even using napalm on the imperial palace. Approximately 10,000 people died in Hue, including thousands of VC troops, 400 South Vietnamese soldiers and 150 US Marines – but most of those killed were civilians.
Journalist Gavin Young's 1997 memoir, A Wavering Grace, is a moving account of his 30-year relationship with a family from Hue, and is a fine literary companion to the city.
2.3 Other Features
A Fiery Protest
Behind the main sanctuary of the Thien Mu Pagoda is the Austin motorcar that transported the monk Thich Quang Duc to the site of his 1963 self-immolation. He publicly burned himself to death in Saigon to protest against the policies of South Vietnamese President Ngo Dinh Diem. A famous photograph of this act was printed on the front pages of newspapers around the world, and his death inspired a number of other self-immolations.
The response of the president's notorious sister-in-law, Tran Le Xuan (Madame Nhu), was to crassly proclaim the self-immolations a 'barbecue party', saying: 'Let them burn and we shall clap our hands'. Her statements greatly aggravated the already substantial public disgust with Diem's regime. In November, both President Diem and his brother Ngo Dinh Nhu (Madame Nhu's husband) were assassinated by Diem's military. Madame Nhu was overseas at the time.
Another self-immolation sparked fresh protest in 1993. A man arrived at the pagoda and, after leaving offerings, set himself alight chanting the word 'Buddha'. Although his motivation remains a mystery, this set off a chain of events whereby the pagoda's leading monks were arrested and linked with the independent United Buddhists of Vietnam, the banned alternative to the state-sanctioned Vietnam Buddhists. This led to an official complaint to the UN by the International Federation of Human Rights, accusing the Vietnamese government of violating its own constitution, which protects freedom of religion.
3.1 Getting Around
To/from the airport Hue's Phu Bai Airport is 14km south of the city. Metered taxis cost about 240,000d to the centre; or take the Vietnam Airlines minibus service (50,000d) from outside the airport to their offices a 15-minute walk from the hotel area of Hue – taxis and xe omwill be waiting here.
Bicycle Pedal power is a fun way to tour Hue and the royal tombs. Hotels rent bicycles for around US$3 per day. Traffic around Hue can be busy, especially on the bridges crossing the river, so take care when cycling.
Car A car with driver costs US$50 to US$55 per day.
Cyclo Drivers usually quote extortionate prices in Hue, and a short ride begins at around 40,000d. It's usually cheaper and quicker to get a metered taxi.
Motorbike From US$5 to US$10.
3.2 Flights & getting there
Flights to Hue
Ready to make it happen? Search for the best deals on flights to Hue now.
Air
Jetstar (www.jetstar.com) and VietJet (www.vietjetair.com) offer flights to/from HCMC. Vietnam Airlines has services to/from Hanoi and HCMC.
Bus
The main bus station, 4km southeast of the centre, has connections to Danang and south to HCMC. An Hoa bus station, northwest of the Citadel, serves northern destinations, including:
For Phong Nha (around 135,000d, five hours), the Hung Thanh open-tour bus leaves 49 Ð Chu Van An at 4.30pm, and the Tan Nhat bus leaves from the Why Not? Bar on Ð Vo Thi Sau around 6.30am. Also convenient is a daily bus (150,000d) leaving the DMZ Travel bar in Hue at 2pm. This departure travels directly to Phong Nha, but there is also the option of incorporating a tour of the DMZ en route.
Hue is a regular stop on open-tour bus routes. Most drop off and pick up passengers at central hotels. Expect some hassle from persistent hotel touts when you arrive.
Train
The Hue train station is at the southwestern end of Ð Le Loi. A taxi here from the hotel area costs about 70,000d.
Good to Know
Languages spoken
Vietnamese