Heho gateway of Inle Lake and the famous Kalaw region of Myanmar. From here you can visit the Green Lake, the blue sky deep into each other. Water surface rolled wave, sparkling, white flock of birds flying sky. Most impressive, is the image of the Inle fishermen, with a traditional Longiyong skirt, sunless sunbathing, and rowing as artists with one foot in the middle of immense wave.
1. Overview about Heho travel
Bagan is located on the banks of the Ayeyarwady River (Irrawaddy), a few miles south of Mandalay and north of Yangon. During the heyday of Bagan, this was the center of the Pagan Kingdom, now Myanmar. More than 10,000 Buddhist works have been built here. Today, however, only 2,000 remain. These Buddhist buildings are the main reason for attracting visitors to Myanmar. Heho is a small town in Kalaw Township, Shan State. As geography, this destination is the gateway to Inle Lake.
2. How to get to Heho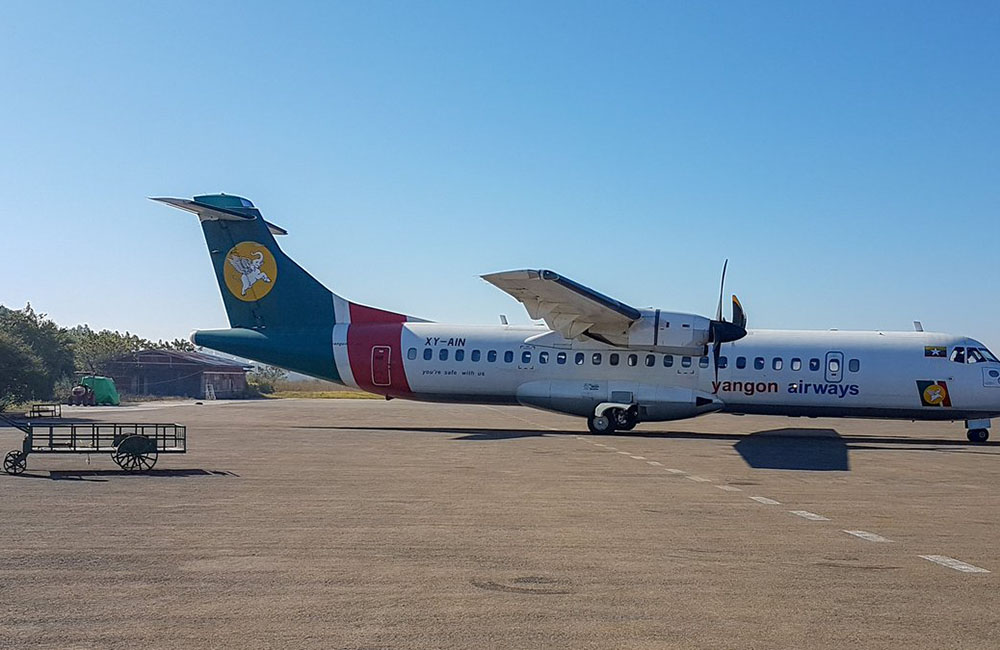 Flight: If you want to save time, the plane is the means to take you to Bagan fastest. Many domestic airlines from Mandalay, Heho and Yangon offer direct flights to Nyaung U Airport (the nearest airport to Bagan). The flight is about 30-40 minutes from Heho, and an hour and 20 minutes from Yangon. Ticket price is about MMK80k (equivalent to over 13 million VND).
Bus ride: Day or night bus trips are the most popular option because the bus system in Bagan is very good and inexpensive. Bagan routes depart from Yangon, Mandalay, Nyaung Shwe, Taunggyi, Kalaw and Pyin Oo Lwin. The car will stop at a stopover for several hours, and provide a wet towel and complimentary bottled water for guests.
Train: Take the train, you will be beautiful countryside of Myanmar through the window. However, the train system in Myanmar is not very developed and often comes late as expected. There are three types of compartments, the normal compartment of a wooden chair, the first compartment of a couch, and the compartment of a bed. However, whether you choose to sit in any compartment, must also prepare for a long and rocky ride in front.
Cruise: If you feel a bit more adventurous and have more time, sailing to Bagan will be an interesting option. Trains to Bagan travel on the Ayeyarwady River and will take an average of 12 hours to arrive.
3. Travel around Heho
What you need to do when you arrive in Heho is to find a map. Some hotels will provide free maps to guests. If not, you can buy for only MMK1k
Once you have the map in hand, you can start your Bagan journey! These are the means of transportation in Heho:
Take a taxi: Renting a taxi is the most comfortable way to explore Heho, as Bagan is quite sunny and dusty. However, one day taxi ride you will have to spend MMK35k (about 600,000 VND). You should also give the taxi driver a handful of tips, especially when they have taken the time to introduce you to Bagan as an amateur travel guide!
Horse Riding: If you want to explore Heho in a "traditional" way, you can rent a carriage with about MMK15-20k a day. However, the carriage is not very fast!
Cycling or electric motorbike: This is the most fun way to travel in Heho, and also the cheapest means. You can rent an electric motorcycle for MMK6-8k or a bike for MMK2-5k for the whole day! But cycling around Heho in hot weather requires good health and plenty of water. You can choose electric scooters, but remember before you go to check that the battery is fully charged and record the phone number of the garage so you can call when something goes wrong.
4. Visiting Inle lake
Mandalay has a morning flight to Heho, the gateway to Inle Lake and Kalaw. If you do not want to spend the morning on the move although the flight from Mandalay to Heho takes about 20 minutes, you can choose to take Heho by night bus from Mandalay, departing at 7 pm and Shwenyaung – A bus stop at Inle Lake 11km around 6am the next day. The bus fee is $ 12 per visitor. Short-haul flights can only be made in the high season from November to February next year by three domestic carriers, Air Mandalay, Air Bagan and Yangon Airline, at relatively high rates.
To explore Inle Lake, you have only one option: take a boat ride. A motorboat usually carries 4 tourists and costs about $ 10 a day, with life jackets and umbrellas. You can easily rent one at any time at the marina, make a one-day or two-day itinerary depending on whether you want to sleep in a floating village in central Inle Lake. The vastness and beauty of Lake Inle will seduce you, making you feel really regretful if at least once not woke up in this place, and so we decided to take a night out on Although the cost of the hotel here is quite high, average $ 50 per 1 double / 1 night.
5. Where to eat in Heho
Weather Spoon's: This restaurant and bar is a very popular place in the Nyaung U restaurant area. Many believe that it serves the best chicken burger in Bagan!
La Terrazza: Also located in the Nyaung U restaurant, this Italian restaurant makes yummy pizzas and pastas. The wines here are not bad either.
Aroma 2: This is an Indian restaurant with very romantic space, suitable for dating. The food is a bit long but the curries here are authentic Indian flavor and delicious.
The Moon: This restaurant claims to be the first vegetarian restaurant in Bagan. I do not know if it's right or not. The food here is very good. It is located near the Ananda Temple in Old Bagan.
7 Sisters: This is an outdoor restaurant in New Bagan, run by, guess you see, 7 sisters! This restaurant serves Myanmar (Burmese), Thai, Chinese and even European cuisine. I recommend try the curry yellow pig has a very impressive taste!