Welcome to Chiang Khong
Chiang Khong is a small, peaceful town in Chiang Rai, Northern Thailand. This town has the great diversity of ethnic culture. It's home of Thai people, Laotian and some hill tribes. Every year, there are various festivals held here. And it's also one of the main reasons attracting tourist besides of beautiful sightseeing.
1. History
Chiang Khong was established in 710AD as a riverside trading town by King Mahathai. Gradually, the territory of Chiang Khong was extended. Now there is a bridge connecting Chiang Khong, Thailand with Laos. Moreover, this bridge also leads you to Southern China.
Thanks to the unique location, the population is Chiang Khong is quite diverse with Thai people, Laotian and tribal hill people. There are 9 hill tribes groups here with different costumes and cultures. In general, Chiang Khong is a developing town. There are lots of local young people after finishing their education in big cities coming back here and contributing to the development of the community.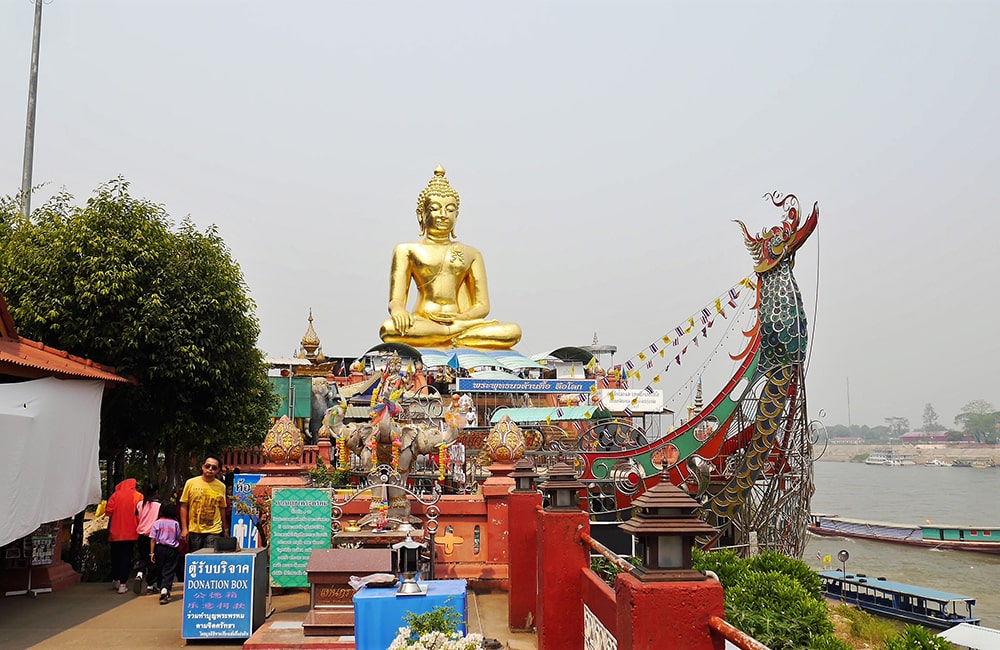 2. Must – see destinations in Chiang Khong
2.1 The old town Chiang Khong
This small old town is the famous attraction among tourist. Every Friday night, there is a small lovely market where you can find every local things. There are also lots of food stalls, and you can enjoy some Thai street food. Moreover, we can't help but mention street performance. There are some groups which dance and do some magical tricks to entertain people.
2.2 Wat Phra Kaew
Wat Phra Kaew is royal temple. This is one of the most important temple for Buddhist and it has connection with Wat Phra Kaew in Chiang Rai and Bangkok. Before reaching the steps to temple, you can walk along the river to warm up. This temple is not too big, so you can finish the visit in one hour.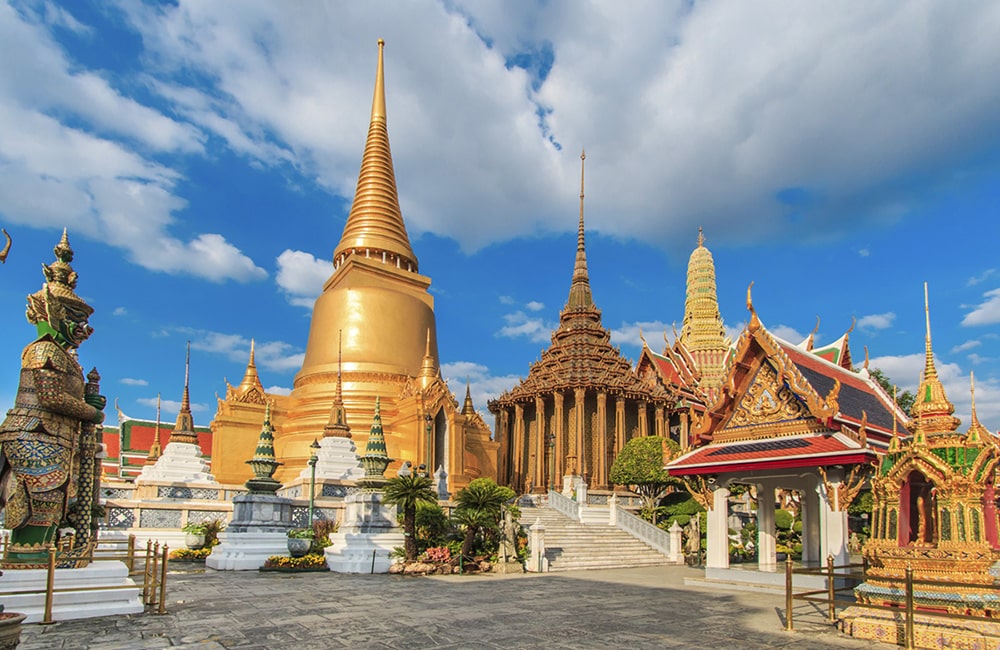 2.3 Wat Luang
This small temple is located on the main street of Chiang Khong, near Mekong river. It's well preserved and colorful. Sometimes, locals will hold ceremonies in the temple so if you are lucky enough you can join in. The perfect time to visit this temple is at dusk when you can enjoy peaceful and tranquil atmosphere.
3. What to do in Chiang Khong?
3.1 Visit Hmong village and waterfall
People in this village are a part of Khamu hill tribe. This small and peaceful village will make your day. Then you can trek or ride a bike along the river which is near the bridge. To reach to waterfall, you have to trek through a rough path so you should prepare proper shoes. There are two waterfalls here where you can swimming, drinking water and getting nice surrounding view.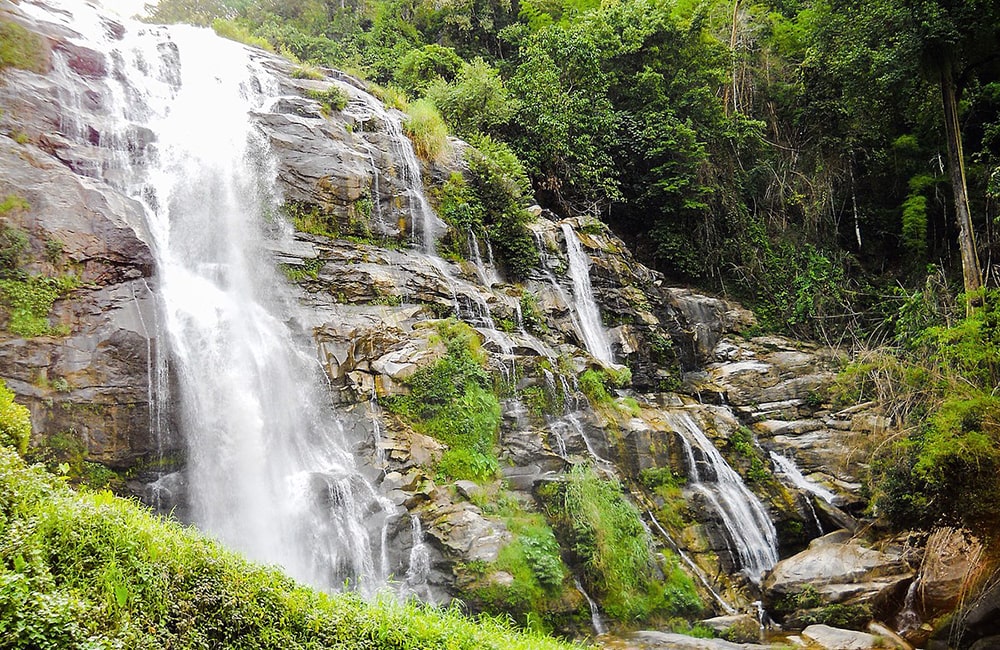 3.2 Join in giving alms to the monks
On weekend in early morning, you can easily meet local giving alms to monks walking on the street. You also can join in with the locals. On November and February, there is a long line of monks walking to temple and along the way they collect alms from locals. The alms are food, flower and water.
3.3 Visit Buddhist temples
Although Chiang Khong is a really small town, there are lots of Buddhist temples here like Wat Phra Kaew, Wat Luang,… In these temples you can find colorful, giant and amazing Buddhist statues. And there are lots of interesting festivals held in these temples so visiting these places is your chance to join in some exciting fes.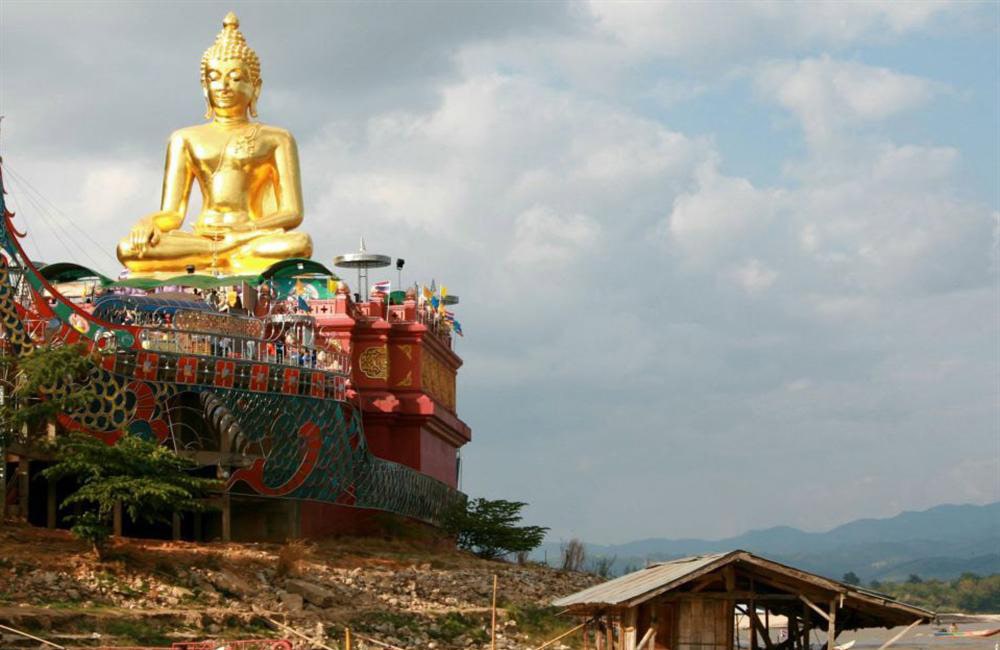 3.4 Try local food
One of the most interesting things when traveling is trying local food. In Chiang Khong, there are lots of local markets where they also sell some Thai snacks. Some of these dishes are made from insects or lizards and it will scare you. However, they taste really good and local recipe is amazing. And one thing you most notice is that most of Thai food is spicy so if you can't handle don't try too much.
4. Where to eat in Chiang Khong
4.1 Padthai Baan Yim
This is a family restaurant which is very famous in Chiang Khong. They serve various traditional Thai dishes like pad Thai with price from 35 baht, curry and fried rice range from 70 to 100 baht. Their dishes are really authentic and good. Therefore, when they are busy you might have to wait for a while. You can find this spot on main street, right next to Namkhong Riveside.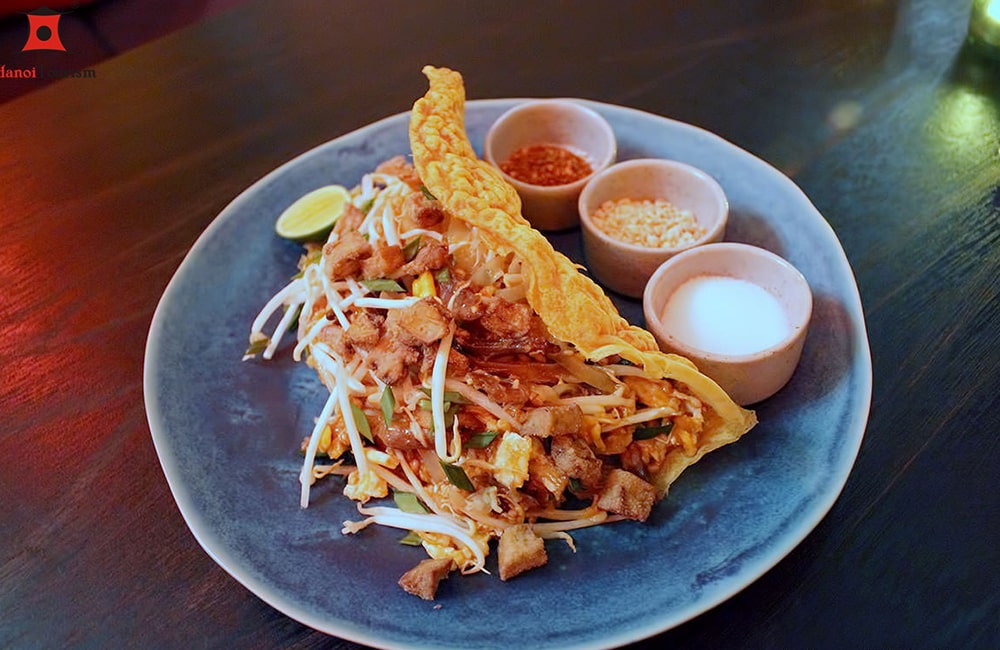 4.2 Bamboo Restaurant
This cheap restaurant with high quality will please you. This restaurant is the combination of coffee bar and Thai and Mexico restaurant. You might wonder why Mexican food appears in Chiang Khong, right? Ask the owners, they are always willing to telling you why. However, Mexican food is only served in the evening with typical dishes like tacos, burritos, enchiladas,… You also should try juices here. They
are fresh and homemade.
4.3 Food vendors in the street
The best way to discover the local cuisine is street food. You shouldn't miss food vendors a long Sai Klang in the evening. You can find a Thai food paradise here. Most of food stalls change their location each day, while some have fixed location. Try some Thai snacks and noodles and you will never reget.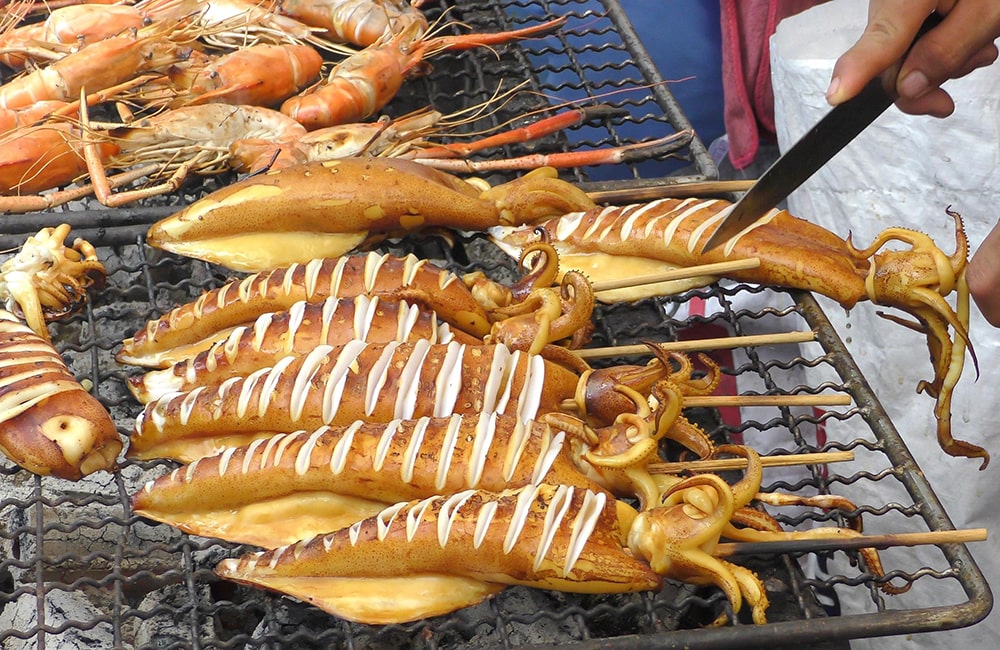 4.4 Coffee shops
You also can find lots of interesting coffee shops where you can spend your time to relax or watch the street in Chiang Khong. Chim coffee is my favorite one. You can enjoy cosy and rustic atmosphere here with a diverse menu of smoothies, coffee and teas. They also serve western breakfast with reasonable prices and good seats to watch the street. You also can visit Baan – Fai, Riders Coffee Shop,…
5. Where to stay in Chiang Khong?
5.1 Day Waterfront Hotel
This is a mid-size hotel with really good reputation. Moreover, thanks to fully English name, travelers remember this hotel more easily. The price here is very reasonable with excellent services, rooms with nice view. The rooms are spacious, bright, clean and airy.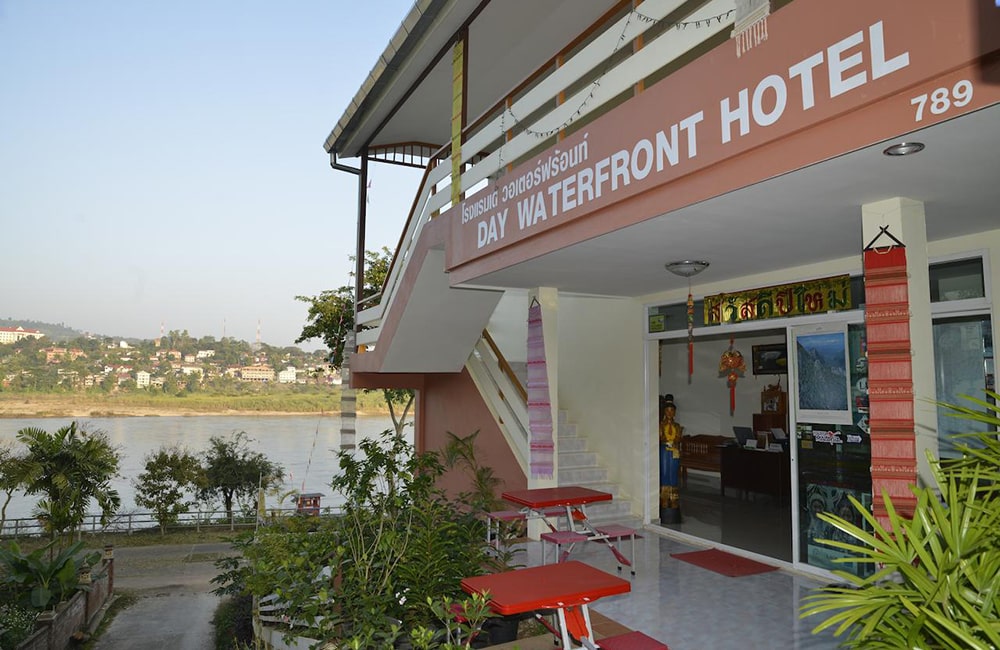 5.2 Chiang Khong River View
Like its name, this hotel is located near the river, which give you a great riverside view. This is a 4 storey building with spacious floors. You can find reception, coffee bar and small garden in the second floor. All rooms have river view.
5.3 Chiang Khong Green Inn Resident
This is a 4 storey building painted pastel green. This hotel offers you river views and street views. There are lots of restaurants, coffee shops around this hotel so you can choose to have breakfast at hotel or just walk around and have something local.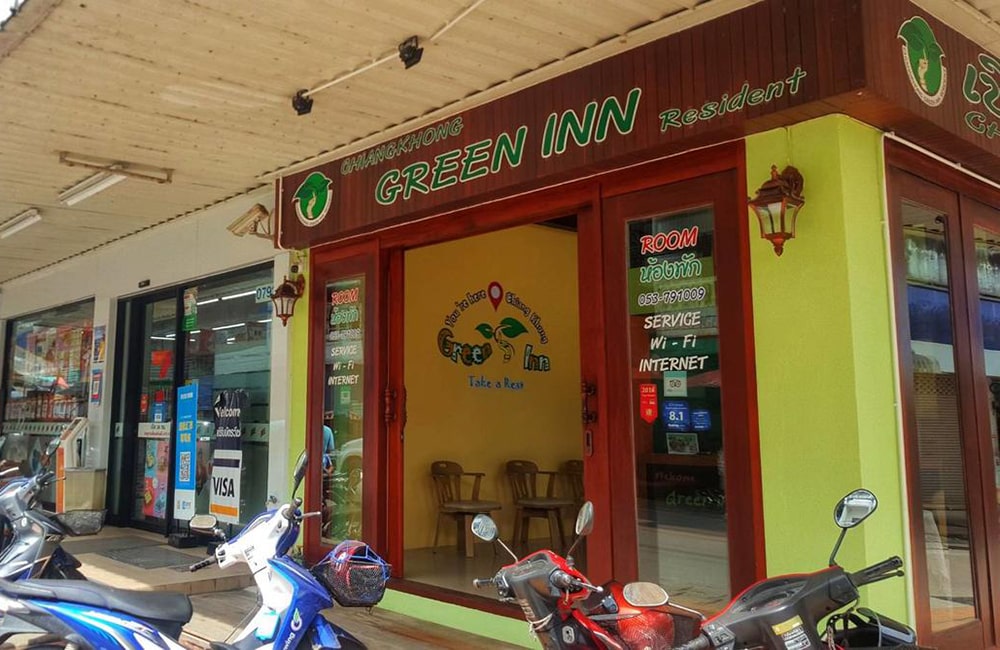 5.4 Funky Box
This hostel offers you cheaper option for accommodation with dorm room. You might worry about sharing your room with others, but no need to. Rooms are very clean, cosy and bright and you also have privacy with curtain and lock box. The decoration might interest you. Instead of using mono color for the bed dorm, they painted it with various colors.
6. When is the best time to visit Chiang Khong?
Spring (March to May): The temperature of this time is quite high from 32 to 35 degrees. However, with the high precipitation, you won't feel uncomfortable and hot much. This time is the low season of tourism so if you are looking for good deals and cheap services,
this time is appropriate.
Summer (June to August): This time of the year is still low tourist season in Chiang Khong. In general, the weather is quite similar to spring with warm temperature and high precipitation.
Autumn (September to November): Here comes the high season of tourism in Chiang Khong. At this time prices of hotels, services all increase. In contrast, you will enjoy the weather more. The temperature is lower, which means it's cooler and more windy.
Winter (December to February): This is the busiest period of tourism. This is because the weather is perfect in Chiang Khong. The temperature is moderate, which make all travelers feel enjoyable. Moreover, because of the low precipitation, you don't need to worry that bad weather will ruin your plan.