Welcome to Nha Trang
For any vacation, nowhere is more suitable than Nha Trang, Vietnam. What will you have here? Almost everything you need for a perfect vacation such as beautiful beaches, interesting activities, good food, luxurious hotels and resorts and amazing view.
But is it enough for your vacation? Besides of the joy from 5 star services, you also have chance to discover more about the culture and history of the central of Vietnam. Ancient ruins will bring you back thousands years ago to the Champa Kingdom. And here are some useful information, if you are planning a trip to Nha Trang
1.Geography
Nha Trang is a city of Khanh Hoa province. This city shares its border with Ninh Hoa, Cam Lam, Dien Khanh and the South China Sea. Nha Trang is surrounded mostly by mountains and it also has a large island. With its unique position, Nha Trang always shows up in list of the most beautiful bays in the world.
2. Discover Nha Trang
It might take you several days to discover every corner of Nha Trang. This city not only offers you pristine beaches but also various interesting destinations that bring you unforgettable memories. Here are some amazing places that attract tourist the most.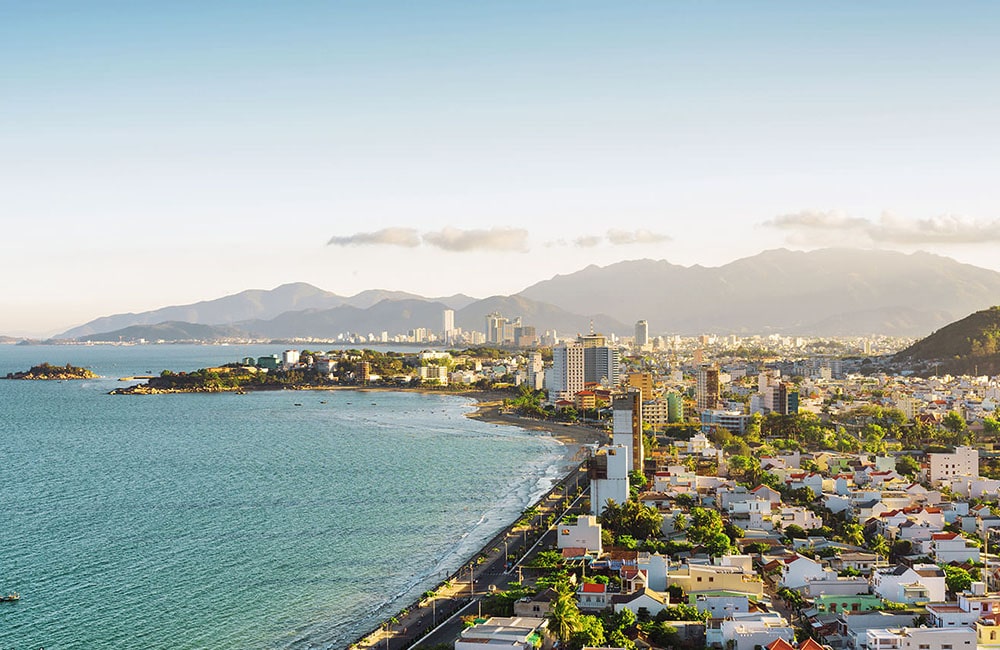 2.1 Po Nagar Cham Tower
This tower is a typical ruin of Cham civilization which was built before 718 A.D. This complex comprises several towers in which people still organize some spiritual ceremonies. There is also a small museum where you can see photos and ancient objects of this era. The Cham architecture and art had huge influence in Vietnam thousands years ago, so along the country you might meet lots of relics like this one. And if you have been to Cambodia, you might see the similarity between Po Nagar and Angkor Wat.
2.2 Beautiful beaches
Can't miss out beaches in Nha Trang. With a long coastline,  there are lots of amazing and pristine beaches in Nha Trang. You won't find anywhere in Vietnam has marvelous beaches like in Nha Trang.
Tran Phu Beach
Tran Phu street parallels the coast of Nha Trang. One side you the road is luxurious resorts and hotels like Intercontinental, Sheraton,… and the other is beautiful beaches, of course. So it's very convenient for you, if you stay at this street. Moreover, along the street there are lots of excellent restaurants, coffee shops, bars, pubs where you can relax at night with your friends.
Bai Dai Beach
Not far from Tran Phu beach is Bai Dai beach. This place is the great idea if you are looking for somewhere to relax and enjoy the atmosphere more than mingle yourself in other tourists. This beach is quite pristine with less restaurants and hotels than in the former. You can lie on the beach and read a book or participate in various beach sport like swimming, surfing, volleyball,… Restaurants here are decorated in western way with wooden facilities so you might feel more familiar and more comfortable here.
Doc Let Beach
This beach offers backpackers wide range of cheap accommodation. This place is also popular for palm trees, fishing boats, white and fine sand. You are a photographer, you might find lots of interesting and arty view in Doc Let beach. Like Bai Dai beach, this beach is also pristine, untouched with various local restaurants where you can have fresh seafood.
2.3 Ba Ho Waterfall
Ba Ho Waterfall is situated about 20 km north of Nha Trang. This destinations is very famous among foreign tourists for outdoor activities like hiking, swimming, picnic,… This place comprises 3 waterfalls falling down a clear lake surrounded by rainforest. Moreover, you have to pay 20.000 VND for entrance fee. Anyway, this place is suitable, if you are looking for somewhere closes to the nature and has fresh atmosphere.
2.4 Hon Mun Marine Protected Area
This area was established in 2002 and is dedicated to aquatic sports like diving, snorkeling. Thanks to the preservation, you will have chance to admire stunning coral reefs and breathtaking diversity of marine life. If you don't know how to dive, don't worry. There are several diving centers provide you with their course and trainers. So why don't take advantage of learning scuba diving as well as discovering undersea world.
3. Activities
3.1 Swimming
Come to the world of beach, you must go to swimming. Beaches in Nha Trang are very different from other places in Vietnam. The water is emerald green and the sand is always warm and sparkling under the sun. You would enjoy your swimming the most in Nha Trang. But if the weather doesn't allow, you also can choose some rooftop swimming pool at any resort and hotel here.
3.2 Scuba diving
The marine life in Nha Trang is abundant and you don't want to miss your chance to admire it. In addition, you also can see some stunning coral reefs. However, you should choose protected areas where coral reefs are more preserved than other places. Some diving spots you can check are Madonna Rock, Mama Hanh Beach,….
3.3 Cycling
Hiring a bicycle and riding along the coastline are also an excellent option. There are lots of cycling tours that lead you various traits. And they all require you to have stamina to finish. Otherwise, you can choose to ride along the coastline instead. Wide and flat lane with light slope will be more comfortable for you.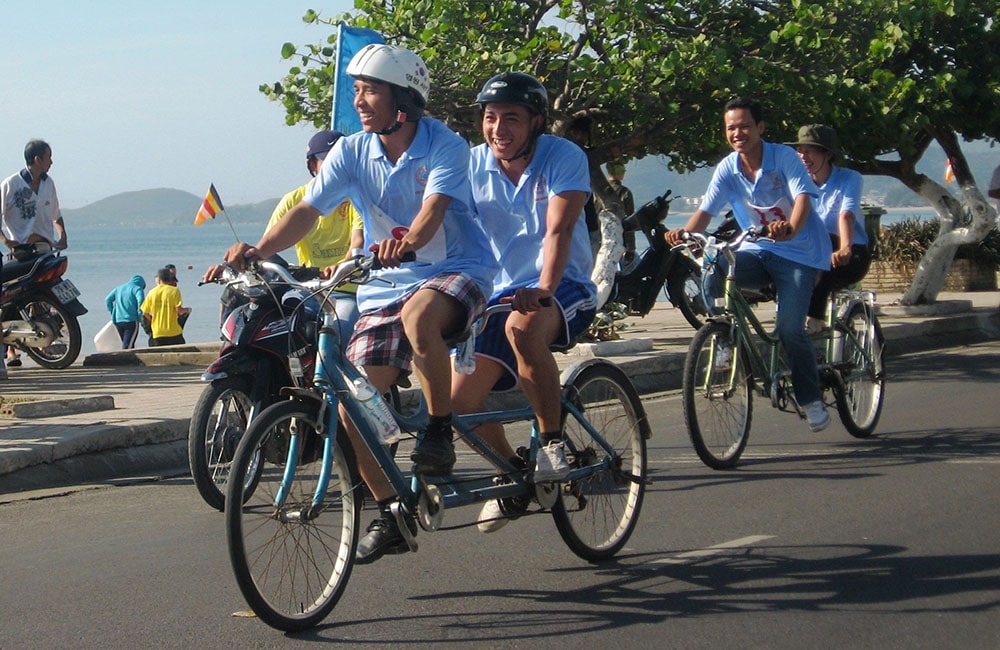 4. Accommodation
4.1 5-star resorts and hotels
Six Senses Ninh Van Bay
This resort offers you high-end facilities and services. It's located in an outstanding area with exotic architecture. The design and architecture of this resort focus on not only giving the clients luxurious experiences but also being environment-friendly. This resort has 58 villas with 5 different types which gives you wide range of choice. Price for one night here is from $627
Vinpearl Luxury Nha Trang
If you play golf, this place is perfect for you. Vinpearl Luxury Nha Trang is next to a golf course. There is also open space in this place like swimming pool, bar, restaurant,… All services are guaranteed 5 star quality for you. Price is from $347 per night.
Intercontinental Nha Trang
You must be familiar with this luxurious hotel. In Nha Trang, this hotel is located in Tran Phu street which only takes you about 10 minutes walk to the beach. This hotel provides you with various services like limo car service, express check-in, airport shuttle,… There is also a spacious conference room for special event. You must pay from $131 per night here.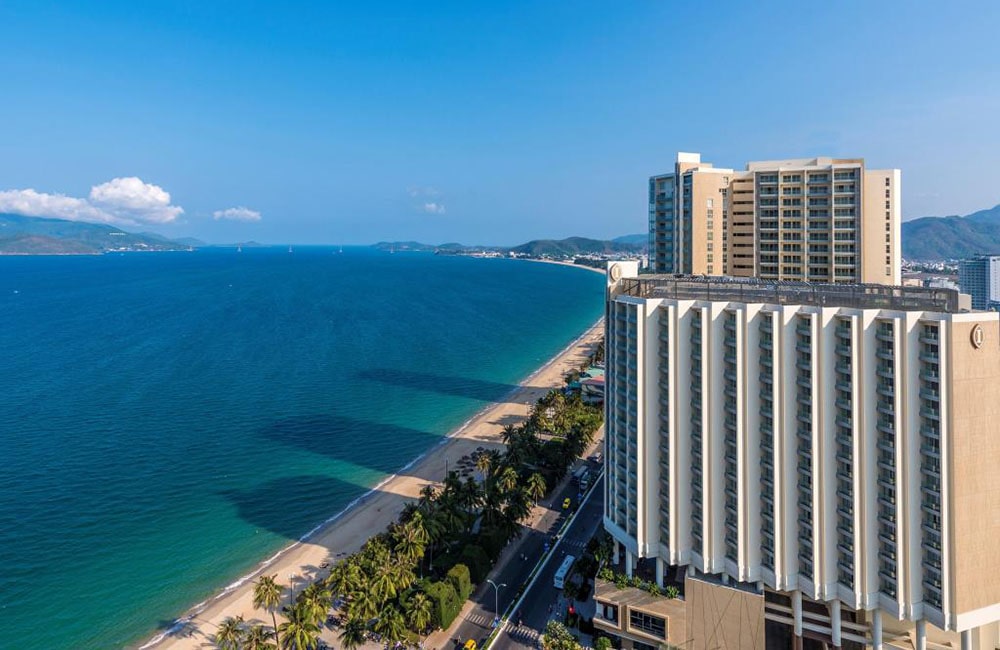 4. 2 Affordable homestay
Ccasa Hotel
Ccasa has both dorm rooms and private rooms for you to with a very friendly price. The Dorm is very clean, comfortable and safe. Besides, Ccasa also has the green open space is decorated beautifully where you can have a cup of coffee or chat with your friends. You can also use a common kitchen for BBQ or cooking.
Tabalo Hostel
Rooms are quite small, but thanks to the creative arrangement and decoration, each room is very neat and has enough light. Breakfast are prepared carefully with attractive menu is a plus. And you don't need a key or card to open the door room. You will wear a beautiful bracelet to open the door instead.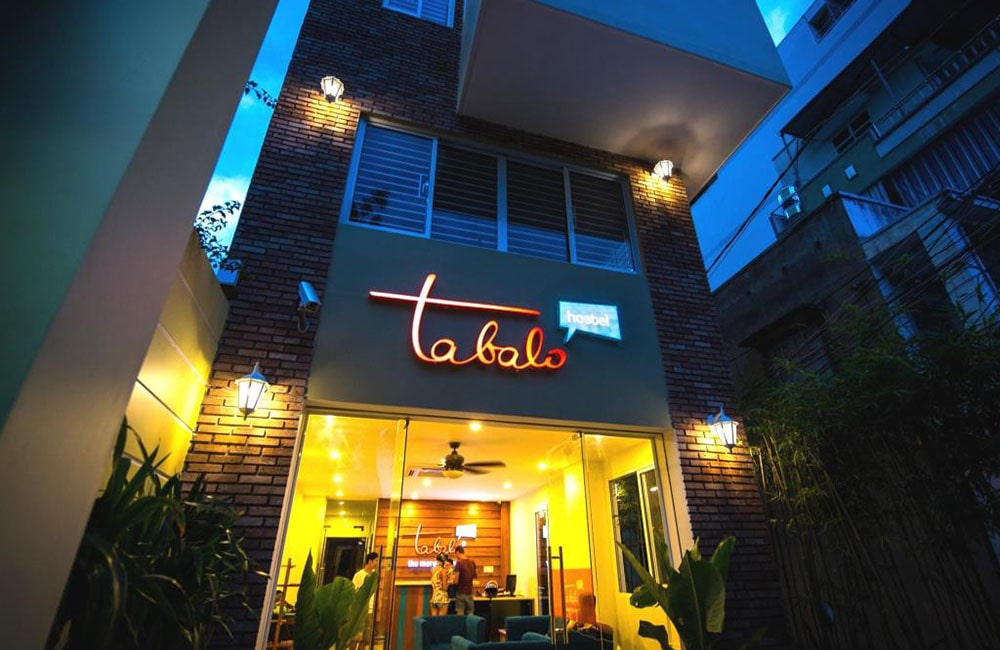 5. What to eat in Nha Trang?
5.1 Grilled fermented pork roll
This dish is called Nem Nuong in Vietnamese. When you visit Nha Trang, you shouldn't miss this dish. You will roll grilled fermented pork with green mango, raw herbs then enjoy with special sauce. You can taste different savor in one roll like sweet, sour, spicy,… You also can enjoy some fermented pork fresh which is a different version with new experience.
5.2 Vermicelli with grilled fish and jellyfish
Like Pho in Hanoi, this dish is like the symbol of Nha Trang. And the quintessence of this dish comes from the broth. The broth is made from boiled sailfish and mackerel's bones steamed for hours. It's naturally sweet and savory, which provokes your appetite. On the top of vermicelli, they put some grilled fish and jellyfish and herbs.
5.3 Seafood
Seafood is always the first choice for you in Nha Trang. With the long coastline, there is wide variety of delicious seafood you can enjoy. Beside of normal preparation, local people usually make up new recipes for each ingredient. They can marinate fish with various herbs and spices to create a new dish.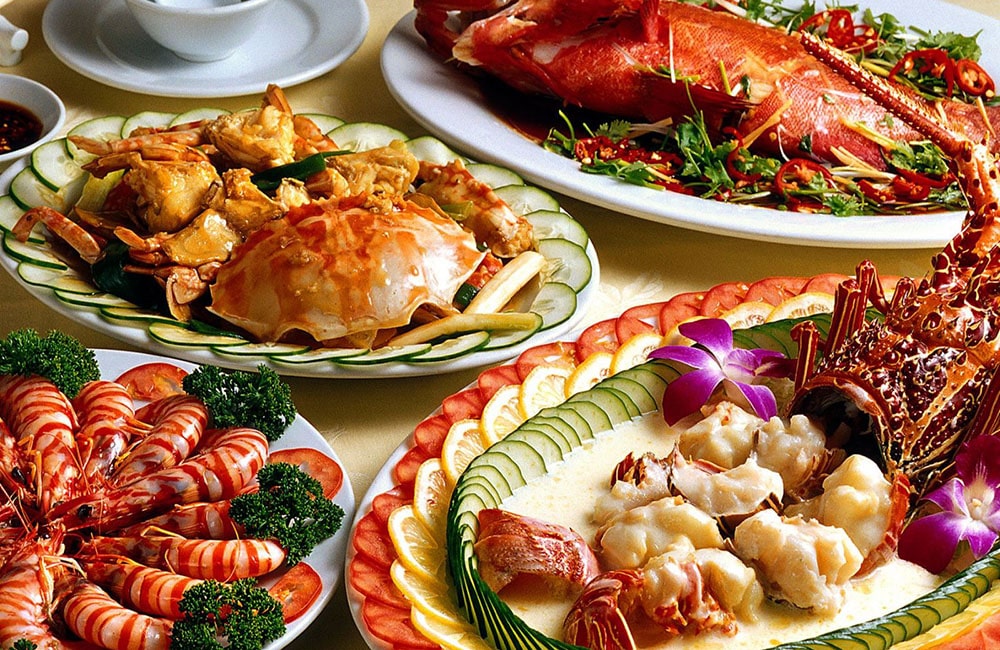 6. When is the best time for travelling to Nha Trang?
Like most city in the north, Nha Tran experiences dry season and wet season. However, wet season in Nha Trang only lasts 4 months from September to December and you should avoid these months to visit Nha Trang. The rest months have beautiful and warm weather.
One thing you should take into account is that from June to August is high season of tourism. Therefore, you will experience crowds and high prices. So if you want to have a perfectly comfortable holiday, you also should avoid this time.
Autumn isn't a best friend either. During this time of year, Nha Trang will have heavy rain, storms, typhoon sometimes. But bad weather isn't all the time, you should check the weather forecast carefully before visiting Nha Trang this time.
For me the best time to have a holiday in this city is from February to April. The temperature is moderate around 26 – 27 degree with the lowest precipitation of the year.
Good to Know
Languages spoken
Vietnamese