Welcome to Koh Tao one of the most beautiful island in Thailand
Where should you spend your summer vacation? Where can you find beaches and sun? Where can you have good time with your family? One of the most suitable destinations for you is Koh Tao island. This amazing island has beautiful beaches full of sunshine, interesting aquatic activities, lovely resorts and savage views.
Koh Tao means "Turtle Island". This island has this name because its shape looks like a turtle. This island is also the ideal destination for scuba diving thanks to the diversity of marine life and crystal clear water. Moreover, there is abundant eco-system on the island where you might meet some monkeys and the characteristic of tropical forest.
1. Geography
Koh Tao forms a small archipelago. The total coastline is 28,6km which is mainly steep and rocky. This island is formed mostly by mountain. Before there were no people living in this island, but now there are 3 villages here. With less flat land here, the landscape on this island is really pristine and wild.
2. Climate
In general, you can visit Koh Tao any time of the year. However, the weather is changeable and you should take notice about it. From November to December, this island is affected by monsoon so there are heavy rains, strong winds and high waves. Although the boat services still set sail this time with high waves, sometimes they are canceled if the weather worsens.
From October to March, under the effect of Earth'orbit, the tide is high. Therefore, activities like swimming or snorkeling are very suitable because you can enjoy more water. In contrast, from April to September, The tide is low and there is more room for beach sport like volleyball and sunbathing.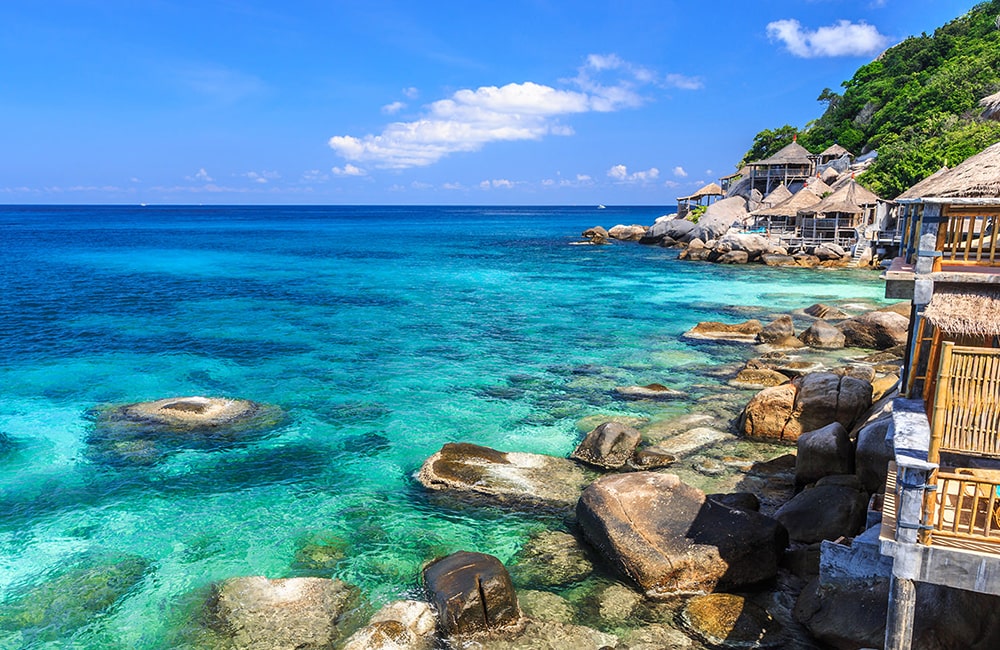 3. Attractions
3.1 Beaches and bays
Mae Haad Bay
This is a small town where there is a port. Even this town is a tourist destination, the local lifestyle is still maintained traditionally with small wet market. Overall, this is a peaceful town where you can find police station, school, banks,…
Koh Nang Yuan
This island is not far from Koh Tao and this is the highly recommended destination in this list. Emerald water, white sand, picturesque rocks,… I think these words are not enough to describe the beauty of this island. You will have really relaxing time here.. There are lots of interesting activities on this island like swimming, ziplining, snorkeling,… And there also some bars to have drinks with your friends here.
Sairee Beach
Sairee beach has the longest coastline in Koh Tao with 1,85km. This beach is really beautiful with crystal clear water and the colorful marine life which will amaze you. Moreover, this beach offers you wide range of choice in accommodation, restaurants, bars, dive centers,…
3.2 Viewpoints
John Suwan viewpoint
According to many travelers' reviews, this is the nicest place to see Koh Tao from above. You can take a hike to the top viewpoint. It's really easy and not too far. Some people use their flip flops but I think you shouldn't because there are some parts very slippery. The way down is a bit difficult but there are ropes attached to trees so you can get down more easily.
Mango viewpoint
You can hire a bike to get here or hike. However, this hike may require you more physical strength than the first one because there are some very steep places. And you should go in early morning or late afternoon because you don't want to suffer the heat at mid day. From this viewpoint, you can see all Sairee Beach and for being more relaxing, you can enjoy a cold beer here.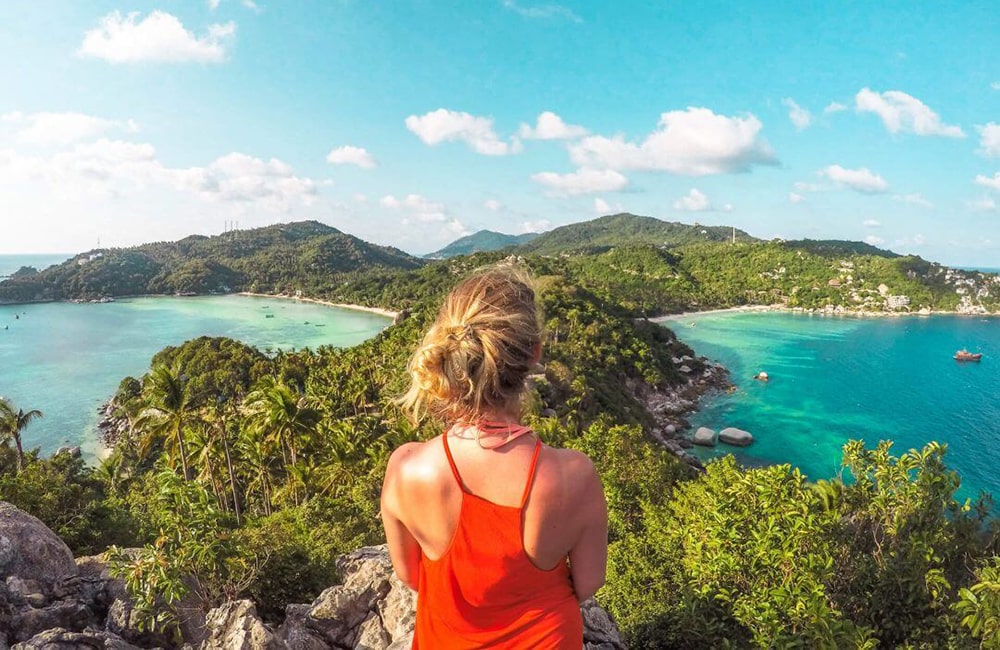 3.3 Dive sites
Sail Rock
This site is located between Koh Tao and Koh Phangan. With the depth of 18m to 40m maximum, this place if suitable for beginners to experienced divers. I would say that this place is worth a try. You can have chance to come across giant green moray eel, extraordinary rock formation, whale shark, bull shark,…
Shark island
The name of this island is so cool, right? It means you can see lots of friendly sharks here; however, this name also demonstrates the shape of this island. Thanks to the water full of nutrition, this island attracts lots of marine life. Besides of beautiful sharks, you will have chance to meet turtles, groupers, butterfly fish,…
Sattakut Wreck
If you want to see shipwreck under the sea, welcome to Sattakut. This site is one of the most favorite destinations of visitors when they come to Koh Tao. This vessel was sunk in 2011 on the purpose of becoming a new artificial reef. Because the bottom of this vessel is at the depth of 27 to 30m, this site is compatible for experienced divers with proper training and certificate. With this depth, the diversity of marine life is more abundant. You will have chance to meet fusiliers, yellowtail barracudas, snappers,…
4. Activities
4.1 Scuba diving and get your certificate
First of all, with this beautiful island like Koh Tao, you shouldn't miss diving. The island is pristine, water is clear and blue, marine life is stunning. Secondly, Thailand is one of the cheapest places where you can get PADI diving certificate. And there are lots of diving centers in Koh Tao. The course will take you 3 or 4 days and no matter what diving center you choose, you will have great support and good time.
4.2 Relax on the beaches
With various beautiful beaches on Koh Tao, you will find your favorite one. You can spend your time on swimming or playing some interesting sports on the beach. Or just lying on the beach and sunbathing. There are also lots of bars on the beaches where you can get a cold beer or tropical cocktail.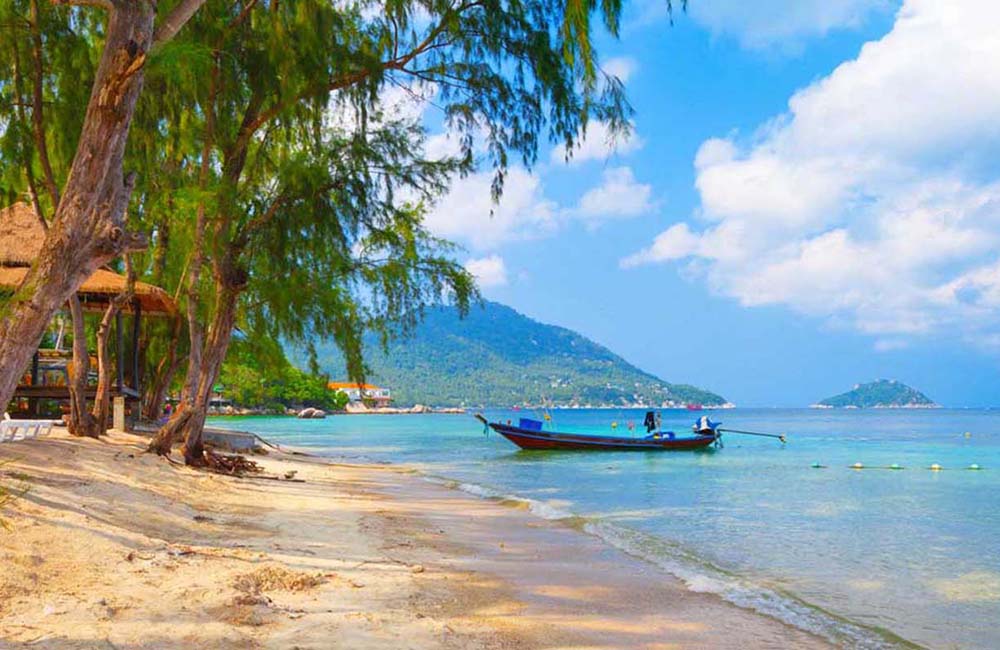 4.3 Going around the island by motor
Don't just stick to beaches and nightlife area in Koh Tao only. You should rent a bike and ride around the island to explore more interesting places. Maybe you will have chance to find somewhere no one knows. One thing you should take into account is your rental bike. Make sure you rent it from reliable shop and check the bike carefully before setting off.
4.4 Seeing the sunset on the beach
The sunset at the beach is marvelous. When the sun is going down with the last lights, the sky is dyed red with orange. The water is turning black. They may make you feel like you are in a cartoon. And this also becomes a romantic background for a walk on the beach with your darling.
5. Food
Koh Tao is a famous site, so there are lots of restaurants for you. Besides seafood, you will find lots of cuisine here. So let's take a look at some delicious restaurants
5.1 The whitening
The decoration of this restaurant is really beautiful and romantic. As its name, white is the main color here. At night they lit up some candles and small lights, so this place looks like in a fairy tale. Dishes are delicious. They offer a large menu with Thai food, seafood, western dishes, beers,… This place is suitable for family and friends having a cozy night together.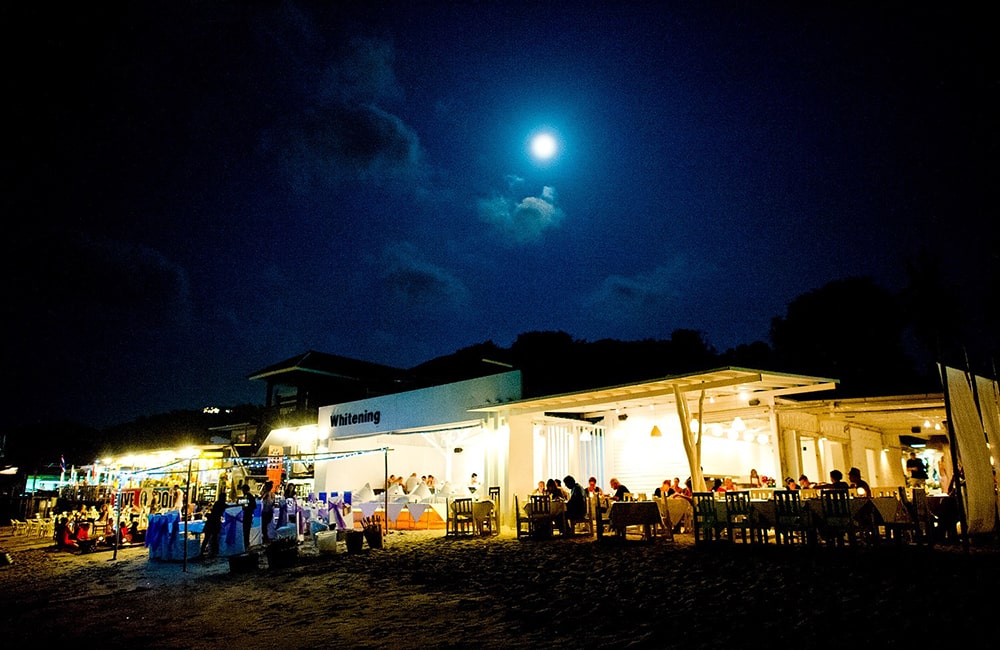 5.2 Porto Bello
It's an Italian restaurants and it's also the most famous here. There are numerous Italian restaurants in Koh Tao, but Porto Bello is the best. This place is always full. And with what they serve you, you might think you are in Tuscany not Thailand. They have amazing pizzas, homemade pastas,…
5.3 Sairee Cottage BBQ
You might know that eating in a restaurant on the beach is expensive with bad quality. However, you will experience the opposite thing in Sairee Cottage BBQ. Fresh seafood with delicious recipes will satisfy you right away. And nothing compares with enjoying good food while listening to the waves on the beach.
6. Nightlife in Koh Tao
6.1 BND Beach Club
This club is an open-air space with great rooftop terrace. This club is near the beach and you can enjoy night beach at the rooftop. There is always lives music here. The type of music varies from Rock N' Roll to local music.
6.2 Moov Bar
This bar is located in Mae Haad. If the first one brings some fancy feelings, this one is cozier with special events all week. You can enjoy a Latin night then dance with all passion with DJs nights.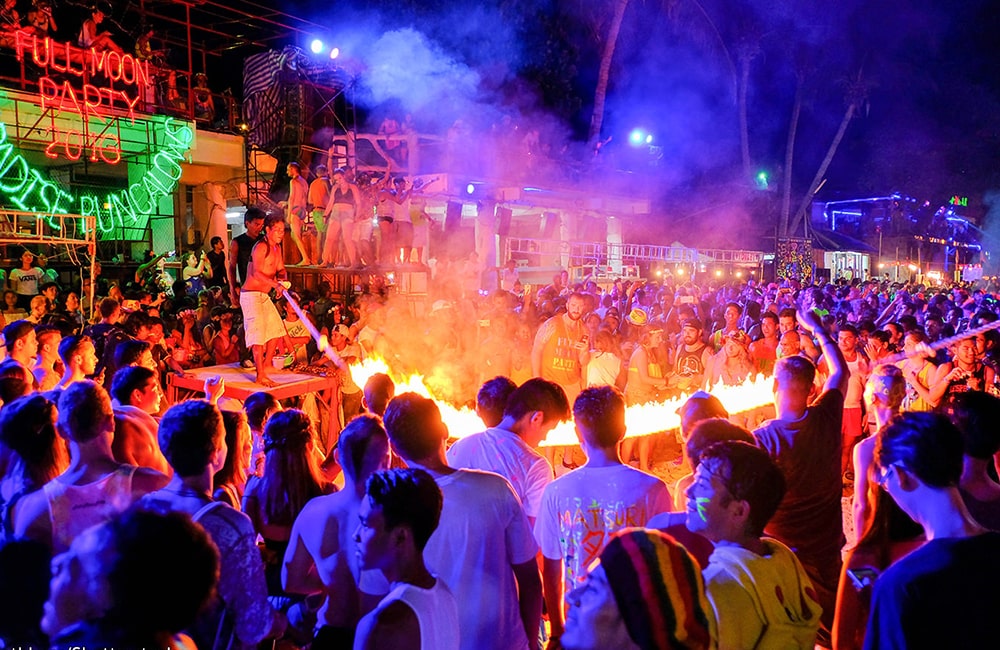 6.3 AC Bar & Beach Club
You like pool party? Welcome to AC Bar & Beach Club. This pool bar is located right on Sairee Beach. This place has everything for a booming pool party from confortable sunbeds, a kitchen where you can find delicious snacks and drinks, DJs with modern sound system. The only thing you have to do is joining in the party.
Good to Know
Languages spoken
Thailand