Overview about Da Nang
Da Nang is one of the most famous cities not only in Vietnam but also in the world. In 2018, Da Nang is in top 10 worth – living cities in the world. If you have an impression of crowds and trash everywhere in famous tourist cities, you have to change your mind when you come here.
This peaceful city offers you various interesting attractions from ancient pagodas, French colonial buildings to tranquil beaches with hundreds luxurious hotels. You also have chance to meet and spend your days with friendly local people. They are really nice and helpful. In addition, you can't miss the food here. Da Nang is the paradise of various typical dishes of the central Vietnam.
1. History
This city used to be the largest commercial port in the central Vietnam in 1835. Thanks to the international trade, many local industries developed such as shipbuilding, preliminary processing of agricultural,…
Then in 1889, under the domination of French colonists, Da Nang was separated from Quang Nam and had another name "Tourance". At this time, Tourance had development orientation of a European city with the appearance of new social infrastructure and manufacture technology. This help many kinds of industry come into shape like export product processing, agricultural production, services,…
French gave the city back to the Bao Dai government in 1950. However, in 1967 Da Nang was considered as political, military and cultural central of 1st and 2nd tactical zones by American troops and Saigon government.
In 1950, French gave the authority over the city to the Bao Dai government. In March 1965, American marine units landed and started to set up a big military complex. The city was defined as a centrally governed city in 1967, and accordingly American troops and the Saigon government built up Danang into a political, military and cultural center of the 1st and 2nd tactical zones. Under the investment of American troops, many military bases and infrastructure were built such as airport, port, road, public work, bank,… In this period the industry was developed at a higher level: the industrial areas replaced the craft site. In contrast, the consequences of war were enormous and terrible. Thousand people lived in refugee camps, urban slums appeared and social ills increased.
After the reunification of Vietnam in 1975, Da Nang began to recover from terrible consequences of American war. Until now, Da Nang city has become a peaceful and beautiful city of Vietnam
2. Exotic destinations
2.1 My Khe Beach
My Khe beach is voted as one of the most attractive beaches in the world by Forbes magazines. You will have an amazing day beach with long coastal, fine and warm sand, emerald water. If you are an active person who love sports, you can join in various interesting activities on beach like volleyball, swimming, snorkeling,… Or if you just want to have time to relax, reading a book under while tanning on the beach is also a great idea.
2.2 Ba Na Hill
This destination is one of the most luxurious resorts in Da Nang. This complex includes hotels, restaurants, entertaining area. If you travel with your family, you should come here for sure. This destination is an ideal place for you to relax while the entertaining area will entertain your kids all the time with fairy garden, French village,…
2.3 Son Tra Peninsula
Son Tra Peninsula is connected to Da Nang city by stunning bridges. To discover this destination, you can take a ride around the peninsula. The nature here is wild and untouched, so if you are lucky enough you can meet some little monkeys. There is a pagoda call Linh Ung here with the highest Buddha statue. The most interesting thing of this ride is that you can admire the whole sea and Da Nang city from distance.
2.4 Marble Mountain
Marble Mountain comprises 5 mountains named after 5 elements of the universe: Wood, Metal, Water, Fire, Earth. Each mountain has its own shapes, position and various temples. It is said that this mountain is a spiritual land of Quang Nam.
2.5 Impressive bridges
Da Nang is also known as city of bridges. With different beauty and unique design, the bridges build up the distinctive feature of Da Nang.
Dragon Bridge: this bridge was built in 2013 and connects the Da Nang airport with My KHe beach and Marble Mountain. There is a giant dragon between the bridge and this dragon makes fire and sprinkler at 21:00 on Saturday.
Han River Bridge: this is the symbol of Da Nang. This colorful at night bridge can rotates 90 degrees.
Tran Thi Ly Bridge: you might find this bridge is really romantic and poetic. At night, this bridge is lightened by thousands colorful lightings.
Thuan Phuoc Bridge: this one has modern outlook and sophisticated design. It's considered as the longest and the most beautiful bridge in Vietnam
3. Interesting activities
3.1 Cycling
As I said above, you can take a ride around Son Tra Peninsula. However, instead of motorbike, you can hire a bicycle to ride around. The road in Son Tra is plain and easy to ride. You can enjoy a morning cycling route to start your day and take your chance to admire the whole nature in early morning. Even though the there is no obstacles on the road, this route still requires lots of effort and stamina.
3.2 Enjoy the beaches
Never miss beaches time in Da Nang. The beaches here are really amazing with fine white sand and clear water. Even you immerse yourself into the water or just lie on the beach and enjoy the air, you still have really good time.
3.3 Play golf
Da Nang Golf Club is the ideal place for golf lover. All facilities meet 5 star standard which makes sure that you will have good time there. Another place is Montgomerie Links Golf Course. This one provides you with an excellent Club House along with the restaurant in a well-maintained facility.
3.4 Spa relax
After discovering Son Tra, you definitely need rest with spa treatment. You can have your body massaged to relax all your muscles and your mind. Any resort and luxurious hotel in Da Nang offers you this service. Even you can try fusion of Thai and Ayuryedic massage in some swanky resorts.
4. Cuisine
4.1 Quang Noodles
This dish is representative for Da Nang cuisine. You might find it half noodle soup and half salad with various ingredients. The vendor will give you a bowl full of white noodle, pork, prawn, boiled eeg, herbs,…
4.2 Seafood
With long coastal line, seafood is the typical dish here. There are lots of local restaurants serve fresh, cheap seafood. You can choose any seafood restaurants you want and point at the menu. Then your seafood is on the way to your table.
4.3 Noodles salad with pork and anchovy fish sauce
The most important thing of this dish is anchovy fish sauce. Each restaurant has its own recipe to make this sauce. However, the ingredients are the same. This dish is made out of vermicelli, pork, veggies, papaya, peanut,…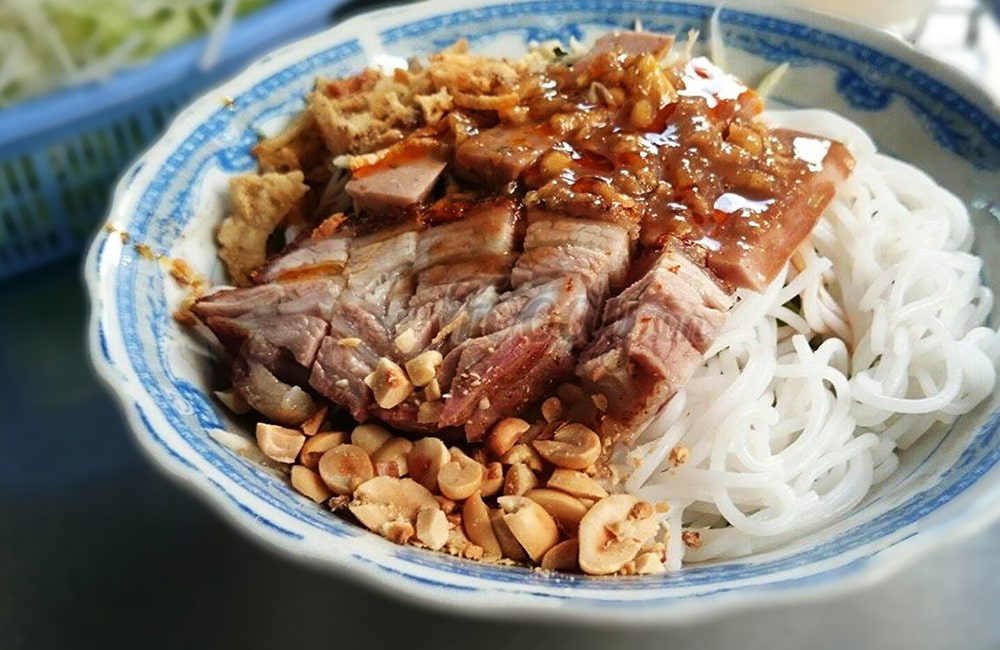 5. Nightlife in Da Nang
At night, you can choose a rooftop bar for a cocktail and night view of Da Nang city. Otherwise, you can go for drink with your friends at some interesting bars
5.1 Minsk Bar
There is live music in every Wednesday here. Prices here are reasonable. And you might fall in love with the cozy atmosphere here. Besides of live music, there are lots of music played here from EDM to rock classic.
5.2 Waves Rooftop Bar
If you want to have panoramic view of the city, you definitely should come there. This bar plays variety of music from live jazz to acoustic guitar. The perfect view to Han river and all Son Tra peninsula and good drink will make your night.
5.3 Bamboo Bar 2
This bar is very popular among expat in Da Nang. The ground floor is always crowded. There is no tables, just some available seats. But from the top floor, you can have a really good view to Han river and Dragon bridge.
6. How to get to Da Nang?
6.1  Plane
Absolutely, booking flights from Hanoi or Ho Chi Minh City is the fastest and the most convenient way to get to Da Nang. Price for flights from Hanoi to Da Nang varies from 1.5 million to more than 2 million in high season.
6.2 Train
You also can get there by train. And I think train is the best way, if you want to discover more spectacular view along Vietnam. It takes you about 16 hours from Hanoi to Da Nang by train and around 18 hours from Ho Chi Minh City. If you are not hurry and want to enjoy more view, you should buy train tickets.
6.3 Car
There are lots of passenger cars from any city of Vietnam to Da Nang. So I think this transportation is the most convenient. The 15 hour journey from Hanoi to Da Nang will cost you about more than 400.000 VND.
7. Best time for Da Nang
Dry season is from January to September. At this time, the weather is hot and humid. The average temperature is around 33 to 35 degrees.
Wet season starts from October and finishes on March. At this time the atmosphere is more comfortable and cooler. However, there are storms sometimes, you should check the weather forecast carefully before coming.