Welcome to Mai Chau
You want to get away from the noise and crowd of Hanoi, let's head to Mai Chau. This small area is separated from the hustle of big cities. What you find here is green paddy fields, small valley scattering some Thai people house. There is no pollution, traffic jam, crowds,… All you have is peace and real fresh air.
Mai Chau is like a stop in your journey in Vietnam for you to recharge your energy. It's like a treatment that we all need after playing any intensive sports. No need to challenge yourself anymore, in Mai Chau you just need to spend your time on relax, admire nature and refresh your mind. With some information below, I think you can enjoy Mai Chau in your own way.
1. Geography and climate
Mai Chau is small district in northwest Vietnam located in Hoa Binh province. The main terrace of this area is mountains and lowland which is divided by the system of streams. The climate in Mai Chau is similar to Hanoi; however, because of the highland, the temperature is always higher than in Hanoi. From November to April, the weather is dry, foggy and a little cold.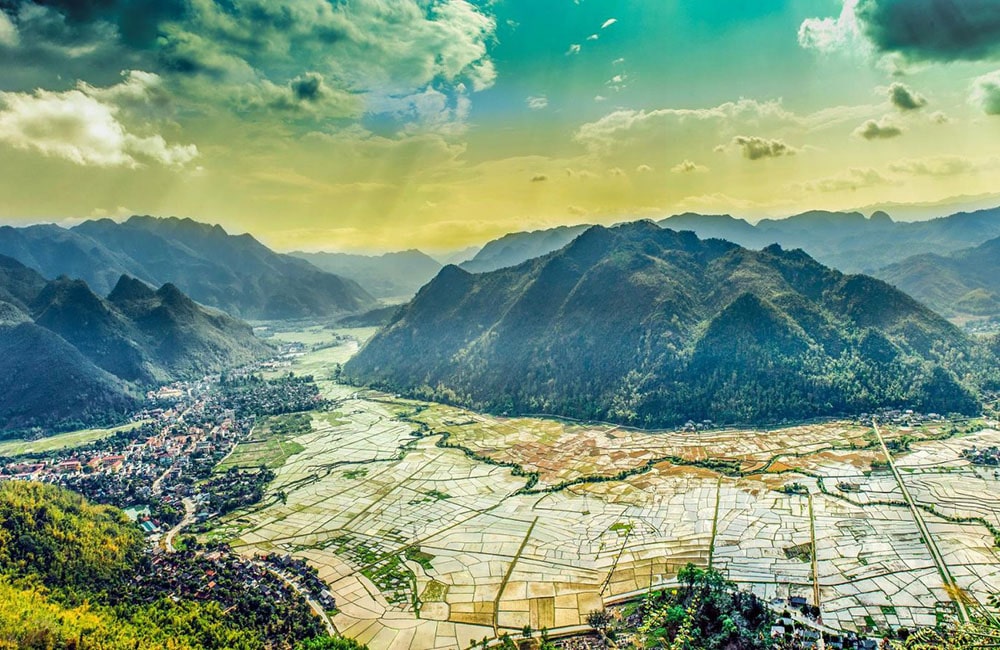 2. History
The former name of Mai Chau is Muong Mai which was formed in 19th century. In 1890, Mai Chau and Da Bac – the district nearby were consolidated into Mai Da. However, after France left Vietnam, in 1956 Mai Da district was separated into Mai Chau and Da Bac. Now Mai Chau is a small district belonging to Hoa Binh province.
3. Interesting places in Mai Chau
3.1 Thung Khe Pass
Thung Khe pass is located between Tan Lac and Mai Chau. This pass has another name called "White Stone pass", because after the road was opened, white stone covered the cliff. And from the distance you can see white color on the pass. Along this pass, you have chance to admire the panoramic view of Mai Chau like the valley, forest, tiny villages,… This pass is quite dangerous because of some curves and slopes down, so if you travel to Mai Chau by motorbike you really need to ride carefully.
3.2 Chieu Cave
Chieu is Vietnamese word which means "afternoon" in English. Local people named this cave like this because in the afternoon, this cave has a magnificent and magical beauty. The way to reach Chieu cave is 1200 stone steps. For some people, this way is quite far and tired but once you get the cave, you will feel happy because you don't give up.
3.3 Lac Village
Lac village is the home of ethnic people in Mai Chau. This place is also a famous tourist destination in Mai Chau with various homestays, hotels and souvenir shops. The architecture in here is very unique with stilt-house. This village is surrounded by mountains and green paddy fields. Most travelers stay at this village so they can make a tour around more easily.
3.4 Pu Luong Nature Reserve
Pu Luong is an area which has amazing landscape and the diversity of eco- system. The breathtaking view here will amaze you. This nature reserve was founded in 1999. Besides of tropical forest and wild animal, this place is also a home of Thai and Muong people.
4. Activities
4.1 Cycling
Wake up early in the morning and ride around to discover Mai Chau. You will ride through paddy rice field, beautiful tiny bungalow and small bridges to explore every corner of Mai Chau. Stop anywhere to take really nice pictures then continue your trip. Does it sound amazing, right? Normally, roads in Mai Chau are small and slight steep so you might need endurance. Most of hotels and homestay have bile rental service. You should check the bike before you take one.
4.2 Stop and take a view from Thung Khe pass
From Hanoi to Mai Chau, you definitely go pass Thung Khe pass, so you should stop and have a panoramic view from above. If you travel by bus, don't worry, they all stop at Thung Khe pass to take a rest. There are some stalls where you will stop, so you can have some water or eat some local food. In addition, you also can admire the view of valley under the pass with a little fog.
4.3 Do shopping in Mai Chau
There are lots of souvenirs shops in Mai Chau where they sell lots of handcraft products like colorful cloth, bags, clothes,… You can buy some for your family or your friends. However, you remember the lesson when shopping in Vietnam – bargain. These products are all handmade and have good quality, but sometimes the vendors ask you a really high price and you should bargain.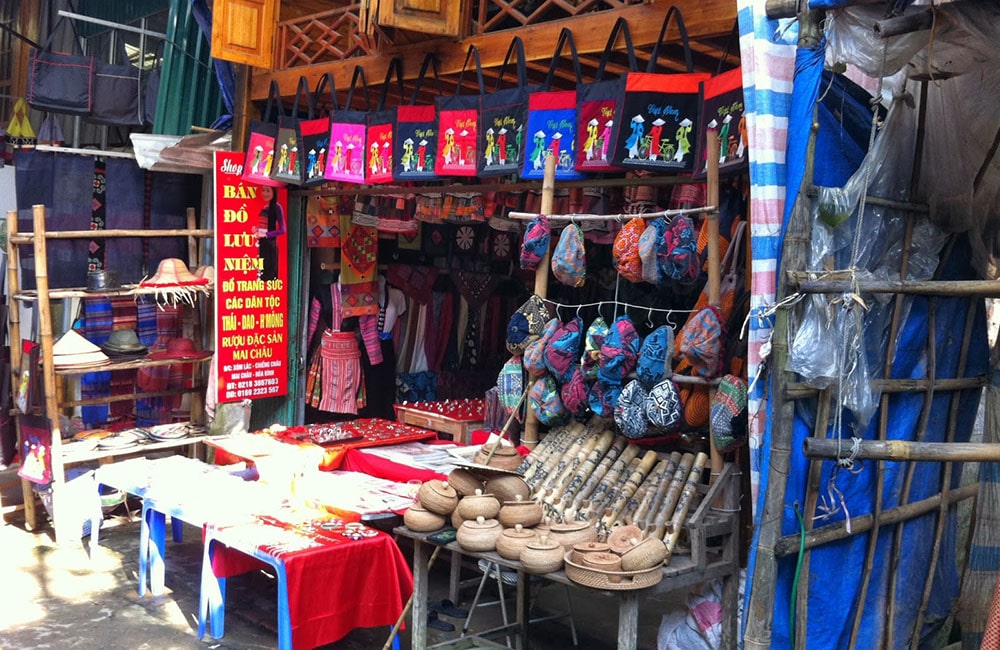 4.4 Try local dishes
Typical dishes of ethnic people in Mai Chau are steamed sticky rice, grilled fish, sticky-rice wine,… All these dishes you should try once. Some homestay serve them but you also can enjoy them in any restaurant in Mai Chau. And the quality is always guaranteed because all ingredients are grown locally.
5. Hotel and homestay
5.1 Mai Chau Ecolodge
This 5 star hotel offers you great views of Mai Chau and excellent services. All room are spacious, clean and nature friendly. The restaurant serves wide range of food from Vietnamese to Western dishes. There is also swimming pool where you can swim and enjoy the view of Mai Chau from above.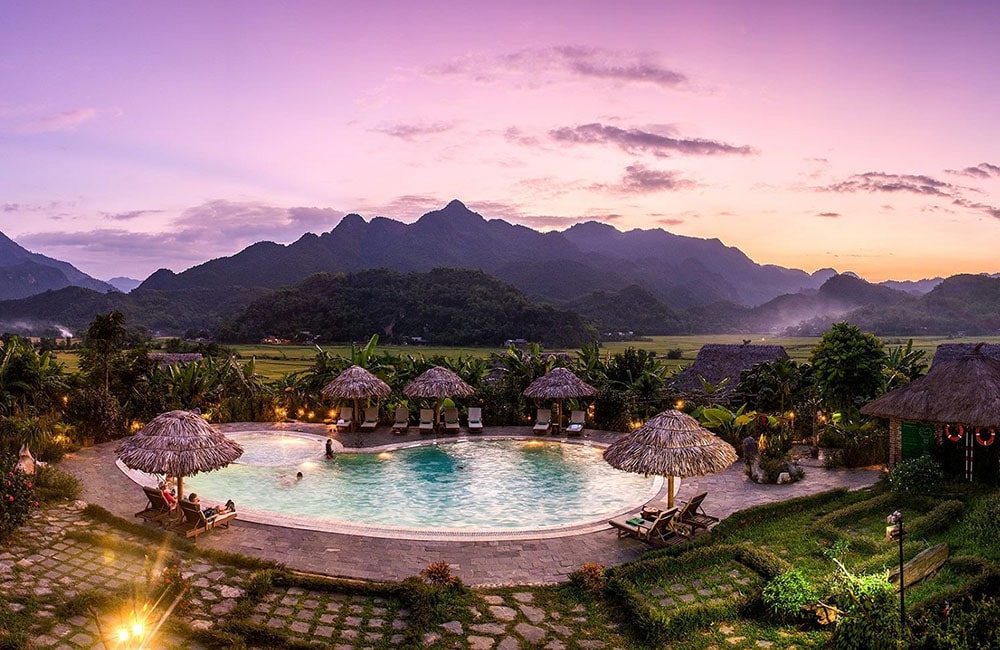 5.2 Eco Homestay
You will stay in small bungalow with private bathroom inside. If you want to be close to the nature, this place is perfect for you. Quiet, beautiful at night, good food. There is a small restaurant here and it only serves western breakfast.
5.3 Mai Chau Family Homestay
If you are looking for a real experience of local life, welcome Mai Chau Family Homestay. Here, you will be welcomed by the whole host family. They are very friendly and helpful, always take care of every your needs. Moreover, they also offer you to have dinner with their family with authentic local dishes.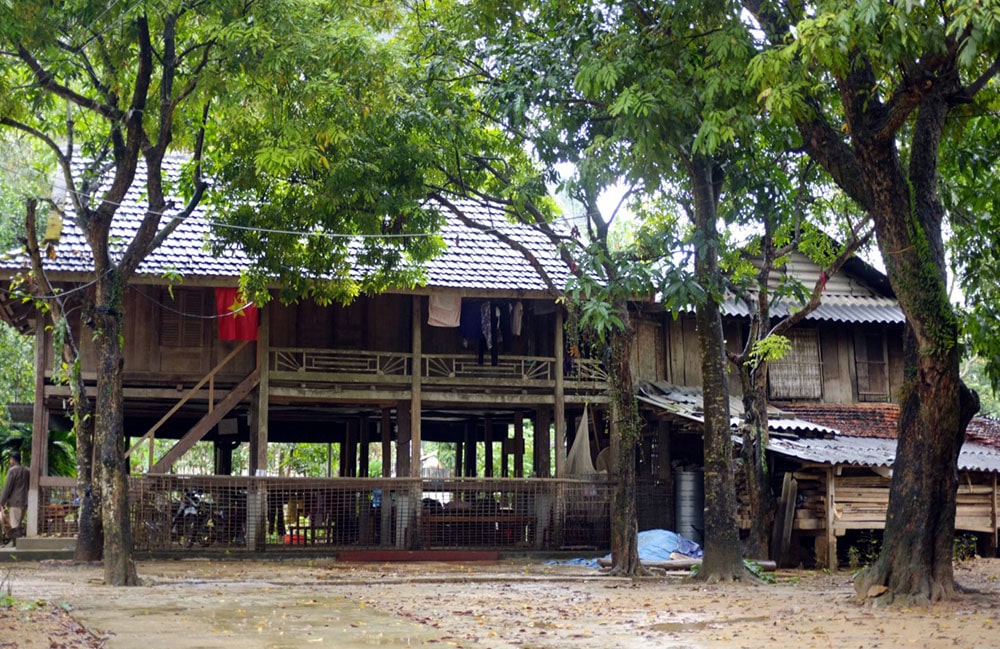 6. What to eat in Mai Chau?
6.1 Com Lam
The most popular dish in Mai Chau is Com lam. Sticky rice is put in bamboo pipe, then these pipes are barbecued on fire. The sticky rice after being cooked has smell of bamboo and rice. People usually enjoy Com lam with salt sesame or grilled fish.
6.2 Hill Chicken
You might wonder that the differences between normal chicken. People graze this chicken on the hills and let them eat natural food. Therefore, the meat of this chicken is tougher and purer than others. Moreover, the difference is also in the preparation of this dish. You have to boil the chicken right enough time so it has the best taste.
6.3 Muong Pork
Like chicken, ethnic people here grow pigs in nature and these pigs also provide different kind of meat from normal pigs which are fed in cages. And the most famous pork in Mai Chau is Muong pork. These pigs have long hair, short legs, small size and less fat.
7. How to get to Mai Chau
7.1 By bus
The most convenient way to get to Mai Chau from Hanoi is by bus or by coach. In this way you can avoid some problems on the way like broke vehicle, wrong way,… Most bus and coach departure from My Dinh or Yen Nghia station in Hanoi. If you are not familiar with buying tickets in Vietnam, you can contact any travel agency so they can help you. Otherwise, you can buy tickets right at the station.
7.2 By motorbike
If you are an adventure lover, why don't have a road trip with motorbike. You have chance to admire amazing view along the way and stop anywhere in Thung Khe pass to take a great view. However, for a road trip, you should have good riding ability because the road is quite dangerous with some steep slopes and sudden curves.
Good to Know
Languages spoken
Vietnamese