Welcome to Angkor Thom
Angkor Thom is the most famous destination in Cambodia, but do you really know about this place. Many people misunderstand that Angkor Thom is a temple dedicated to Buddha. It's wrong, Angkor Thom is a whole city which is used to Khmer City with various historical places and temples. And you might spend one day to visit this ancient city.
This city is also the favorite place of archeologist. Some pots like Baphuon temple or Ta Prohm are places where attract lots of archeologists. They investigate everything from small stone to specific symbol of a temple. The gates of Angkor Thom was originally made from wood.
1. History
The history of Angkor Thom dates back to the Khmer Empire. This city was built by King Jayavarman VII who had huge contribution into public infrastructures in Cambodia. His religion and ideology were shown in Angkor Thom by various Buddhist temples and relics of numerous public structures like schools, hospitals,… During his reign, Cambodia experienced a huge conflict between Hinduism and Buddhism. Thanks to him, now the world have chance to admire such an incredible city Angkor Thom. This ancient city was still the capital of Khmer Empire until 16th. Now along with different temples in Angkor Park, Angkor Thom is recognized as World Heritage.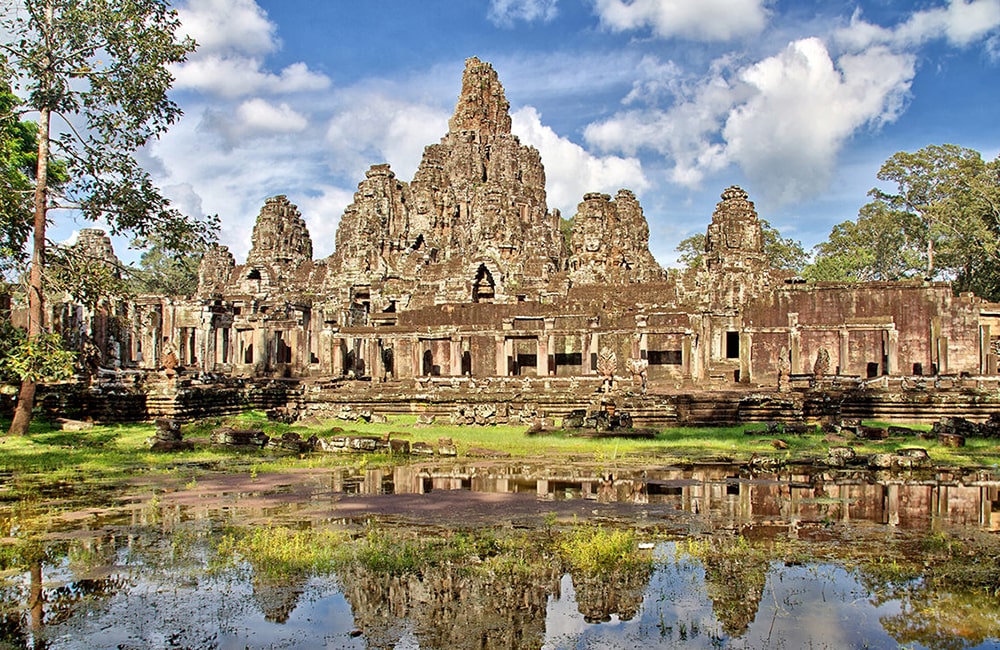 2. How to discover Angkor Thom?
This city has unique architectural design. The whole city is surrounded by 8m high wall and there are 5 gates to enter the city which used to be made from wood. Around some gates, you can find lots of statues of gods and demons in Buddhist belief. The gates were also decorated by the face of Avalokiteshvara – God of compassion. Bayon is located in the center of city.
2.1 Bayon
Bayon is an amazing structure with incredible decoration of various smiling faces. This temple was built on the foundation of an older monument. This complex contains 54 towers and each one presents each Khmer Empire period. In the center of this complex located the main tower called "the Gold Tower". This tower is decorated by 4 smiling faces which demonstrate different smiles: charming, sad, glad and beautiful.
Visiting Bayon is the chance for you to explore the most exciting place with tunnels, blocked doors,… You might get lost here and feel like being in an adventurous movie.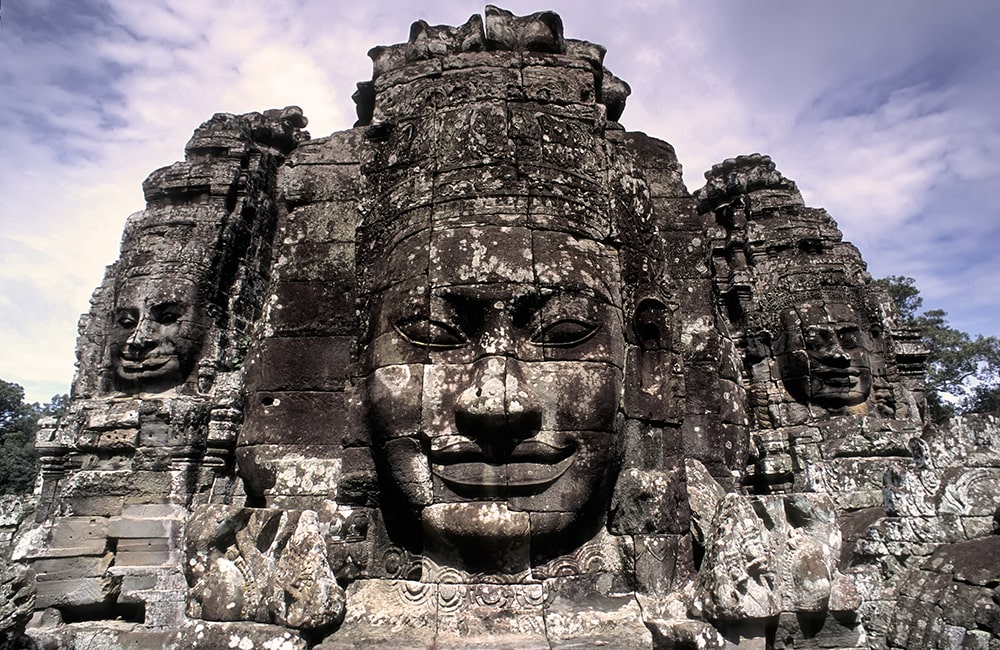 2.2 Baphuon
This old temple is dedicated to Shiva and is located between the Royal Palace and the Prasat Bayon in the complex Angkor Thom. It has pyramid shape with various steps. The main entrance to the temple is decorated by a structure of gopuras which will remind you of Angkor Wat. Inside the temple, there are lots of statues which were devastated by the time. There are also various pictures which describe the hunts of ancient people or the wars. The western gate of the temple, there is a Buddha image that was built centuries ago but it wasn't completed.
2.3 Terrace of Elephants
This terrace was built at the end of 12th century by King Jayavarman. He built this terrace for viewing the victorious army. In addition, this terrace was also used for public ceremonies. With the length of 300m you can go from Baphuon to Leper King terrace by this terrace. The name "Elephant" came from the local relief of this animal.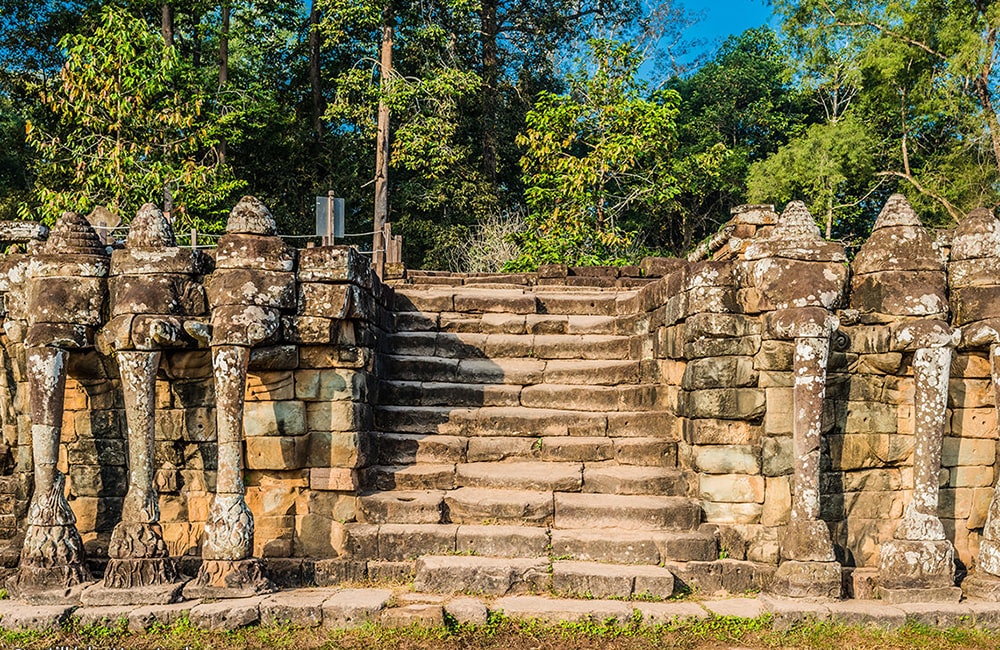 2.4 Terrace of Leper King
This terrace is really special with various wall-craved nagas, demons and other symbols. It's located in the north of Terrace of Elephants and has the height of 7m. On the top of this terrace there is a nude statue – it's fake one, the authentic is in the National Museum of Phnom Penh. And this terrace was named after this statue. The origin of this statue is unkown. Some people say it represents Angkorian Kings while some believe that it demonstrate the God of Death.
2.5 Preah Palilay
In the northwest of scared Angkor Thom is the most beautiful temple Preah Palilay. This temple has peaceful and quiet atmosphere. It is said to have been built in the 13th century. With the decoration in Buddhist style and Buddhist statues, this temple will be the best place for the most beautiful photos.
2.6 Phimeanakas
This temple is located in the middle of the Royal Palace. Its name means celestial temple in Khmer. This temple has 3 tires which are smaller than other temples but they still impress you with the height of 40m. This place used to be the place to organize ceremonies to Gods. It comprises 5 gates. The east one was used for people entering the temple, the north one was for transport only.
3. Activities in Angkor Thom
3.1 Visiting temples
There are various temples in Angkor Thom complex. Most of them are restored for tourist purpose. These temples were the places dedicated to gods of Khmer people. Now visiting these temples is one of the most interesting activities you can do in Angkor Thom. With a guide, you will know the history and origin of these temples or they also may tell you some interesting stories about these places.
3.2 Tuk – Tuk ride
If you find walking is too much for you, tuk –tuk ride is always the best choice. You still can admire the beauty of Angkor Thom and take pictures whenever you want. You also can enjoy the atmosphere here in a comfortable seat of an open-air tuk-tuk. And this will be the most unforgettable experience in Angkor Thom.
3.3 A tour one day in Angkor Thom
With Angkor Thom, you should buy a tour or at least hire a guide. This is because the tour guide will answer all your question and provides you with all information you want to know about Angkor Thom. Of course, you can read on the internet, but the most local myths or interesting stories are not available online and only local guides know. And that makes buying a tour worthy.
4. Tips for visiting Angkor Thom
First of all, choose the best driver and guide. You may cost more than $50 for them but they will make your day at Angkor Thom. The guide and lead you the less crowded routes and show you hidden areas.
Cambodia is a tropical country so what can protect you from the sun and keep you hydrated is essential. Prepare hat, sun scream, umbrella, sunglasses,… And the most important thing is water. There are lots of vendors outside Angkor Thom where you can buy water.
Another thing you must consider is your strength. In general, you don't need to climb mountains but the paths are not smooth and there are thousands of steps that you have to finish if you want to reach some temples. This will require you time and stamina, so be smart with where you want to visit and how to get there.
Keep in mind that Angkor Thom is also a tourist destination where vendors try to charge you as much as they can. Therefore, you need to bargain whenever you buy something, like buy water, hire a tuk-tuk or a guide,…
And if you tend to spend one day in Angkor Thom, you should try to watch the sunset there. It's the most beautiful view that you can imagine. When the sun goes down, all temples will be submerged with the sparkling red lights, which is really beautiful
Good to Know
Languages spoken
Cambodia
Currency used
Riel Campuchia