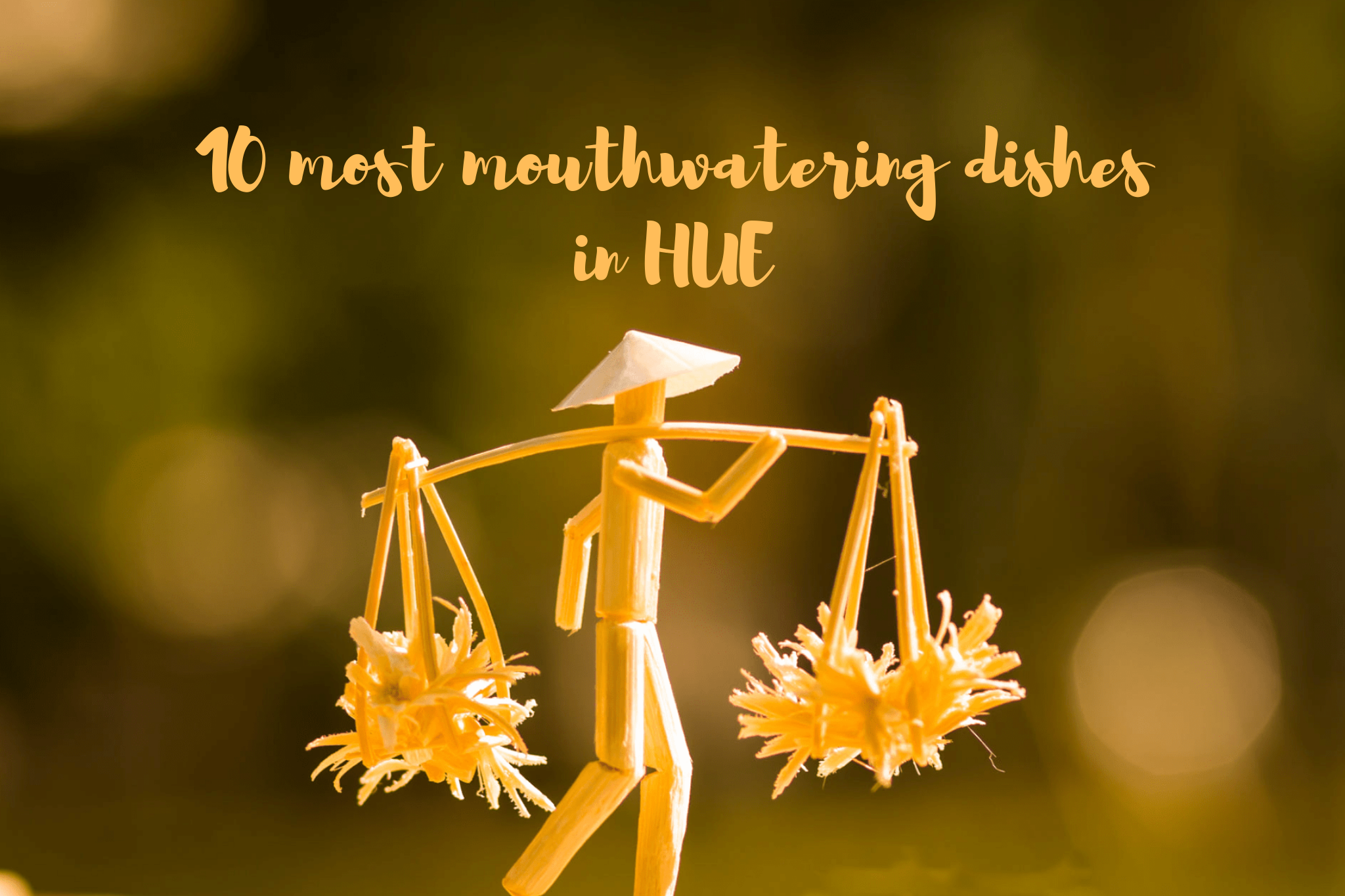 Top 10 most mouthwatering dishes in Hue
Traveling, beside visiting beautiful landscapes, enjoying food is also a pleasure that could be talked about. Many people believe that food is also the culture, enjoying the food is experiencing the culture of the land that you come. Therefore, do not miss out this opportunity when you go somewhere. Hue is the ancient capital. But it is also located in the sunny and windy Central region, with many disadvantages in terms of location and natural conditions. Therefore, the cuisine here has its own characteristics. Many dishes in Hue show ingenuity and sophistication in processing, but use a variety of simple and available materials that create flavor attractive hard to resist. Asia Master Tours will suggest some delicious dishes in Hue that you definitely have to try when coming to this place.
1. Mussel rice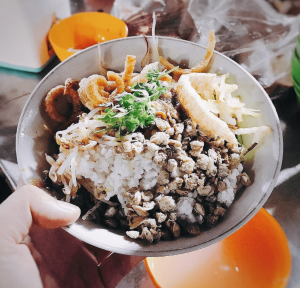 Referring to Hue, everyone must think of the mussel dish firstly. Because this dish is rustic everywhere from small shops in the market to luxurious restaurants in Hue city.
The mussel rice with the main ingredient is mussel. But the additive is pretty much like fried pork crispy, fish sauce, raw vegetables, banana flower, bean sprouts, white taro body shredded, peanut roasted … All mixed bring a flavor and spicy flavor which is typical of Hue.
You can find this dish everywhere in Hue with a cheap price. The shop selling mussel rice has often served both vermicelli and mussels. If you have more time, you should try these dishes too.
Some suggestions of mussel rice eating places:
– Con Hen Restaurant, Vi Da
– Ms. Nho's shop in Pham Hong Thai – Truong Dinh
– Restaurant at No. 2 Truong Dinh
–  Rice mussel Restaurant at 98 Nguyen Hue
2. Bun bo Hue
Bun bo Hue is not only famous in Vietnam but also famous in worldwide. Most foreign tourists know this dish because it appears in a lot of articles in newspapers, foreign magazines. In addition, some famous travel bloggers mentioned the dish of Bun bo Hue as a delicious dish they could not resist.
In the morning, you can see the bun noodle shop everywhere in Hue. The price is only from $1.5-$2 / bowl depending on the restaurant but the quality is very nice. This dish has a very specific flavor and color with lemongrass, chilli, paprika, pepper, garlic, onion, fish sauce. A bowl of beef noodle is in the right direction if it has a piece of pork leg, grilled pork, pork, and a few slices of beef. And the most important is that the dish must go with fresh vegetables.
A few places to enjoy this dish:
– 13 Ly Thuong Kiet, next to the Union guest house
– The shop "Meo Ro" near Dieu De pagoda
– Bun Le on Dien Bien Phu street
3. Banh Canh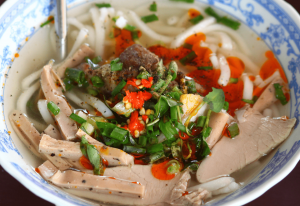 Banh Canh is one of the must-try dishes in Hue. It is a famous noodle soup in the Central region, but not available everywhere. In each province, this dish is slightly changed to suit people's tastes or change the available materials of that land. The Banh Canh in Hue bears characteristic flavor of red broth from crab bricks and shrimp and mixed with cashew nuts to have a better color. The bread briquette is also very special, transparent and soft but not crushed. Referring to Banh Canh in Hue, people often mention the soup of Nam Pho and Ba Doi.
Why people call it as Nam Pho soup because this is a typical dish of the Nam Pho people, Phu Vang district. They sell this dish at street vendors in the morning or afternoon. And Ba Doi soup is a reference to a very famous restaurant at the end of a small alley on Dao Duy Anh street. Because it is the restaurant of family, there is a small number of waiters, visitors often have to wait longer so it is always called Ba Doi restaurant.
In addition to crab noodle soup in Hue, snakehead fish soup which is one of worth trying dishes in Hue. Boiled fish is cooked, separated from bones and seasoned with marinated spices. Fish bones are finely crushed, filtered and cooking with fish broth. This is how to create a juicy and natural flavor.
A few places to enjoy this delicious dish in Hue:
– The restaurant on Pham Hong Thai street
– Phan Phan Boi Chau, Truong An
– Thuy Duong snakehead fish soup
4. Che Hem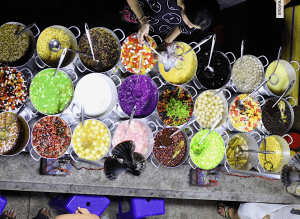 The Che shops in Hue are usually located in small alley. Only royal Che has more than 36 types, sophisticated from processing to presentation. Then there are dozens of popular Che types such as corn Che, millet Che, potatoes Che, beans … In the Che shop, you can eat to dozens of types without being bored. But it is impossible once to enjoy all kinds of Che here.
The most famous Che shop in Hue city is a restaurant located deep in alley 27 on Hung Vuong street of Mrs. Linh Lan. This Che shop opened in 1985 and now she is over 70 years old but still selects each kind of ingredients to make Che.
Some tea shops in Hue:
– Cung Dinh Che – 31 Nguyen Hue
– Sao Che at Phan Boi Chau street
5. Hue cake
How diverse Hue Che is, the kinds of cakes in Hue are equally diversified. If you come to Hue then visit Dong Ba market, you should try to enjoy a plate of cakes here. That will make you surprised. Each plate of cakes will have all kinds of Hue special cakes such as banh beo, wet cake, bot loc cake, Nam cake, little ram cake … All cakes are delicious and also interesting.
The banh beo can be considered as a dish attached to the people here intimately. It is white, thin like a leaf, cast in small, round cups. Many street vendors or just a small basket, the shopkeeper brought banh beo to sell. Or in Hue there are neighborhoods called "banh beo neighborhood" such as An Dinh, Ngu Binh street, …
The bot loc cake is made from cassava root. The cake has shrimp, fat meat, wrapped with banana leaves and steamed. The dough is so popular that people in other regions love to buy hundreds of them when they come to Hue as gifts for people at home.
Places to enjoy delicious Hue cakes:
– Bakery shop on Chi Lang street
– Ba Do Restaurant, 71 Nguyen Binh Khiem
– Ba Cu Restaurant, 47 Nguyen Hue
6. Grilled Nem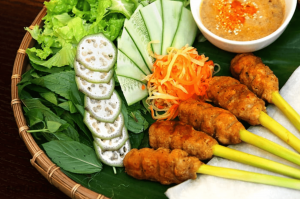 Many people often say "Nem is one of Hue's specialties". In addition to the main ingredient is grilled nem, the deliciousness of this dish is in the side vegetables and the sauce is prepared from dozens of different ingredients.
The accompanying vegetables must include herbs, star fruit, prunes, sliced ​​green bananas, and raw … Sauce is also very picky, made from pig liver, oil, buttermilk, sugar, soy sauce, fish sauce, cinnamon, flower, coconut … Every time you come to Hue, you will want to enjoy this dish. Even if you come home, you still want to search for some kind of nem shop for the same flavor in Hue.
Delicious nem shops in Hue:
– Restaurant in front of Dong Ba market
– Restaurant on Phu Quy – Nguyen Hue street
– Hanh shop at 11 Pho Duc Chinh
7. Am Phu Rice
A delicious dish in Hue that has a rather strange name is a lot of curiosity for tourists. So this dish is attractive from its looking to taste. The origin of this dish originates from the rice shop called Am Phu on Nguyen Thai Hoc street, near the Hue stadium. The shop has been opened for nearly a hundred years and only open at late night before. They used a kerosene lamp so that it became such a name.
A plate of Am Phu rice makes you enjoy with the first eye by having a 7-color rice dish, which is displayed very artfully, very brilliant. White rice is cooked in An Cuu rice in the middle, surrounded by bacon, Hue silk rolls, shrimp, baked rolls, omelette, herbs, cucumber … When you eat, remember to sprinkle some fish sauce on top, mix well and enjoy. Nowadays, they serve Am Phu rice from popular restaurants to luxurious restaurants.
Some Am Phu Rice Restaurant in Hue:
– 35 Nguyen Thai Hoc
– 51 Nguyen Thai Hoc
8. Hue vegetarian rice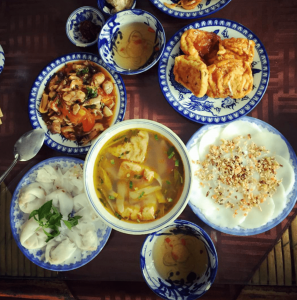 Hue space is pure, peaceful and very suitable for enjoying a vegetarian meal. And vegetarian rice in Hue is an art. Ingredients are only from vegetables, tubers, mushrooms, tofu, green beans … But the served vegetarian rice tray can express all the heart and effort of the maker.
Eating vegetarian meals in the temple is probably the best. Moreover, you can ask for any vegetarian meal at the temple. In addition, pagodas have vegetarian offerings to invite the Buddhists to the pilgrimage temple on the full moon and the first moon.
Some restaurants serve Hue vegetarian rice you can come:
– Lien Hoa Restaurant: No. 3 Le Quy Don Street
– Bo De restaurant on Ba Trieu
9. Grilled meat bun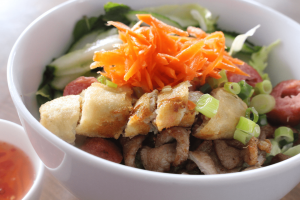 Barbecue bun is one of the extremely popular dishes in Hue, also in Vietnam. You can find this dish anywhere on the S-shaped strip of land. However, in each region, each locality, grilled meat vermicelli has a distinctly different flavor that is suitable for the taste of the people in that locality. In Hue, grilled meat vermicelli is a very special dish. In order to make this dish, they must marinate meat then grill it. Eating grilled meat with vermicelli will be an extremely perfect and wonderful combination for diners to enjoy Hue snacks. You can eat this dish with fresh vegetables if you like.
Delicious grilled vermicelli shops in the area:
– Kim Long Street, the way to Thien Mu Pagoda
– Dong Ba market gate
– Grilled meat vermicelli restaurant on Ba Trieu street
10. The delicious dishes in Hue can be brought as gifts
– Nhat Le banh chung: is a very famous dish in Hue, starting from Nhat Le street in the inner city. The banh chung here is very special, only small by hand and always sold in pairs.
– Sour shrimp: a dish with the flair of Hue people, made from copper shrimp, not too big or too small to have a beautiful form. It takes over ten stages to get the finished product of sour shrimp jar with eye-catching colors and characteristic pungent taste.
– Tré Hue: a dish that looks like sour Nem, but is very different. All ingredients must be cooked and include many spices. And they often do it by hands, not by machine because that makes Tre hue more delicious. Because when making by hands, the ingredients will not be crushed and retain the original flavor.
Asia Master Tours believes that these regional dishes always satisfy the most demanding tourists. Therefore, do not miss out the opportunity to enjoy a part of Hue culture through these dishes.
You can view more articles about traveling to Vietnam.
Contact Us
Address: 272 Khuong Dinh Street, Thanh Xuan District, Hanoi, Vietnam
Phone: (+84)24 6293 4678
Email:info@asiamastertours.com
Hotline: (+84)962 313 698
Website: http://www.asiamastertours.com