Essential Bhutan
$2335

$1985
per person
Visit various fortresses with Bhutanese architectural design
Go to the most sacred temples and monasteries of Bhutan
Do shopping at Centenary Farmers' Market where you can bargain for local handicrafts
Destination

Arriver

Paro, Bhutan

Departure

Paro, Bhutan

Tour Code

NL16

Included

Private guided tour

Visas for Bhutan

Airport transfers

Daily 3 meals (B/L/D) at designated restaurants or hotels

Accommodation at 3 star hotel

A qualified & licensed English-speaking guide

An experienced driver

A tour vehicle

Entry fees & road permits

Government fee, royalty, taxes & surcharges

Mineral bottled water

Set of traditional costume (to be return at the end of your stay)

Full service & assistance before, during and after your Bhutan trip

Not Included

Flight into Bhutan via Drukair (can be arranged with us)

Flight on other airline to catch Drukair Flight1

Meals at 4-5 stars restaurants

Hotel stay outside of Bhutan

Expenditure of personal nature

Travel Insurance (can be arranged with us)

Tips for the guide and driver

Alcoholic drink
Terms of tour
Our offers:
Free 1 bottle of water of 500 ml / person / day during road transfers.
Support 24/24 during the trip, from the office in Hanoi, by a dedicated customer agent.
Payment conditions:
A deposit of 40% of the total price is required before we process your booking .
An Additional deposit of 40% of the total amount is required 14 days before your arrival date.
The balance of 20% will be fully paid upon the customer's arrival in cash or by credit card.
Bank charges related to the payment are borne by the customer.
Cancellation fees:
In more than 30 days prior to the trip departure: No charge
In 15-30 days prior to customer's arrival: 10% charge
In 06-15 days prior to customer's arrival: 30% charge
In 02-06 days prior to customer's arrival: 60% charge
Within 02 days prior to customer's arrival: 100% charge.
Notes:
These rates are applicable per tourist per night halt in Bhutan.
On the day of departure, the 'local agents' host obligation shall be limited to providing breakfast only and any extra requirements shall be payable on usage basis.
The list of hotels and lodges approved to provide accommodations all listed on this website. If your accommodation is not listed on this website then it is not licensed cater for international tourists.
The Royal Government of Bhutan sets minimum selling prices for packages to Bhutan. These must be paid in US dollars prior to arrival in Bhutan.
1
Day 1: Arrival In Paro, Bhutan
When you first arrive at Paro International Airport, you will be met by one of our delightful tour guides just outside the arrival hall. At 7,333 feet above sea level, the first thing you will likely notice is the effect of the high altitudes, so we will give you time to acclimate as we take a short drive to Thimphu and check into your hotel.
Thimphu is the capital of Bhutan and the perfect location to transition from your familiar lifestyle to our unique country that is like no other place on earth. Here you will begin to appreciate our local customs as you get your first glimpse of monks dressed in traditional red robes, men in striped ghos, and women in brightly colored kiras. Once you settle into your hotel, we will begin to unlock the mysteries of Bhutan by touring Thimphu's most important sites. The National Memorial Chorten was built in 1974 to memorialize JigmeDorjiWangchuk, the third king of Bhutan (1928-1972). A chorten is a stupa, or hemispherical structure, that is used as a place of meditation. The whitewashed building with a golden finial on top is a popular location for prayer as it represents the strength and kindness of our beloved third king.
The Thimphu Tashichho Dzong is a fortress and Buddhist monastery with a distinctive Bhutanese architectural design. Sitting aside the Wang Chhu (river), it is the current seat of the Druk Desi, the head of the civil government, and houses the offices of the current king.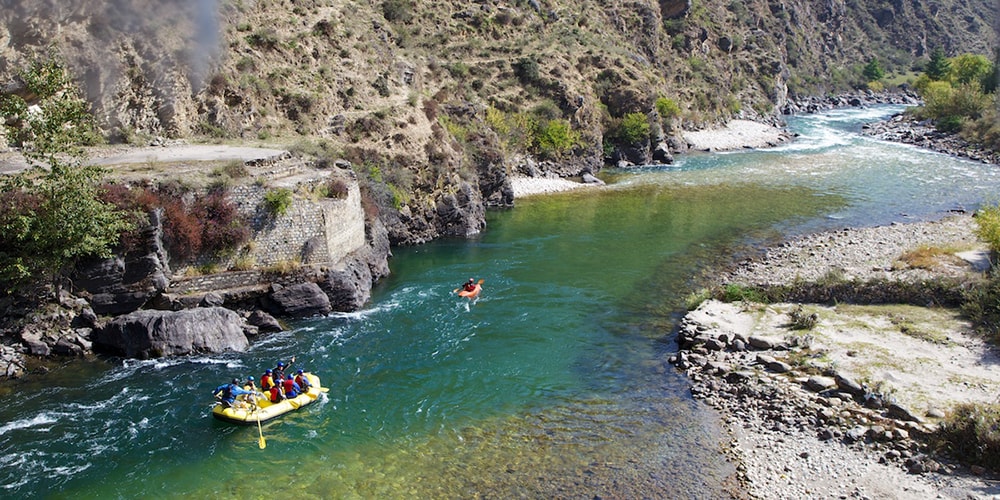 On the weekends, Centenary Farmers' Market is where farmers come to sell their vegetables, cheeses, grains, and the occasional yak leg. Across the street is the Kundeyling Baazam where you can bargain for local handicrafts, such as mala beads and prayer wheels. We will then take a scenic drive up to Buddha Point in the Kuenselphodrang Nature Park to see the 169-foot-tall bronze statue of the seated Buddha Dordenma. One of the largest sitting Buddha statues in the world, it sits atop a hill where you will see sweeping views of the valley and surrounding mountains. After returning to town for dinner, you can wander through the shops, bars, and cafes of Thimphu.
After breakfast, our first stop will be at the National Folk Heritage Museum, dedicated to preserving Bhutanese folk arts. This renovated 19th-century building is laid out like a traditional, rural household with three stories of traditional arts Es, cultural relics, and artifacts. Demonstrations are performed throughout the day to show how the Bhutanese people have lived over the centuries.
At the Jungshi Handmade Paper Factory, you will see the ancient practice of natural papermaking. Using the bark of two local tree species (Daphne and Dhekap), craftsmen demonstrate how to make the traditional paper Deh-sho. You can even try making your own paper for a special souvenir. Handmade papers were used by monks for writing prayers and woodblock printing.
Weaving is considered the national art of Bhutan, so at The National Textile Museum, you will learn all about the brightly colored and beautifully designed fabrics that are worn by the Bhutanese people. Thanks in part to our Queen JetsunPema, the fabrics of Bhutan are widely considered high fashion around the world. Due to the importance of this living art form, the Royal Government of Bhutan works to preserve and promote these traditional weaving methods.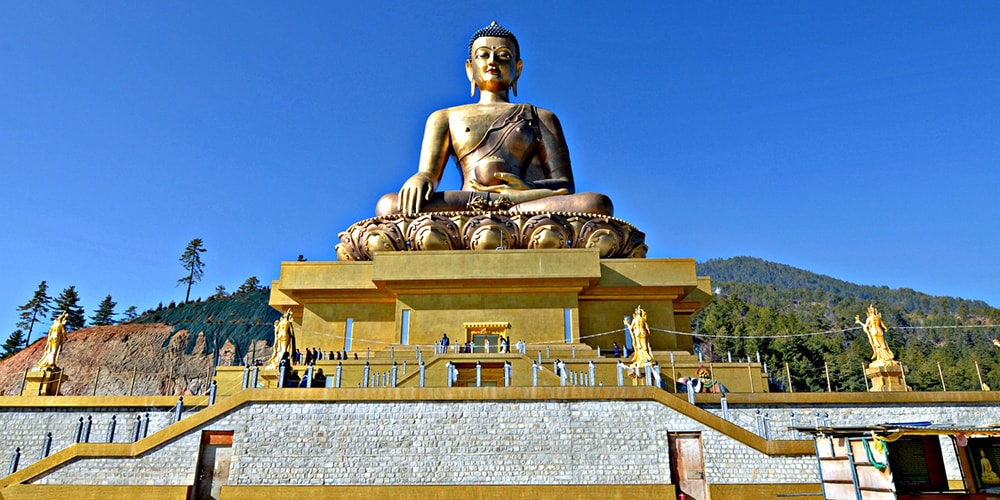 We then take a drive to MotithangTakin Preserve, home to one of the strangest looking creatures on earth. The takin is a gentle moose-like animal that is described as looking like is was stung1 by a bee. Originally a small zoo, the king decreed that it was not in alignment with Buddhist practices to pen up animals, and they were released into the wild. The takin; however, refused to leave and began wandering the city streets in search of food. The preserve was established, and Bhutan's national animal is now taken care of by royal decree.
We end the day with a visit to Simtokha Dzong. Built in 1629, it was the first fortress of its kind in Bhutan and features beautifully painted Buddhist murals and carvings inside. Simtokha means "demon stone" and legend has it that the fortress was used to contain a demon inside a rock which was terrorizing the region. Today, it is home to one of the premier monk-taught Dzongkha learning centers, the national language of Bhutan.
3
Day 3: Thimphu To Punakha
Today we travel to Punakha, the former capital of Bhutan until 1955, and will stop off at Dochula Pass along the way. This popular tourist spot provides stunning 360-degree views of the Himalayas. It is also home to the 108 Druk Wangyal Chortens that were built on a small hill to memorialize the Bhutanese soldiers killed in a 2003 battle with Assamese insurgents from India.
The Druk Wangyal Lhakhang temple was completed in 2008, built to commemorate 100 years of monarchy and His Majesty Jigme Singye Wangchuck, the fourth king, and leader of the raid that removed the Indian rebels. We will tour what is considered one of the most beautiful site in Bhutan, Punakha Dzong. Sitting at the fork of two rivers, it is a stunning example of Bhutanese architecture. Built in 1637, it is the second oldest and second largest dzong in Bhutan. Jacaranda trees surround the structure that produce stunning lavender blooms in the spring. The massive structure is six stories with a central utse (tower) that stands 3,900 feet tall. Inside the fortress, there are three large courtyards, one of which houses the well-preserved body of Zhabdrung Ngawang Namgyal, the 17th-century father of unified Bhutan. It was also the location of the royal wedding of Bhutan's current king Jigme Khesar Namgyel Wangchuck to Jetsun Pema in 2011.
We will also visit Khamsum Yulley Namgyal Chorten, which is a splendid example of Bhutanese art meets architecture, and the only one of its kind. At the direction of the third Queen Mother Ashi Tshering Yangdon Wangchuck, the site took nine years to build because architects, painters, sculptors, and carpenters only used holy scriptures rather than engineering manuals to construct this four-story temple. Only reachable on foot, the hour trek includes an exhilarating walk across a colorful prayer flag adorned suspended footbridge that crosses the Mo Chhu. In 1999, the temple was consecrated to remove negative energies and promote peace, harmony, and stability around the world. It is a stunning building with splendid views of the valley that are well worth the walk.
The beautiful valley of Paro is home to many of Bhutan's old monasteries and temples. The country's only airport is in Paro. The valley is also home to Mount Jomolhari (7, 300m) situated at the northern end of the valley whose glacier water forms the Pa Chhu flowing through the valley.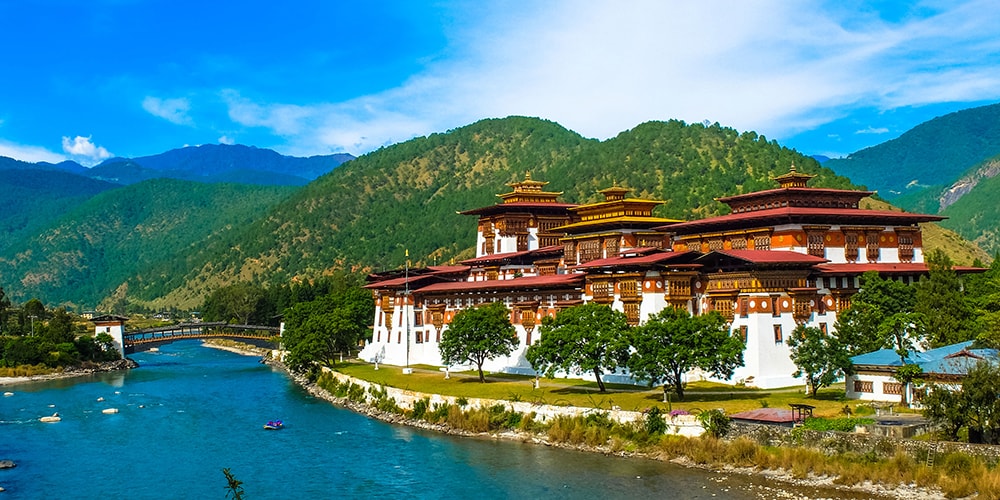 Kyichu Lhakhang - Also known as Kyerchu temple or Lho Kyerchu, it is the oldest temple in Bhutan. Just like Jambhay Lhakhang in Bumthang, it is one of the 108 temples built by the Tibetan King Songtsen Gampo to subdue and pin down an ogress that was obstructing the spread of Buddhism. According to legend, all 108 temples were built in a single night.
Go back in time and history and visit the seventh century Kyichu temple. As the name suggests, the temple is a reservoir of peace, and you will feel at peace here. Next to the temple is a house that was turned into a museum dedicated to the late Dilgo Khyentse Rinpoche. One can come across photographs and other artifacts belonging to Rinpoche.
Dumtse Lhakhang - Built in 1433 by the iron bridge builder Thangton Gyalpo, the temple was built to subdue a demoness and so was chained firmly to the ground. It's three floors represents hell, earth and heaven. To enter Dumtse Lhakhang, you will require a special permit.
Drive to Haa through Chele La (3, 988m). From the pass you can see Paro Valley on one side and then Haa valley on the other. You can also have a picnic at Chele La if you like to. In Haa, some sightseeing and then head to Katsho village and visiting the Katso Lhakhang. Then you will head back to Paro.
Chele La Pass - Start early for the drive to Chele La Pass, which, at 3, 988m is the highest road pass in Bhutan, snaking upwards through blue pine and rhododendron (Etho Metho) forests for 35 km. On a clear day, the view sweeps away to the snow-dome of Bhutan's second highest peak, Mt. Jomolhari (7, 314m), and down to the Haa Valley, which only opened to foreigners in 2002 due to its promixity to the border with Sikkim and Tibet.
For those who rather have a leisurely sightseeing day, there is the option to drive from Chele La Pass down the other side to the Haa valley. In case Chele La Pass is not accessible during the winter months due to ice or snow, your guide will propose an alternative for this day excursion.
Picnic at Chele La Pass - Have a picnic at and have a beautiful short hike at the pass while enjoying the beautiful view.
The valley of Haa was only opened to tourists in 2002 and Haa is the least visited valley in Bhutan due to the lack of tourist infrastructure. This has helped keep Haa the way its always been, with Bhutanese families living their traditional and simple life. There are no tourist standard hotels in the Haa valley, so we return to Paro for the night.
Lhakhang Nagpo, Black Temple - It's a very peaceful and tranquil place, suitable for meditation. The monastery was established in the 7th century by King Songtsen Gampo in his mission to build 108 monasteries in one day. It is situated towards the north of Lhakhang Karpo. Legend has it that King Songtsen Gampo released a black and white pigeon to select sites to build the temples.
On our final tour day, we take an exhilarating one-hour hike to Taktsang Monastery (or Tiger's Nest), one of the most recognizable sites in Bhutan. Built precariously on a hillside cliff, it sits more than 10,000 feet above sea level. Accessible only by foot, we follow a trail decorated with colorful prayer flags along the way to protect travelers from evil spirits. Built over the caves that Guru Padmasambhava meditated in for three years, this eighth-century father of Bhutan Buddhism is said to have been brought there on the back of a tigress. One of the most sacred sites in Bhutan it offers breathtaking views to those energetic enough to make it to the top.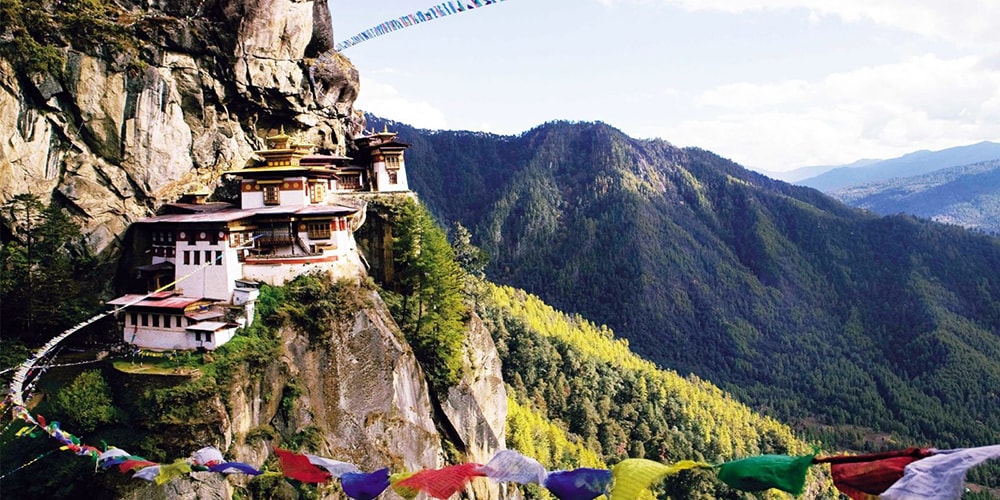 We then take a short drive north of Paro to visit the ruins of Drukgyal Dzong. Built in 1647 by Zhabdrung Ngawang Namgyal, the unifier of medieval Bhutan, it was used as a stronghold against invading Tibetan armies. After a fire destroyed it in 1951, it remains a ruin as a symbol of the past military victories. On clear days, you can also see the snowcapped peak of Chomolohari mountain.
We end the day with a visit to KyichuLhakhang, a beautiful seventh-century Buddhist temple, one of the oldest in Bhutan. According to legend, a giant demonesslay her body across the Himalayas to prevent the spread of Buddhism. Tibetan King Songtsen Gambo built 108 temples throughout the region and around her body to pin her down, with Kyichu Lhakhang built to hold down her left foot
After breakfast, transfer to airport depend on your flight time.
End of services!