Discover Dong Ba market – The most crowded shopping place in Hue
About Dong Ba market
"Dong Ba" is not the first name of this place. Previously the market was called "Quy Gia Thi". The market name marked the event of returning to Phu Xuan by the Nguyen army. However, in 1885, the capital fell and the market was burned down. Until 1887, King Dong Khanh rebuilt and changed its name to Dong Ba market.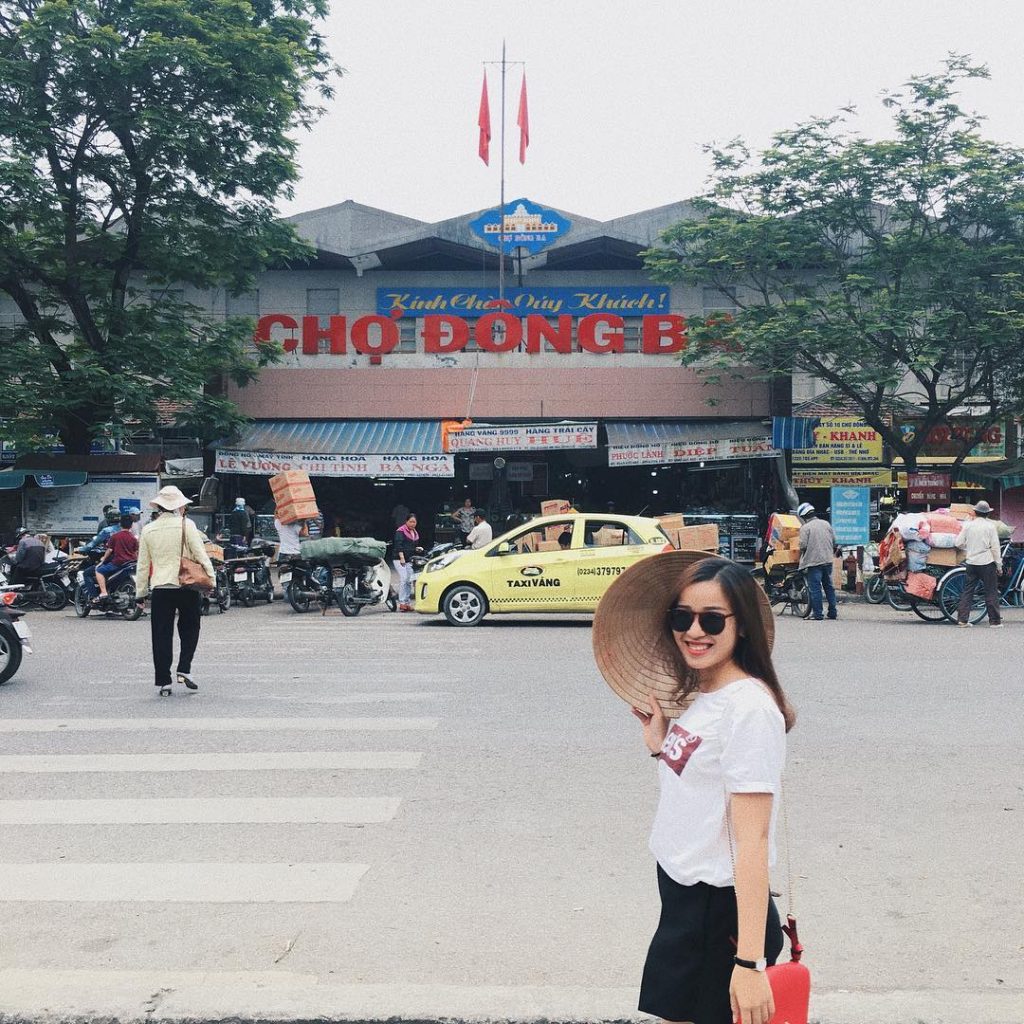 Dong Ba Market Hue is located between Truong Tien Bridge and Gia Hoi Bridge. Outside the market looks like other normal markets. But when you go to explore all inside you can see the difference.
The ideal time to go to Dong Ba market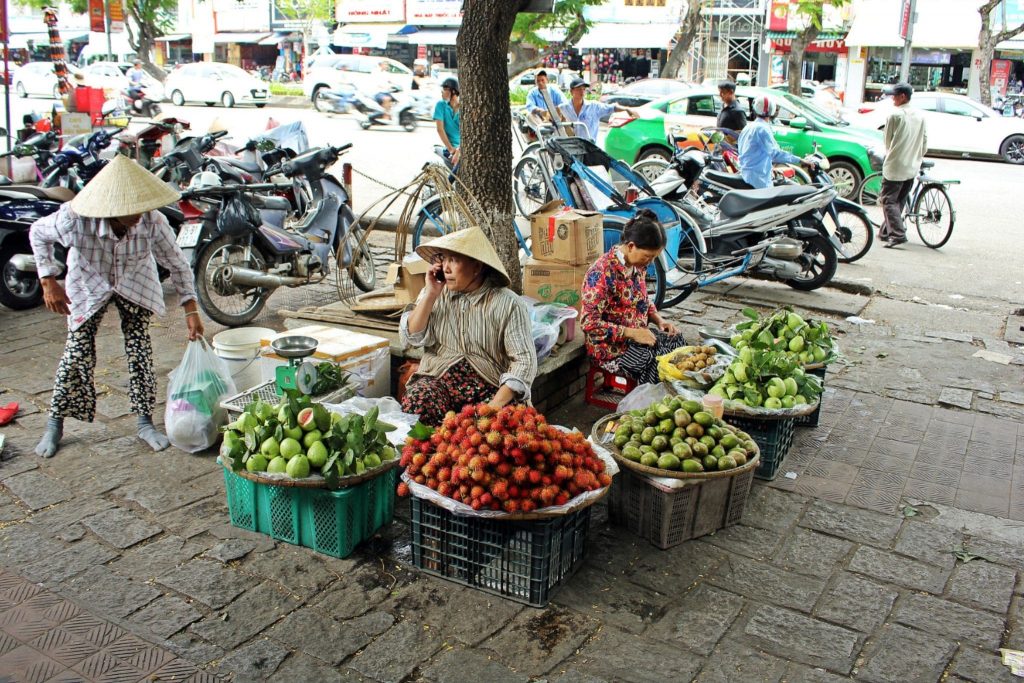 The best time to experience Dong Ba is about 3pm. Because this period of time is a good time for bargaining for the price of goods during the day. Besides, there are also famous food shops at this time that are not available in the morning.
What kind of commodities does Dong Ba Market sell?
Like many markets in Vietnam, Dong Ba Market Hue is divided into many different areas, depending on the type of item. The entire upper floor of the market sells clothing and apparel.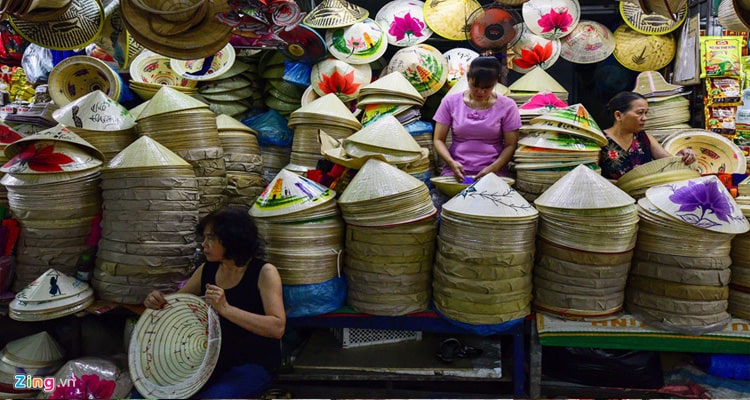 The 2nd floor is the area selling handicrafts so that you can buy souvenirs of Hue as a gift. Poem leaves, scissors cut covered with the green steel of Hien Luong blacksmith, Pottery Phuoc Tich village with various pot, cup, and bowl with full designs.
The first floor is the place to sell dried seafood and dozens of kinds of Hue specialty fish sauce. Please buy some specialty sauce as a gift.
Food at Dong Ba market
Banh giay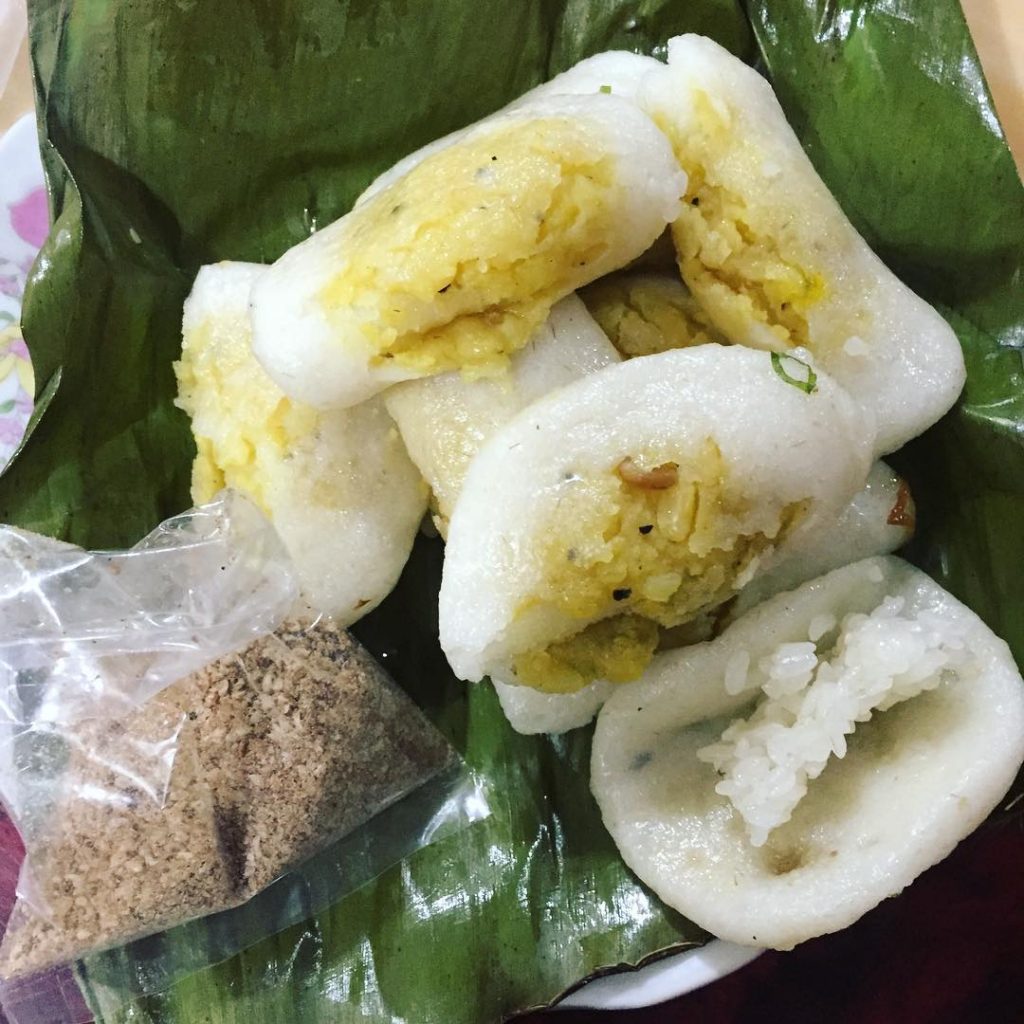 Banh giay is very popular with tourists when visiting Dong Ba market. The cake is made from glutinous rice mingled with sweet green bean paste or meat. People also transform this traditional cake into dishes such as banh giay with pork, the red banh giay, … to attract tourists. Since these cakes are prepared delicately, they are rarely sold at the market. You should ask people around the market to find these banh giay.
Pate chaud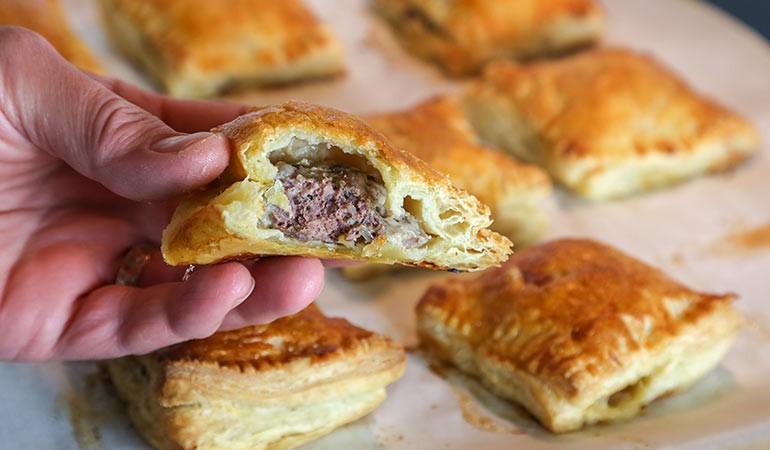 It sounds strange, right? Extremely new dish is sold near the gate of Dong Ba market for 5,000 VND / item. The cake is made from simple ingredients. Pate chaud attracts visitors because the outer crust is crispy, the inside is minced with meat, fungus and fat egg yolk. In addition, this cake is dipped in fish sauce mixed with sour, spicy, salty, sweet and served with raw vegetables, shredded papaya. Therefore it will not cause bored feeling.
Bot loc cake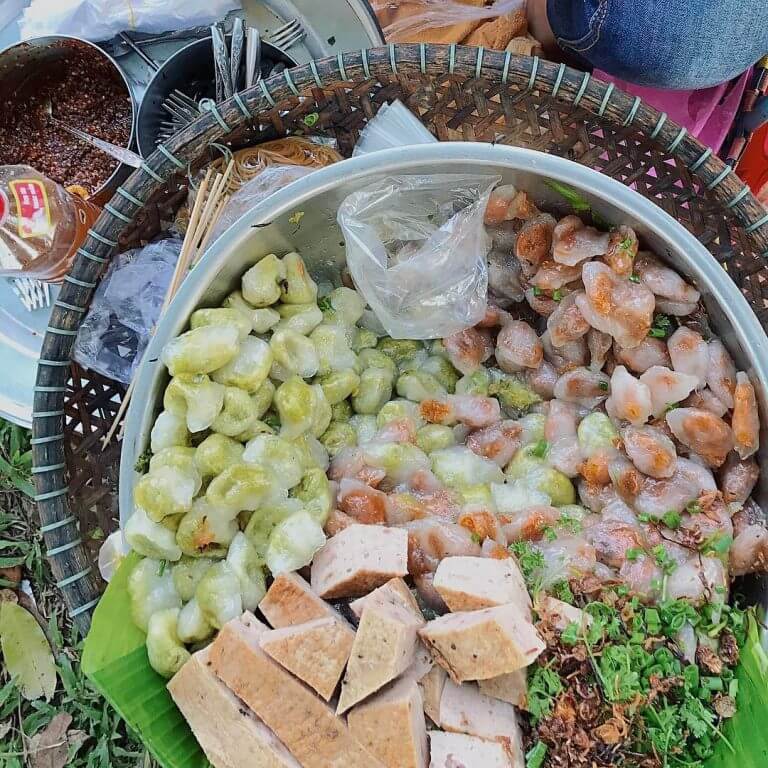 Bot loc cake is now famous as one of the delicious cakes. It is considered the folk symbol of Hue cuisine. The cake has a pretty simple way of doing it. Bot loc cakes include two types, namely salty cakes made of bacon or shrimp and cakes made from sweet bean paste.
Mussels noodle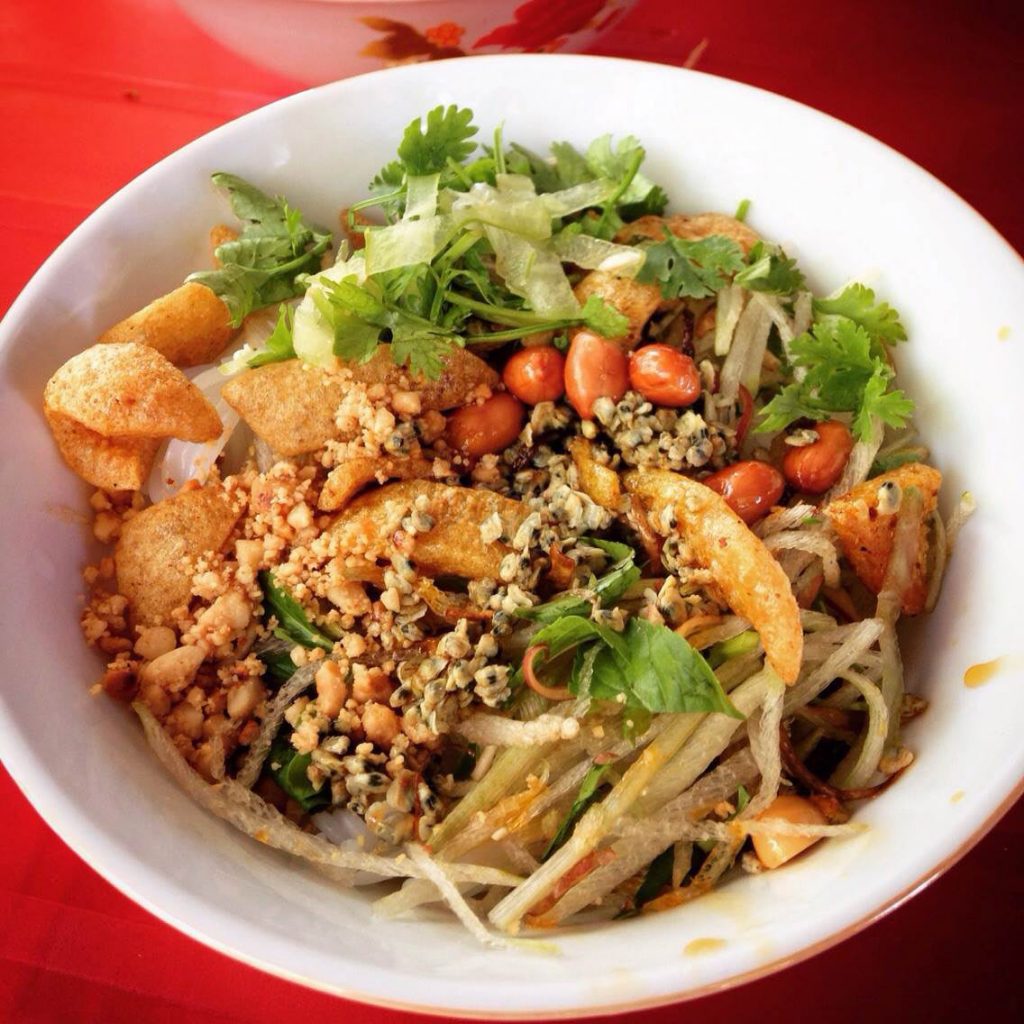 This is a quite famous special dish that everyone who wants to enjoy in Hue. A full bowl of mussels vermicelli including vermicelli, stir-fried mussels, crispy pork skin is served with raw vegetables, satay chili, roasted peanuts and a little fish sauce.
Che Hue
Hue is famous for dozens of different types of che. Each type of Che brings a unique flavor. You can enjoy green bean Che, lotus seed Che if you like fresh taste. There is also a fruit Che which is a perfect choice. This food has a naturally delicious taste, a nice aroma and beautifully decorated. Che Hue is also divided into royal Che and popular Che, which is loved by many tourists.
Turmeric Noodles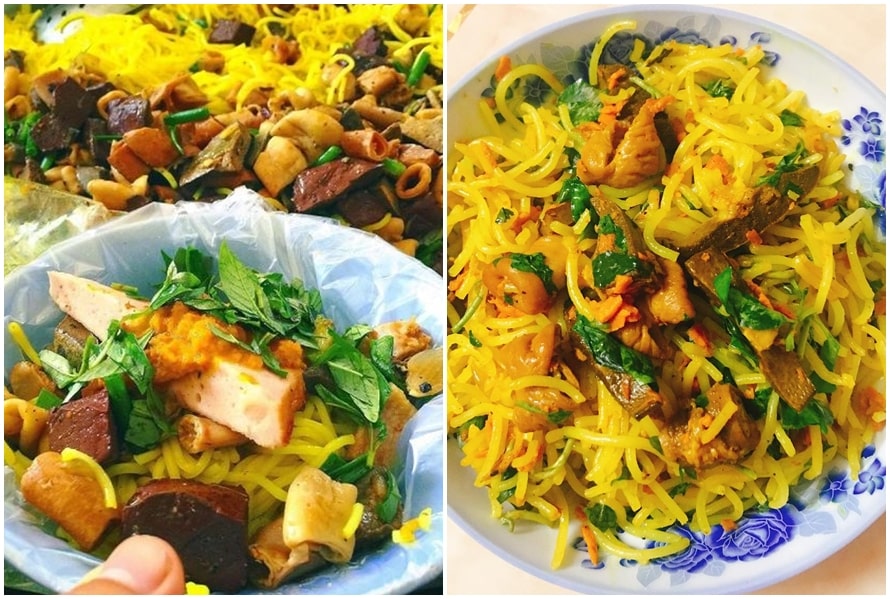 If you come to Dong Ba market, you should not miss out this dish. This dish is made from fresh turmeric and stir-fried vermicelli mixed with heart, kidney, pig intestine looks extremely attractive. A bowl of rice noodles requires plastic noodles, chopped pig intestine and aromatic turmeric should be very elaborate and meticulous.
Xeo cake
This is a famous cake in Hue made from rice flour, bean sprouts, shrimp, eggs and spring rolls. Pancakes are served with raw vegetables and dipped in peanut paste. When you eat, you will feel the crunchy crust blended with the greasy egg, the sweetness of shrimp, rice and beansprout.
Experience when going to Dong Ba market
When buying something, remember to bargain. You pay from half the original price then raise gradually. You can buy goods in Dong Ba market Hue Vietnam with low price because the price in Hue is very cheap. Additionally, you should go to the market early in the morning to be able to buy fresh goods. The market is held from 3 am to 20:30.
You should avoid going there on the first day of the Chinese New Year because there is only very few shops open. The market usually returns to normal after the 3rd of Tet holiday.
If you have the opportunity to Hue, remember to visit this famous Dong Ba market! Do not forget to share to Asia Master Tours how you feel when you come to the dreamy city.
So what do you expect more for a great trip? Please contact us – Asia Master Tours for guidance, advice and get the most preferential price when you, your family and friends are going to enjoy Hue city.
You can explore more famous places such as Minh Mang tomb and Tu Duc tomb in Hue or see some our exciting Sapa Tours such as Sapa Package Tour and Sapa Trekking Tours.
Contact Us
Address: 272 Khuong Dinh Street, Thanh Xuan District, Hanoi, Vietnam
Phone: (+84)24 6293 4678
Email: info@asiamastertours.com
Hotline: (+84)962 313 698
Website: http://www.asiamastertours.com