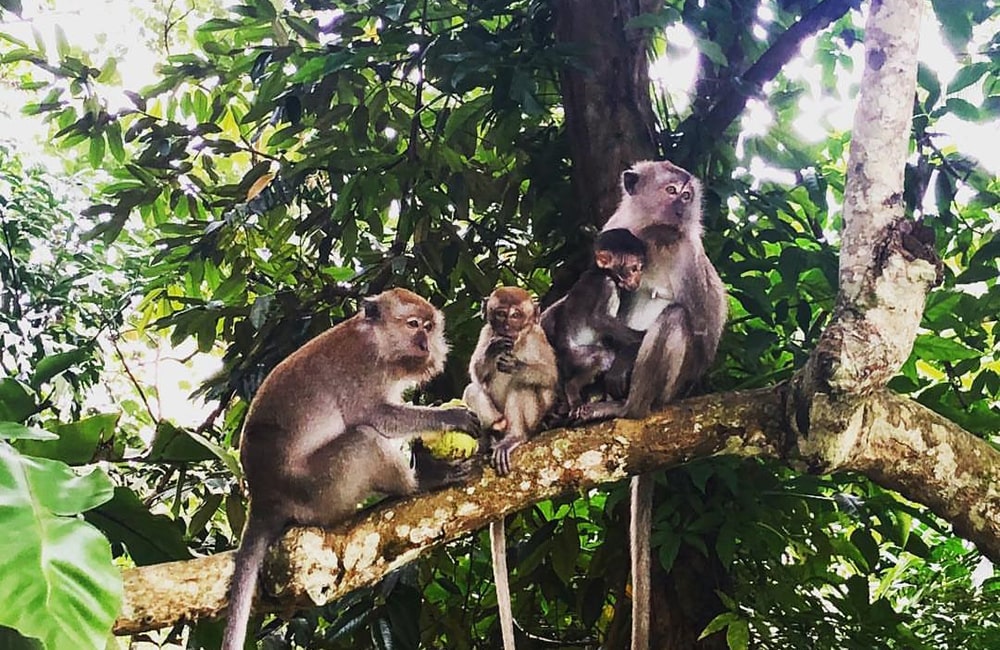 Want to have a good time with little cuties? Visit Monkey Island in Nha Trang
Only 15km from the coastal city of Nha Trang to the north, Nha Phu Bay is a poetic paradise with blue waves and blue water. In that peace, Hon Lao emerges like a glittering jewel among the vast blue of the sea. A magical scene of nature here is the main thing that lures tourists to Nha Trang. The name of Hon Lao is also known by tourists as Nha Trang tourists called Monkey Island Nha Tramg because it has 1,200 monkeys here. And this is also one of the interesting things to make Hon Lao become more lively in the eyes of tourists in Nha Trang.
So, if you are looking for some interesting places to go in Nha Trang, why don't you try to come to Monkey island Nha Trang. Here, you not only have a chance to play with monkeys but also can admire the wonderful nature on the island. And, before the trip, there is something that you might want to know about this island.
1. How to travel to Monkey island
Monkey Island Nha Trang is a small island located in Nha Phu Bay, near the beautiful Ninh Van Bay, and only 15km from the center of Nha Trang City to the North. To visit Nha Trang Monkey Island, you must visit the pier at Da Chong Port. From here, you just need to follow National Highway 1A for about 15 minutes, then you will arrive and buy train tickets to go to Monkey Island. The trip will be more interesting than usual because sitting on the train, you can delight in watching the vast blue ocean with the sea breezes and peaceful sunshine.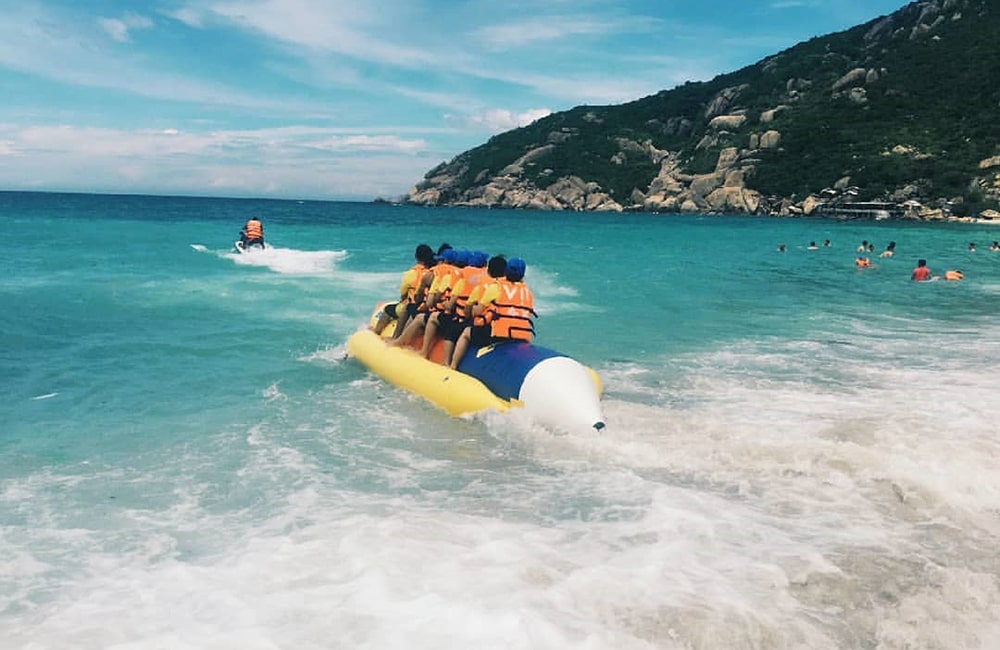 2. Brief history of this island
The reason for this island is "Monkey Island" because this place is the home to live and develop more than 1200 monkeys including many different species such as red-faced monkey or gray-haired monkey. Monkeys are nurtured and cared for both to preserve and serve visitors' needs. The monkeys here are bred naturally in primeval forests, not in captivity. Here, you will find cute, funny monkeys everywhere on the island and have fun with them. The island has an area of 25ha and also possesses many beautiful scenes as well as interesting recreational activities that you can hardly ignore if you have arrived here.
To visit Monkey island Nha Trang, you have to buy ticket. It's because it helps to raise the awareness of people about preservation for this island. And, this amount of money helps the authority has budget to preserve the environment and take care of monkeys here. The price is 120k for adults and 60k for children with the height below 1m.
3. Activities on the island
Coming to Monkey Island, tourists from Nha Trang boarded a horse-drawn carriage along the road, with hundreds of ten thousand monk trees taller than their heads. Through the forest of ten thousand years is coming to the coconut forest, here is the first group of monkeys. The characteristics of these monkeys are that they all have yellow fur that looks very funny. From coconut forest, Nha Trang tourists walk to the territory of the second monkeys. These monkeys have darker hairs on their heads. A lot of mother monkeys have babies, small monkeys with furry fur and cute faces. Here, the tour guide introduces tourists to Nha Trang about behavior, sleeping, disease situation, level of parasite infection … of each herd of monkeys. It will be a little interesting for Nha Trang tourists when they understand more about the habit of each monkey. So, don't hesitate to grab this chance to monkey island Nha Trang to get to know more about monkeys. Moreover, there are lots of different interesting activities that you can enjoy here such as:
Play with monkeys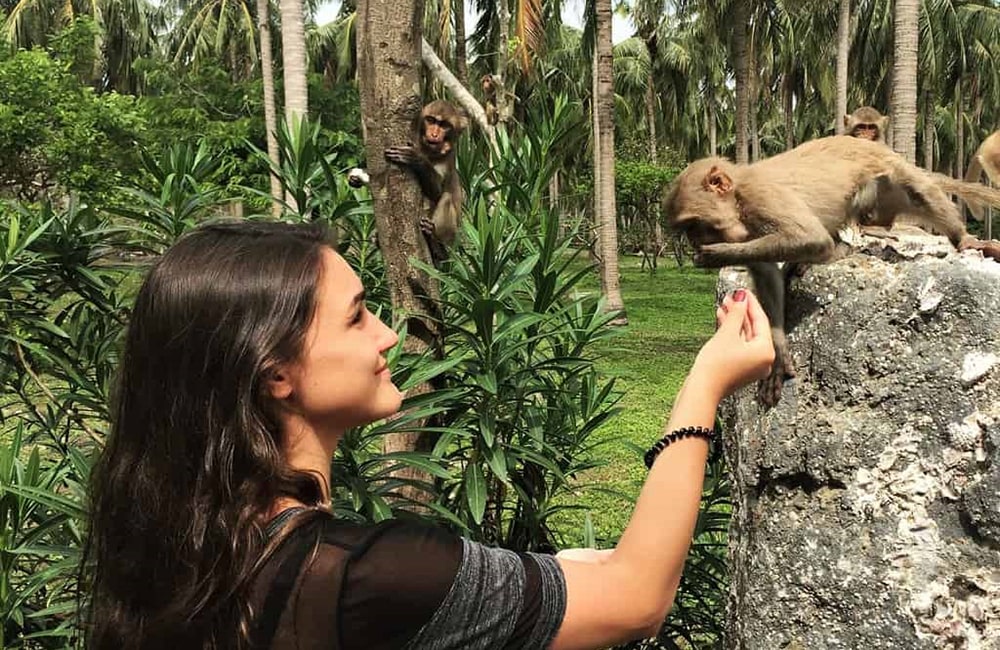 The monkeys here are extremely brave, ready to go out and play with the tourists at any time. Mischievous monkeys will surely make you excited by their intelligence. There is nothing more wonderful than being able to breathe the fresh air, watching the beautiful natural landscape, unspoiled and having fun with the lovely monkeys. You will really relax when you are immersed in the space here.
Don't forget to give monkeys some food if you can. They like fruits and snacks. Sometimes, if you don't hand them food or something they like that you have, they will try to disturb you by pulling your hair or your clothes. However, you can't get angry with them because they will look at you with their innocent eyes. And, this interesting thing won't happen anywhere else except in monkey island Nha Trang.
Watch the circus monkey
Because the monkeys are so smart and clever, the people here have trained them to become talented circus artists. Therefore, coming here you will admire the extremely beautiful and attractive monkey circus that you have little chance to see before. Sometimes, there are interesting dog races on the island, if you are lucky, you will witness these exciting races.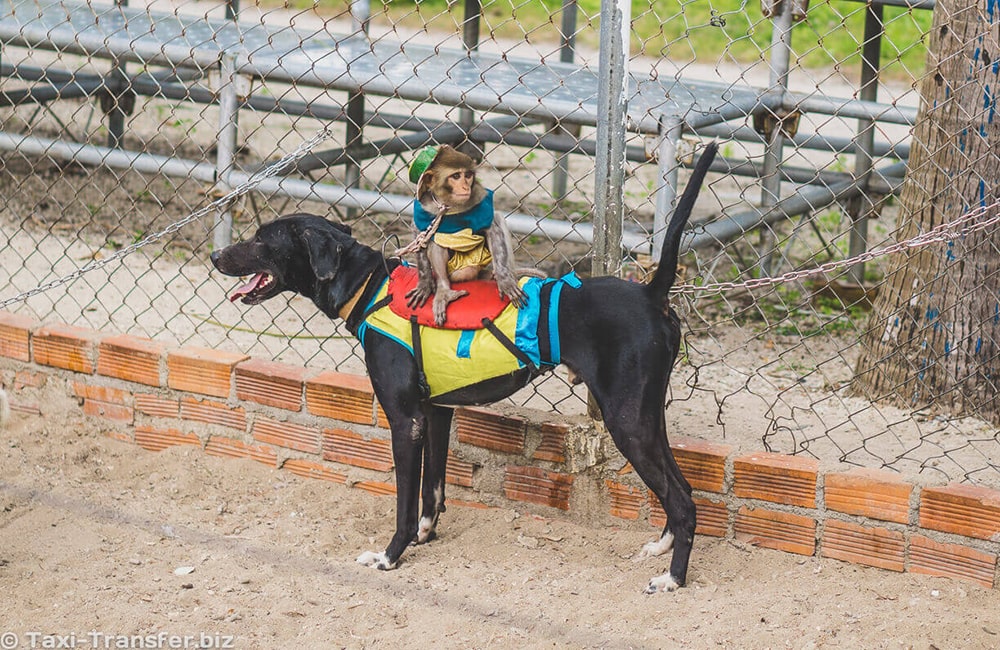 Other activities
In addition, to this beautiful island in addition to breathing fresh air, watching and playing with monkeys to have a relaxing moment in the holidays, you can also participate in many other fun activities: swimming in the cool blue water, snorkeling and watching corals or participating in adventure games of water motor, parachute … In addition, because Monkey island Nha Trang is not too wide, but to move between areas you can rent a horse cart of travel companies, which is also an extremely enjoyable experience.
Enjoy fresh seafood
When deciding on this beautiful Monkey Island tourist, do not forget to enjoy extremely attractive and fresh seafood dishes. All seafood is caught by fishermen from early to market, so it is very fresh. You can ask the restaurant to process your favorite dishes. If you follow a large group, you can also take the initiative in bringing food and drinks with you to save costs for an economic trip that is not less interesting.