Da Nang weather is awesome. But when is the best time to visit this city? Find out now!
When it comes to Vietnam, everyone will think about Da Nang. This city will make you enjoy the true definition of travel. And, once you come here, you don't wanna leave. You might change your whole plan or start finding a job to stay here longer. We only can say that this city is an awesome city that we all want to visit.
Of course, visiting Da Nang is not too difficult. You only need to take three or four days off. Book flights, pack your things and go. When in Da Nang, you will have a chance to admire the beautiful landscape, peaceful and friendly city. And, the best thing about this place is that the price is adorable compared to other places. Before going, you might want to do some research about the best time to visit Da Nang. It's because you don't want to stay in your hotel during your vacation because of the bad weather. Then, let's take a look at some basic information about the weather in Da Nang.
1. Overview of Da Nang's weather
Danang City is located in the typical monsoon tropical climate, high temperature, and low volatility. In Da Nang, the highest temperature in the year ranges from 28-30 degrees Celsius, falling in June, July, and August. And, the lowest temperature is in December, January, and February, averaging between 18 and 23 degrees. The climate of Danang has a transition between the climate of the North and the South. But the most dominant is the typical tropical climate in the South. From August to December every year is the rainy season in Danang. Rainfall is relatively stable, sometimes with heavy storms. The dry season in Danang lasts from January to July every year. Da Nang has occasional cold spells but is not bold and does not last long, so it does not affect visitors much. Da Nang in each season has its own characteristics, tourists consider choosing the right time to travel and explore.
So, in general, all year round is the best time to visit Da Nang. You can plan your trip whenever you want. Actually, if you want to go to Da Nang, nothing can stop you. And, we don't think that you are so unlucky that the weather in Da Nang will be bad during your vacation. You might think that our article will end here because there is nothing to say more about the best time to go to Da Nang. However, we are so nice to give you more details about the weather here. Then, keep reading because this information will help you have the best vacation.
2. The time when Da Nang is the most beautiful
The best time and the most favorable weather in Da Nang, as well as most other coastal tourism provinces in Vietnam, is the SUMMER. In particular, this time lasts from the beginning of April to the end of August the calendar. It's because at this time, in Danang, there is less rain and sun so it is extremely convenient for sightseeing as well as outdoor activities. You should visit Da Nang during this time. The possibility that you will encounter rain is so small and you also don't have to put up with the sun. Then, it can be considered as the best time to visit Da Nang.
This is also a time when you can go to any tourist destination you want in Da Nang, from going to the city center, going to Hoi An, going to the mountains in Hai Van, Ba Na or Son Tra peninsula, going out, swimming in beautiful beaches like My Khe, Non Nuoc, An Bang … and even going to Cu Lao Cham island without any difficulty. At this time, the sea water is clear, the trees are fresh. And, we think that it's super suitable for girls who like taking photos and showing them on social media. It's because with nice weather and magnificent sightseeing like that it's easy for you to have stunning pictures with your normal camera. And then, you can try special effects on VSCO or any photo editor application you have. Wanna have thousand-like pictures? It's not too difficult with the best time to visit Da Nang.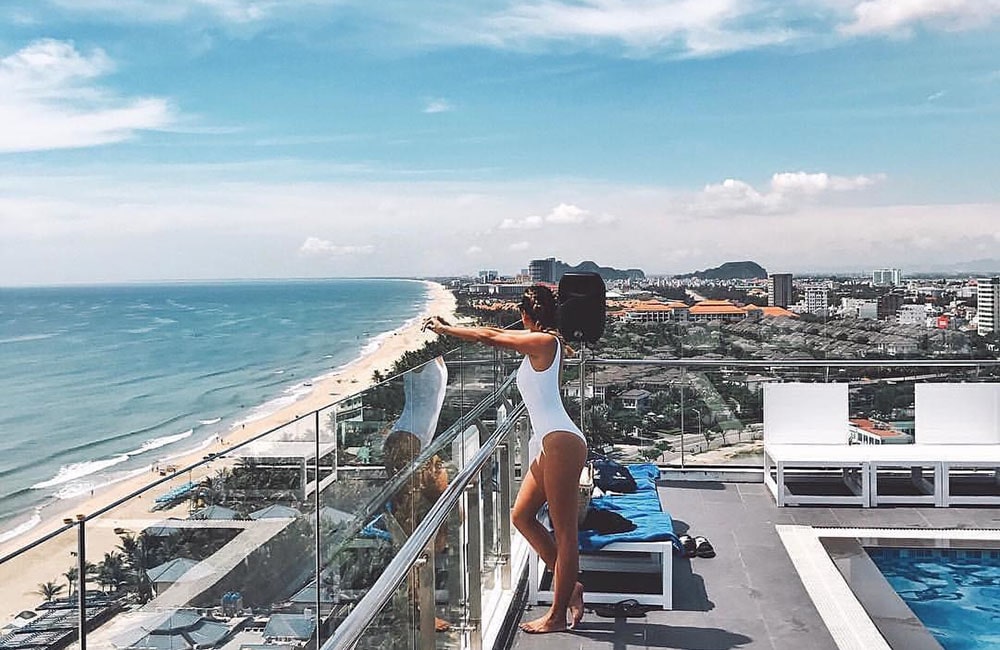 3. If you are on a budget trip, visit Da Nang at this time!
Not everyone has a large budget for their vacation, except crazy rich Asians (just kidding!). Everyone thinks that summer is the best time to visit Da Nang, so they tend to flock into this city during the summer. And, if you study economics, you might know that it causes a rise in price. It means all services are more expensive than usual. The price for one night in a normal hotel is sky high. The price of your meals might increase, too. Although we have to say that the authorities always guarantee that the price for tourists is the same all year round, no one knows what will happen. Then, if you want to save some money for your next trip, go to Da Nang from December till March of the next year.
Contrary to the above period, from September to the end of March of the following year, the time of entering the rainy season, the weather is no longer favorable. Danang is no longer noisy, tourists are also more limited. At this time, hotel prices fall deeply, some places are only half compared to the summer, food services, tours are also cheap. The fact that full hotel rooms and tours are very rarely occurring so you can comfortably book a few days in advance.
4. Raining season in Da Nang
Of course, it's raining, it's cold, but it's not always like that. Only the probability of meeting the rain will be higher, but many days still sunny and still very convenient for any activities. In general, it's bad luck. But surely this is the time for you guys who have pockets that are not so much to consider.
In general, Da Nang is a nice city to visit all year round. So, we can say that there is not exactly the best time to visit Da Nang. In contrast, all is up to you. For instance, whether you can organize your calendar or not, or whether your friends can go or not.