9 Things to do in Ho Chi Minh city Vietnam
Ho Chi Minh city is a bustling city in Vietnam. This city can be considered the second capital of the country. Coming to Ho Chi Minh city Vietnam, you will be amazed by its diversity of history, art, cuisine, culture, nightlife. It's an interesting city that always encourages the curiosity of travelers. Today I will show you Ho Chi Minh city things to do so you can have an overview about this city. And if you want more, why don't visit Ho Chi Minh city one day!
1. Ho Chi Minh city Vietnam is so-called Saigon
You might be confused sometimes because you can hear others call Ho Chi Minh city Vietnam by the name Saigon. Even some journal articles also use that name. So what is Saigon? Are they different cities? the answer is Saigon and HoChi Minh city are the same city just with different names.
This metropolis's name is Ho Chi Minh city officially. And the name Saigon is its old name dated back to Vietnam war which ended in 1975. The common name in the world is American war. And why did people use this name? it's a historic long story and no one has the specific answer for it.
Ho Chi Minh city Vietnam was changed its name to celebrate the success of the North in wartime and more important the national reunification. However, people still use the old name to call Ho Chi Minh city. It don't have any relation to political issues so don't worry you can use it too.
2. Ho Chi Minh city Vietnam things to do
There are several interesting sites in the city that you can spend one day. The weather in Ho Chi Minh city Vietnam is hot around the year. There are only humid and rainy season so you should check the weather forecast before planning anything in this city. Even the rains ony last no more than 30 minutes, you still need an umbrella.
Notre-Dame Cathedral Basilica of Saigon
Actually this building in Ho Chi Minh city Vietnam is more attractive to those who love architecture because you just can take pictures here and nothing to do more. This church is located right in the middle of city center at district 1. It was built in 19th century with all French imported materials.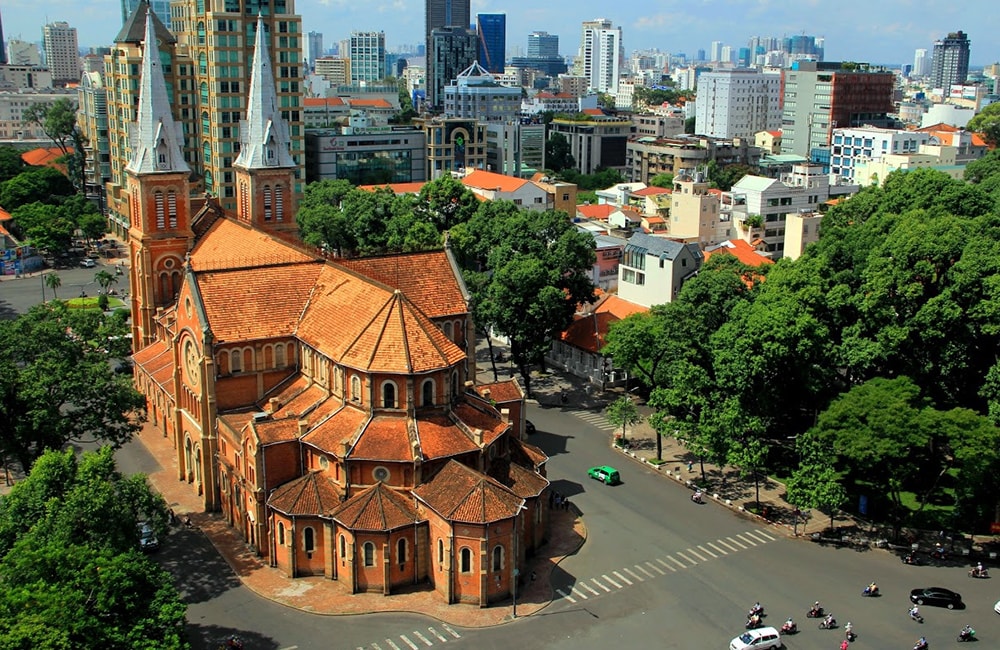 The elegance and antique of this church are fascinating somehow. I would say that this ancient church create the beauty of its surrounding. It's not only the symbol of art but also the historical witness of Ho Chi Minh city Vietnam.
Independence Palace
This site is the most important landmark of Vietnamese history. Its also known as Reunification Palace where the southern government located during Vietnam war. There is a famous photo about this site when tanks crashed through the gate and the soldiers raised Vietnamese flag to mark the Fall of Saigon in 1975.
War remnants museum
For most of westerners Vietnam war is something really faraway and strange. So why don't come to visit this museum? This museum reminds people of the terrible wartime. Everything from old photos to real objects show people the real consecuences of war, the cruel of humanity during war. For Ho Chi Minh city Vietnam in particular and for Vietnamese in general this museum plays in important role in the process of rebuilt the country after war.
Saigon river
To avoid being roasted by the heat of Saigon at noon, you should head to Thao Dien ward at district 2 to have lunch or just relax by the Saigon river. There are various excellent restaurants for your choice. One of my favorite one is The Deck. You can get a table by the river but you should book in advance.This restaurant servers western food only but they also offer craft beer. The food is good not too special for me. But the view is excellent.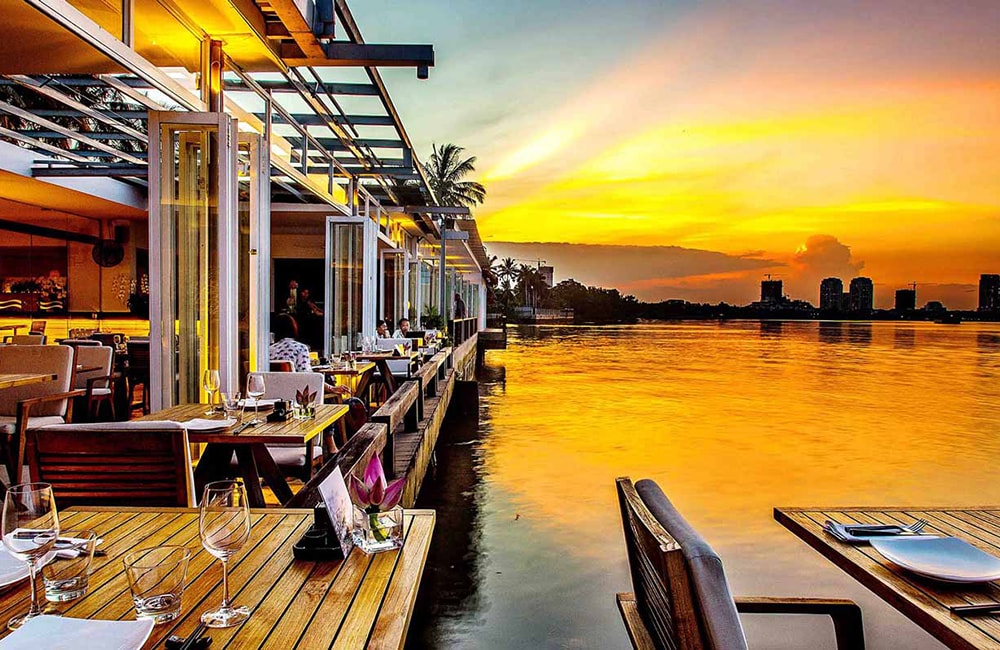 Nguyen Hue walking street
This site is one of the most social places in Ho Chi Minh city Vietnam. People tend to gather here to enjoy and meet each other. Sometimes, music shows are organized here. However, I think this place is perfect at night than daytime when the sun is shining.
Do some shopping
With a metropolis like Ho Chi Minh city Vietnam, there are various modern shopping malls. Like normal shopping centers, you can find everything from clothes, electronic products, cosmetic to movie theater. However, if you prefer something more local there is Ben Thanh market for you. This market has everything like a shopping mall but more local with various local food stalls. The price here is determined by vendors and they tend to ask very high price. But you can bargain here.
Nightlife in Ho Chi Minh city Vietnam
Just like nightlife in Hanoi, nightlife in Ho Chi Minh city is also dynamic and crowded. There is also a street that never shuts down – Bui Vien street. It's a little bit chaos with drunks, street food, bars, pubs,… This street can help you have fun all night. And that also makes this street less secure, so keep your bag, your phone in safe places.
If you don't like party and the crowd, you still have a wide range of choice with various bars for chilling. You should try Layla – Eatery and Bar or Snuffbox Lounge, where they provide you comfortable space and the diversity of drinks. Otherwise, if you want to see the panorama of city, find some rooftop bar Urbane Lounge.
Street food
There are various of food stalls in the street. But the easiest way for you to find them is in local market. Just go into a market and you can find the huge number of local dishes from main dishes like rice, Vietnamese noodles to desert like sweet soup, fresh fruits,… But to enjoy the most delicious street food, I recommend you to hang out with local friends. They know the city the most and know where you can eat with authentic taste.
Join in a tour outside the city
If you are already in Ho Chi Minh city Vietnam, you definitely should book a tour to Cu Chi tunnels or Mekong Delta. Cu Chi tunnels are the system of underground shelters that Vietnamese people and soldiers used in wartime. It will take you the whole morning to see all inside and without a guide, you might be lost.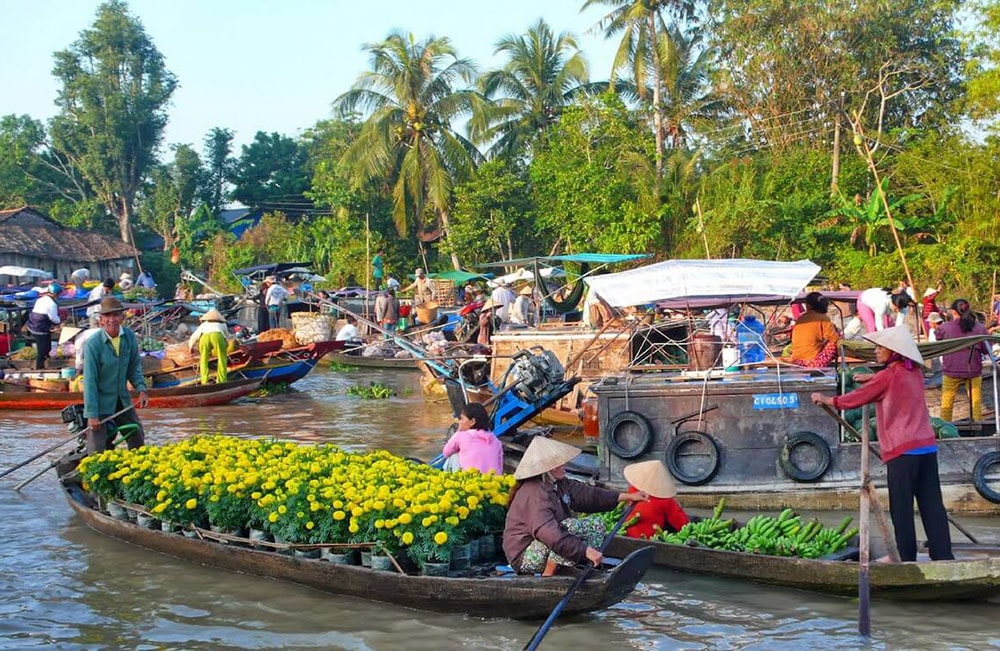 Another interesting site you should visit is Mekong delta. If you also visit Cambodia, a Mekong delta cruise is the best choice. If not, you need to spend one day in here. I'm sure you will be excited on how people purchase in floating markets and how people live in floating villages.
In general, Ho Chi Minh city Vietnam is a big city with the significant speed of development. There are hundreds things you can do in this city excluding this list. Each person has their own way to discover a new city. So if you have any interesting activities in Ho Chi Minh city Vietnam, don't hesitate to let me know! Hope you enjoy your travel