Welcome to Yangon
Yangon is the largest as well as the capital of Myanmar. This city is the gate for tourist to discover the beautiful Asian country – Myanmar. The combination between local features and modern things is the prominent characteristic of Yangon. This is because Myanmar has opened to the world recently. And you still can see lots of restaurants, bars, buildings standing alternatively local neighborhoods.
In Yangon, pagodas are the most interesting. Each of them has distinctive design which reflects local region, culture and history. Moreover, you can discover the city through its cuisine and other things. And we will help you to list these things.
1. History
The name Yangon has a long history. It means "Enemies run out of" if we analyze this word into 2 part: Yan and Koun (Gon). In British pronunciation it becomes Rangoon. The first name of this city is Dagon; however after the conquer of King Alaungpaya it was renamed Yangon.
1.1 Colonial Period
During this time, Yangon experienced the great changes. After entering Yangon, British built lots of hospitals, universities, which changed the face of Yangon. This city became a contrast between modern infrastructure and ancient local one. There were also lots of spacious parks and lakes. In general, this contrast wasn't bad because at this time Yangon was compared with London and had another name "the garden city of the East"
1.2 Modern Era
This city also experienced 2 World Wars. With the first one, there were lots of strikes which protested against the British colonial in Yangon. And in the World War 2, Yangon was under control of Japan which means this city suffered severe damages from the war. In 1945, the Allies retook Yangon then in 1948 Yangon became independent. In 1990s, the government allowed foreign trades and investment. From this time, Yangon developed drastically with various modern buildings and infrastructure.
1.3 Present Day
Nowadays, Yangon is the largest city of Myanmar. It's also the place where cultural and spiritual values unite. This is the place where you find the most pagodas of the country.
The diversity in the society is also prominent. You can find people with different nationalities here. People from Britain, China and other countries live and work here. The diversity is also reflected in infrastructure of the city. Thanks to the slow development, there are some colonial buildings remained. But they are all in bad conditions because of lack of reservation.
This city is dynamic and busy with the diverse society, but you still can find men and women in traditional dress here. Modern buildings stands right next to a local market where people sell everything and you also can find lots of food vendors on the street.
2. Destinations in Yangon
2.1 Botahtuang Pagoda
This pagoda has an interesting legend that there are several Buddha's remains here and they are all guarded by soldiers. This pagoda had huge damage during World War 2 but then it was reconstructed in 1956.
This pagoda is quite large. From the road leading to the shrine, you can find lots of vendors who sell fruits, flowers and offering things. When you go deeper inside, you can see the entrepiece with Buddha hair. Besides of giving offerings like flowers and fruits, you also can give money to help the maintenance.
2.2 Golden Rock – Kyaiktiyo Pagoda
When visiting this pagoda, you might wonder how a stone can stand like that for decades. The nature is always amazing but for local it's the power or something coming from Buddha. And it's also related to a local legend that you will know when you get there.
To get there you must spend 4 or 5 hours on car from Yangon. When you reach the Kinpum base camp, you will trek about 2km to get to the pagoda. If you don't want to hike, you and hire a sedan chair which will cost you about $25.
2.3 Karaweik Hall at Kandawgyi Lake in Yangon
Karaweik Hall is a floating restaurant in Kandawgyi lake. This 3 floor construction has bird shape and was built in 1980s. From this restaurant you can have a large view of the lake and the completed view of Shwedagon Pagoda. In this hall, there are area for private dinning, traditional performances and souvenir shops where you can find Myanmar crafts.
The Kandawgyi Lake is a place where the traditional boat race is held annually. This competition attracts lots rowers both professional and amateur to join in.
2.4 Shwedagon Pagoda
This might be the most valuable pagoda in Myanmar. It's a bell-shaped pagoda with 100m height. All of this structure is plated in gold, and the upper part is inlaid with more than 5000 diamonds and other precious gems. This pagoda is so impressive.
There is a large terrace surrounded the pagoda and from this terrace you can have a panoramic view of Yangon. This terrace is also decorated with pavilions, Buddha images,… which make it so beautiful and artistic.
This pagoda is more beautiful at night. It's brightened and sparkling. And it becomes more sacred and spiritual when local people gather to organize a ceremony or pray.
3. What to eat in Yangon?
3.1 Mohinga
This dish is very popular in Myanmar. It is the combination of fish broth, vermicelli and other ingredients like lemongrass, pepper,… Local people always eat this dish for breakfast. There are lots of places where you can find this dish. The most famous chain of this dish is Myaung Maw Daw Cho with various stores in Yangon.
You also can find this dish in some street food vendors, but the flavor might be a little different. The broth will be thicker and added ginger.
3.2 Mont Lin Ma Yar
This little round cake divided into 2 equal pieces. It's made from rice flour and fried in an iron pan. Normal toppings are quail eggs, chickpeas or scallions,… This is a perfect snack if you feel hungry at mid day. You can't be full with it but if you eat dozen of it, absolutely you will be full. It's not difficult to find a food vendor for this dish so just walk around the street and you will find one.
3.3 Shan Noodles
Shan is the region in eastern Myanmar which right the border of China, Thailand and Laos. That's why the cuisine here receives huge influence from China. And must try dish of Shan cuisine is noodles. The broth is light with the aroma of herbs, pepper and garlic. The noodles are all rice noodles and tossed in spicy and sweet sauce with some pork.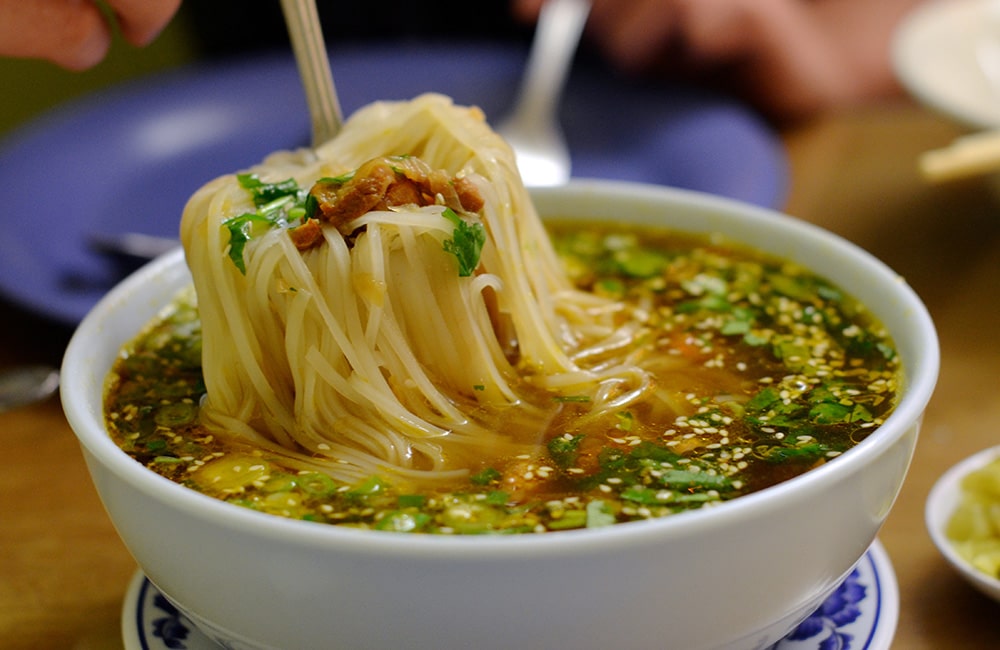 3.4 Dosas
This dish is an Indian representative in Yangon. This pancake is made from fermented lentils and rice. This thin pancake is spreaded and cooked quickly in a mental pot. Then some chopped tomatoes or chickpeas are added and wrapped inside the thin pancake. This snack is really cheap and delicious. Vendors also can add other things in pancake. You can find this dish very easily in any streets in Yangon.
4. Best time to visit Yangon
Yangon is located in the south of Myanmar, so this city experience warm weather all year round. However, the best time to visit Yangon is from November to January when the weather is the coolest and has less precipitation.
But if you want to join in Yangon's festivals, you should consider travel to this city in different time. There are lots of festivals in Yangon scratching all year. But remember that all festivals in Yangon are held according to the lunar calendar. The 2 main festivals in Yangon are Thingyan (Buddhist New Year) occurred in April and Shwedagon Festival.