Welcome to Pu Luong
Pu Luong Nature Reserve is located in the northwest of Thanh Hoa Province, with an area of 17,662 ha, mostly of primary forest. Pu Luong is home to the Muong and Thai ethnic groups. The name Pu Luong in Thai means the highest peak of the village. It is home to the green forests, streams and waterfalls beautiful scenic mountains and forests wild and wild
In addition, Pu Luong is the largest lowland limestone forest in the north with three main types: lowland forest, limestone forest, bamboo shoots and shrubs. It is also home to Pu Luong peak 1,700 m high which is a trekking point attracts many players.
1. Best time to travel to Pu Luong
The best time to travel to Pu Luong is at the end of May and June. It's time for the rice in Pu Luong starts turning mature, the fields and terraced fields will wear a blue dress. Besides, there are also granaries of rice mixed with yellow ones.
At Pu Luong, when the rice is ripe, you will see the peaceful scene, the poetry of the golden field stretches across the forest. Although it is in the summer, this area is lowland limestone mountains, there are many tropical forests and few people so the air and weather are cool and pleasant.
Another ideal time to visit Pu Luong is September and October. At this time, all the hillside terraced fields have turned to brilliant yellow, bringing Pu Luong a wealth of beauty.
2. Where to stay when travel to Pu Luong?
In Pu Luong, you can stay at the stilted house with price from 100,000-150,000 per person per night. Or you can choose Pu Luong Retreat, Garden Lodge or Pu Luong Tree House.
Pu Luong Retreat is a great choice if you have wide budget. This resort is true with the criteria of environmental protection, harmony and return to nature. Here, everything is made of wood, bamboo, palm … use less plastic bags, dark lights to save electricity. Service staff is very courteous, friendly and enthusiastic.
The biggest plus of Pu Luong Retreat is the pool overlooking the golden rice field in front. This will also be a place of Instagram Photos. In addition, the pool's water control system will provide warm water so you can rest assured, swimming comfortably when it rains.
The rooms at Pu Luong Retreat come in two types: stilts from VND320,000 per night and bungalows at VND1.8 million per night on weekdays; VND 2 million / night at weekend, not including surcharges for Tet holiday and buffet breakfast.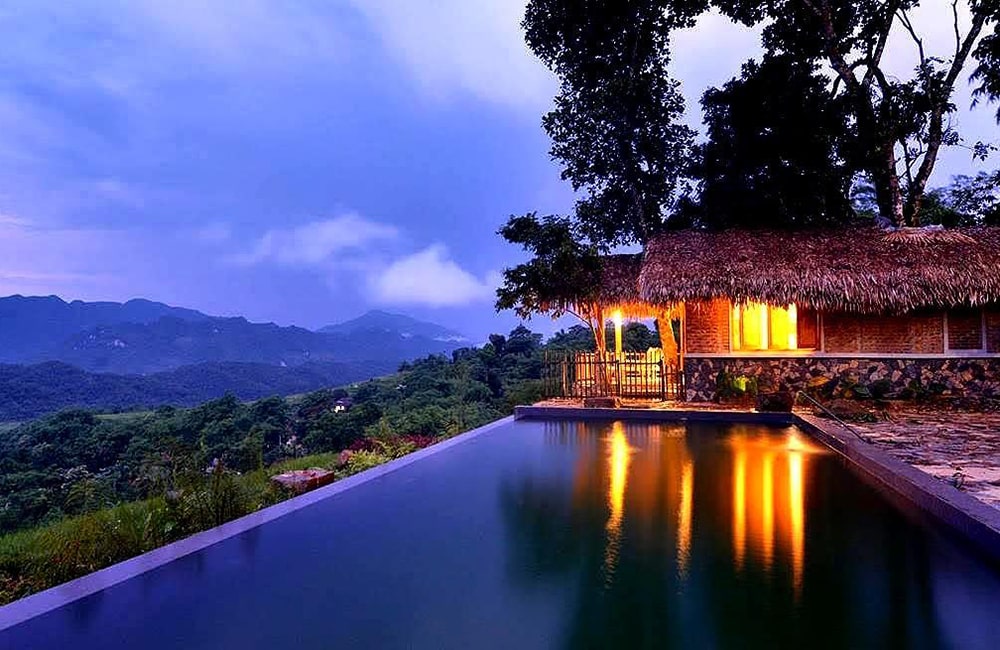 3. Where to visit in Pu Luong?
3.1 Pu Luong peak
Pu Luong is the name of the Thai people, meaning the highest mountain in the region, Pu Luong peak height of over 1.700m challenging adventurous travelers. This was the place where the French colonialists built the flight path to run away and hide many historical stories that few people know. Standing on the top of Pu Luong is a great feeling, and you can get a whole view of majestic mountains, majestic fields, valleys at the foot of the mountain. Don't miss this destination when travel to Pu Luong.
3.2 Kho Muong village
Kho Muong is a wilderness valley in the buffer zone of Pu Luong Nature Reserve, where the White Tai settled and lived for a long time. Coming to Kho Muong, tourists not only get into the beautiful wilderness, cool but also have the opportunity to exchange and experience the traditional Thai culture, enjoy delicious specialties. Travel to Pu Luong, you definitely should visit this village
3.4 Pho Dau market
When travel to Pu Luong, visitors should not miss the opportunity to participate in Pho Dau market is held on Thursday and Sunday every week. This market is not only a place for trading items but also for meeting people, cultural exchanges of the ethnic groups: Kinh, Thai, Muong … The goods here are mainly self-sufficient and to implementing trade people can use the same value in exchange for what they want.
3.5 Son Ba Muoi
Located at an altitude of about 1,180 m, the hardships and the wonderful beauty make Son Ba Muoi (Cao Son area) seem to be separated from the outside world, but also create the undeniable attraction to tourists. The journey to this place is indeed difficult, challenging because visitors have to cross the slope, the forest which is dark, slipper and dangerous. However, when the higher the scene is, peaceful villages filled with flowers, the terraced fields winding down the bottom will dissipate all your tiredness.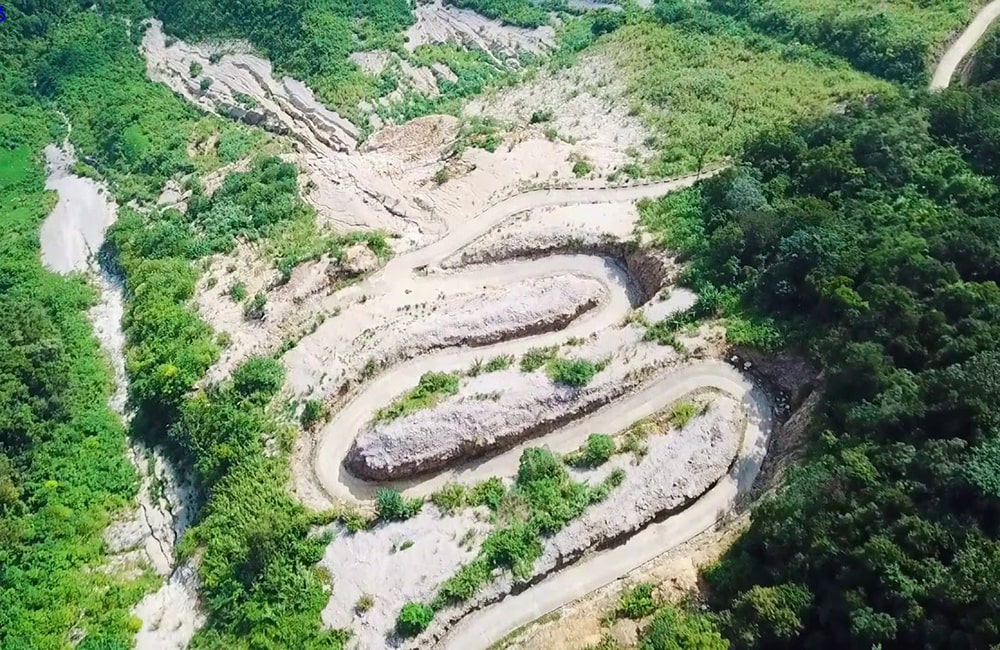 4. Travel to Pu Luong – what to eat
Pu Luong duck is famous in Pu Luong. Duck meat is delicious, soft and aromatic, baked with charcoal, price 450,000 VND / dish and can share for 3-4 people
Besides, enjoy the delicious dishes, specialties of the Thai, you can order the owner of your hotel or homestay other dishes such as chicken hills, roast duck, wild boar, sour bamboo shoots, bitter bamboo shoots, banana flower forest …
5. How to travel to Pu Luong?
The road through and straight to the "green paradise" Pu Luong is 15C road. If you depart from Hanoi and Northern provinces, you go to Ban Lac and Mai Chau and continue to drive along Co Luong, Dong Dam. Then, you turn to 15C Road running along the Ma River to Pu Luong nature reserve.
Going far and hard but when arriving in Pu Luong, you certainly will not disappoint. The small house like being hidden among the clouds, the vast space of trees green will make you feel relaxed and help you to forget all your tiredness on the way travel to Pu Luong. You should stretch your shoulders, take a deep breath of chest and are ready to enjoy a great holiday in this place.
6. Tips when travel to Pu Luong
Watch the weather and schedule to travel Pu Luong on sunny days, dry, you should not go to Pu Luong on rainy days because the road will be very muddy, difficult to move.
When traveling to Pu Luong, for the convenience of travel to Pu Luong, you should choose the type of sports shoes, lightweight, good foot, good friction, good absorbency, comfortable clothing, neat, good absorbent. And you should not wear too short clothes because the night can be a little cold and there are mosquitoes.You always should carry common medication for car sick, headache, cold fever; sunscreen and insect repellent.
If you travel to Pu Luong by motorbike, always remember to fill up the fuel tank because the distances from Hanoi or any towns to Pu Luong are quite far so the journey will take you hours. And since it is mountainous area so it is getting dark quite fast, about 5:30 pm. Dark forest road will make you difficult to move and there are not many street lights as the city so you should come to your hotel as soon as possible to make sure that you will be safe.
Good to Know
Languages spoken
Vietnamese