Phuket
Phuket is a popular destination of Thailand. You can search this island on Google and find amazingly beautiful pictures and some lots of information about this site. However, maybe you have to read various websites and do lots of searches to have an overview about Phuket. You don't need to spend lots of time on this anymore, we have a clear and complete view about travel to Phuket for you. You will know where to visit in Phuket, what to eat, what to do and others interesting things.
1. General information
Phuket is not only an island but also an official province. This place has the largest area in Thailand and located in the south-west coast of Thailand. This province has an international airport. Besides of beautiful beaches which make Phuket famous, Phuket town is also full of ancient building. The combination of modern things and old value of this town also attracts tourist. Because of being a tourist destination, there are lots of hotels, restaurants, clubs here.
2. History
Phuket has a long history which attaches to lots of important events. Long long ago, thanks to its special location, this island was visited by sea merchants from all over the world, which created great opportunities for this island to develop. In 13th century, Phuket was a flourishing city of Thailand with precious products from pearl, ivory, gems,…
This is because of this richness in natural resources, many European countries wanted this island. Dutch, France, Britain had huge influence on this island in trade and administration. Later, in 1933 Phuket officially has been administered by an Interior Ministry.
3. Interesting destinations in Phuket
3.1 Phang Nga Bay
Phang Nga bay is located in the Strait of Malacca, between Malay Peninsula and Phuket. If you are in love with savage nature, this place is for you because most part of this bay is protected area. You can explore untouched rives, amazing wildlife, appealing caves,… Thanks to this unique beauty, Phang Nga bay has become famous film background. This bay appeared in James Bond movie as well as Start War. Now you know why this bay is famous, right?
3.2 Phi Phi Island
The most beautiful island in Thailand is Phi Phi island. It not only appears in lots of Hollywood Movies but also in conversations of travelers. The beauty of this island is incredibly amazing and you feel like in a fairy tale. From the distance, this island looks like a fortress rising from the sea with cliff tower, beach and jungle. The other reason that makes you fall in love with this island is some places totally uninhabited. Therefore, you are completely relaxing here with no works, no phone calls, no traffic,…
3.3 Bangla Road Nightlife
Nightlife in Phuket is really dynamic. Bangla road is one of the places that you can spend whole night without boredom. There is full of bars, clubs along the road. Most of bars here are outdoor or open so the music of these bars is mixed together. Beer bars are various so you can enjoy cheap beer here as much as you want. In addition, street performances are also popular with different kind of shows.
3.4 Similan Island
Similan island is located in north-west of Phuket. This island is one of the most famous island in the Andaman Sea. Besides of the beaches – all beaches are beautiful in Thailand, this island is also well-known for being the most interesting dive spot.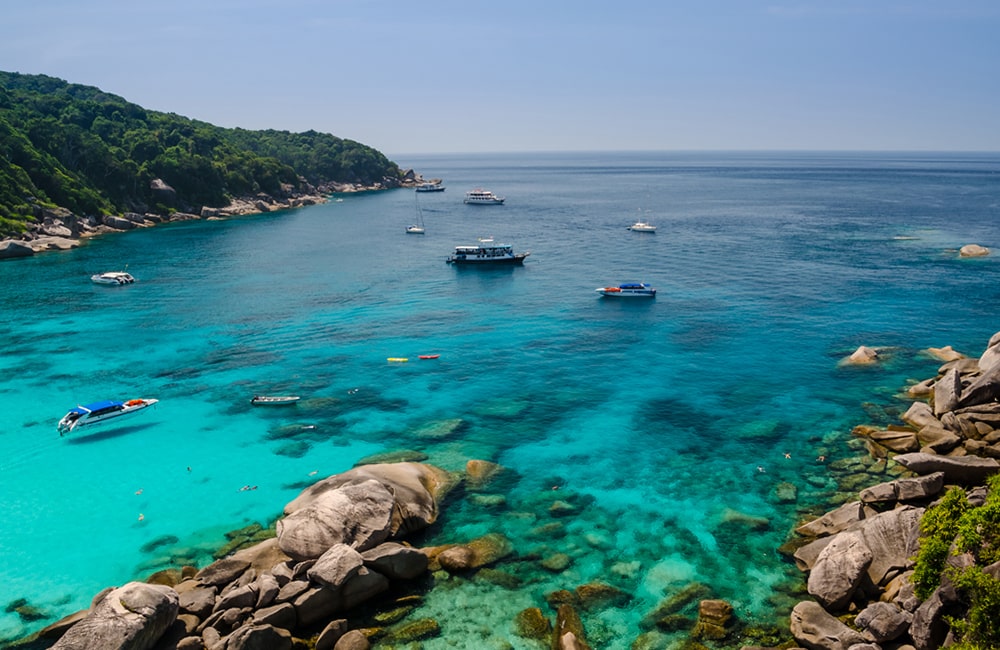 3.5 Night Markets
You want to find unique and truly Thai things, come to local night markets. These markets only open after the sunset. In here you can find lots of interesting things from Thai dried ingredients, handicraft souvenirs to Thai food. And the most exciting thing is that you can have everything with affordable price if you know how to bargain. Night markets here also offer street performances and music. There are lots of places you should do your shopping like: Chillva Market, Phuket Weekend Market, Phuket Walking Street,…
4. Where to stay in Phuket
4.1 The Shore at Katathani
This is a complex of luxurious villas at Kata Noi Beach. This area is separated and tranquil, which makes this beach perfect for relaxing. There are lots of villas for your choice from Seaview Pool Villa, Two – Bedroom Pool Villa to Pool Villa. All facilities here are state of the art with infinity pool where you can have mountain and beach view.
4.2 The Naka Phuket
This is also a complex of beachside villas. Naka Phuket is located at Kamala Beach, which is near Phuket International airport, Patong – Phukets party centre, shopping mall,… Like the former, these villas here are equipped with modern facilities, mini bar, swimming pool,…
4.3 JW Marriott Phuket
This 5 star hotel is really famous with various bases in different tourist attractions. If you stay at Marriott in Phuket, you can access directly to Mai Khao beach and a protected area dedicated to sea turtle. This hotel is also near International Airport and Phang Nga procivince.
4.4 Santhiya Koh Yao Yai Resort & Spa
This resort has eco – friendly design located in Koh Yao Yai. This place offers you a relaxing atmosphere with various body treatments. This place helps you to stay away from the noise of city and busy traffic. Here you have chance to mingle to the nature and refresh yourself.
5. What to eat in Phuket
5.1 Tom Yang Goong
This dish is one of the most favorite among travelers to Thailand. It's the combination of spicy prawn and sour soup. To have a delicious Tom Yang Goong, the soup is really important. This soup is made from coconut milk, mushroom, chili, herbs,… It's spicy and hot so if you are not good at spicy food, you shouldn't try.
5.2 Massaman Curry
If you can't try Tom Yang because it's spicy, this Massaman Curry is suitable for you. This curry always satisfies curry lovers by its flavors. You can taste the sweetness from coconut milk, sourness from lime, aroma from basil and lime leaves,… These flavors are mixed perfectly and support each other. Pork or beef can be used in this dish.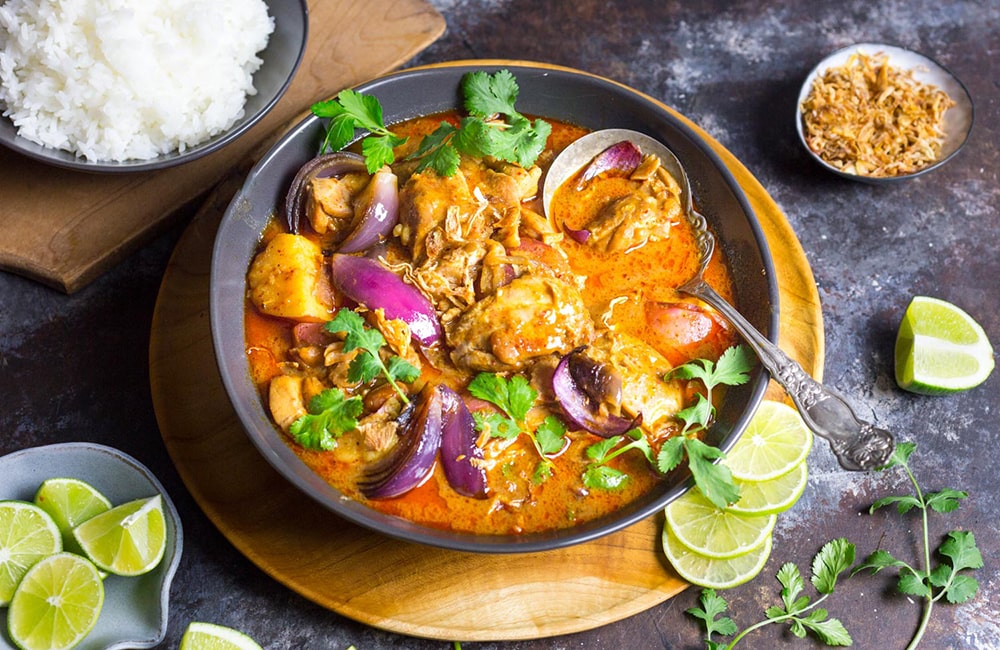 5.3 Kanom Jeen Phuket
Kanom Jeen is chicken soup with galangal, mushroom, tomato, coconut milk and lemongrass. This dish might be a little spicy but I think it enhances the flavor. To make a perfect Kanom Jeen, you have to choose ingredients with the best quality.
5.4 Khao Man Gai
Khao Man Gai is chicken rice made from boiled chicken, steamed rice, chicken broth. This dish always satisfies the hunger of locals as well as travelers. To enhance the flavor, this dish is enjoyed with special sauce made from ginger, chili, garlic and soya sauce.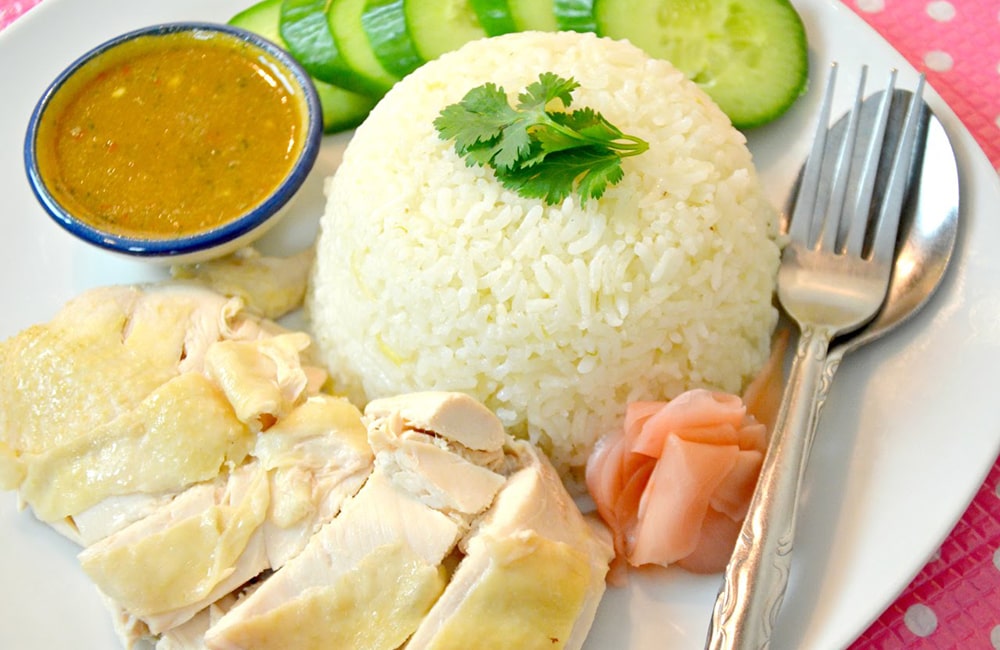 6. Best time to visit Phuket
Thanks to tropical climate, Phuket is never too cold. The main weather here is rainy, warm and cool. When it's cool and dry from November to February, there are lots of tourists here. After this time, the weather might become hotter.
From November to February: The rainy season has just gone so it's the coolest time of the year. The temperature is about 23 to 30 degrees. Because of this, the number of tourist to Phuket at this time is the highest of the year. You have no difficulties in enjoying the beaches and travelling around the island.
From March to May: It's the hottest time of the year. High temperature and high humidity will make you dehydrated. However, there are lots of interesting festivals at this time like Songkran Festival when people pour water to each other for lucks.
From May to October: High precipitation makes this time become the low season of tourism. Therefore, you can enjoy the cheapest price for all services in Phuket. Moreover, you also can avoid crowds and other problems that you may get in high season.
Good to Know
Languages spoken
Thailand