Phi Phi island
The most unforgettable destination in Thailand and the top place of travelers in the world is Phi Phi island. This place is a paradise for vacation with incredibly amazing views, various interesting outdoor activities and the diversity of culture. The most intriguing here is that you can find some uninhabited place where there is no vehicles, no people here.
The original name of Phi Phi island is Pilao Pi ah Pi. This name comes from a mangrove wood which being found here. The current name Phi Phi comes from Malay. This is not an island it's a group of 6 islands. Therefore, if you want to explore Phi Phi island, you should spend lots of time here. Here are something might help your journey.
1. Geography
Phi Phi island is a group of 6 islands located in the south – east of Phuket. This place has long coastline, limestone cliffs and amazing natural caves. Phi Phi Don is the most dynamic island with various tourist services like accommodation, beaches, restaurants, nightlife,… This island is also the most populated among the 5 others.
Another attraction of Phi Phi island is Phi Phi Ley. This island has stunning rock view, colorful coral reefs. However, what makes this place become more popular is Maya Bay where the film "The Beach" was filmed. Moreover, exploring Viking caves with curious paintings on the caves is really interesting.
The diversity of marine life is found in Bida Nai and Bida Nok islands. They are smaller than Phi Phi Ley but are the most famous diving spots. And if you want to enjoy white sand beaches, you should visit Ko Pai – Bamboo island while Ko Yung – Mosquito island is also an ideal place for snorkeling and beach time.
2. Where to visit in Phi Phi island
You don't need to look for the beauty in Phi Phi island because any place here is considered stunning and marvelous. However, except you spend months here, you can't explore every corner of this island in several days. Below are some prominent destinations that you shouldn't miss when visiting Phi Phi island.
2.1 Maya Bay
The film "The Beach" made this bay become popular. Like any island, this place has stunning beaches with amazing natural caves. And getting to this island is also a great experience. Boat can't help you to reach this island so you have to get off your boat. Then you need to swim and go through a small cave with the help of some ropes. In general, it's interesting rather than be tough.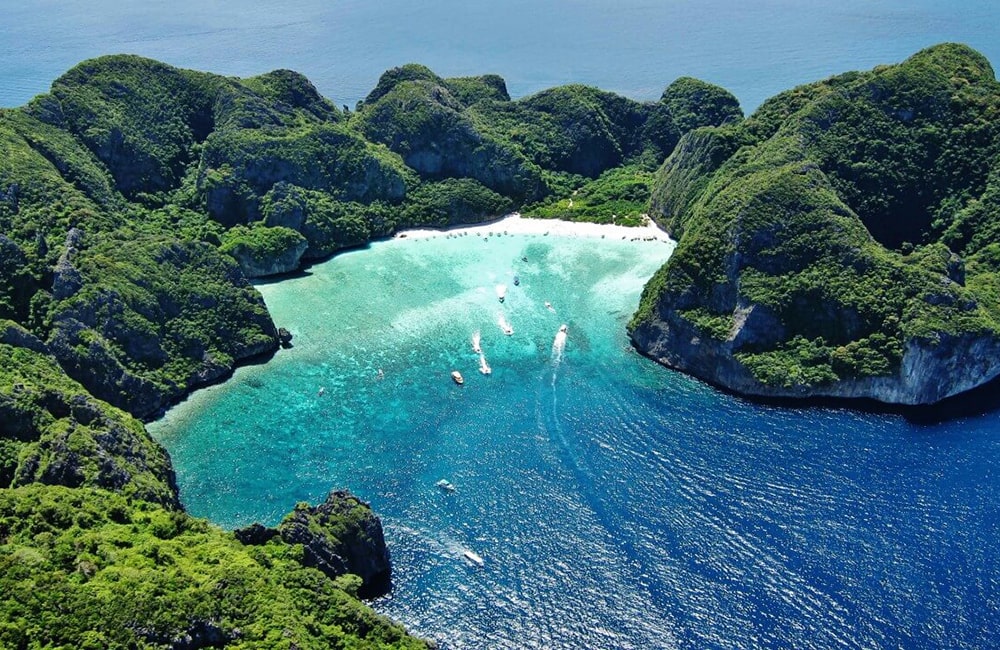 2.2 Pileh Lagoon
This is a tranquil lagoon where you can immerse in the nature. You can swim, do some snorkeling or just deep yourself into the water. The most interesting activity here is snorkeling because you can enjoy the colorful marine life. Actually, you can see it from your boat because the water here is crystal clear. This lagoon is quite shallow but you still need to wear your snorkeling marks properly because you might get lost!
2.3 Loh Samah Bay
To get to Maya Bay you might swim across this bay. Therefore, you can take a rest here to swim, dive or just enjoy the sun before entering Maya bay by ropes. This place is also a great location for docking.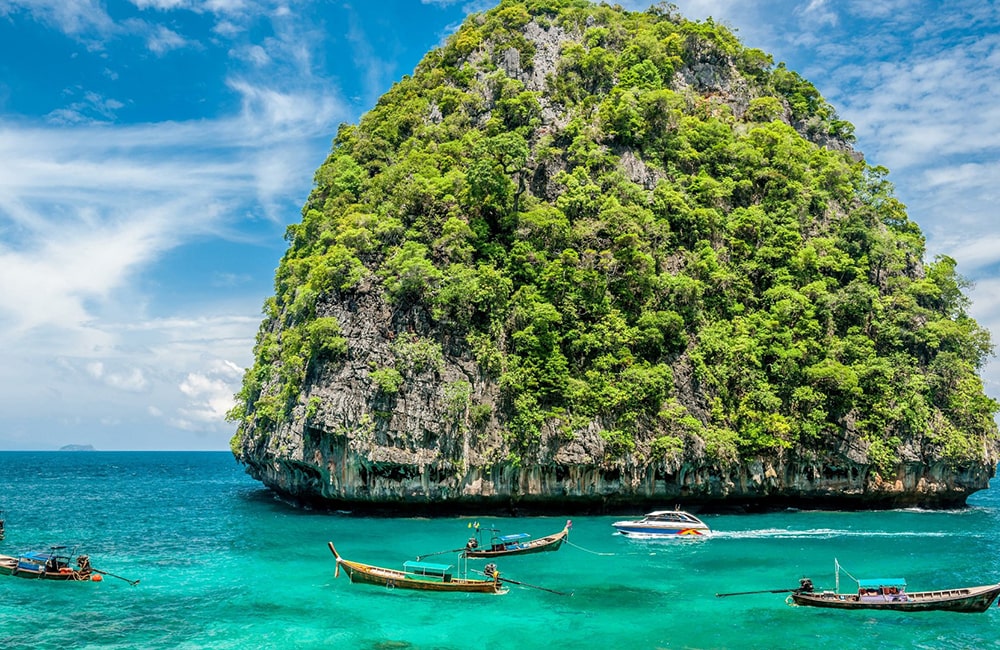 2.4 Viking Cave
It's said that you can't go into this cave, just admire it from distance. This cave is a place dating back to prehistoric are when people lived in it. As people say, there are lots of curious paintings on the cave which depict people's life long long ago. There are locals stay here for harvesting bird nests. Bird nests are main ingredient for bird nest soup which is the famous and expensive dish in Asia.
2.5 Monkey Beach
Do you love monkeys? If yes, welcome to Monkey beach. You will meet, feed and play with monkeys here. They are more polite and adorable than wild monkeys. However, you should give them food because they will follow you and try to steal it from you. In general, they are really cute.
2.6 Phi Phi Don town and local markets
Mingle to local life is also a nice experience in Phi Phi island. Phi Phi Don town is where you can get lost and see how is life here going. There are lots of local restaurants and food stalls where you can enjoy amazing local dishes. And by wandering around the town, you can buy lots of interesting souvenirs.
2.7 Long Dalam Bay
Here is the perfect place for beach activities. In the morning, instead of swimming, you can practice yoga on the beach and relax your mind totally. At night, this bay becomes an ideal place for beach party. You can enjoy the most exquisite coconut cocktails while dancing with great local dancers.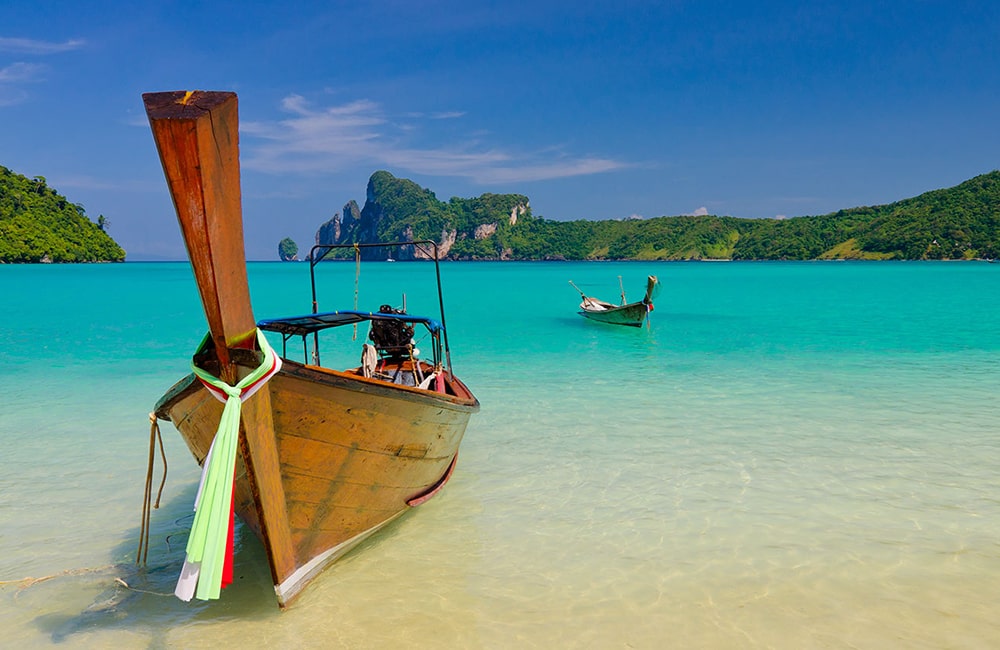 3. Outdoor activities in Phi Phi island
3.1 Try a long-tailed boat
This kind of boat is really typical in Phi Phi island. And you can try this boat by buying a tour. A 6 hour tour will bring you to Bamboo island, Mosquito island, Maya Bay, Monkey beach. For each stop, you can try various outdoor activities like shopping, swimming, snorkeling. In addition, you can admire the amazing sunset in the middle of the sea on a romantic long-tailed boat.
3.2 Snorkeling
There is no reason to miss this activity. Phi Phi island provides you with ideal conditions for snorkeling like crystal clear water, colorful coral reefs, beautiful marine life, warm temperature. There are lots of diving spots on the island and one of the highly recommended is in Koh Phi Phi.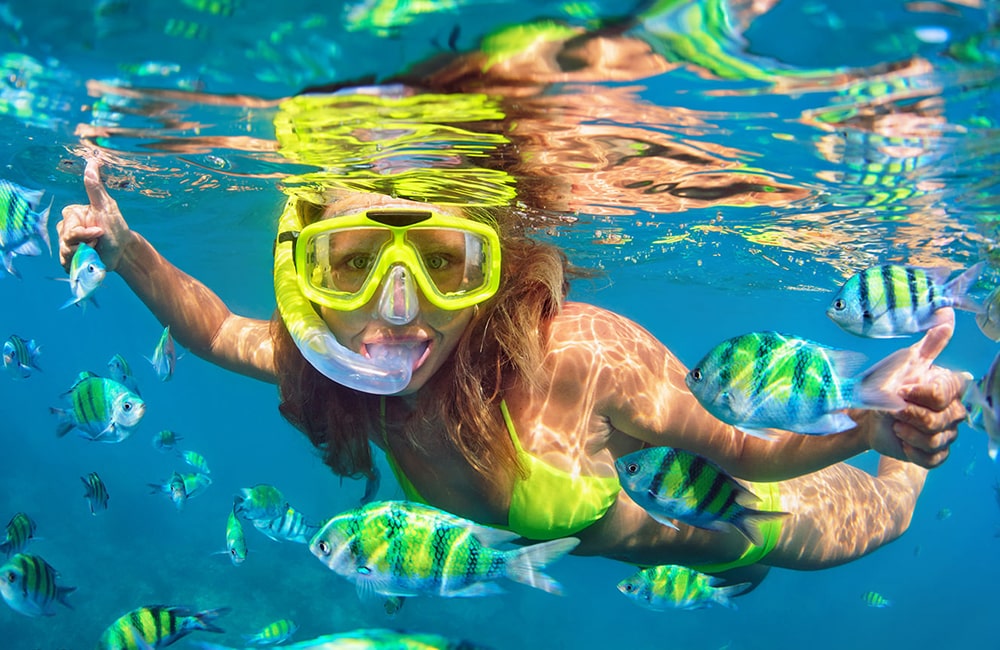 3.3 Shark watching
Besides of snorkeling for normal marine life, there is also shark watching tour available in Phi Phi island. Thanks to the temperature and the level of water in Phi Phi island, this place is the home of various more friendly black-tip and leopard sharks. This will be the best experience of your vacation in Phi Phi island. The tour starts every day at 6 am and lasts until noon.
3.4 Hiking
Phi Phi island also offers you stunning landscape. And the best way to explore the island is hiking around. It requires lots of strength and stamina. But if you can reach any view point, you can have breathtaking view with all the bay, sky and water right in front of you.
3.5 Kayaking
Kayaking is the most popular activity in Phi Phi island. With a reasonable price, you can hire a kayak and start your journey. This is the best way to see the island and approach untouchable areas. Otherwise, you also can enjoy a light kayaking and just relax.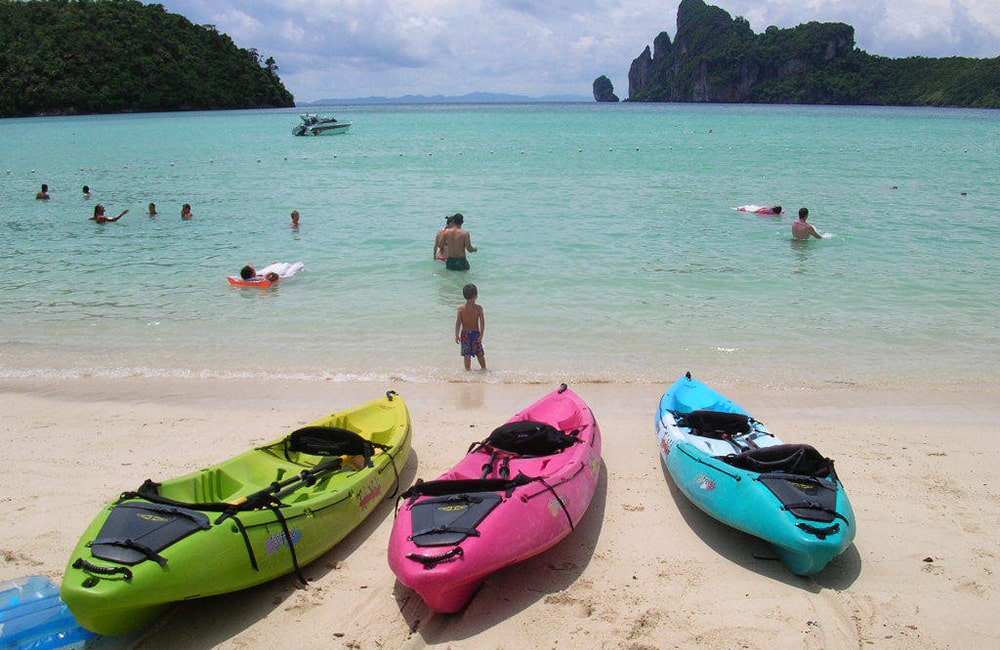 4. Where to do shopping in Phi Phi island
4.1 Phi Phi market
Phi Phi market is your chance to see genuine local life. Here you can find everything from fruits, veggies, seafood and this market also provides ingredients for all restaurants on this island. In addition, you also can find lots of delicious local snacks and food in this market. Except from seafood and coconuts, all food here is imported from Phuket and Krabi. This market is located in Tonsai village.
4.2 Namlily
This shop is really attractive to girls. This is a small shop where you can find beautiful dress and accessories of vintage style. The most special thing of this shop is that all dresses are customized, so they fit your body perfectly. The inspiration of style of this shop comes from various cultures like American – Indian, Hippie, Gipsy,…
4.3 Tonsai East Shopping Alleyway
You might be lost and confused when you do shopping here. This place hosts numerous stalls selling different products from souvenir, clothes to accessories. It's really difficult to describe exact thing they sell here. Price is also various too. You can find a product with different prices in different stalls. Therefore, bargain might be a great idea.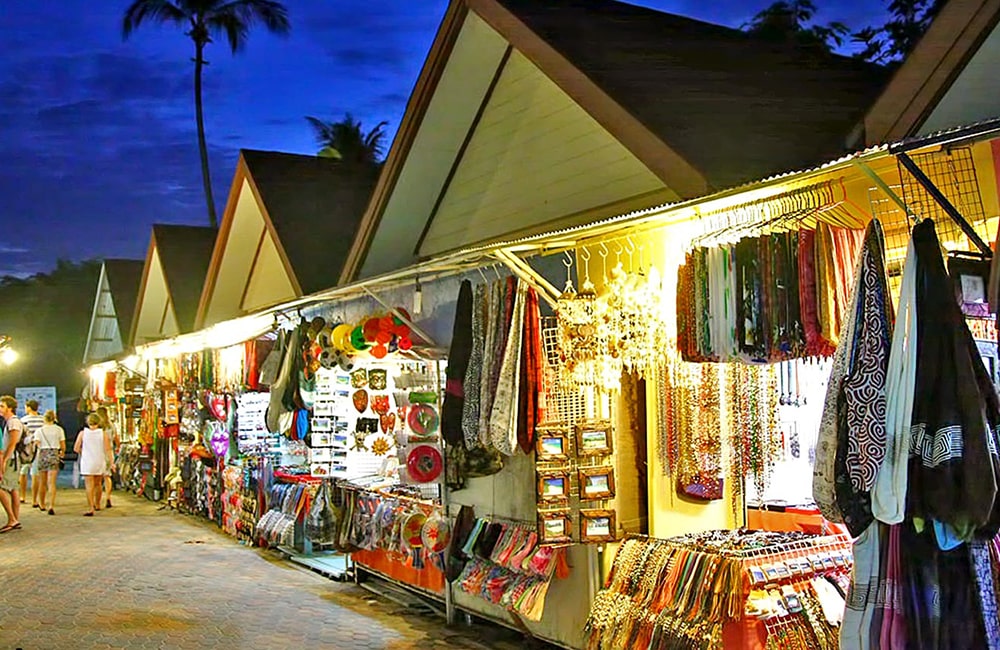 5. Best time to visit Phi Phi island
November – February: This time is high season of tourism in Phi Phi island. The temperature is cool because the rain season has finished. December is the coolest month while February is the driest one. Weather of this time is perfect for any beach activities and others.
March – May: The hottest time of the year falls at this time. The temperature is about 30 degrees with sunshine all day. And of course, the weather is still perfect for any activities.
May – October: It's the wettest season of year. And maybe it stops people from visiting this island so service prices of this time are the cheapest. In addition, you also can enjoy the peace and tranquil of this island because there is no crowd on the beaches or any tourist destinations.
Good to Know
Languages spoken
Thailand