Welcome to Koh Rong
A wild and beautiful island with pristine beaches and untouched landscape is an ideal place for vacation. Koh Rong is the great place to relax because most of the island is untouched and unexplored with few people living here. Therefore, you can stay away from the noise of cities and just attach to the nature.
This is the second largest island in Cambodia where you can find lots of interesting activities and enjoy purest nature with less present of tourism. There are 4 villages on the island: Koh Tuich, Prek Svay, Doeum D'keuw and Sok San. The main transportation here is boat…
1. History & Geography
This island has elongated shape with long coastal line. The main terrain on the island is hill and forest. There are also lots of hidden waterfalls in the forest. Moreover, there are numerous beaches on the island where you can find the huge differences with beaches in other islands. From above, you also can see amazing limestone rock formations and smooth hills. Around the island there are lots of small islets, which provides Koh Rong with the diversity of marine life.
There are various stories about the name Rong. Some locals say that it's the name of historical person while others consider that it is the old world referring to "cave" or "tunnel". From 1979 to 2000, this island was under the Navy authority. After 2000, the Department of Fisheries cooperates with local authorities, communities, NGOs, to be responsible for management.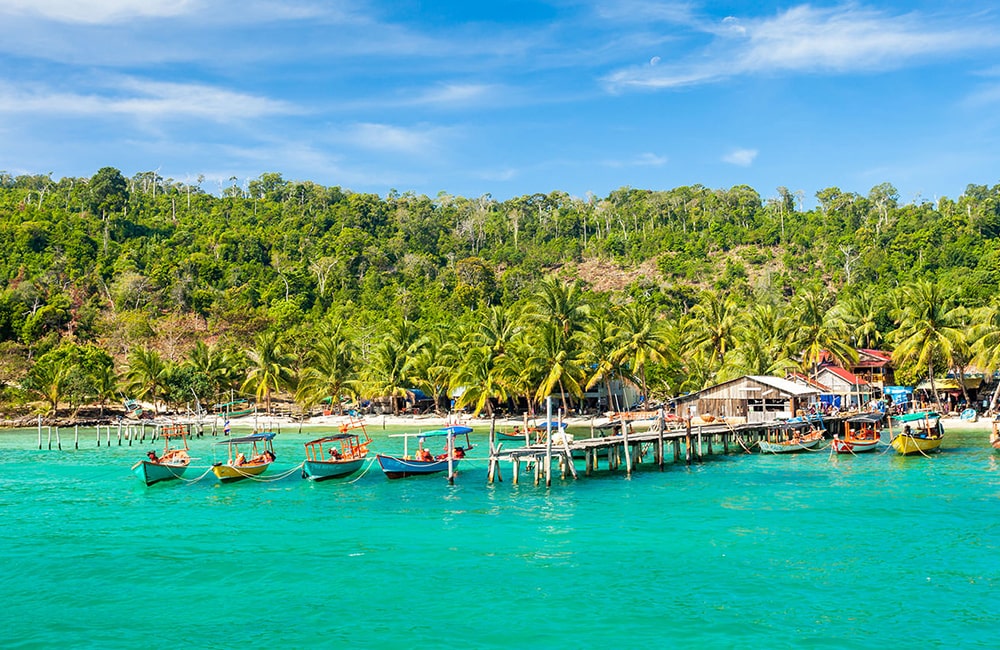 2. Destinations on Koh Rong
2.1 High Point Adventure Park
If you are an adventure seeker, you will love this place. Here you can glide through trees on ropes, which is considered as "jungle gym". This activity will require you the strength, balance and skill. You need to watch a safety video and join in a course to understand all steps you need to follow. You also have an instructor who makes sure you will be safe while having fun. When you reach a specific altitude, you can see forest, beautiful waterfalls, hills under you.
To visit this park you need to pay $30 per person. This ticket includes guide, instructor, safety equipment, T – shirt, water,… It's worth a price so don't miss High Point Adventure Park.
2.2 Sok San Beach
This beach is a paradise on earth. This beach will treat you well with clear water and white sand. There are less resorts and restaurants near the beach, so this place keeps its natural beauty. It gets busier at the southern end of the beach because there are many local tour operators that offer sunset cruises on their long-tailed boat. However, you also want to avoid the attack of insect during wet season here.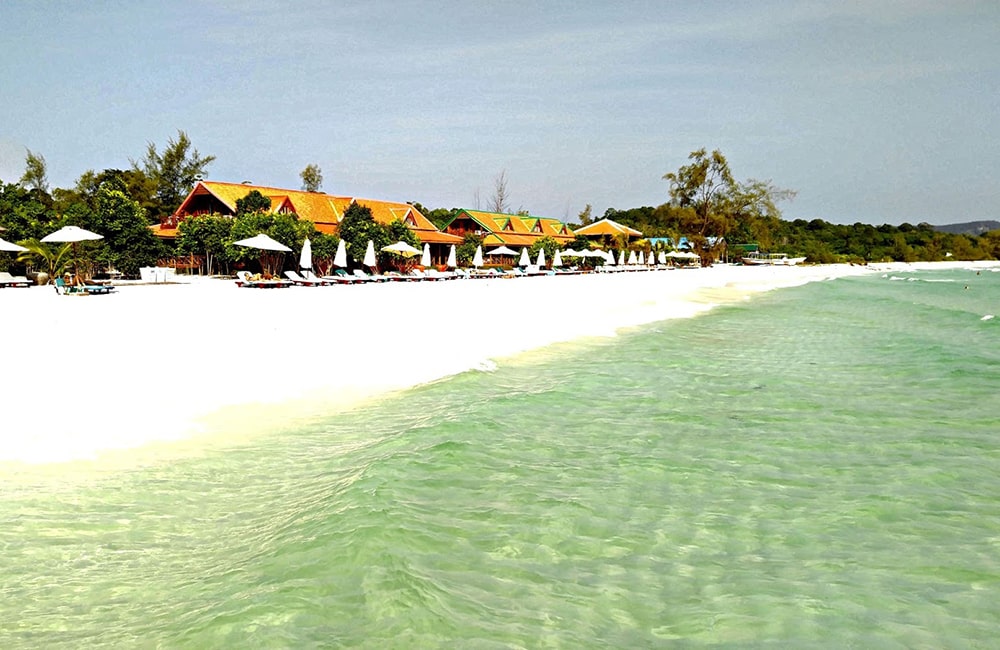 2.3 Long Set Beach
Just need to pass the Koh Tuch Beach, you can reach Long Set Beach. Here, you can walk a long the beach to feel the fine sand and you also can meet some hermit crabs. There are some bungalows near the beach but this area is still really quiet and peaceful. At the east end of the beach you can find Vietnamese beach, Nature Beach and Coconut Beach.
2.4 Coconut Beach
The best place to stay in Cambodia is Coconut Beach. Besides of various options for accommodation, you also can enjoy white sand with crystal water and palm trees, which is like a beautiful beach picture. This beach is quite isolated and remote so to get there you have to change transportation a lot. First, you have to take ferry from Sihanoukville to Koh Rong port, then you need a boat to reach Coconut Beach.
2.5 Jungle Zoo
If you appreciate nature, you definitely should visit Jungle Zoo on Koh Rong. There is a huge nature waiting for you here. You will be amazed colorful butterflies, sweet smell of flowers, wild animals,… The owner is very friendly. He is willing to guiding you through the garden and he also prepares tea for you or answer your questions.
3. Activities on Koh Rong
3.1 Trekking
You can trek from the main beach Koh Toch going through a dense jungle then reach a pristine beach. This is Sok San beach where you can enjoy fine and white sand or some beach drinks form local vendors. The most interesting part of the trek is through the jungle. You will have chance to meet some cute animals and trek through an amazing system of fauna and flora.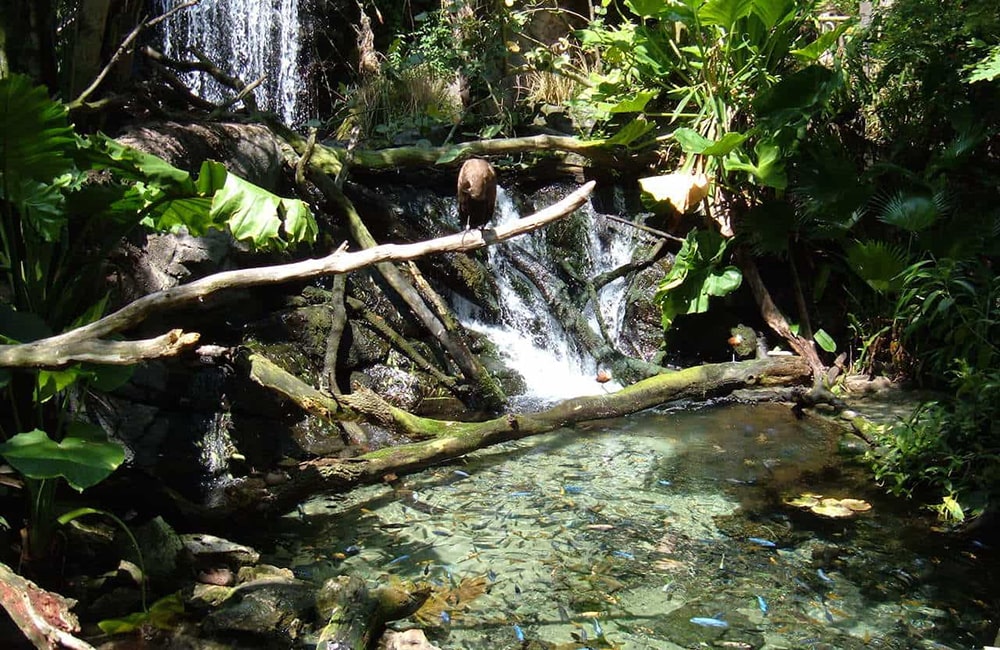 3.2 Play Blob Jump
In the north end of Sok San Beach, you will find the Blob Jump. This is a favorite of adventure lovers. You will jump from the height then you will move to the opposite side to be bounced back to the air and end into the water. That would be an amazing experience that anyone who loves adventure want to try once.
3.3 Snorkeling
Koh Rong is a beautiful island with clear water so there are lots of diving pots on the island. When you dive down to the water, you have chance to see various sea creatures like jumping fish, yellow boxfish, sergeant fish, squid,… There are some diving center on the island where you can hire gear and get instructor if it's your first time.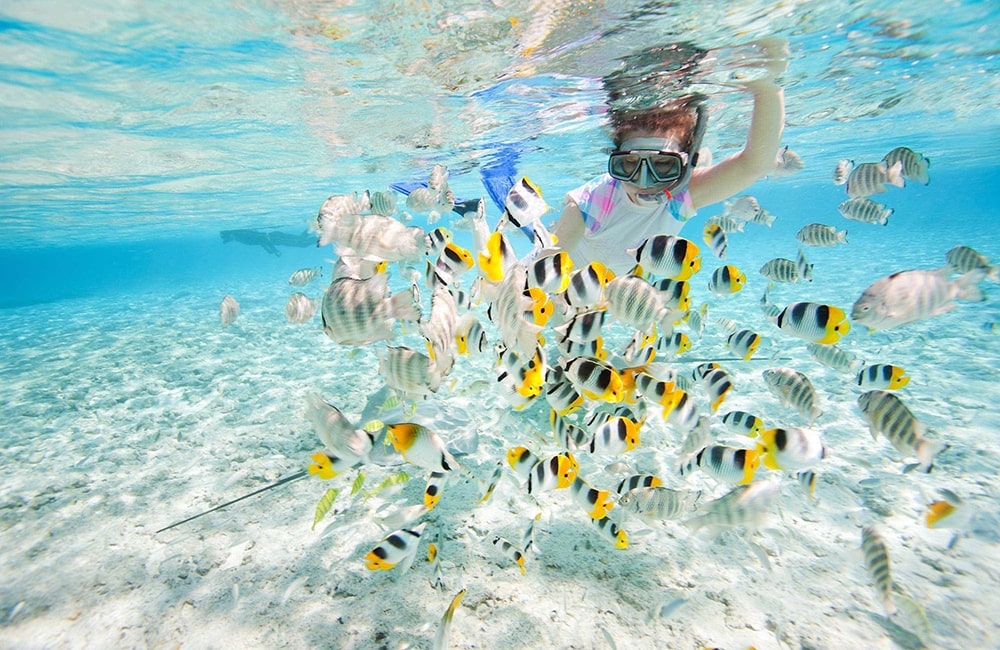 3.4 Kayaking
You also can enjoy kayaking on Koh Rong. By kayaking you may reach some areas like Koh Toch Beach. With calm water, you can make sure that everything will be safe but don't forget your life suite. Koh Rong is a big island so you can't explore the whole island by kayaking one day. And you should arrange the time appropriately.
3.5 Night Swim
You might not know that Koh Rong is famous for plankton. And the best way to admire the most amazing plankton view is without light. You can she them glow and may feel like being in a fairy tale. You should head to Long Set Beach or Coconut Beach for at night to swim and watch glowing plankton.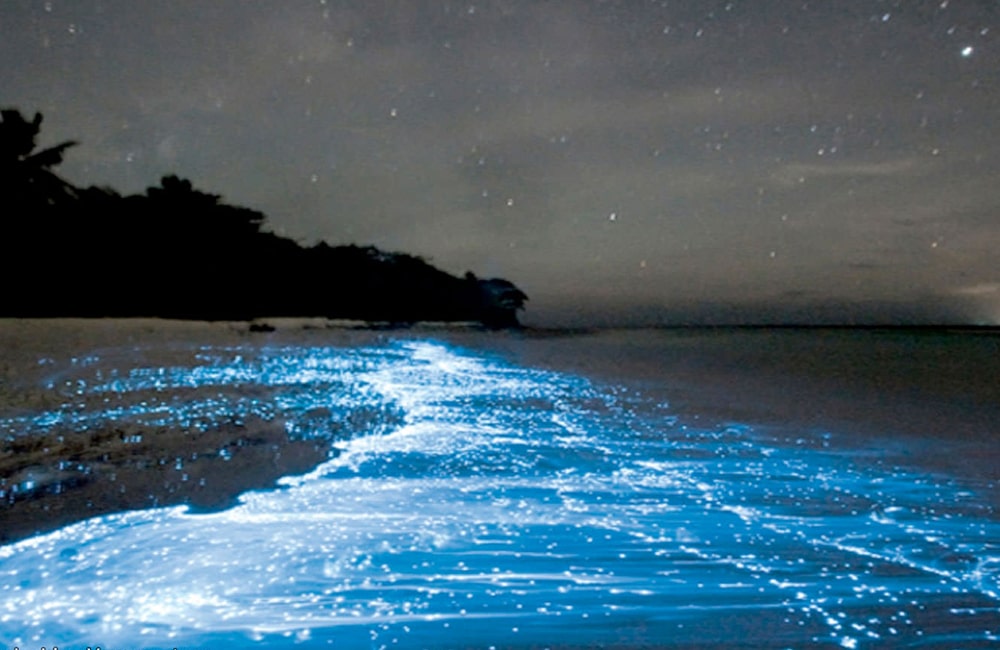 4. Where to stay in Koh Rong?
4.1 Orchid Resort
This resort is right near the beach with 20 rooms in guesthouse – style. Rooms here are simple but the beach view makes everything better. From any room, you can watch the pristine beach with white sand and the sun. There are lots of restaurants nearby.
4.2 Freedom Bungalow And Resort
This place has beautiful bungalows. All bungalows have private balcony and sitting area where you can enjoy the beach in early morning or just have romantic dinner. This place is perfect for you if you just want to relax by the pool and at bar.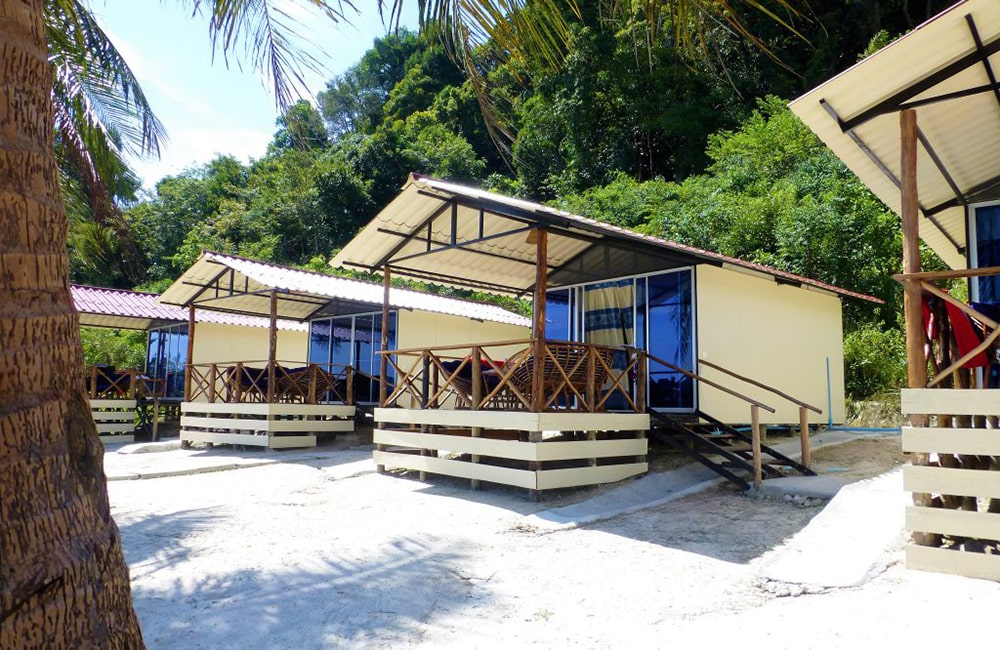 4.3 The Pipe's Resort
This resort has stylish décor which will make your instagram photos glow. Moreover, this place is quite peaceful. It makes you feel like you are in a pipe forest with some urban bungalows. Like other resorts, this one also offers you Wifi, sitting area, breakfast,…
4.4 Home Stay Resort
This resort provides you with wide range of choices for accommodation from twin, family to sleeping four. The most interesting thing here is that they have open-air bathrooms which you always see on instagram. In addition, this resort has perfect location for those who want to enjoy the sea and the sun
5. Best time to visit Koh Rong
Although the high season of visiting Koh Rong is from November to May, the best time for you to this island is from December to February. This is because at this time you can avoid all crowds, soaring prices of high season. The weather of this time is sunny and has less rain.
From March to May is the hottest time of the year in Koh Rong. The precipitation is quite high but all rains only last few minutes. Therefore, it is still the good time for visiting Koh Rong.
Good to Know
Languages spoken
Cambodia
Currency used
Riel Campuchia